When my sister-in-law joined our family a few decades ago, she made our favorite dessert — apple pie — for her first Thanksgiving with us. We were touched by her thoughtfulness, and we told her so. Still, she was clearly puzzled by our collective reaction. Though we praised its flaky crust, we left the insides of the pie on our plates.
No doubt, my brother had failed to tell her about our strange familial predilection: We prefer our pie apples so soft that they sag over the edges of our forks. And while her dessert was as beautiful as one from a bakery, it featured mounds of perfectly crisp apple slices that held their form.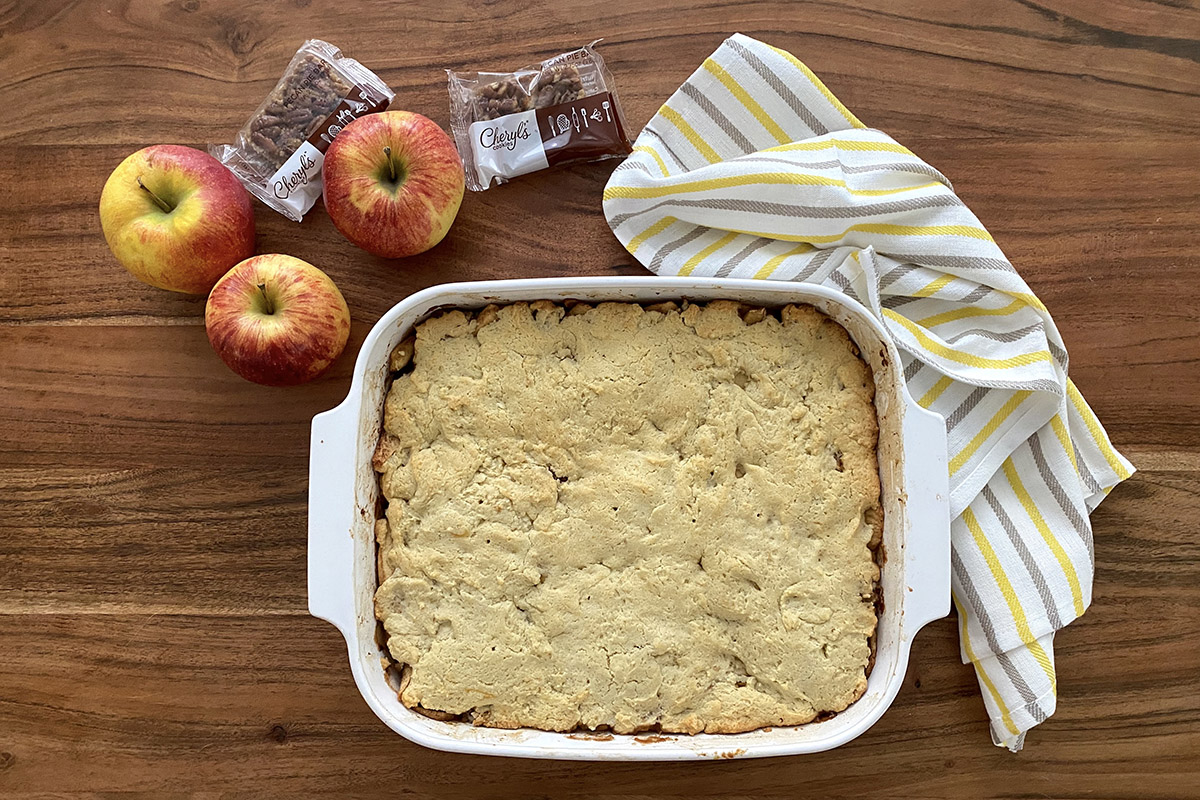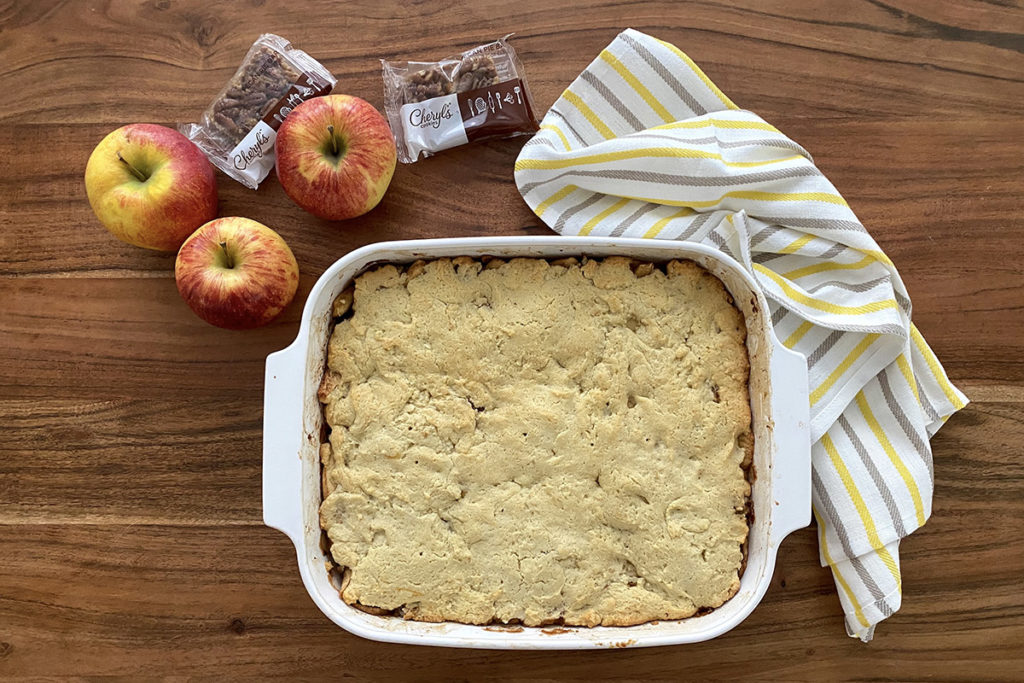 Velveteen apples is one of the reasons why I love this take on a good old-fashioned apple slump. A slump is a dessert that is similar in many ways to a cobbler except that it is traditionally cooked on a stove, and so called because of its slouchy appearance. In this version, the fruit, twice baked and mixed with chopped Cheryl's Cookies Pecan Pie Bars, practically melts into the crust.
The biscuit-dough lid is another reason I'm a big fan of this slump. With the pecan pie bars adding a nutty richness and caramel tones to the apple filling, the crust is a sturdy, confident contrast.
Traditional slumps sport discontinuous dumplings that have been dropped by the spoonful on top, and crust lovers usually wind up fighting for these bits and pieces. This version makes enough to cover the apples entirely.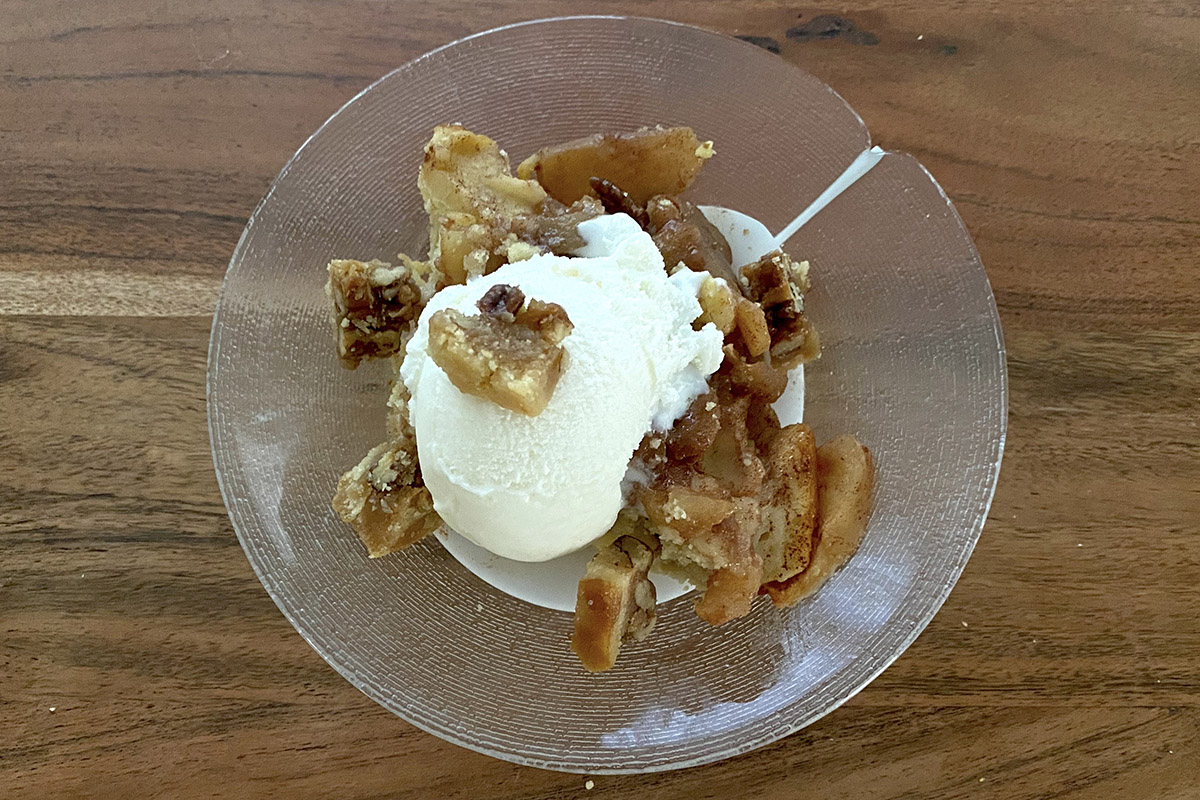 However you prepare your slump, there's really only one way to plate it: topped with vanilla ice cream and garnished with a few more chunks of the aforementioned pecan pie bars.
As for my sister-in-law, she bravely stayed in the family despite our stubborn predisposition. The next holiday, though, she very smartly avoided the situation entirely and arrived with pumpkin pie.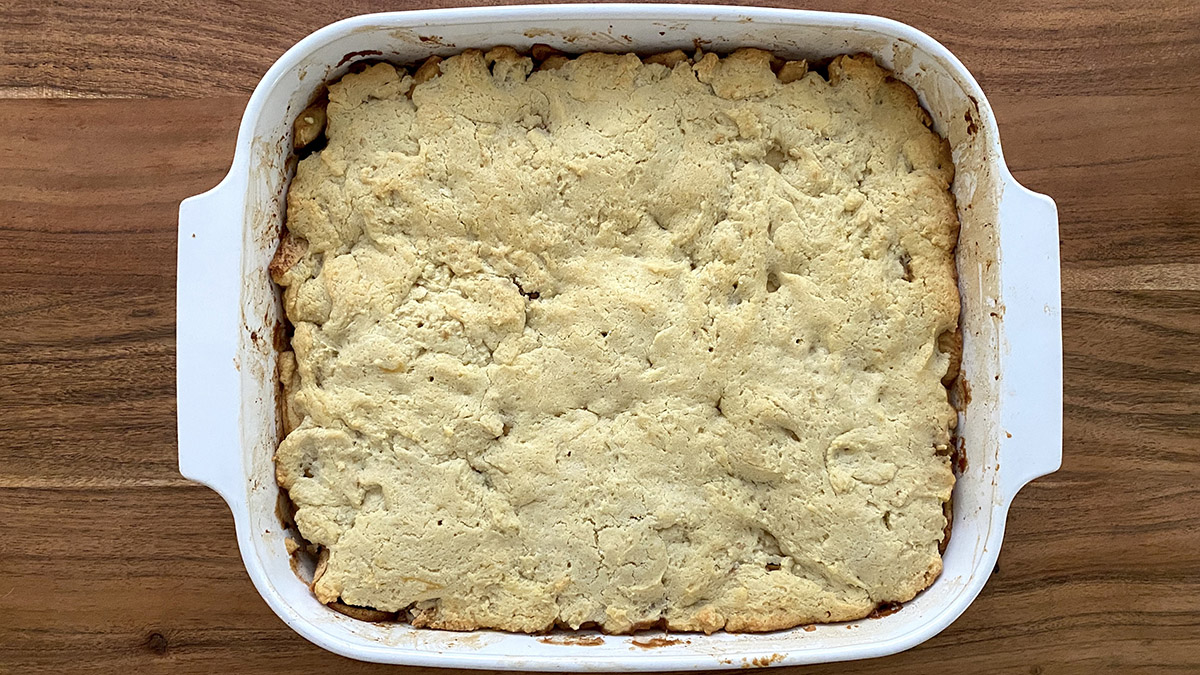 Apple Slump with Pecan Pie Bars
Ingredients
Crust
3

cups

all-purpose flour

½

cup

cup white sugar

4

teaspoons

baking powder

1

teaspoon

salt

1

cup

milk

1 ½

sticks

unsalted butter

(melted)

2

eggs

(beaten)
Instructions
Preheat the oven to 375° F. Grease a 9×13-inch or similar size baking dish with unsalted butter or a neutral oil spray.

In a bowl, combine the apples with the lemon juice and vanilla extract, and toss. In a smaller bowl, mix the brown sugar, cinnamon, and salt. Add the mixture to the apples and toss to coat evenly. Gently fold in the pieces of Cheryl's Cookies Pecan Pie Bars.

Transfer the apple mixture to the baking pan and spread evenly. Cover with foil and place in the oven. Bake for 25 to 30 minutes or until the apples are soft.

While the apple mixture is baking, prepare the crust. In a bowl, mix the flour, sugar, baking powder, and salt together. In another bowl, mix the milk, butter, and eggs together. Then add the wet ingredients to the dry and stir until just combined. You should have a wet, sticky dough that spreads easily. (Optional: Cut the crust recipe in half if you want to drop the dough like dumplings instead of making it continuous.)

Remove the apples from the oven. With a spatula, spread the dough on top of the apples until it's gone. Return the slump to the oven and bake uncovered for 40 to 45 minutes or until the top is golden brown and a toothpick or knife inserted comes out clean.

Serve topped with vanilla ice cream and garnish with a couple pieces of Cheryl's Cookies Pecan Pie Bars.
---