Find out fascinating facts and interesting tidbits about cookies and the ingredients found in them in our series "Inside the Dough." In honor of National Coffee Day, we've laid out some guidelines for you to follow to choose the best cookies to eat with coffee.
What's better than a cozy, warm mug of coffee first thing in the morning or in the middle of the afternoon? Pairing it with the perfect cookie, of course. There's something so comforting about a satisfying, crunchy bite of cookie with a cup of joe.
But the best cookies to eat with coffee are not always the ones bursting with the most flavor, says Brenda Mortensen, food product development director and food scientist for Cheryl's Cookies. "You want something not too sweet and with no frosting," Mortensen says. "It should contrast the bitter flavors and smooth texture of the coffee."
In short: Not all cookies are made to be eaten with coffee.


While you're enjoying your first (or second…or third) serving of java of the day, read on to learn more about how to find the best cookies to eat with coffee.
Cookie qualities that go best with coffee
Think about the last time you were in your local coffee shop and went to grab a cookie. Have you ever stopped to notice what varieties are usually in stock? At many cafes, you'll find items like biscotti or stroopwafels for sale.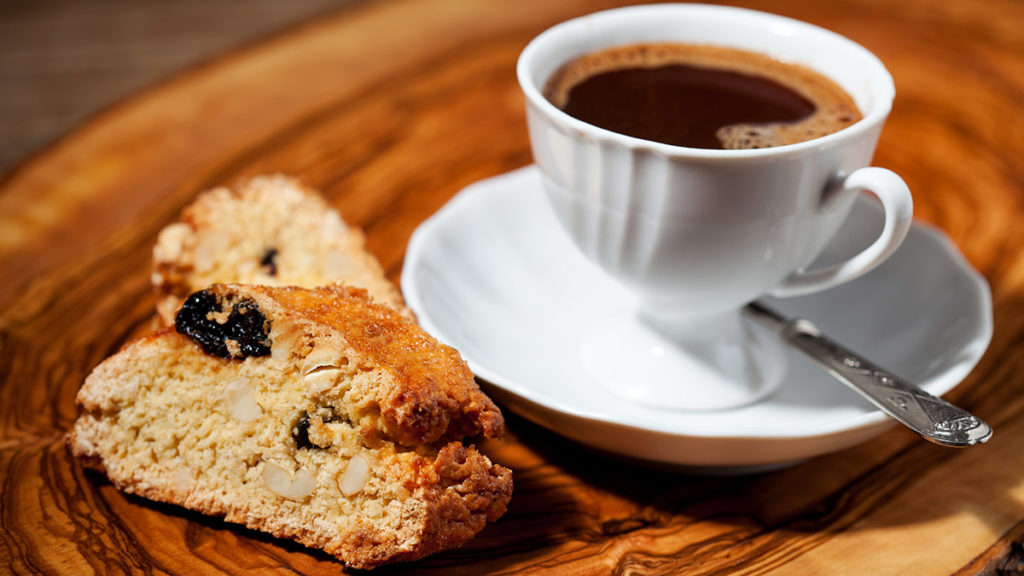 That's for good reason. These classic cookie types tend to be a little less sweet and pack a lot of crunch. Often, biscotti will have dried fruit or nuts in it to add extra texture, and their sturdiness and absorbency make them perfect for dunking. The stroopwafel, on the other hand, gives off notes of caramel, cinnamon, and vanilla, which complement the typically strong flavor of coffee. One popular way to eat a stroopwafel with coffee is to place it over the top of the mug for a few minutes, warming the waffle-like cookie and, thus, making for an extra decadent treat.
If you're looking for the ideal cookie to eat with your next cup of coffee, focus on these three characteristics:
Less sweet
Skip the frosting and extra sugar, and go for cookies that are milder in flavor. If you're reaching for something with vanilla or chocolate in it, make sure that is not the dominant feature of the cookie.
Crunchy
Maybe even crumbly. "You get the crunch in your mouth, and [the coffee] melts down the cookie in your mouth," Mortensen says.
One with added elements
Things like chocolate chips and nuts add more texture and can pair nicely with fresh coffee. "They can pull out coffee undertones as well, especially something with dark chocolate," Mortensen says.
Chew on these with your next cup of joe
Is there anything more classic than a chocolate chip cookie? The qualities that make these tasty treats so popular are the same ones that make them go great with coffee. Crunchy chocolate chip cookies have the right texture and tend to be milder in flavor.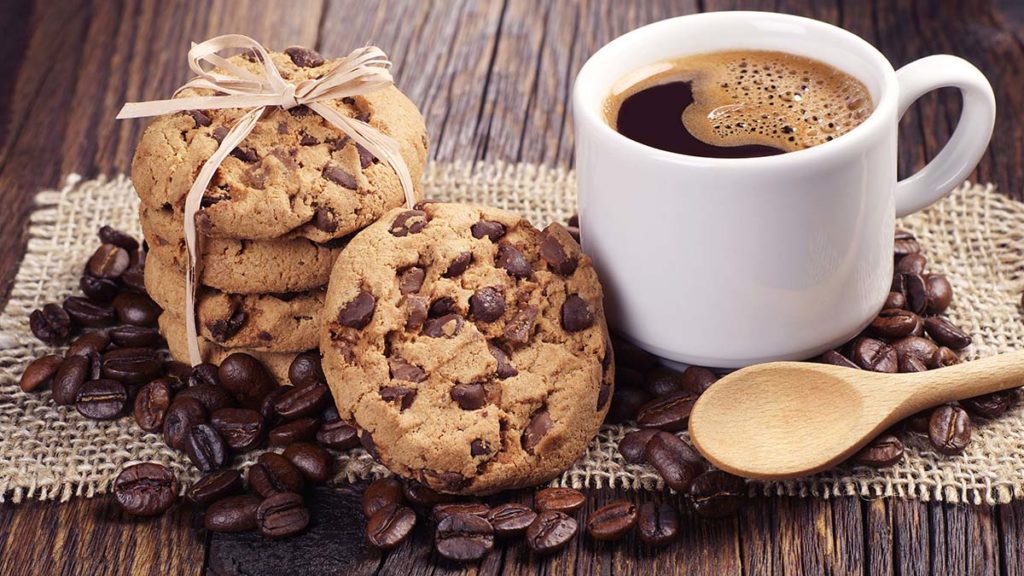 Likewise with good old-fashioned butter shortbread cookies — especially if you add milk or cream to your coffee. "If you have dairy-flavored coffee, you'd want more of a dairy component in the cookie as well," Mortsensen says. Plus, these tend to be more crunchy and less sweet than other varieties.
If you're looking for cookies that have a bit more complexity, oatmeal chocolate chip or even snickerdoodle go well with a lot of coffee varieties.
What about flavored coffees?
Sweeter or flavored coffee give you more flexibility with your cookie choices, but the same thought process applies: You don't want a cookie that is too contrasting or too similar to the flavor of the coffee.
A vanilla latte, for example, is sweeter, so you can expand into sweeter cookies when you drink one. As cookies that have the same flavor may make the vanilla taste too strong, opt for something with chocolate here.
You can get more creative with flavored coffees. With the crisp fall weather upon us, pumpkin spice-flavored beverages are back at local coffee shops everywhere. When you order your next PSL, try pairing it with a pumpkin chocolate chip cookie to really immerse yourself in the signature flavor of the season.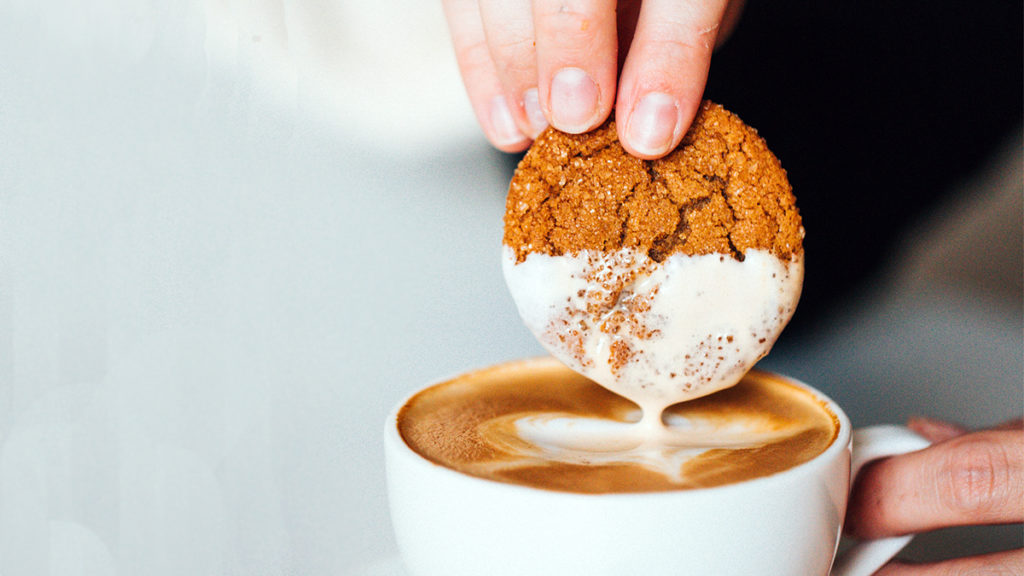 When it comes to finding the perfect cookie to snack on with your next cup of coffee, stick to the classics, think crunchy, and don't go too sweet. Trust us: Your morning and afternoon pick-me-up will get a whole lot tastier.