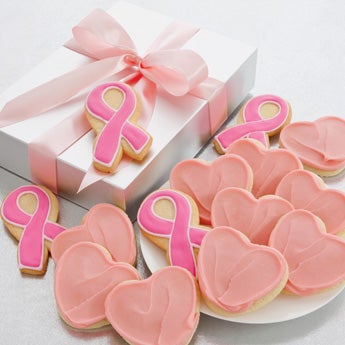 We are proud cookie people (an understatement, really). We're always thinking of new recipes; new flavors, new designs, trying to get that perfect taste, and so on. But when we can use our resources to help important efforts like Breast Cancer Awareness, that's what truly makes us proud.
We're proud to say that for the last 12 years, we have been sponsors for Central Ohio's Race for the Cure, and have partnered with several worthy organizations like The Stephanie Spielman Fund, The James Cancer Hospital, Ohio Health for Women, and several other organizations throughout central Ohio. These are organizations very near and dear to us, and an effort we believe in.
Every three minutes, a woman is diagnosed with breast cancer, the second-leading cause of cancer death in American women. The American Cancer Society also estimates that 2,000 men are diagnosed with the disease every year. Breast cancer is one of the most common types of cancer for women. But did you know that according to the American Cancer Society, mammograms can often detect breast cancer years before a woman can find a lump herself, and when the disease is caught at an early, localized stage, the 5-year survival rate is 97 percent! You have a better chance of surviving if found early, so talk to your doctor to help you decide when and how often to get a mammogram.
On top of our partnerships, we've also developed our 'Cure' gift line, where we give 10% of the proceeds back in support to breast cancer research directed to the Susan G. Komen Foundation Columbus Affiliate, which hopes to save lives and end breast cancer. So you can all help us with this great cause while still enjoying the homemade Cheryl's recipes you love. You can choose from 12 to 100 of our delicious buttercream pink frosted cut-out heart cookies, delivered in our signature bow gift box; A simple design, with a huge message.
Join us in the fight, one bite at a time!