From decorations to food to entertainment, "The Party Life" shows you how to be at your best when you're gathering to celebrate special occasions. Here are seven of the best games you and your kids can play at your next carnival party.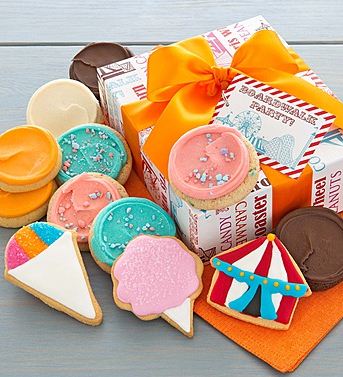 Step right up, step right up! For a kid, a sunny summer day just isn't complete without some fun carnival games. But why waste time driving to a faraway festival when you can bring the boardwalk to your own backyard? In celebration of Cheryl's new carnival-themed cookies, we put together a list of the best games you and your kids can play at your next carnival party. So come one, come all and enjoy the most exciting fair in town!
Cookie-Eating Contest
Give the classic pie-eating contest a sweet little spin and use cookies instead. Stack Cheryl's carnival cookies high up toward the sky and see who can eat the most in one sitting. With irresistible summer flavors like cotton candy, orange citrus and double chocolate, this race will definitely be a close call!
Bean Bag Toss or Baseball Throw
Test your pitching skills with a tossing game—DIY style. Making everyone's favorite summertime game set is easy and cheap: Just grab a spare wooden or plastic board, cut out a few large holes, decorate it and assign numbers to each hole. Then lean it up against the fence and take turns throwing baseballs or bean-filled bags to rack up points.
Balloon Darts
Your carnival party crowd will be popping with excitement when they see your homespun balloon dart board. Hang up a large corkboard panel on the fence or stand it up in the grass. Then, completely cover it with air-filled water balloons. Hand your guests five darts and tell them to take their aim: Whoever pops three balloons wins a prize!
The Fish Bowl Game
One of the trickiest—yet most addictive—carnival games, the Fish Bowl Game will be a raging hit with your guests, young and old alike. Line up 10-20 small fishbowls close together in rows on a table. Give your festival-goers a bag of pennies or Ping-Pong balls, and sit back and watch while they tirelessly try to land them in the fish bowls one by one.
Ring Toss
A carnival party can't get any more authentic than a good ol' game of ring toss! To get in on some traditional fun, fill up a plastic crate with rows of empty, upright glass bottles. (Make sure the long bottle necks stick out high above the rim of the crate.) Hand the kiddos a bunch of colorful plastic rings and enjoy their laughter as they compete to see who can loop the most rings around the bottles.
How Many Jelly Beans?
The ultimate carnival guessing game is also the easiest to recreate at home. Fill up a large jar to the rim with jelly beans, seal it and place it on a table for all to see. Have everyone guesstimate how many beans are in the jar, and reward the closest guess with a prize. Bonus: Once the game is over, everyone can dig into the delicious jelly beans!
The Duck Pond
Carnival party guests will have a quack-tastic time fishing for prizes! Grab about 50 rubber ducks (the weighted kind float best), label the bottom of each duck with the name of a toy, and attach a hook to the top of each duck's head. Fill a small plastic kiddy pool with water, toss in the ducks and have the little ones cast a line and try to nab the biggest prize.
What other kinds of fun food and activities will you have at your kids' next carnival party?