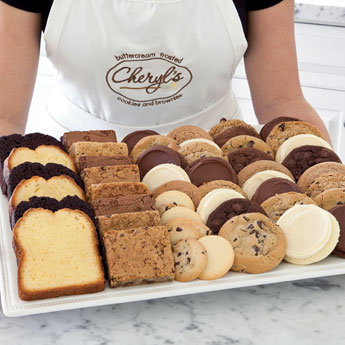 This week's blog post is from Denise, our Marketing leader.
In honor of Cheryl's Big Bake Sale here in Westerville, Ohio we thought it would be fun to give away 3 of our Signature Bakery Samplers! All you have to do is share your favorite Cheryl's Bake Sale memory in 1-2 paragraphs! We will select 3 winners at random.
What's my favorite Bake Sale memory? It was several years ago – long before I even worked here at Cheryl's. Upon arriving at the Bake Sale I was given a grocery cart – along with everyone else – to collect massive quantities of cookie dough, brownies, and cookies. I purchased far more than one person could possibly consume in six months so ended up giving a lot away to friends and family!
Cheryl's Giant Annual Bake sale is THIS Saturday, March 5 from 7am – 3pm at 1220 County Line Road in Westerville at the Windsor Bay Shopping Center.
Stock up and save up to 70% off retail!
Winner Status:
Surprise "1st Poster" Winner: #1 Written By Melissa on March 1, 2011 at 4:57 pm
Winner #1: #19 Written By Theresa on March 3, 2011 at 6:31 am
Winner #2: #21 Written By Sarah W on March 3, 2011 at 7:02 pm
Winner #3: #5 Written By Ashley on March 1, 2011 at 5:55 pm