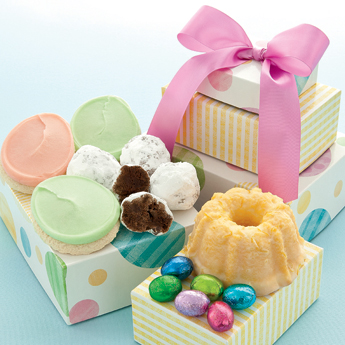 This week's blog post is from Denise…
Cheryl's made a big announcement this week.  Did you hear?  Hollywood's Favorite Bakery – Mrs. Beasley's – is now part of the Cheryl's team!  Their delicious gifts are the perfect complement of baked desserts to the Cheryl's assortment.  My favorites?  The rich, melt in your mouth truffle cookies and the incredible Miss Grace Lemon Cake made with real lemons!  Oh my!
So have any of you ever tried Mrs. Beasley's baked yummies?  Tell me what you thought!  I will choose three random responses and send you an Easter Sampler Tower!
Click here to read the full Press Release.
Winner Status:
Winner #1: Post #10 Written By Jennifer on March 22, 2011 at 3:17 pm
Winner #2: Post #26 Written By Gina  on March 25, 2011 at 7:28 pm
Winner #3: Post #12 Written By Mandy on March 22, 2011 at 3:45 pm

And…..a surprise 4th winner has been picked!!!                     Winner #4: Post #19 Written By kathy chambers on March 25, 2011 at 2:02 pm