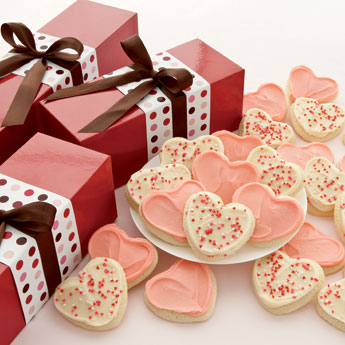 Cheryl's is excited to officially start blogging!  We will have bloggers throughout the Cheryl's team share their wit and wisdom about gift giving, delicious baked treats and of course free giveaways!  Speaking of which – we have Valentine buttercream cookies to give away to 3 lucky people that tell us what their favorite sweet treat is for Valentine's Day and why.   The giveaway is Cheryl's Valentine's Day 12 cookie gift.
We will select 3 random winners! 
Let the sharing begin!
Winners have been selected:
Winner #1) Post #19  Written By Trisha Novotny on January 28, 2011 at 6:50 am
Winner #3) Post #1 Written By Annie  January 26, 2011 at 10:48 pm
Winner #2) Post #10 Written By Gina  January 27, 2011 at 5:37 pm