All the mouthwatering recipes in our series "The Main Ingredient" have one thing in common: They all contain cookies. This chocolate cake balls recipe from food blogger Preethi Venkatram is great to make for a special occasion or just to have as an everyday dessert.
Cake pops have become wildly popular over the past decade or so, and it's easy to see why. They're delicious, adorable, and perfect for special occasions. But what do you do if you're craving cake pops but don't have sticks to make them, well, pops?
Make cake balls, of course!
Bite sized and simple to make, these chocolate cake balls bring together eggless chocolate cake and Cheryl's vanilla buttercream frosting. You can make these with your favorite chocolate cake recipe — even a boxed mix works!
These are such fun treats to make with your kids, and they make an excellent addition to any party. You can get creative with how you decorate them, too. I used sprinkles, but feel free to experiment with other decorative elements, such as crushed candy or cookie pieces. I also recommend using a good quality chocolate in which to dip the balls, to give them a rich, chocolaty flavor.
And if you want to make these into cake pops, you can — just insert a lollipop stick into each one. If you keep them as balls, though, it makes them easier to store/refrigerate.
But they're so darn delectable, you might not have to worry about leftovers.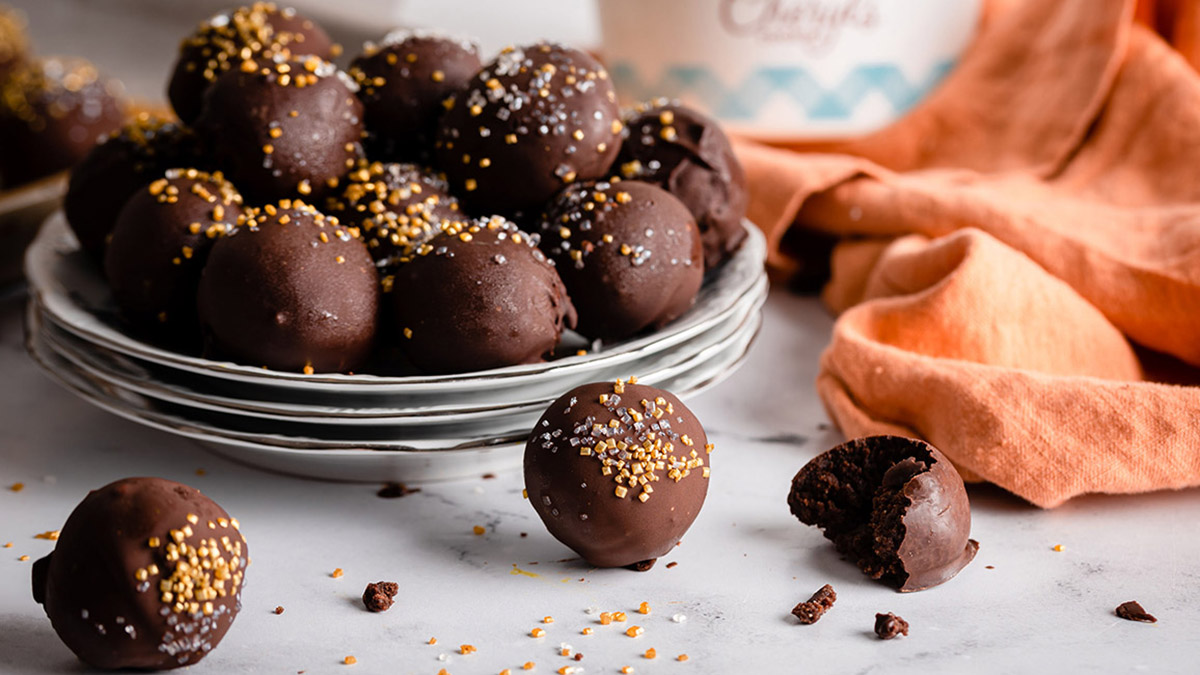 Chocolate Cake Balls
Ingredients
¾

cup

all-purpose flour

1/3

cup

cocoa powder, plus 1/3 cup (for the frosting)

¼

teaspoon

baking soda

½

teaspoon

baking powder

¼

teaspoon

salt

¾

cup

sugar

6

tablespoons

oil

½

cup

Greek yogurt

½

teaspoon

vanilla

¼

cup

buttermilk

12

ounces

candy melts or chocolate

Sprinkles, crushed candy, cookie pieces, etc.

(for decoration)
Instructions
Grease a 6-inch cake pan and line with parchment paper.

Sift flour, cocoa powder, baking soda, baking powder, and salt into a large mixing bowl, and set aside.

In another large mixing bowl, add the sugar and oil, and cream until pale and fluffy.

Add the yogurt, vanilla, and buttermilk to the sugar and oil mixture, and mix until well combined.

Add the dry ingredients (from Step 3) to the wet ingredients (from Step 5) and mix until just combined. Do not overwork the batter.

Fill the greased and lined cake pan with the prepared batter, and bake for 30 to 35 minutes or until a toothpick inserted comes out clean. Let the cake cool and set aside.

Bring the vanilla frosting to room temperature. In a mixing bowl (if using a hand whisk) or the bowl of your stand mixer, add the frosting and cocoa powder, and beat until the cocoa is well incorporated, about 2 minutes. If the frosting looks very thick, you can add up to a teaspoon of milk (any kind will work).

Crumble the cooled cake in a bowl. The crumbled cake should not have any large lumps and resemble coarse sand.

Add half the frosting to the bowl and mix until it comes together. The texture should be such that when you take some cake mixture and press it using your hands, you should be able to make a ball without it falling apart. Add more frosting as needed until you get the right texture.

Measure 1 tablespoon of the prepared cake dough and shape it into a ball. Repeat until dough is all used up.

Place the balls in the freezer for at least 1 hour or in the refrigerator for about 2 hours.

Melt the candy melts or chocolate in a double boiler and, using a fork, dip the frozen balls in the chocolate. Make sure the balls are fully covered in chocolate. Tap the fork gently to get rid of excess chocolate.

Decorate the balls with sprinkles, crushed candy, cookie pieces, etc. Make sure you add the decorative elements immediately or the chocolate will set and they will not stick.

Put the balls in the refrigerator for about 1 hour to set.
Notes
You can also insert a lollipop stick in the cake balls before dipping them in the chocolate to make cake pops.