Welcome back!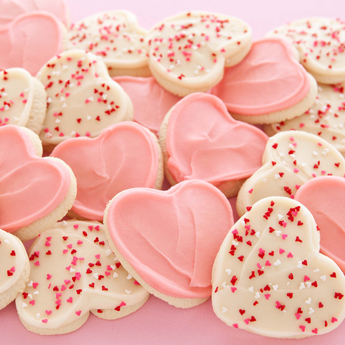 Valentine's Day is almost here it's time to set out making thoughtful and enjoyable Valentines. Luckily for us, we're at one of the best gifting companies around, so we know where to look first! We've got some great cookies and crafts ideas to share with you.
If you're looking for a really simple and sweet gift, our Cheryl's $5 Valentine's Day Heart or Hug Bug Cookie Greeting card is a fast and fun way to say hello. An adorable Valentine's Day themed cookie delivered in a single-sized box, for only $5 delivered; the same price as a regular greeting card, but sure to be far more appreciated. This would be great for a group of loved ones you want to send a greeting to. But if your class list is bulking up or you just want to get a tad bit more creative with it, we found this adorable idea from blogger Kerry at Kerry's Paper Crafts, that we think you'll love!
Get an order of Cheryl's Buttercream Frosted Cut-Out Heart Valentine's Day cookies (available in 12-24-36-72-100 count) and try not to eat them all! (Good, first step). Each cookie comes individually packaged, which is great for children's Valentines to hand out in class.
Kerry's Paper Crafts blog shows how to dress up adorable little pillow boxes with small card greetings tied on with decorative ribbon. We loved the idea and looked through our sister company's site (FineStationery.com) for children's Valentine's Day cards to attach. There are cards for both boys and girls that would make the perfect finishing touch to this sweet Valentine's Day treat. X's and O's, dinosaurs, basketball, hearts, penguins, there are plenty of card choices to suit your individual tastes and make your Valentines stand out from the crowd!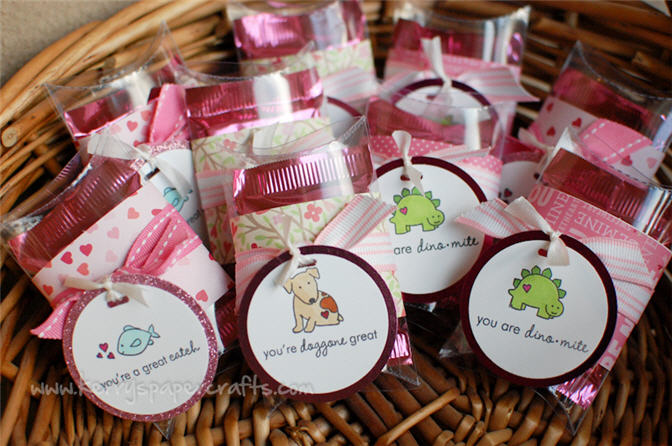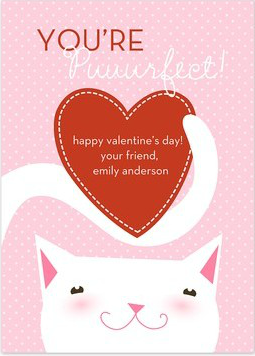 An even simpler idea that can be used for both children and adults, Fine Stationery also has Valentine's Day stickers that can be easily placed on each cookie! You can personalize your message online before ordering, right down to the font style you want used and the different color patterns! They go the extra mile to make these personalized stickers special for you and only you. Once the stickers arrive, just apply them to your cookie greetings for a clean and festively decorated Valentine ready to go!
Are you extra crafty? Head over to Kerry's Paper Crafts to learn how to make your own decorative pillow-boxes and little paper greetings to attach, just make sure they're large enough for a delicious cookie greeting inside!