All the mouthwatering recipes in our series "The Main Ingredient" have one thing in common: They all contain cookies. Decorating Hanukkah cookies is a great way for the whole family to come together and make lasting memories during the Festival of Lights.
You've lit the menorah, spun the dreidel, and enjoyed some delicious homemade latkes. Now it's time for dessert. Why not turn this opportunity into a do-it-yourself activity that the whole family can enjoy together? You can by decorating Hanukkah cookies!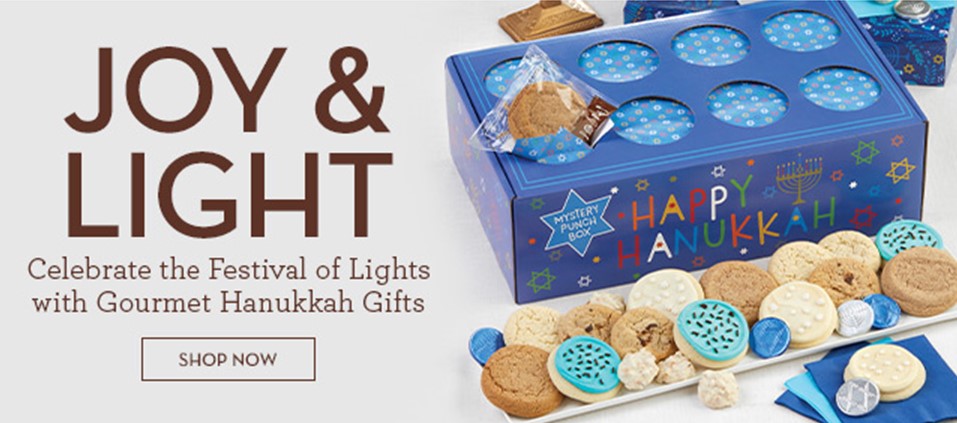 From bubbe and zeide (that's "grandma" and "grandpa" for you non-Yiddish speakers out there), aunts and uncles, kids, grandkids, and cousins, everyone can get in on the fun of beautifying Hanukkah cookies.
And the best part is, you don't have to be a pastry chef to pull it off.
You do, however, need some clean, small, or fine-tipped craft paint brushes, a tub or two of ready-to-bake Cheryl's Sugar Cookie Dough, and this super-easy, no-fuss brushable icing. You can customize your cookies any way you like. Pick your favorite shade of blue — or any other color you like — add sprinkles and metallic dragées (we don't recommend eating the dragées, however), and get your best Hanukkah cookie cutters ready. It's time to decorate!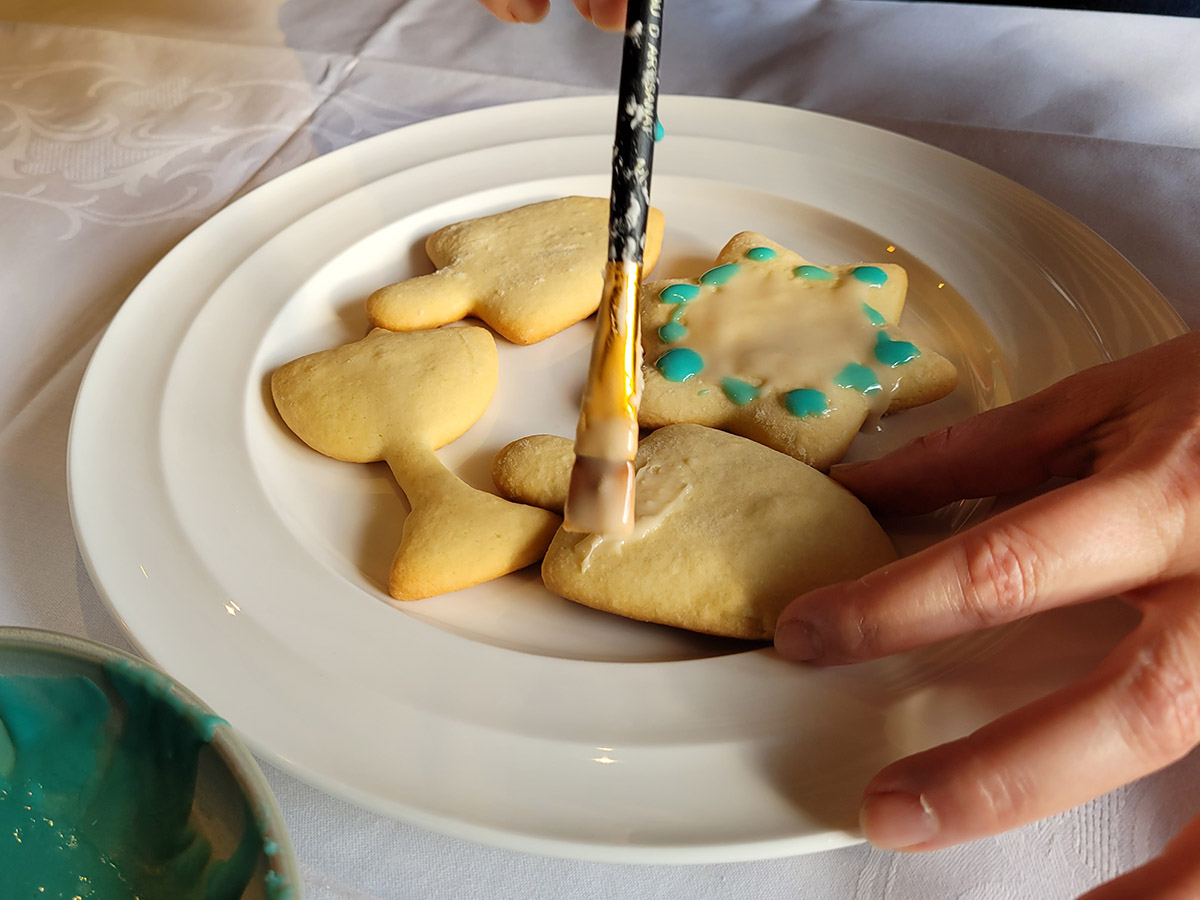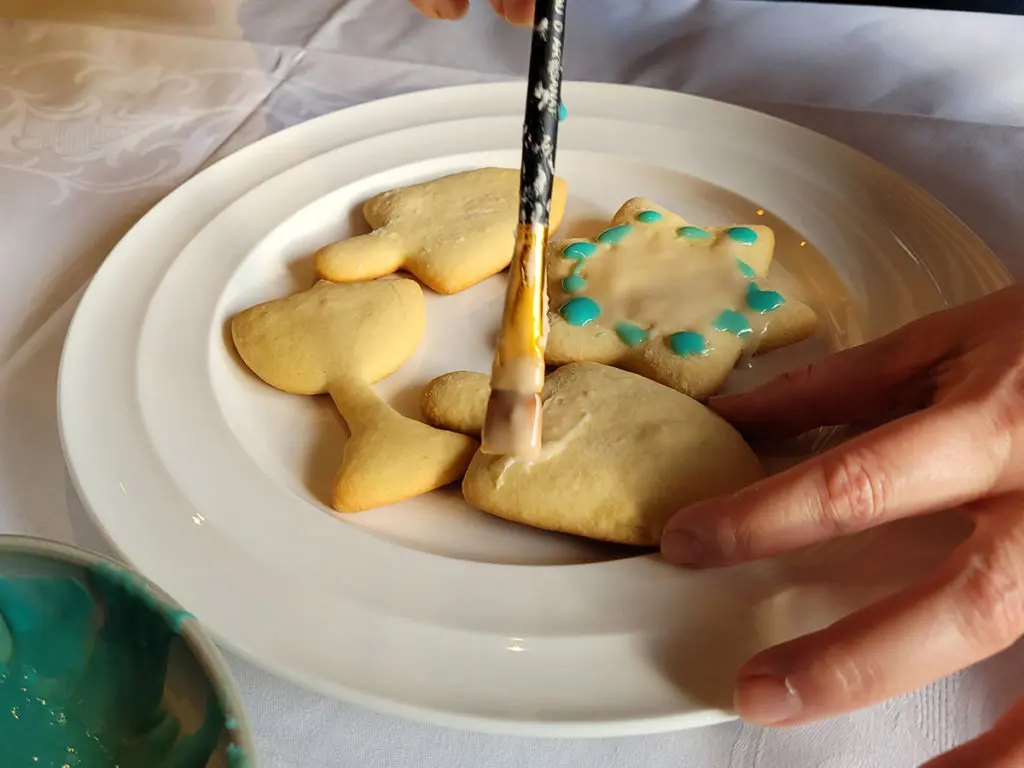 Start by making the icing recipe, and then get creative with your designs. To mix things up a bit, I painted blue lines on my semi-dry white base and then dragged a toothpick through to make a fun paint swirl pattern. The only limit is your creativity!
Now it's your turn to decorate this holiday's sweet table cookies. Chag Sameach!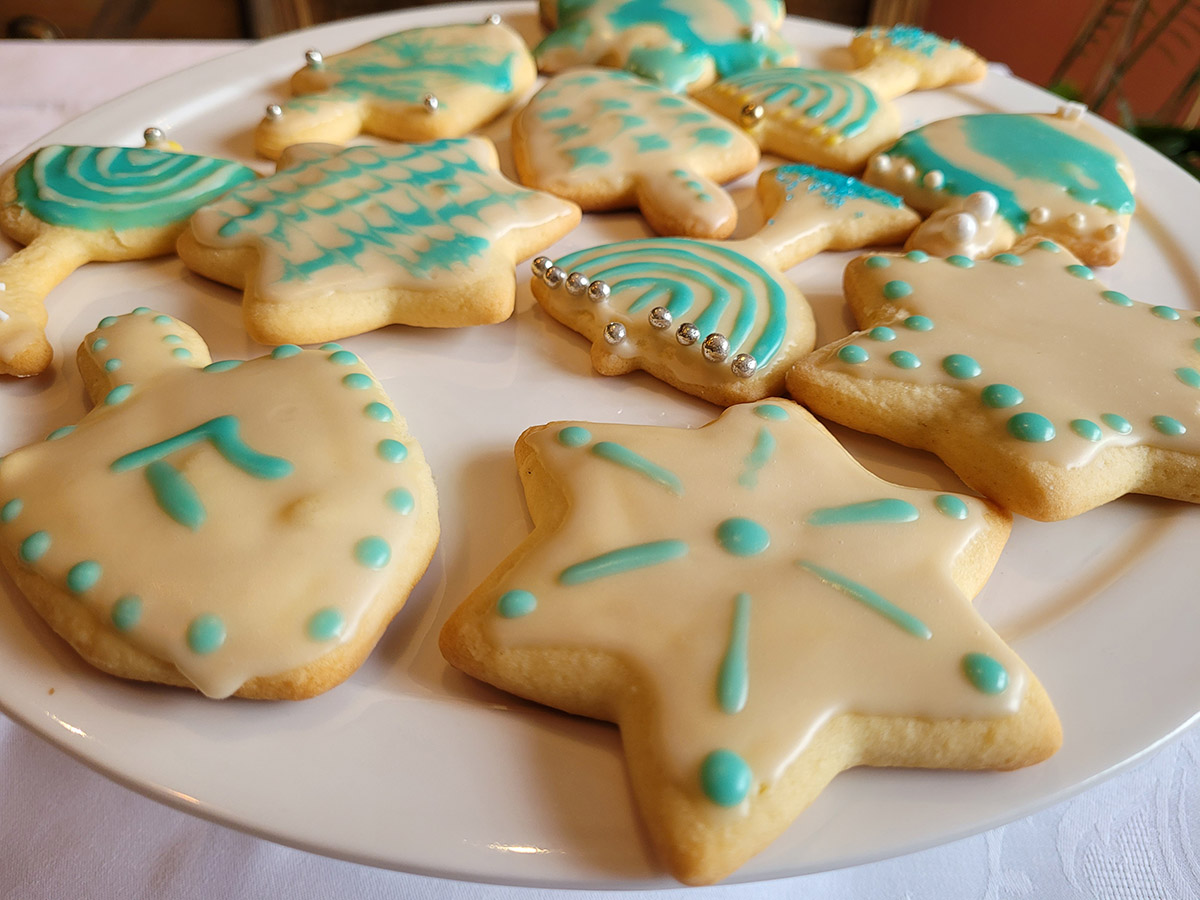 Colored Brushable Icing for Hanukkah Cookies
Ingredients
2

cups

icing sugar

6 1/2

teaspoons

milk

2 ½

teaspoons

freshly squeezed lemon juice

Food coloring

Blue, white, silver, or gold sprinkles and dragées

(optional)
Instructions
In a large bowl, sift icing sugar and add in milk and lemon juice. Mix until lump free and your icing reaches the consistency of honey. If it's too loose and runny, stir in more sifted icing sugar (add 1 tablespoon at a time). If it's too thick, add a teaspoon of milk until you get that honey-like consistency.

Portion the icing out into a few bowls and mix a few drops of food coloring into each bowl until you reach the desired shades. For these cookies, I used white, two different shades of blue, and yellow for the menorah lights. Experiment with different colors and shades that appeal to you.

Use clean, small craft paintbrushes to decorate your cookies. I also used a toothpick to keep the line work neat (like on the menorah cookies).
Notes
TIP: Use one paintbrush per icing color to avoid mixing up the shades. Also, let each layer or coat of icing dry — about 15 minutes between each coat — so they don't swirl or blend into one another.