Our series "Get Crafty" gives you the inspiration for creating inventive DIY projects during the holidays and year-round. DIY expert Julie Mulligan is here to provide you with gift wrapping ideas to help you express your creativity and stay trendy this holiday season.
I was raised by a mother who took her gifting duties very seriously. Not only did the gift itself have to be perfect (and the recipient have to respond accordingly, i.e. jump up and down, and shriek with delight), but the wrapping had to be just right.
My mom set up a card table in the den the weekend after Thanksgiving, and every night until Christmas, she wrapped presents while watching her shows. She coordinated the papers and ribbons with the tree decorations, made bows from scratch, and made sure the piles for each child — and, later, grandchild — had the exact same number of gifts in them.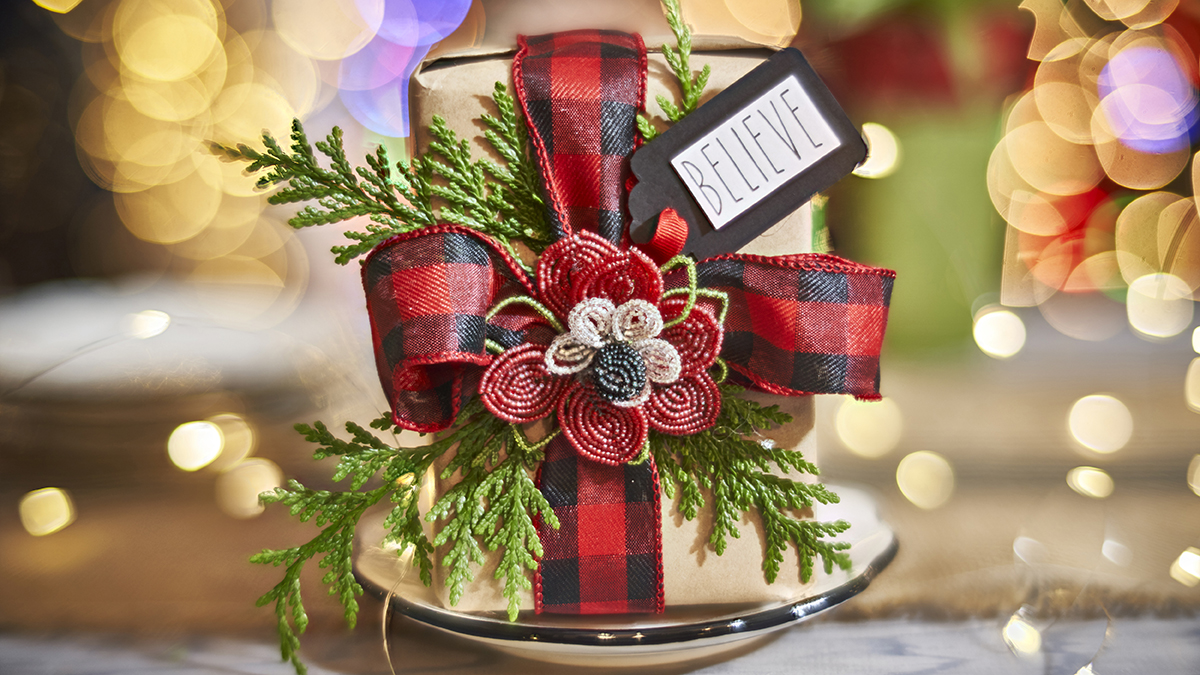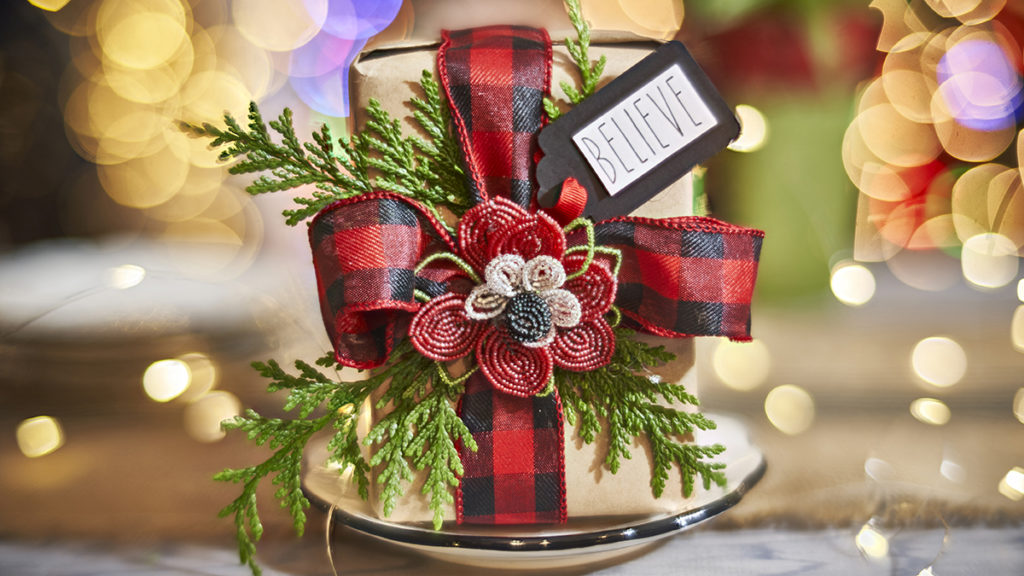 And I get it. Besides how beautiful all the packages looked under the tree, the process of creating them was a creative, relaxing, and fulfilling experience for her. How she saw it, each gift — whether a square box, round ball, or large bottle — was a blank canvas just waiting for her to put her personal spin on it.
With her example as inspiration, here are some out-of-the-box (get it?) ideas to get your creative wrapping juices flowing. Pour yourself a glass of whatever you like, crank up the volume on your favorite holiday song (mine is "Christmas Wrapping" by The Waitresses), and let's get wrapping.
What's trending?
Organic/Sustainable/Recycled
The trend of using organic, sustainable, and recycled materials — which we should follow 365 days a year — forces us to get creative and use what we have in different ways. Having a supply of organic materials, such as kraft paper, yarn, twine, fabric scraps, etc., on hand makes you "gift wrap ready" whenever the need arises.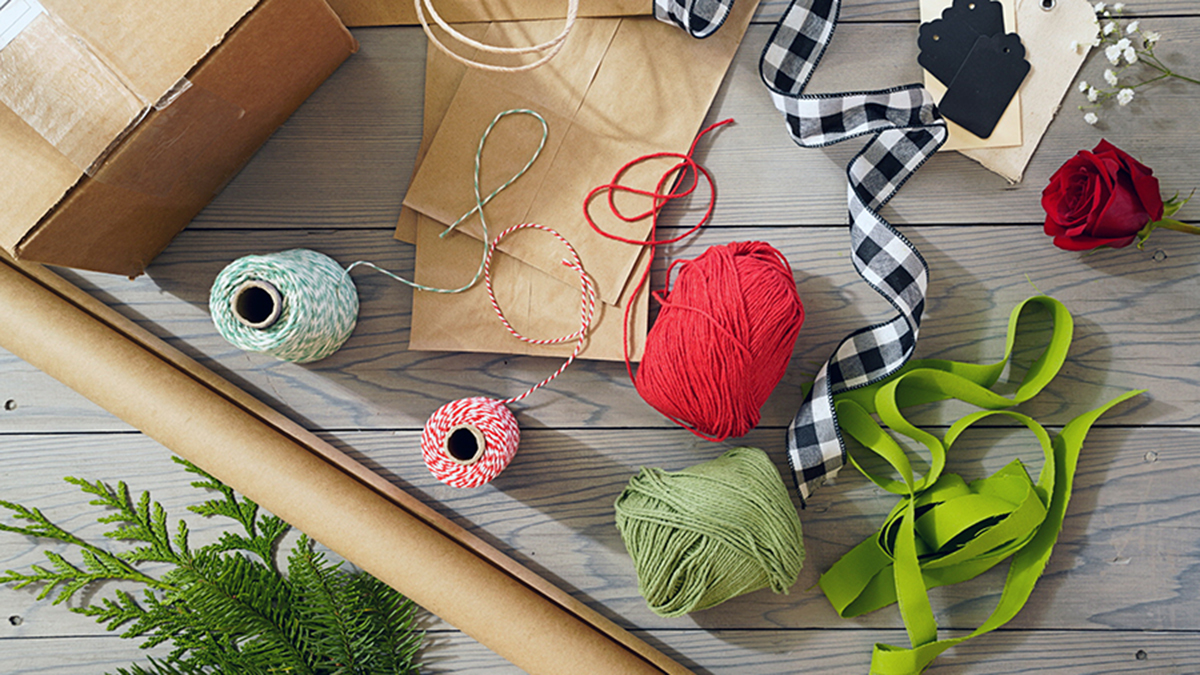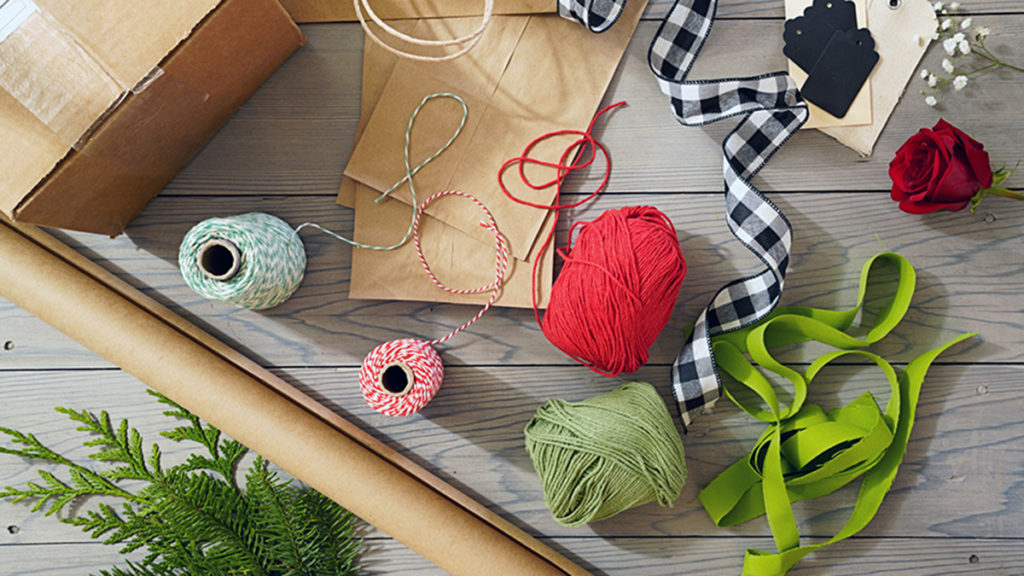 I've always encouraged people to think outside the vase when it comes to flower arranging; as I like to say, "If it can hold water, it can hold flowers!" The same idea applies to unconventional gift wrapping. If you can put a gift in it or wrap it around a gift (such as a scarf), then why not do it? That way, your gift becomes two gifts in one.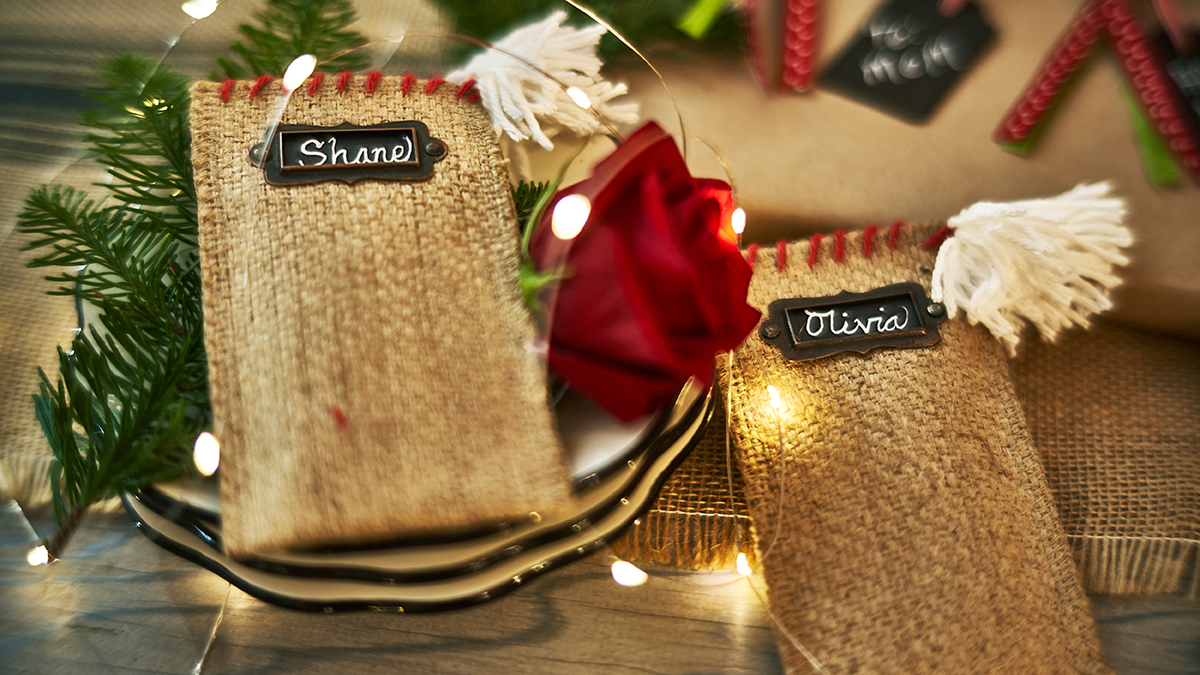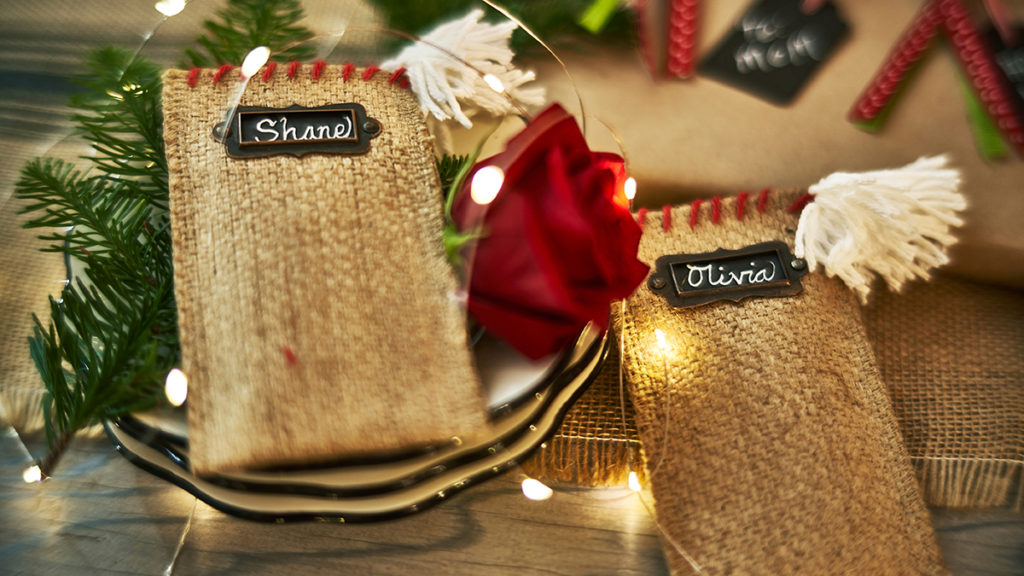 For example, I picked up this set of burlap cutlery holders at a few years ago and have used them on many occasions. This year, I decided to give gift cards to my nieces and nephews, and thought that these would make the perfect holders, especially with the built-in name tag holder.
Materials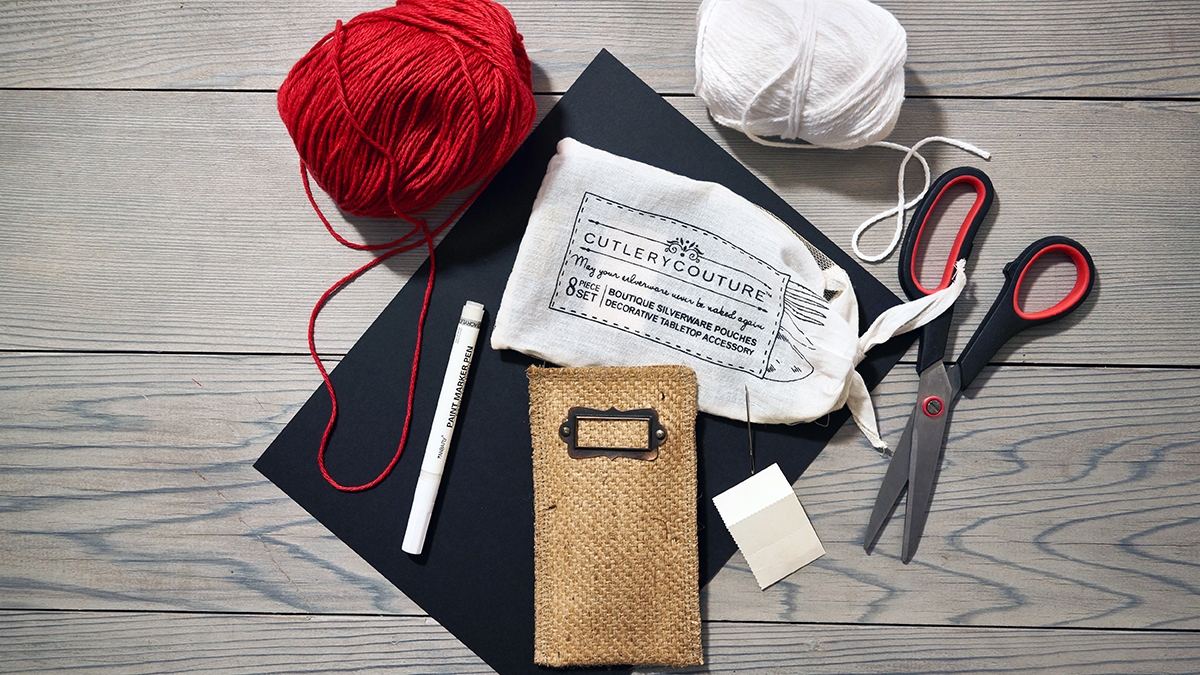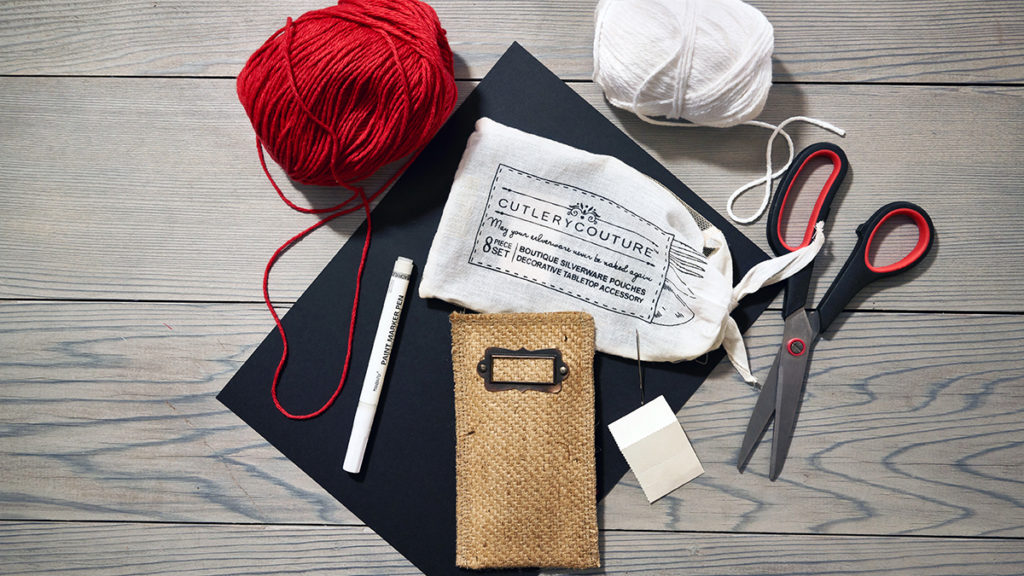 Black paper
White marker
Red and white yarn
Instructions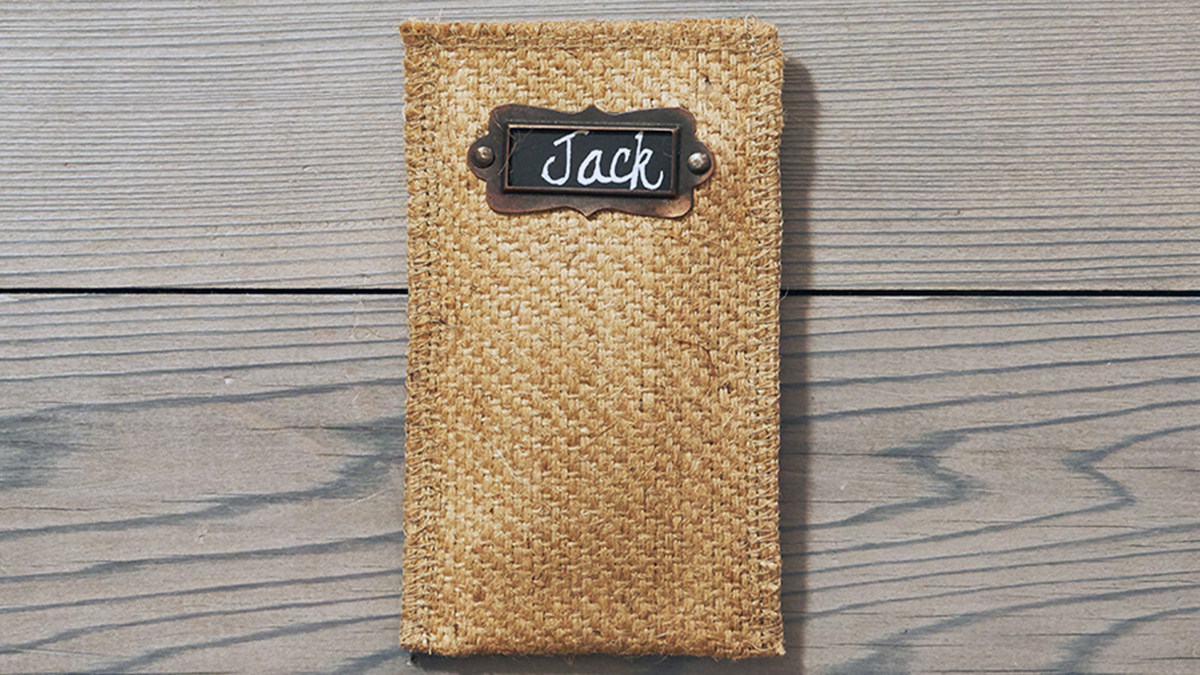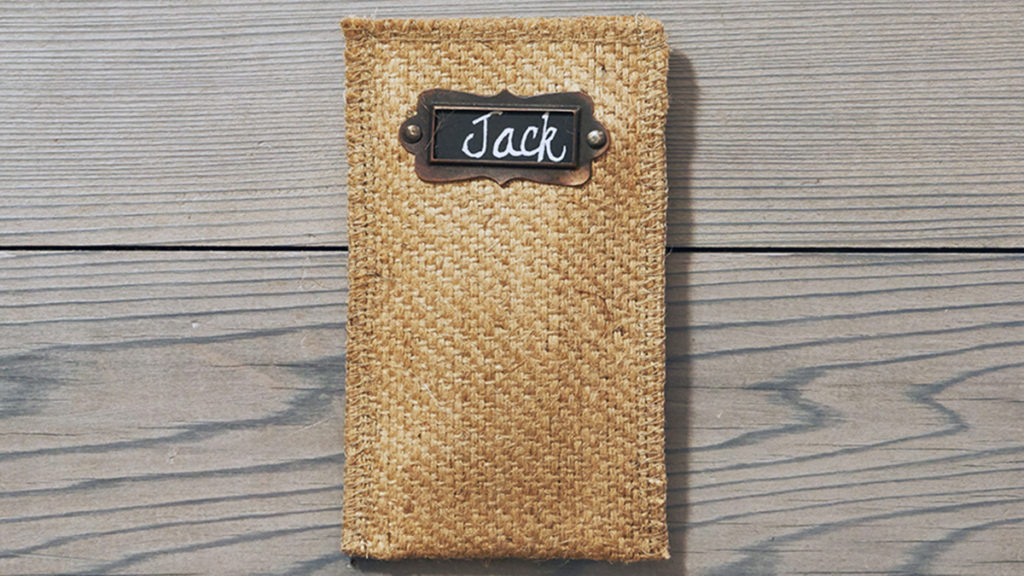 Create name tags using black paper cut to size and a white marker. Slide the gift card (or cash) into the pouch.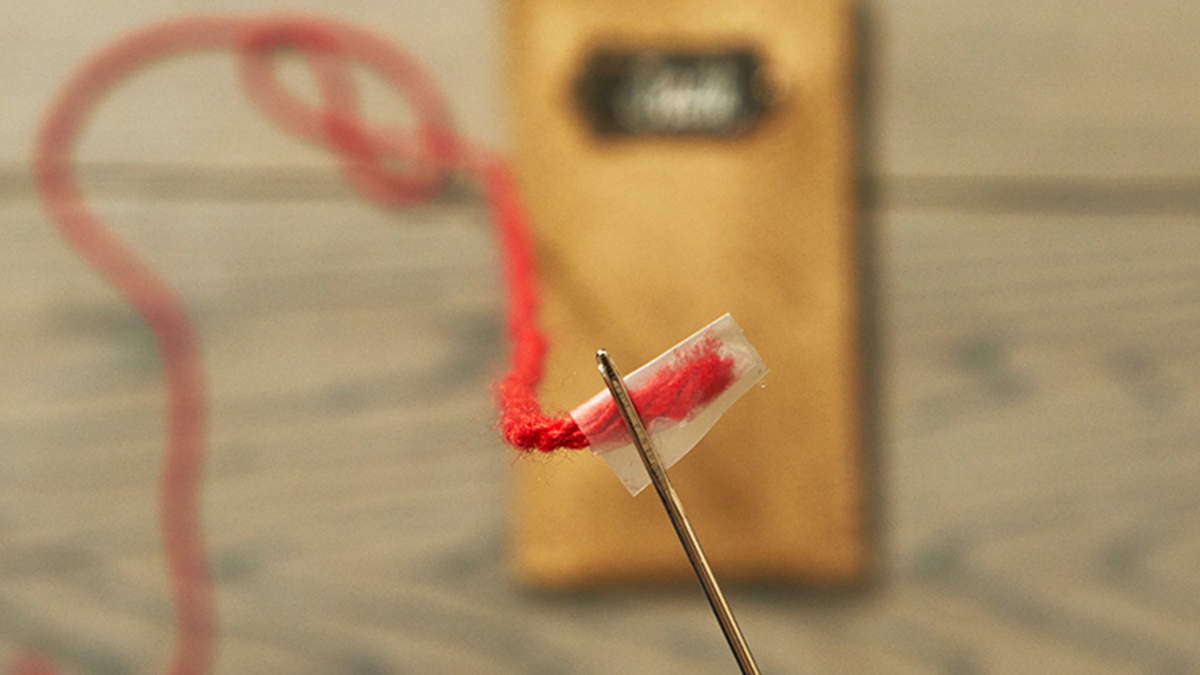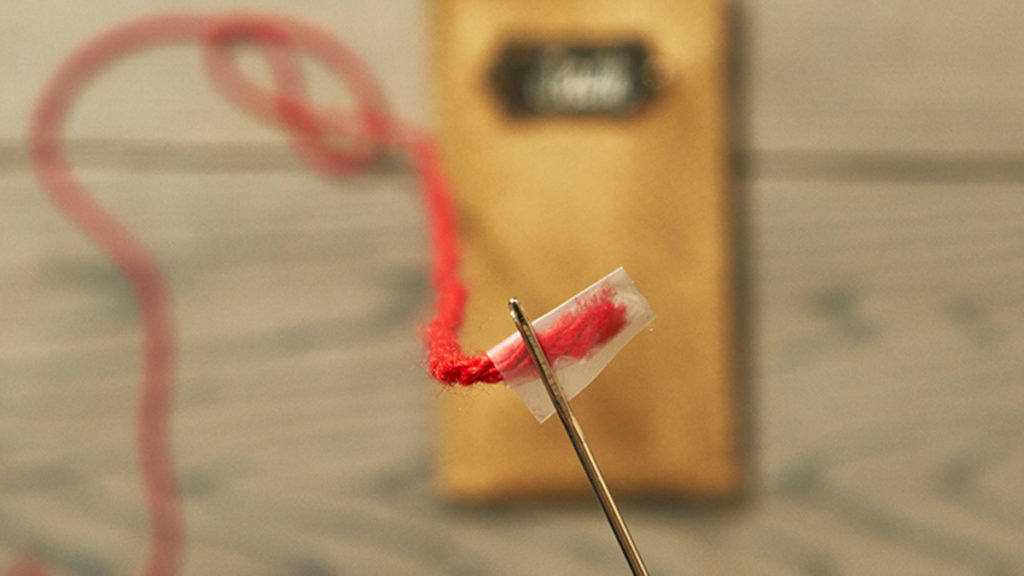 A quick tip for threading yarn through the head of a needle: Wrap a piece of scotch tape around the end of the yarn, thread it through the needle, and then snip off the taped end before stitching.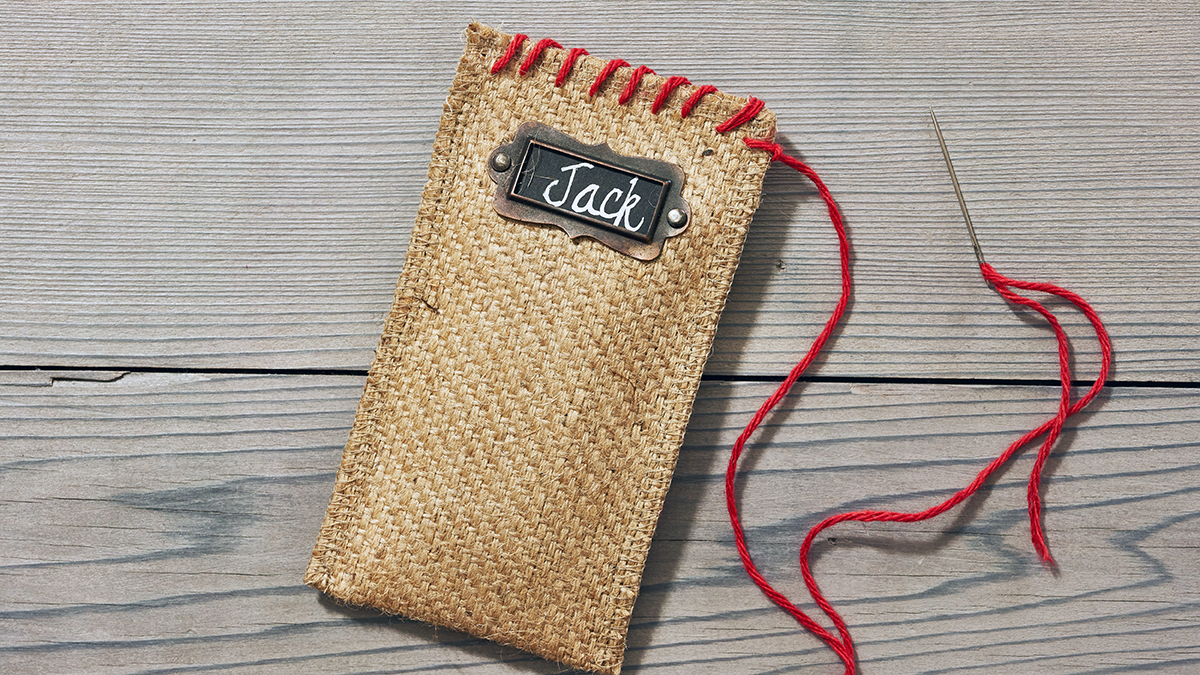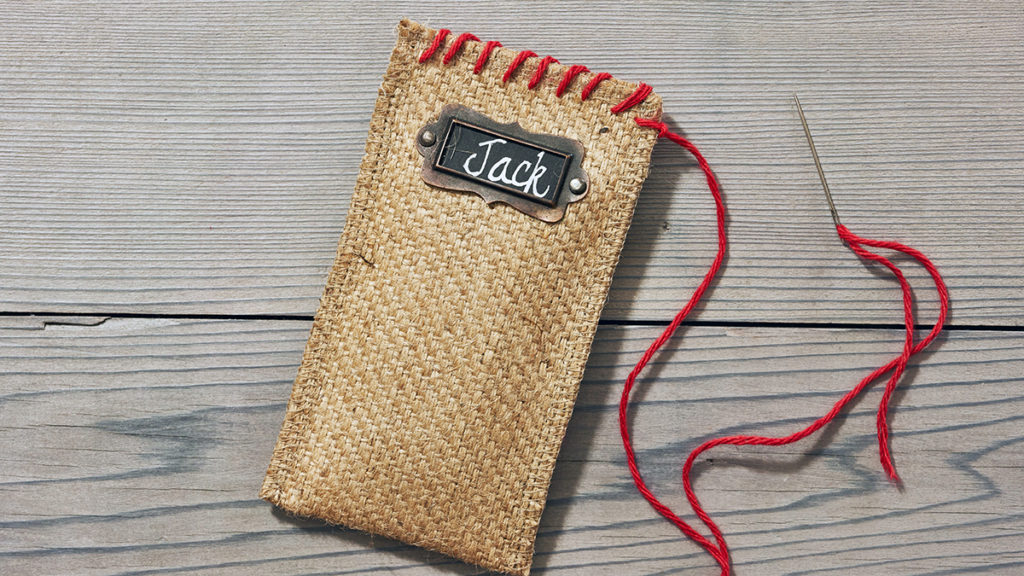 Start at one end and lace the yarn through the top of the pouch. Tie off the end and cut the yarn close to the knot.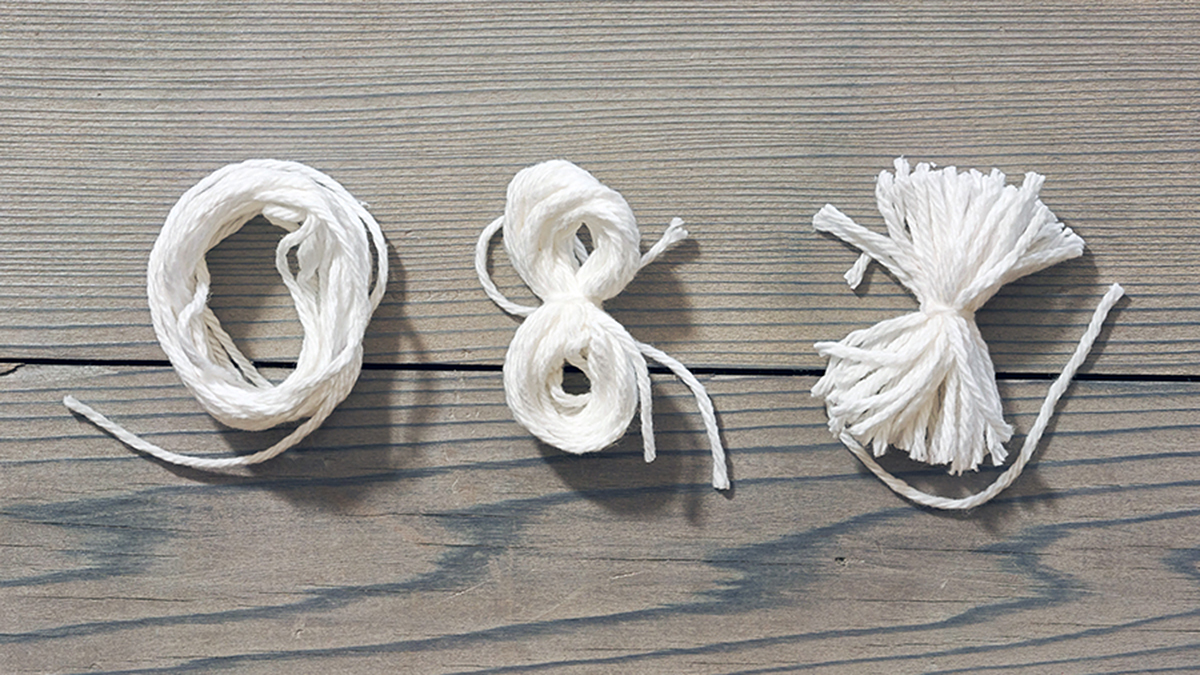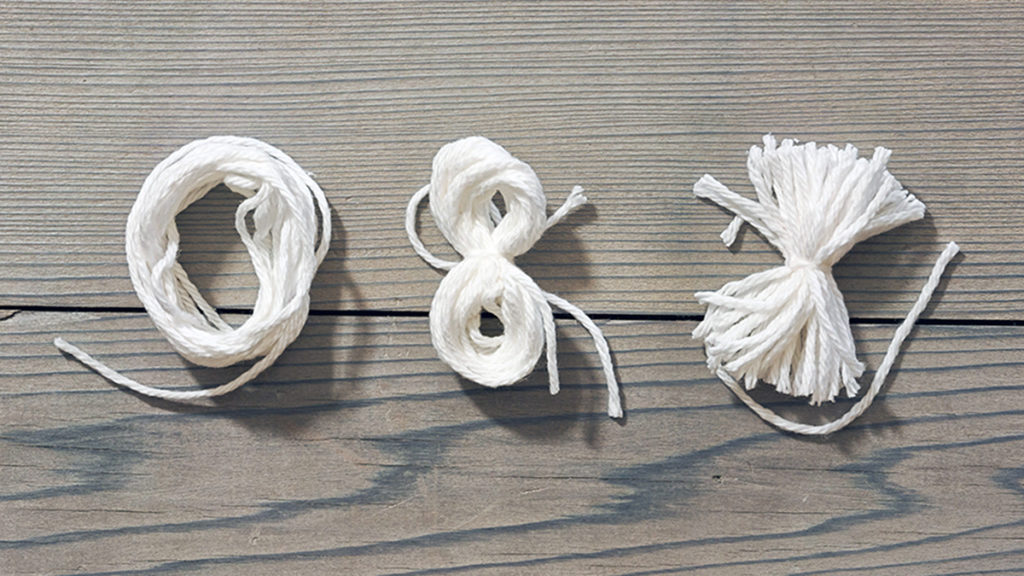 Make little pom-poms using white yarn to finish off the end. I first wrapped the yarn around four fingers about 20 times, creating a circle of yarn that I tied in the middle. Cut the loops on each end and fluff up the pieces to create a pom-pom.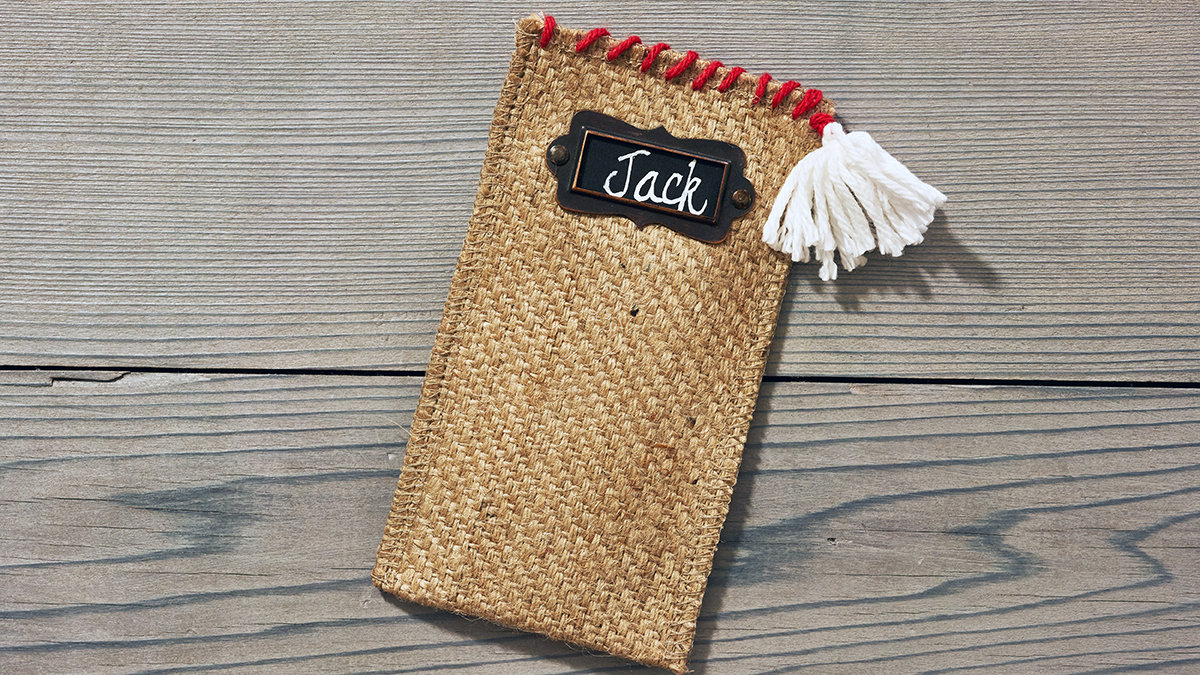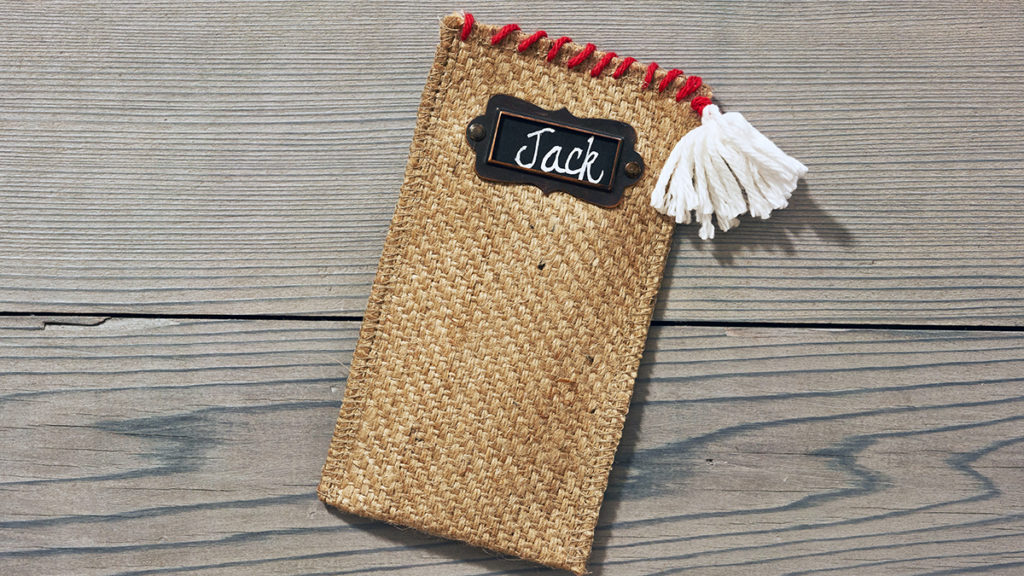 You don't have to add the pom-pom, but I think it adds the perfect festive finishing touch. I used pre-made pouches, but you could use scraps of burlap or any kind of fabric you have lying around. Remember, it's all about "reuse, recycle, repurpose."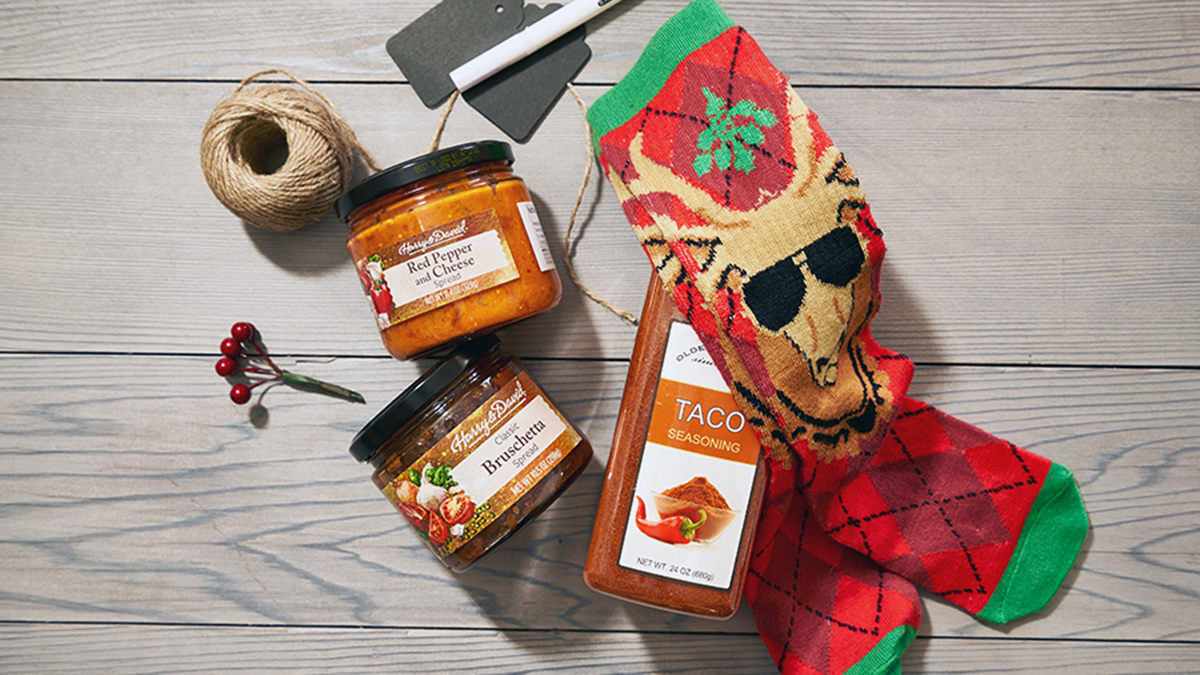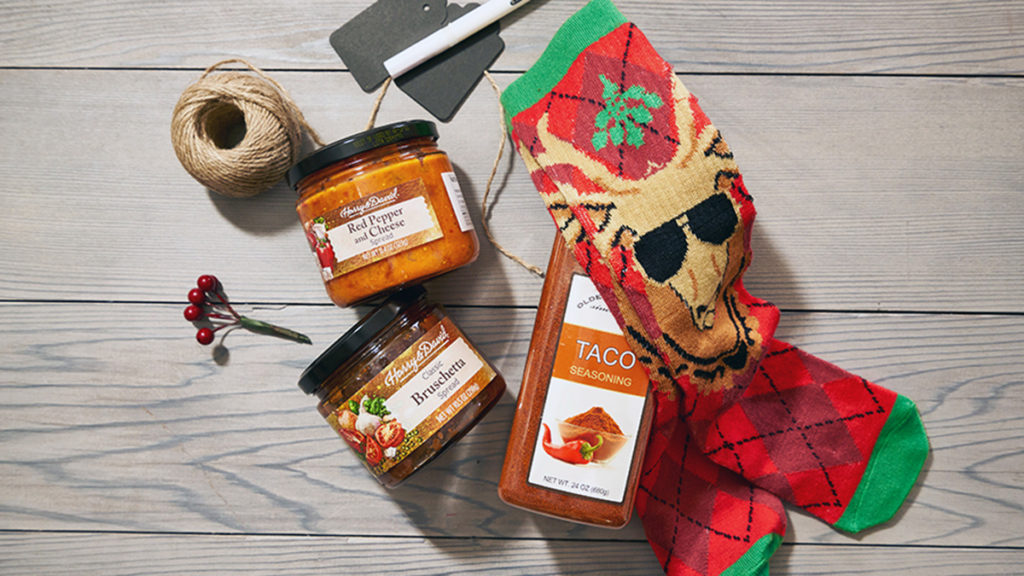 Having foodies on your gift list can present some gift-wrapping challenges. But oddly shaped gifts, such as all the great jams, dips, and seasonings from Harry & David, aren't a problem to wrap when you think outside the box and include a pair of holiday socks!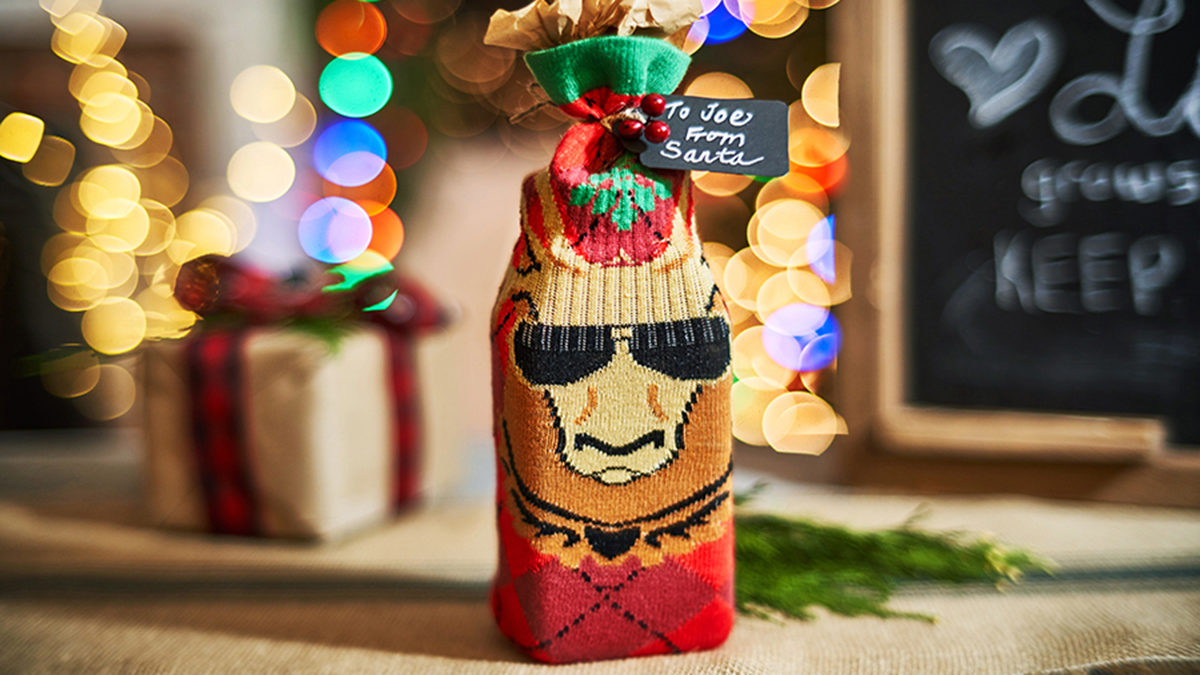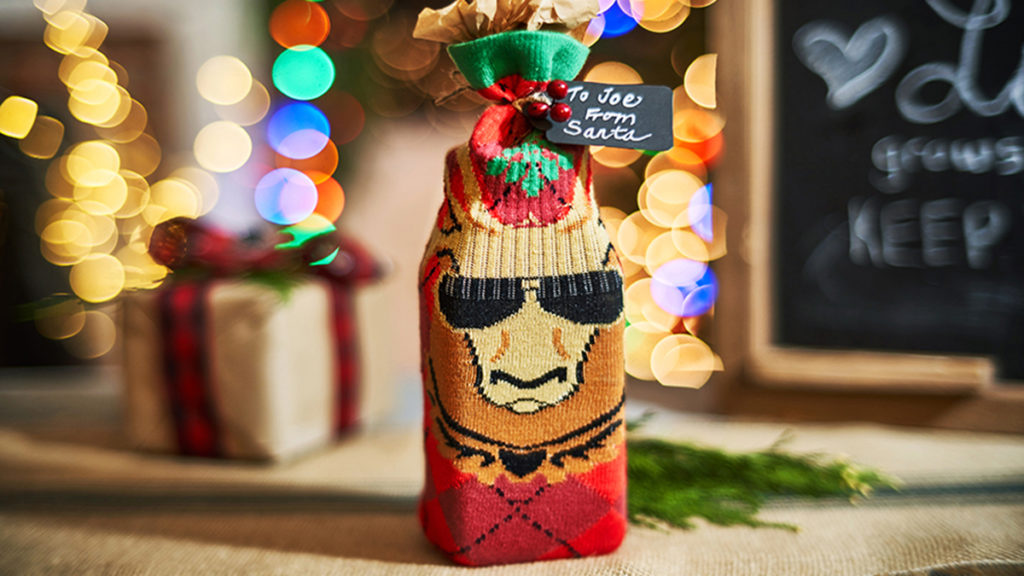 How cool is this gift within a gift?!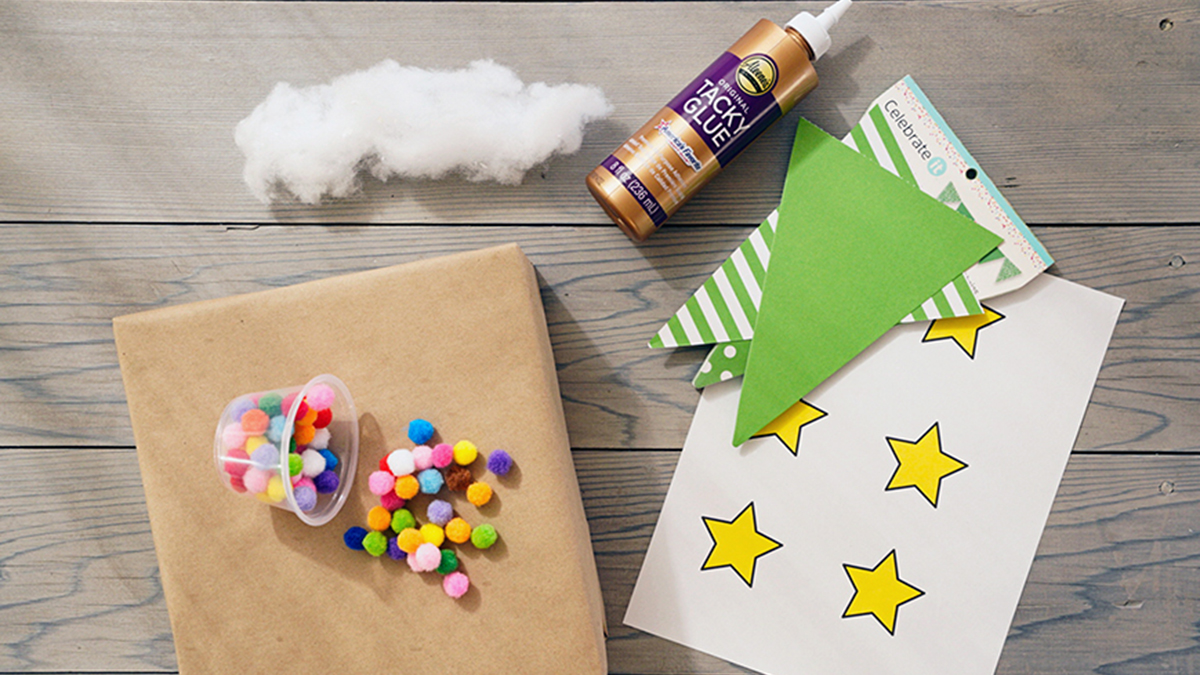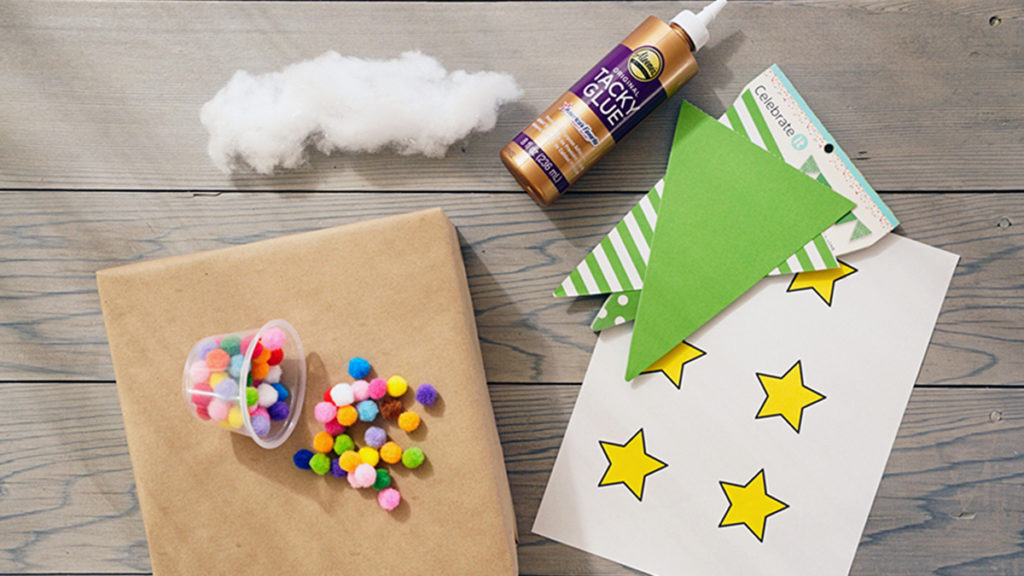 One of the great things about repurposing, or "upcycling," is that there is no right or wrong — it's all about being creative and using what you already have. Leftover crafts from other projects and kraft paper stuffed in the carboard boxes that arrive on our doorsteps have endless possibilities, and are perfect opportunities to get the kids involved. Just lay out the supplies and see what they come up with.
Farmhouse Christmas
Another holiday trend is a farmhouse Christmas,which goes hand in hand with the organic and sustainable trend — and nothing says farmhouse like a good buffalo check, amirite? Also called buffalo plaid, it's everywhere right now. Just do a search on Instagram or Pinterest, and you'll see what I am talking about.
You can also find great gifts celebrating this trend, such as Cheryl's Cookies Holiday Bakery Tub or the Moose Munch® Premium Popcorn Holiday Drum. These gifts check all the boxes: Not only do the containers embody the farmhouse décor motif but they can also be recycled.
Here's a few ideas to get you started: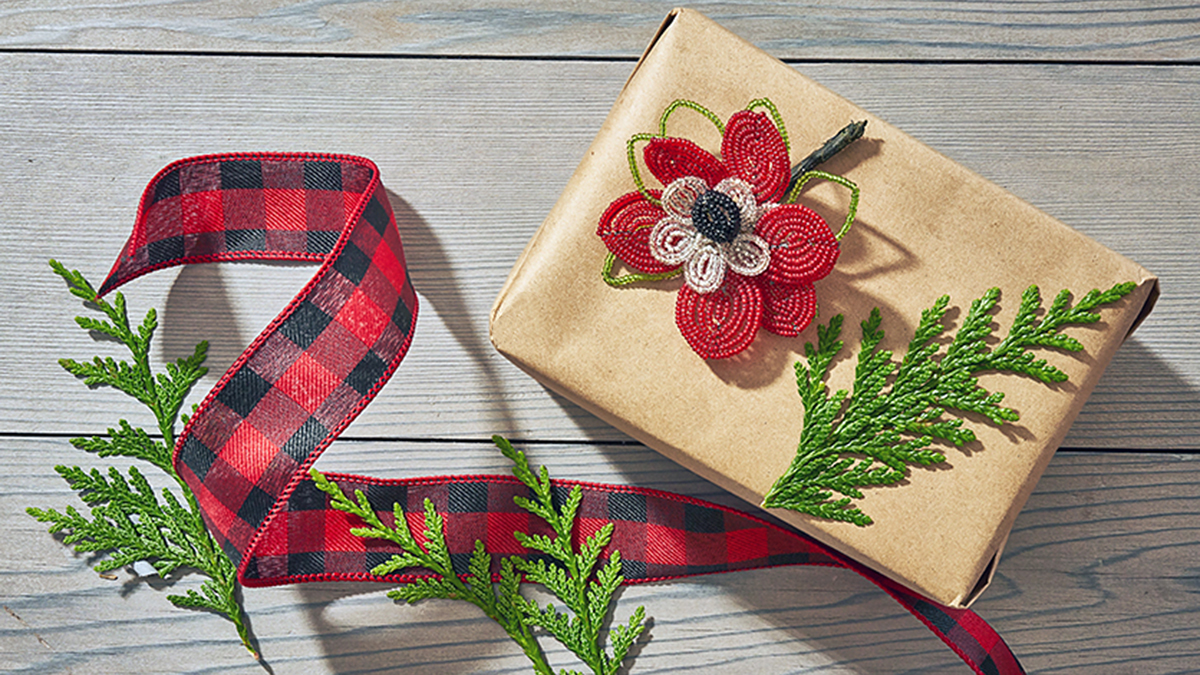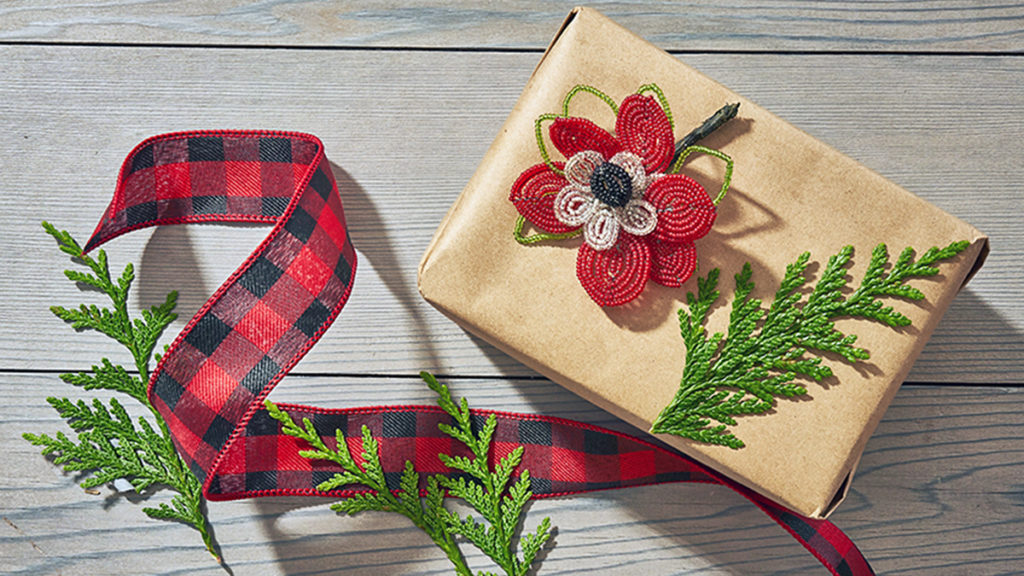 You can't go wrong with simple kraft paper and a red and black buffalo plaid ribbon.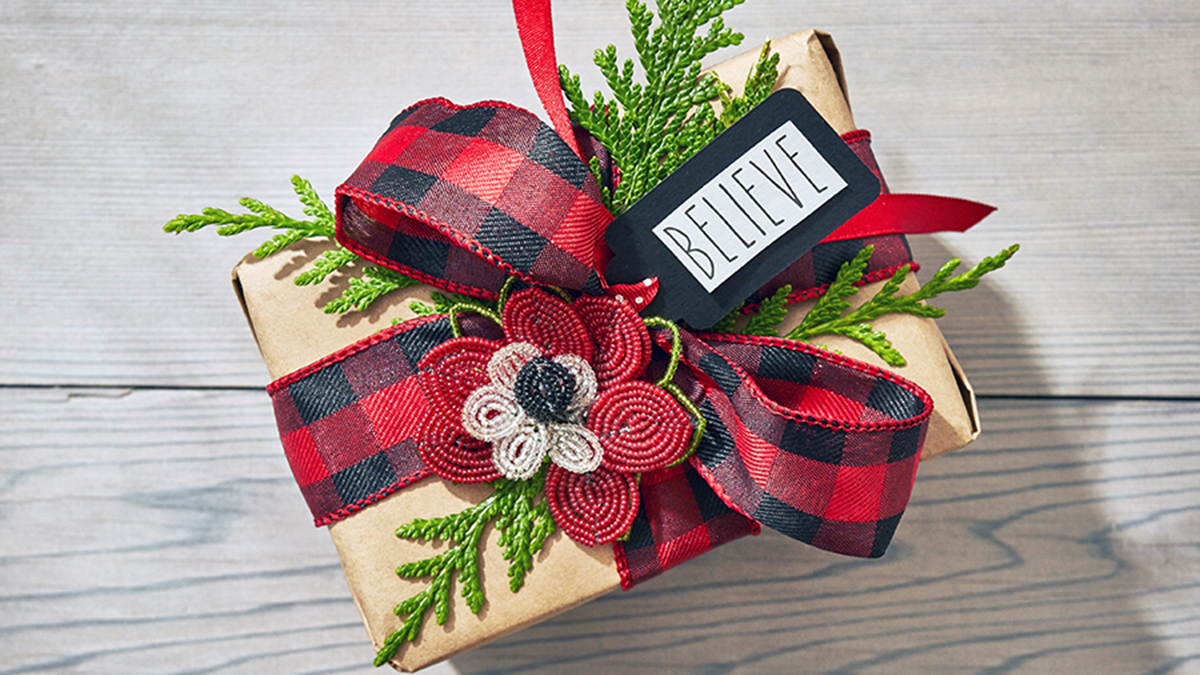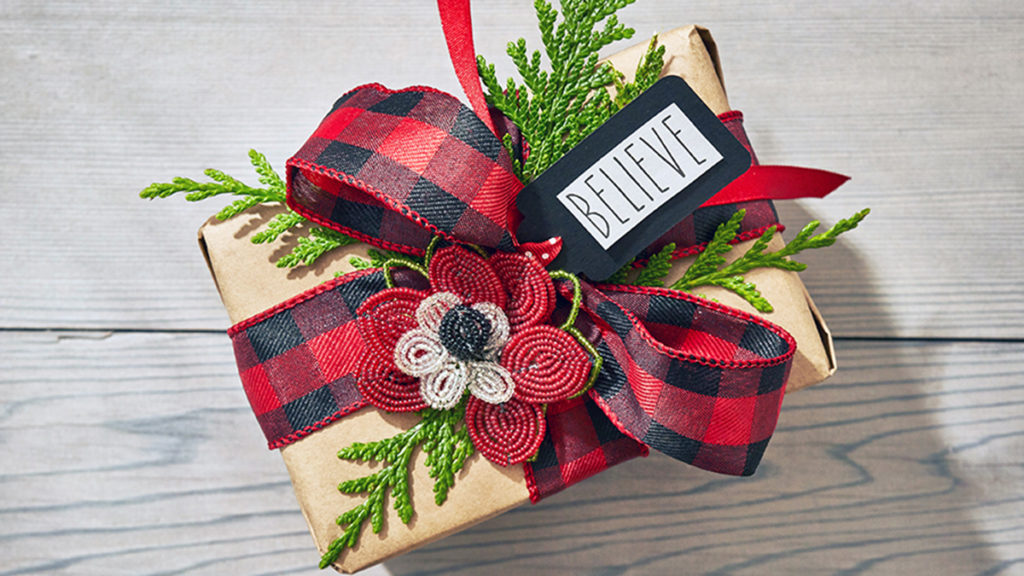 Add a vintage beaded flower, some evergreens, and a chalkboard-style tag, and you've just entered the realm of "super gift wrapper."
I saved my two favorite ideas for last. This is what happens when you put out all your materials and just have fun with it.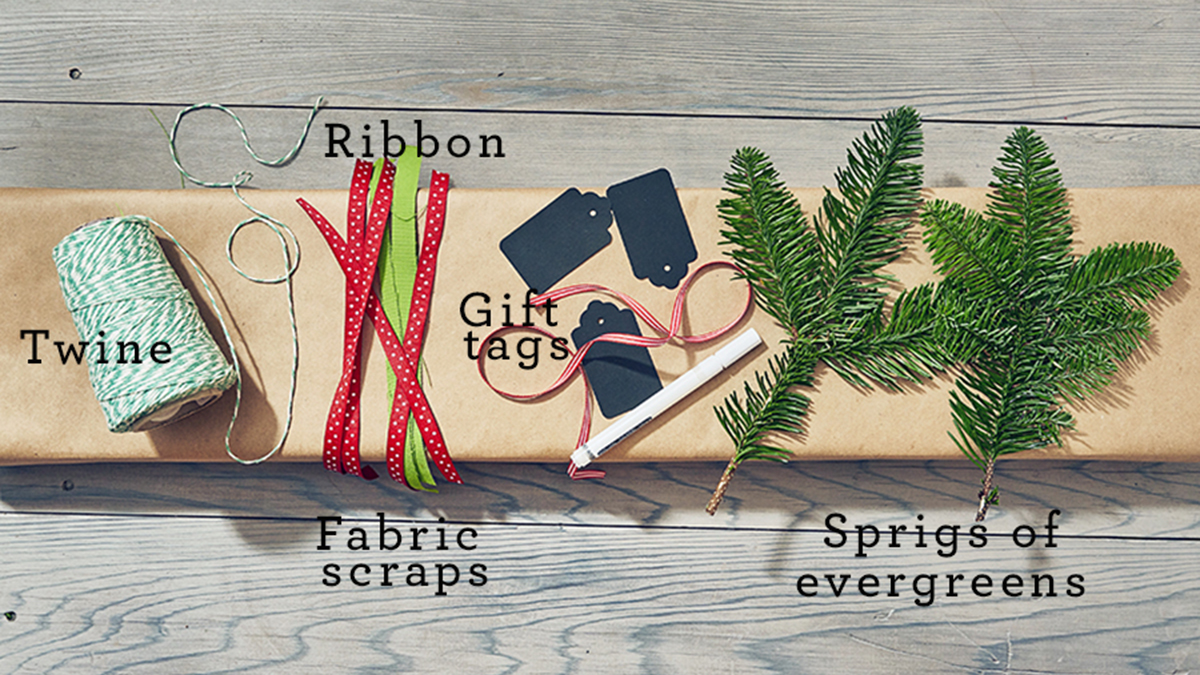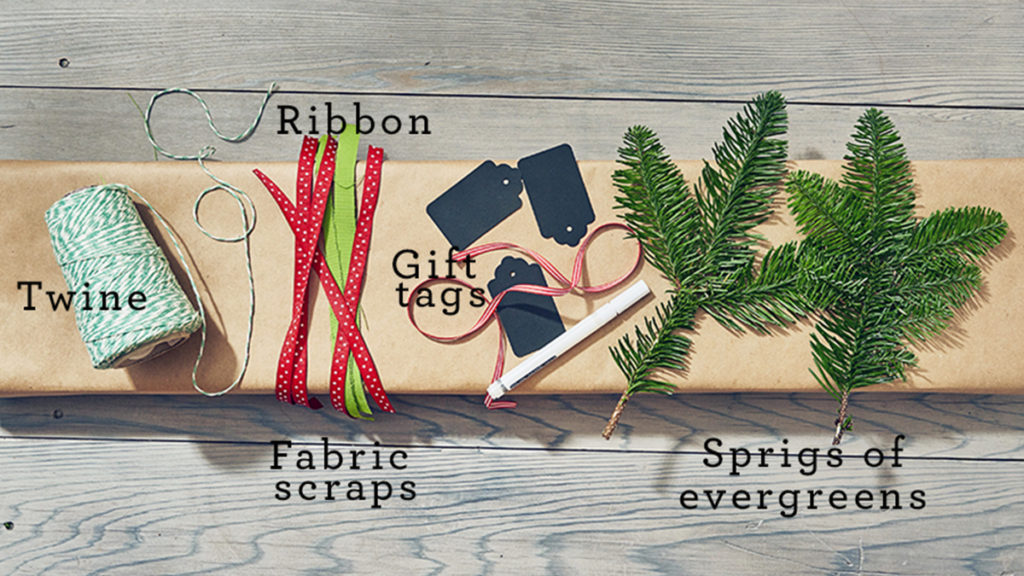 I looked at this long, narrow box and immediately pictured a garland stretched from one tree to another. I realized I had everything I needed right in my bag of reusable tricks.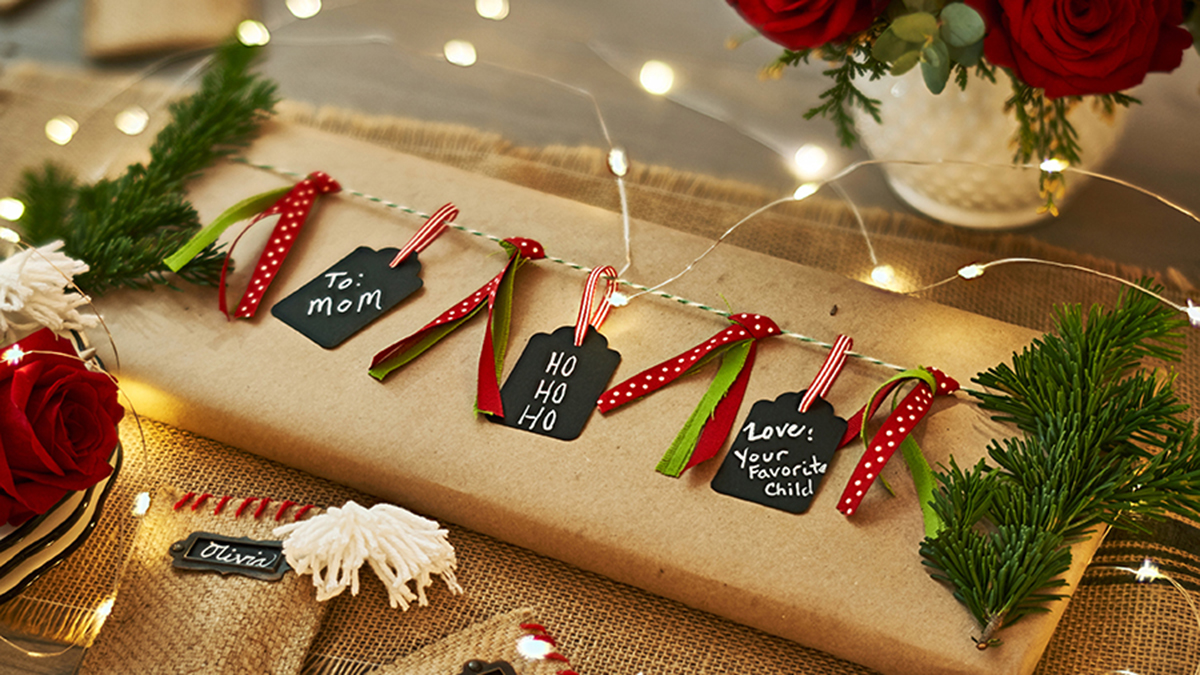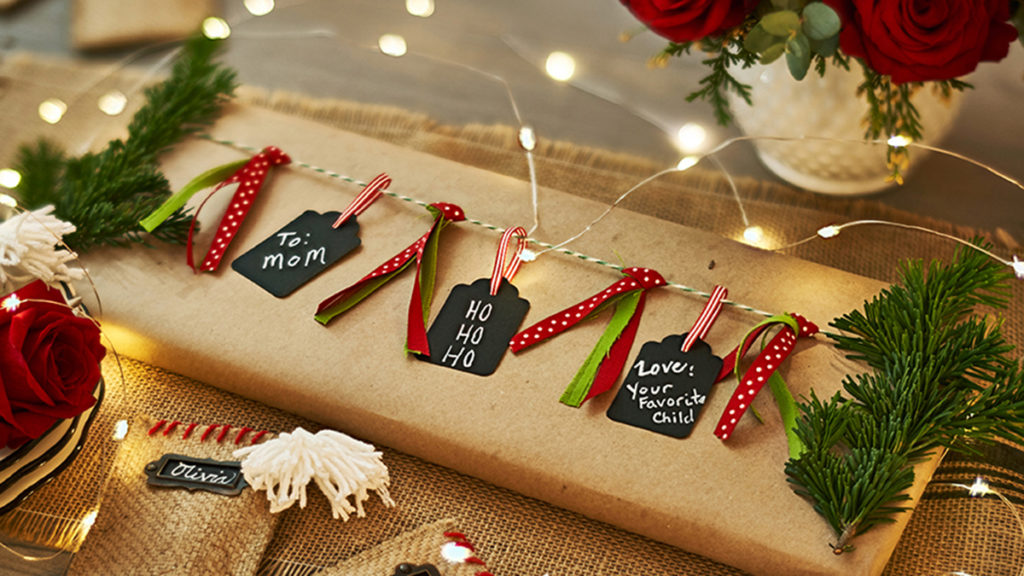 I am in love with the way it turned out!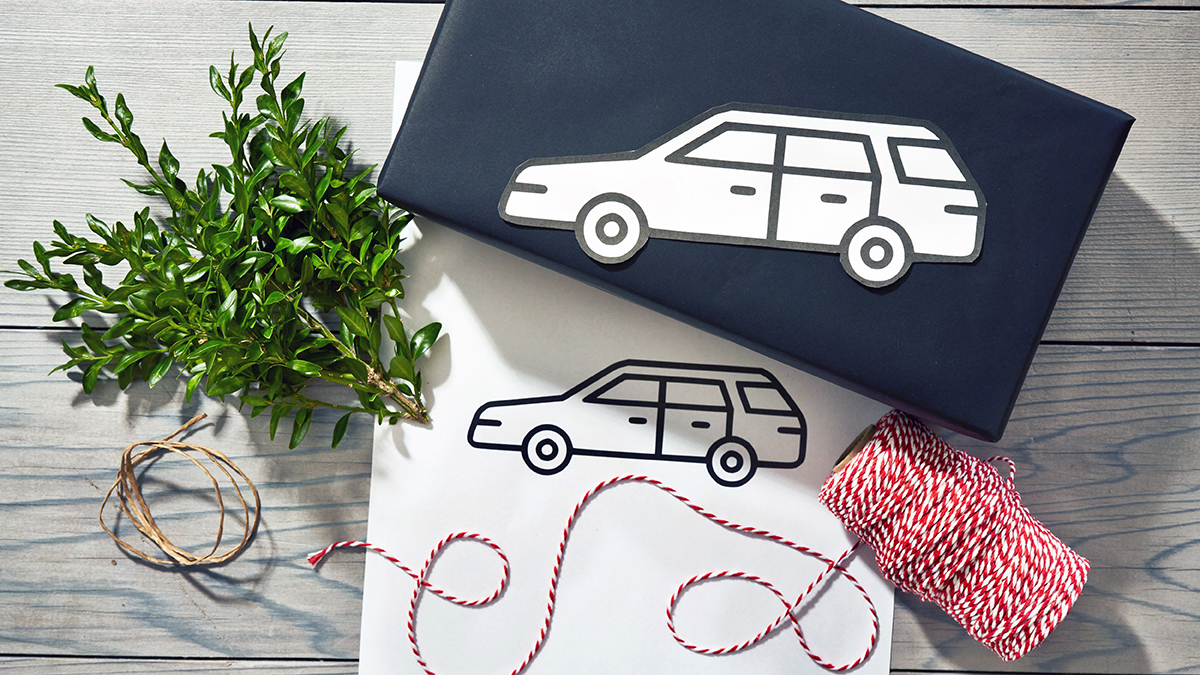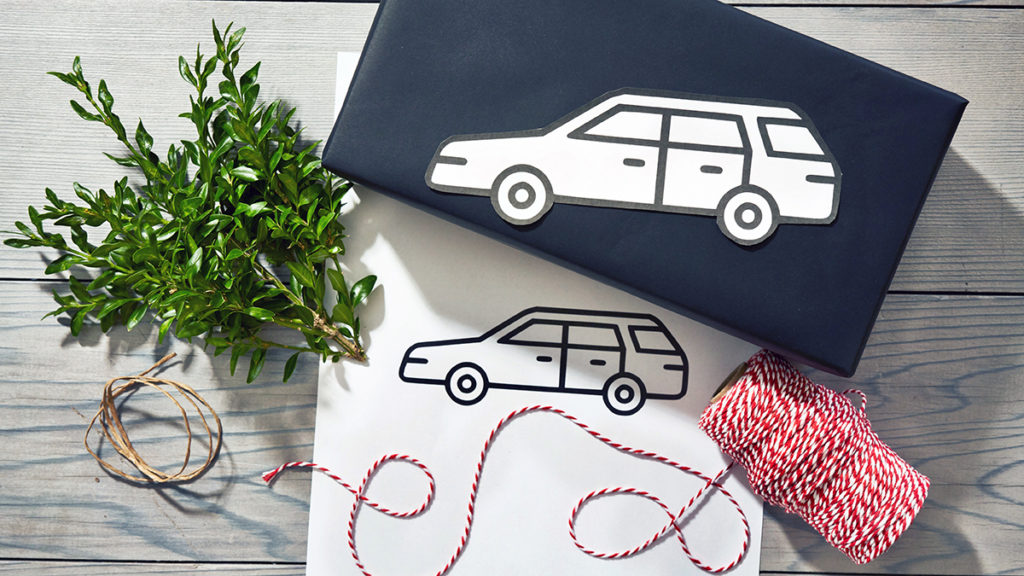 I also love the black wrapping paper trend I'm seeing. You can do so much with it, and it makes whatever elements you embellish it with really pop.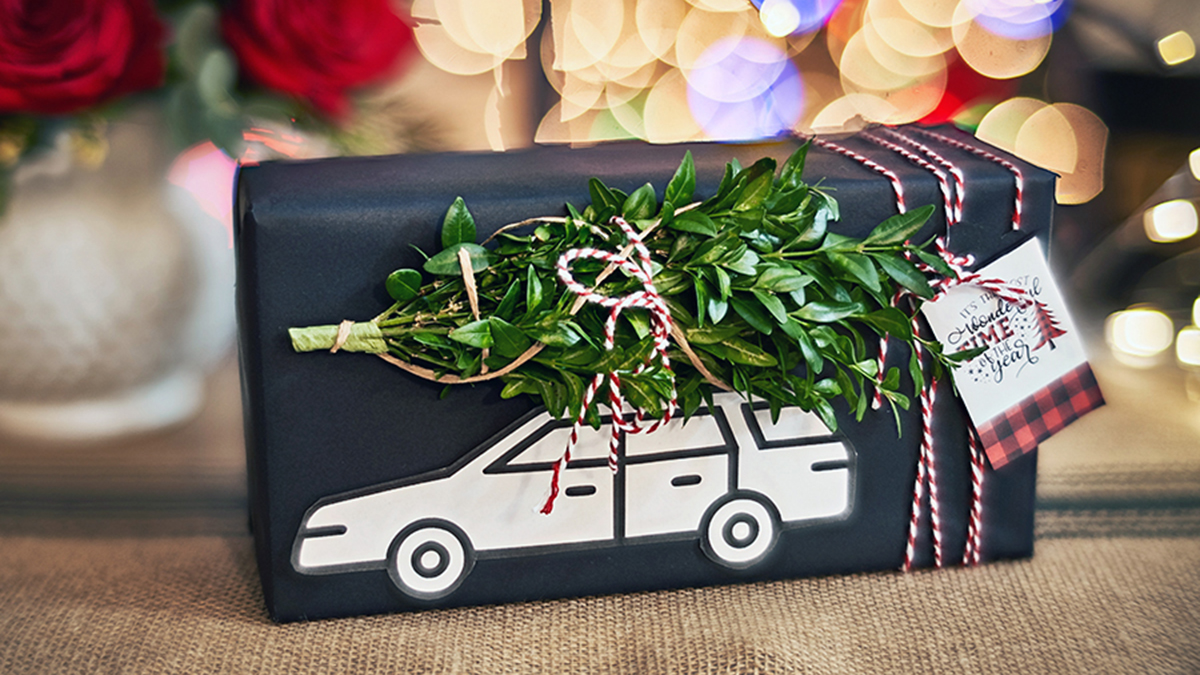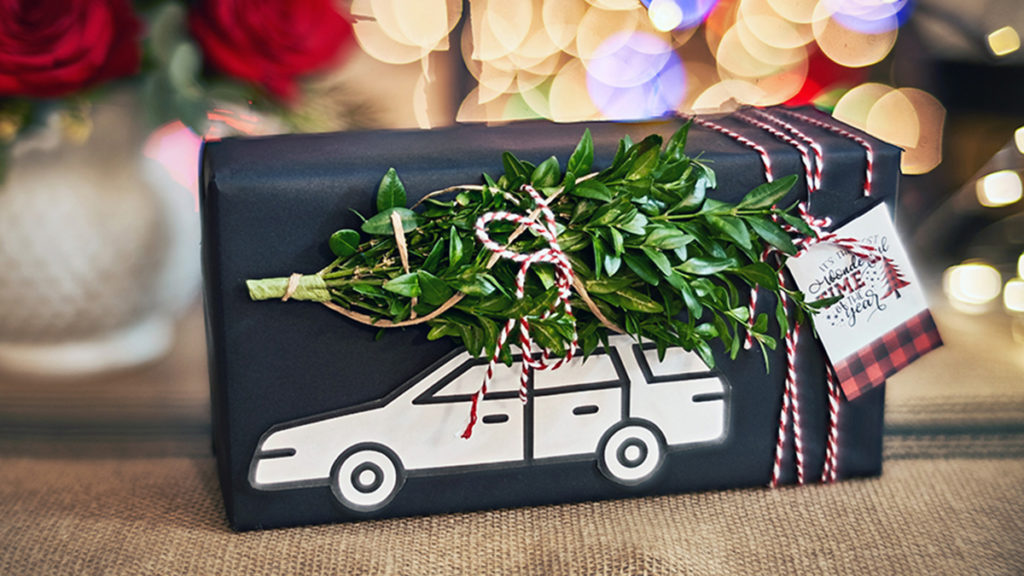 See what I mean? I downloaded a free clip-art image of a station wagon and printed it to the size I needed for my gift box. Then, I cut it out and glued it onto the wrapping paper.
Chalkboard art is still very popular, and you can decorate and write messages right on the paper using a white marker.
I tied a sprig of boxwood to the top of the station wagon, wrapped some red and white twine around the package, and added a cute little holiday gift tag to complete this vintage-looking farmhouse holiday present.
I think I'm going to put these last two ideas in my gift wrapping hall of fame!