All the mouthwatering recipes in our series "The Main Ingredient" have one thing in common: They all contain cookies. This mandarin orange Bundt cake combines the richness of cranberry white chocolate cookies with the tang of citrus fruit for a dessert that tastes like the holidays.
An orange is a gift bag of gold. At least, that's the metaphor that represents Saint Nicholas, aka Kris Kringle, aka Santa Claus.
Legend has it that Saint Nick, who was basically a trust fund baby backpacking around Europe before he became a heralded hirsute bishop, heard of a destitute man with three daughters. Because the poor man couldn't provide his female offspring with dowries, he couldn't marry them off…err, attract suitable partners for them. So, Saint Nick dropped three stacks of his own cash down the man's chimney, where they landed in the young women's stockings that were hanging on the mantle over the fireplace to dry.
The oranges we place in Christmas stockings every year embody both Saint Nick's giving gesture and the gratitude we should feel in savoring these miraculous little luxuries. The juicy sections within them remind us that not only is life sweet, but we should share that sweetness with family and friends — just like this mandarin orange cake, made with Kris Kringle Cranberry White Chocolate Cookie crumbles. The orange tang is a terrific complement to the dried cranberries, and both flavors counter the richness of the white chocolate.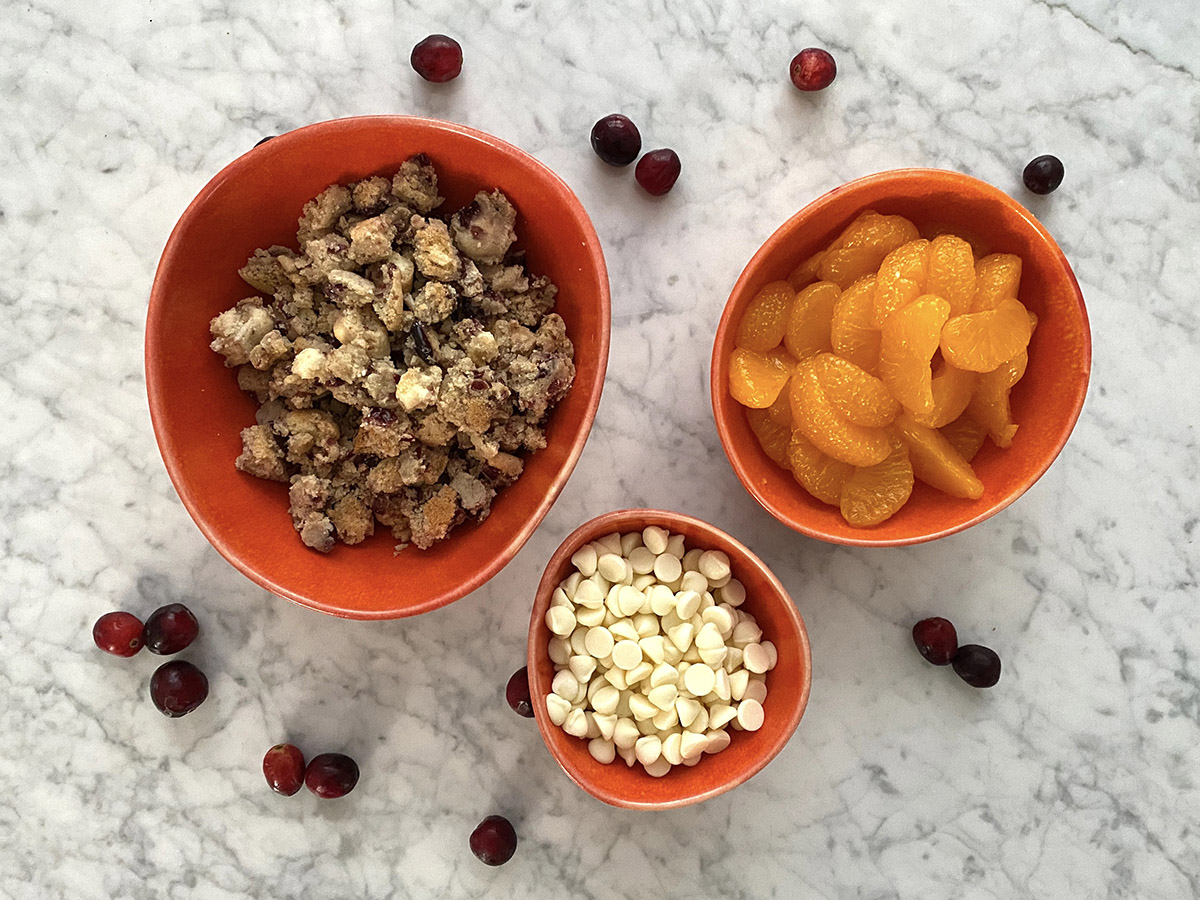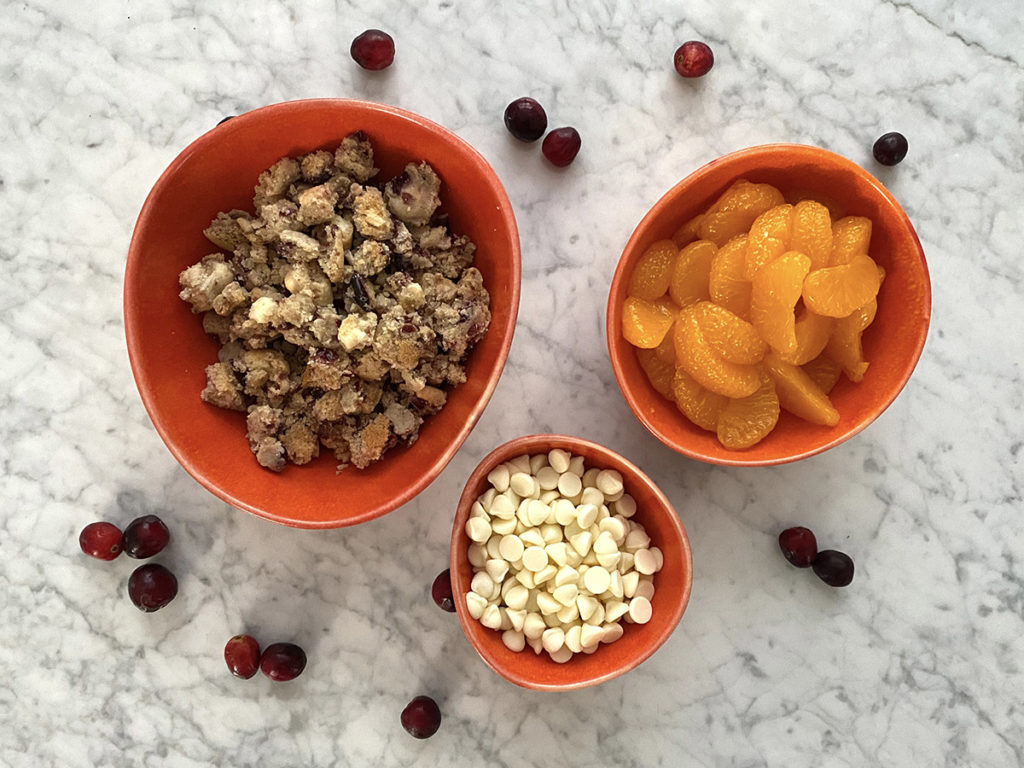 More like a quick bread, this recipe is simple to put together and also a snap to double. It gives you the freedom to build a shorter or taller Bundt — and also choose how much you want to garnish it — depending on how many you're having for dessert.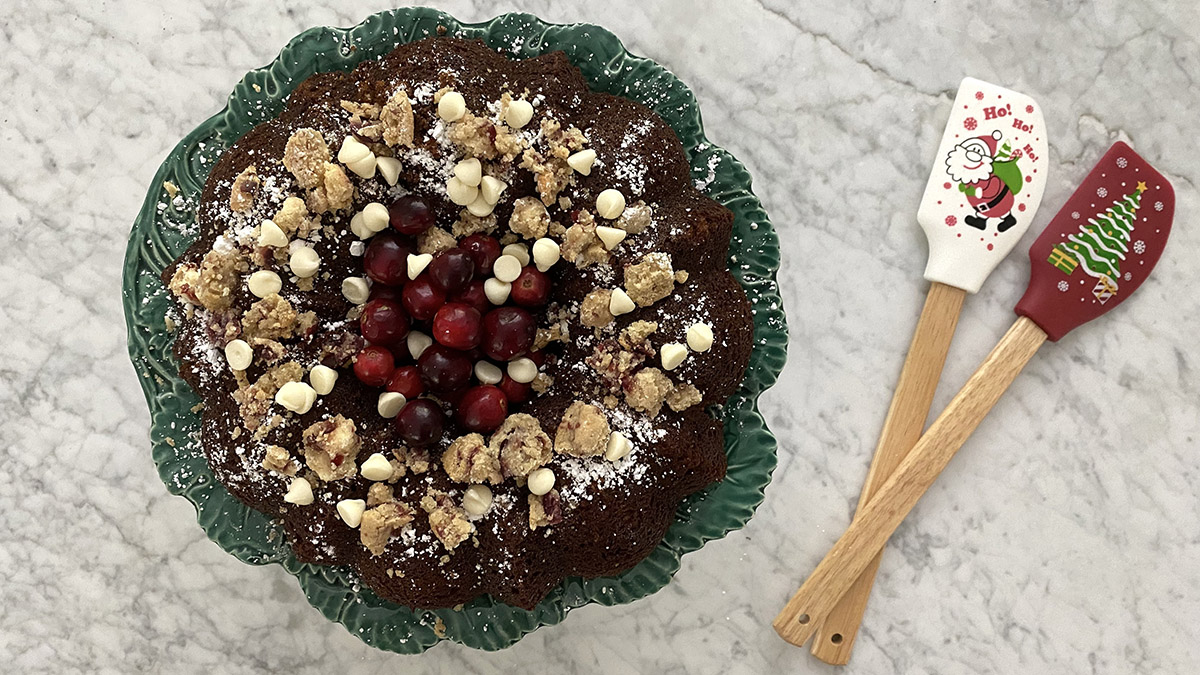 Mandarin Orange Bundt Cake
Ingredients
2

cups

flour

1½

cups

brown sugar

2

teaspoons

cinnamon

½

teaspoon

salt

2

teaspoons

baking soda

2

eggs

¾

cup

neutral oil

(vegetable or canola are best)

1

teaspoon

vanilla extract

1

15-ounce can

mandarin orange sections

(drained)

4

Kris Kringle Cranberry White Chocolate Cookies

(roughly crumbled)
Instructions
Preheat the oven to 350° F. Grease and flour a Bundt pan. (You can also substitute a loaf pan.)

In a medium bowl, combine the flour, sugar, cinnamon, salt, and baking soda.

In a medium bowl, beat the eggs with the oil and vanilla.

Add the liquid ingredients to the dry ingredients. Add the oranges and crumbled cranberry white chocolate cookies, and mix until just combined. Pour evenly into the Bundt pan.

Bake for 40 to 45 minutes or until the top begins to crack and a toothpick inserted into the middle of the cake comes out clean.

Garnish with powdered sugar, fresh cranberries, cranberry white chocolate cookie crumbles, and white chocolate chips.