Having company over? In our "Hosting How-tos" series, we'll teach you how to entertain like a pro. There's so much fun to be had at a Mardi Gras bash. Read on for six food and décor tips to host your own celebration.
One of the great things about Mardi Gras is that you don't have to live in New Orleans to enjoy it. People everywhere throw parties in honor of the events of the popular Carnival celebration.
Before we tell you how you can best channel the spirit of this raucous occasion, a little about the holiday itself. Mardi Gras, French for "Fat Tuesday," begins on or after the Christian feasts of the Epiphany, also known as Three Kings Day, and ends the day before Ash Wednesday, aka Shrove Tuesday. Some places, such as Mobile, Alabama — site of the first Mardi Gras held in the U.S., in 1703 — start the festivities as early as November. Most celebrations, however — including the biggest one of all, in New Orleans — occur in the two weeks leading up to Fat Tuesday, which this year is March 1.
As you might imagine, bringing the fun of Mardi Gras home can be tricky. Incorporating the traditions of music, parades, dancing, partiers decked out in wigs and wild outfits, and general revelry into a more intimate setting is not easy — but it can be done.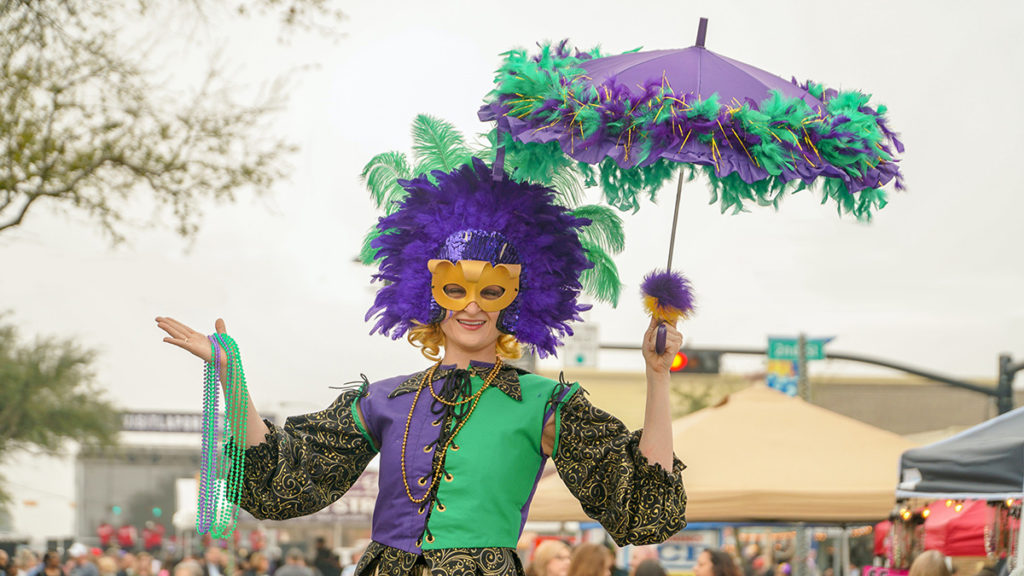 If you're considering throwing your own Fat Tuesday celebration, read on for six food and décor tips. And don't forget the beads!
1. Prep a festive menu
To stay on theme, prep foods that fit the occasion, suggests Gina Tepper, an on-air lifestyle entertainment expert. She recommends some authentic New Orleans appetizers and main courses to serve your guests:
Appetizers: Charcuterie board with pre-cooked andouille sausage, assorted cheeses and crusty French bread, mushrooms stuffed with Cajun-seasoned crabmeat
Main Course: Red beans and rice with smoked sausage, chicken and andouille sausage jambalaya, shrimp étouffée
2. Don't forget themed beverages
A Mardi Gras party isn't the time to serve a dull drink. Instead, Tepper suggests tapping into New Orleans culture with such options as:
Mimosas with the glass rimmed with Cajun seasonings
Cajun bloody marys garnished with a jumbo shrimp
Café au lait, a popular New Orleans hot beverage, consisting of coffee and hot milk
3. Serve King Cake for dessert
This sweet, circular brioche cake has been the centerpiece of the Catholic celebration of Epiphany since the Middle Ages and is a traditional dessert served during Mardi Gras. An authentic King Cake will always be decorated with purple, green, and gold icing — the traditional colors of Mardi Gras — and baked with a tiny plastic baby inside to symbolize Jesus' arrival.
"One fun activity is that whoever gets the tiny toy baby in their slice is responsible for bringing the cake the following year," Tepper says.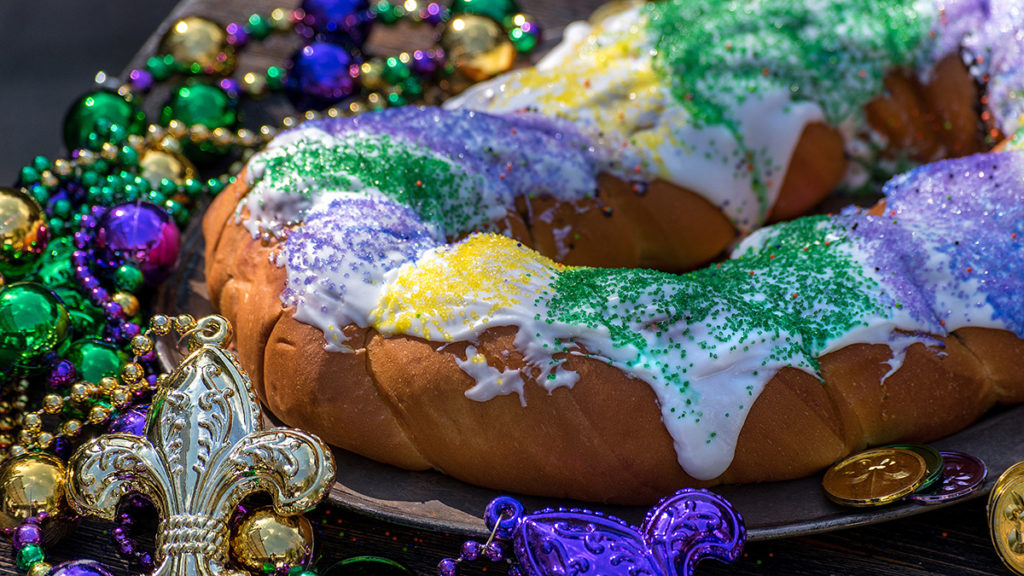 Other desserts that will give you a taste of the bayou are buttercream frosted butter pecan cookies, salted caramel bourbon popcorn, and s'mores, which mimic the moon pies that are traditionally thrown to onlookers during the Mardi Gras parades in Mobile.
4. Ramp up the décor
Mardi Gras is a high-energy holiday, so your space should reflect the spirit of the day. Tepper suggests getting crafty and DIYing these four décor options, many of which can be found in local dollar stores: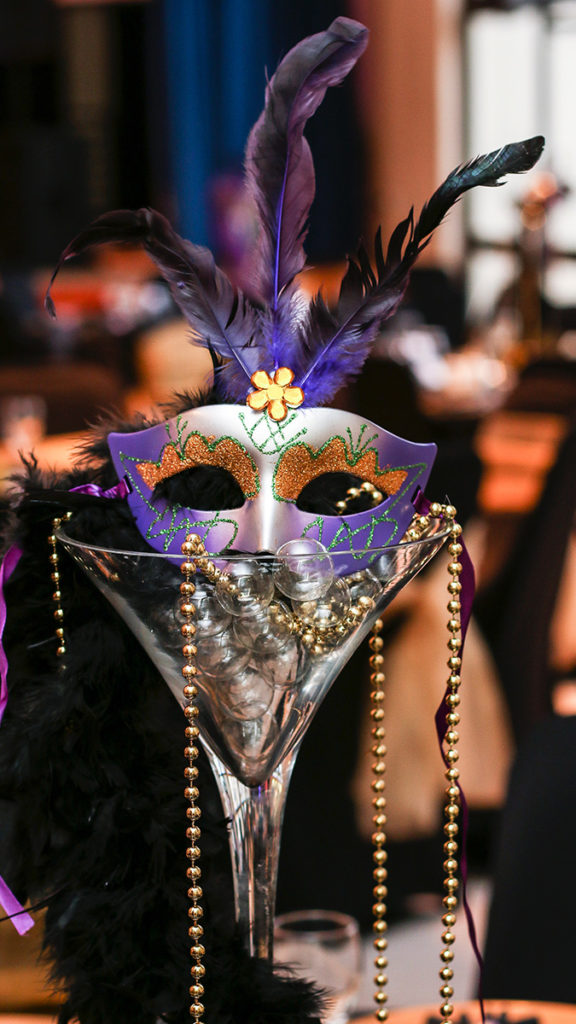 Create fun and festive Mardi Gras masks or embellish inexpensive masks with feathers, buttons, beads, and rhinestones. Use these as decorations or party favors. Tepper also recommends glittery gold chenille sticks (pipe cleaners). "They can easily be formed into a three-loop flower and attached to the center top of the mask over the feathers."
Make a detailed centerpiece of a Mardi Gras float using inexpensive materials and reused items, such as cardboard, a box, buttons/beads, felt, artificial flowers, and acrylic paint. "Cut out a pattern for the Mardi Gras float theme on white foam core or cardboard. Paint the design with different colors and accents with craft foam, beads, buttons, ribbon, glitter, or whatever you have on hand," Tepper says. "Glue the cardboard design onto a box. Embellish the box with flowers, felt, and strips of tissue paper to make the float come alive."
Paint a "Bourbon Street" sign using cardboard, a tissue box, cardstock, and a printout of a Bourbon Street sign.
Scatter Mardi Gras-themed bottles filled with colorful feathers around your party space. You can easily create these using reused bottles and craft paint or accent beads.
5. Remember the bunting
Bunting can transform your space without costing a lot, says D. Channing Muller, an event planner and principal at DCM Communications in Chattanooga, Tennessee.
"Hang purple, green, and gold flag bunting from the ceiling around your event space or along the railing of a patio, deck or staging area, and you'll be golden," she says. "This is a go-to décor item for New Orleans homes at Mardi Gras and instantly creates a festive atmosphere in any party space."
6. Set your table with runners
To honor the Mardi Gras color scheme, layer striped purple, green, and gold table runners on all the buffet tables where you're serving food and beverages, Muller says. "These are relatively inexpensive and, as long as you stay on color scheme with the same shade of purple, green, and gold throughout your décor, your party will look like it's hosted by a native New Orleanian."