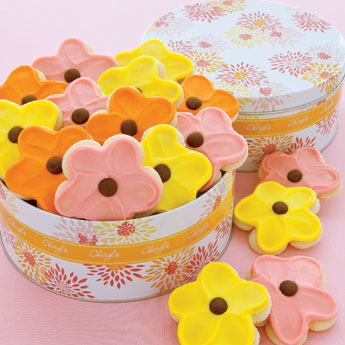 How are you planning on showing Mom you care this Mother's Day? Flowers? Jewelry? Homemade card? Or perhaps with a delicious gift from Cheryl's? 
Share with us your special plans for Mom and we will reward YOU with a chance to win our beautiful Spring tin filled with buttercream frosted flower cookies!
We will select 3 random winners.
Happy Mother's Day!
And the winners are….
Winner #1: Post #5 Written By Stacey Miller on May 3, 2011 at 5:26 pm
Winner #2: Post #28 Written By Amy L  on May 5, 2011 at 10:13 pm
Winner #3: Post #10 Written By Melanie Morin on May 3, 2011 at 7:10 pm