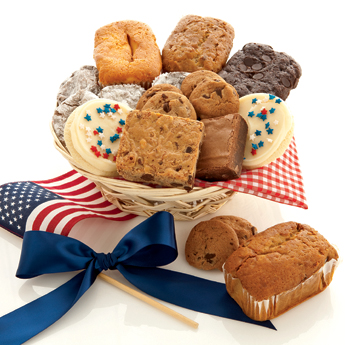 In celebration of our BIG Mrs. Beasley's Special Offer this week, we want to give away one of our NEW Mrs. Beasley's gift baskets!
Never tried Mrs. Beasley's delectable desserts? Well, now is your chance!
This gift basket includes Mrs. Beasley's fabulous chocolate truffle cookies (definitely an office favorite around here), assorted mini tea cakes and Cheryl's snack sized crunchy cookies, brownies and buttercream frosted cookies – the best of both baking families in one festive gift basket!
 To enter, all you need to do is tell us, in 1-2 paragraphs, what your favorite Memorial Day Picnic dessert is and why.
And the winners are….
Winner #1: Post #19 Written By Jamie S. on May 25, 2011 at 8:18 pm
Winner #2: Post #7 Written By Sandy A on  May 23, 2011 at 10:51 pm
Winner #3: Post #15 Written By FaithJ on May 24, 2011 at 2:41 pm