Get an inside look at how Cheryl's develops new flavors, products, and gifting options in the series "From the Kitchen."
The test kitchen at Cheryl's is always busy—and especially this spring. As you may have heard, we recently joined with Mrs. Beasley's Bakery and Miss Grace Cakes—bakers of high quality cakes and cookies in Hollywood CA. We will be using their original recipes to bake all the delicious products at our bakery in Westerville Ohio, so we are working hard in the test kitchen to make sure all the products are as moist, flavorful and yummy as always. It is an exciting time as we taste all their wonderful products and begin our development work. I want to introduce you to their products: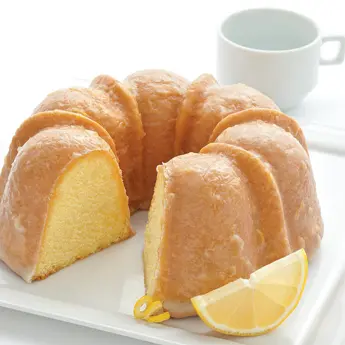 Miss Grace is famous for their bundt cakes and mini-bundt cakes called Gracelets. The 4 flavors are lemon, orange, chocolate with nuts and chocolate fudge. I think what really sets the lemon and orange cakes apart and makes them so special are the glazes—they are literally drenched in glaze made with lemon or orange juice and zest. This gives the cakes a bright, fresh citrus flavor. The chocolate fudge cakes, available with or without California walnuts, are hand-dipped in chocolatey glaze, which imparts flavor as well as giving the cakes a beautiful appearance. The texture of all the cakes is soft, tender and moist.
Mrs. Beasley's is well-known in Hollywood for their baskets—loaded with teacakes, brownies and their amazing Truffle cookies. The teacakes are very moist and flavorful; we will be baking carrot, lemon, pistachio and chocolate. The baskets will also feature Cheryl's brownies and cookies.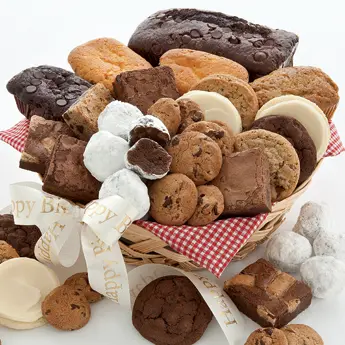 The truffle cookies are extremely popular with the Mrs. Beasley customers (as well as everyone who tastes them here in the test kitchen!). This cookie is dense, very chocolatey and melt-in-the-mouth good. It reminds me of a cross between a chocolate truffle candy and a brownie. The dough ball is rolled in a generous amount of powdered sugar and then baked inside a little muffin cup—this helps to keep the shape while baking. Wait until you try one—you will love it too!
I have to go and test Miss Grace Lemon Cakes now……what a great job!
Happy Spring,
Elisabeth
Cheryl's Product Development Chef