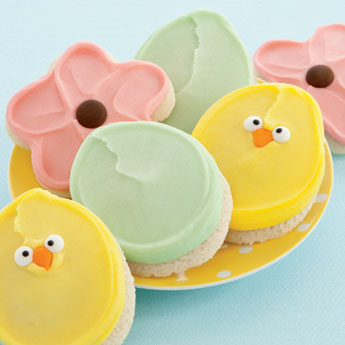 This week's blog post is from one of our Marketing experts, Gina.
A couple of weeks ago, a groundhog in Pennsylvania didn't see his shadow, which according to legend, signifies that winter weather is drawing to a close. And what welcome news after one of the craziest winters in recent history. I don't know about you, but I am ready for SPRING! Cheryl's is rolling out the Flowers, Easter eggs, and our NEW baby chick cookies because what better way to shake out of the winter doldrums than with cookies! And buttercream frosting of course!
As much as I'll miss the cold and the ice (haha), I'm so excited to see the trees sprout buds, the earliest flowers start to bloom, and the birds start to make their nests. As the official season of rebirth and renewal, spring always feels like a brand new page, open to every possibility. Even spring cleaning doesn't sound so bad as a trade-off from being cooped up all winter!
I'm so excited about the coming of spring that I was wondering what your favorite part of spring is. What are some traditions you and your family have for this time of year? Can't wait to hear your thoughts!