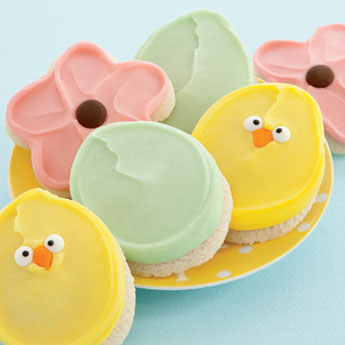 Spring is finally here!  Flowers, green grass, sandals and warmer temps! And of course with Spring comes awesome Easter gifts from Cheryl's.   Cheryl's has a $9.99 6-count sampler with buttercream frosted spring favorites… flowers, chicks and eggs!
Would you like one?  I want to send you one! 
In 1-2 paragraphs tell us what family traditions you have to celebrate Spring or Easter! 
We'll choose FIVE winners!
And the winners are….
Winner #1: Post #4 Written By andrea mcmahon on April 13, 2011 at 7:05 pm
Winner #2: Post #10 Written By megan on April 13, 2011 at 8:57 pm
Winner #3: Post #15 Written By The Rod Family on April 16, 2011 at 4:40 pm
Winner #4: Post #24 Written By Amanda S. on April 18, 2011 at 2:28 pm
Winner #5: Post #6 Written By kathy chambers on April 13, 2011 at 7:14 pm