(And so is the aroma of our Easter goodies!)
Our busy bakers are hopping to it in our kitchens, whipping up everything you need for Easter. From baskets to buffets, when you're ready to begin planning, start here.
Buttercream-frosted Bunnies, Chicks, and Eggs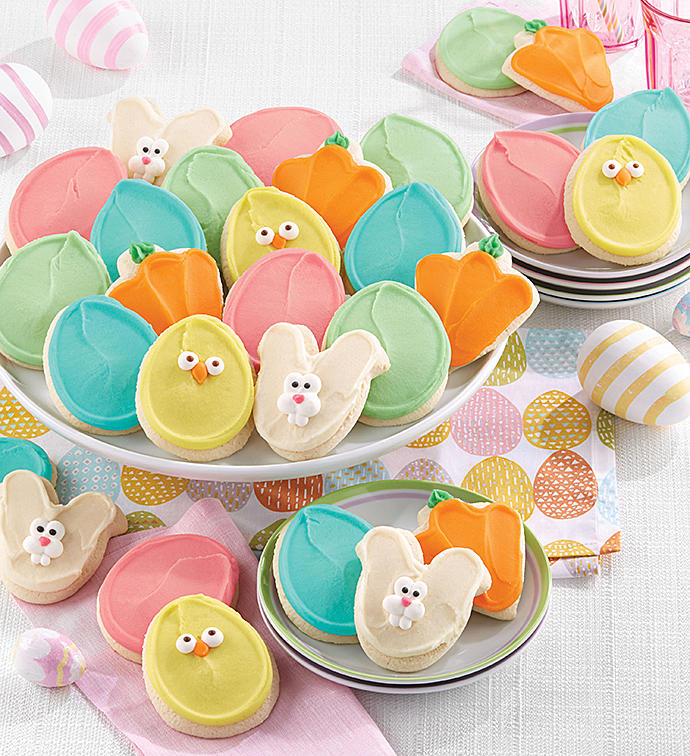 They're back! Our adorable buttercream-frosted Easter cookies in pretty pastel colors put a little spring in everyone's step. Buy them individually wrapped and packaged in boxes of 12 to 200 for place settings, quick desserts, office treats or basket stuffers. Or send them to loved ones near and far already packed up in our Bunny Cookie Jar, adorable Egg Carton, Ceramic Basket, or felt Easter Bunny Tote.
Easter Baskets Galore! (Tins and Towers, Too)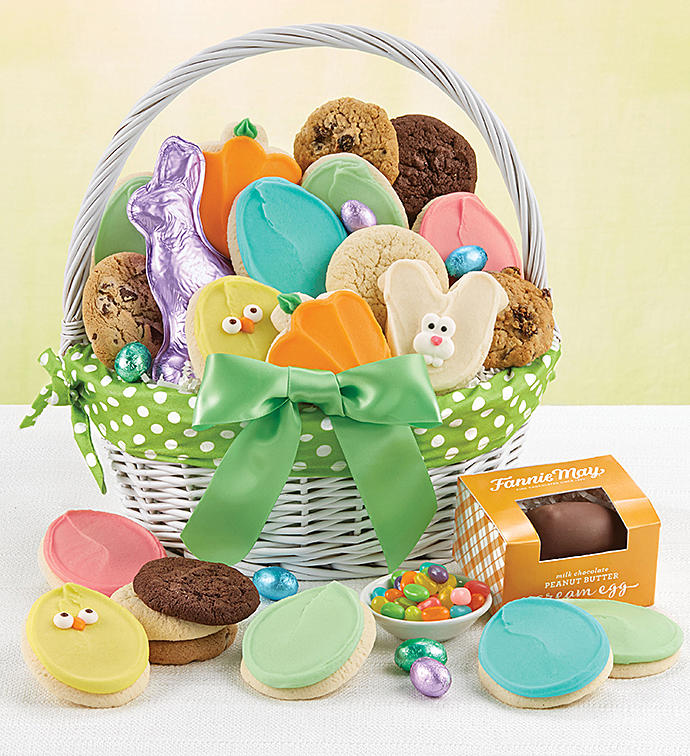 If you have neither the time nor the inclination to create your own baskets, worry not; we've got dozens of gifts already perfectly put together, ready to ship wherever you want to send happy wishes. Some come with candy, others with cookies only, but all of them are beautifully presented and sure to delight.
Sweet Treats for Your Littlest Peeps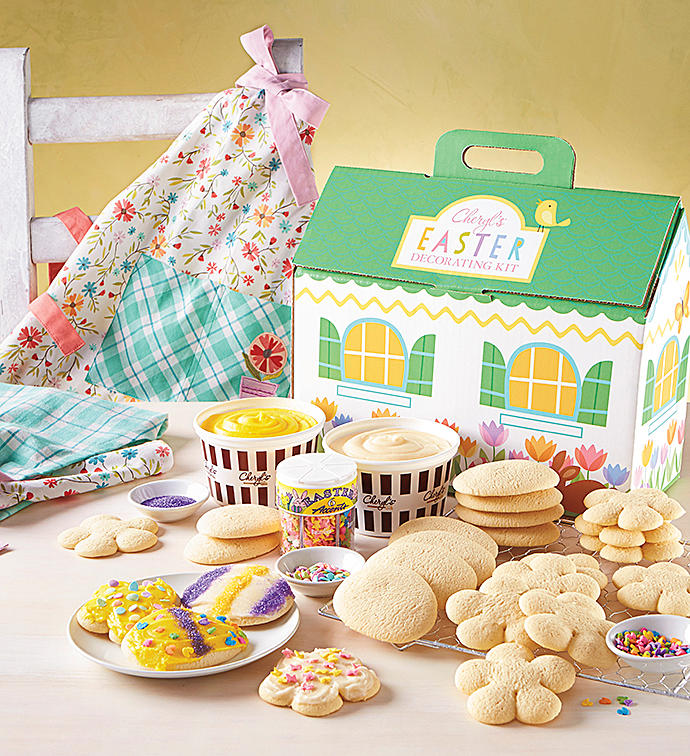 Every year, we make a few Easter gifts we know kids will especially like. Creative children or those who like to be in the kitchen will love our Easter Cut-out Cookie Decorating Kit. It comes with two dozen already baked egg- and flower-shaped cookies, two one-pound tubs of vanilla icing, and pastel sprinkles. Trust us when we tell you this is way more fun, more delicious, and easier than dying eggs!
For kids who are begging for a bunny, we have two baskets complete with a plush rabbit that's much easier to take care of than the real thing. And if you have lots of little peeps to satisfy, our little Easter Gift Tins are just the right size and are easy to ship near and far.
What Goes Best with Buttercream-frosted Eggs?
That's the question we ask ourselves before planning every holiday dinner, and Easter is no exception. We have perfectly sized cookie boxes and baskets for gatherings large or small, so dessert's a no-brainer; all we have to do is figure out what comes first.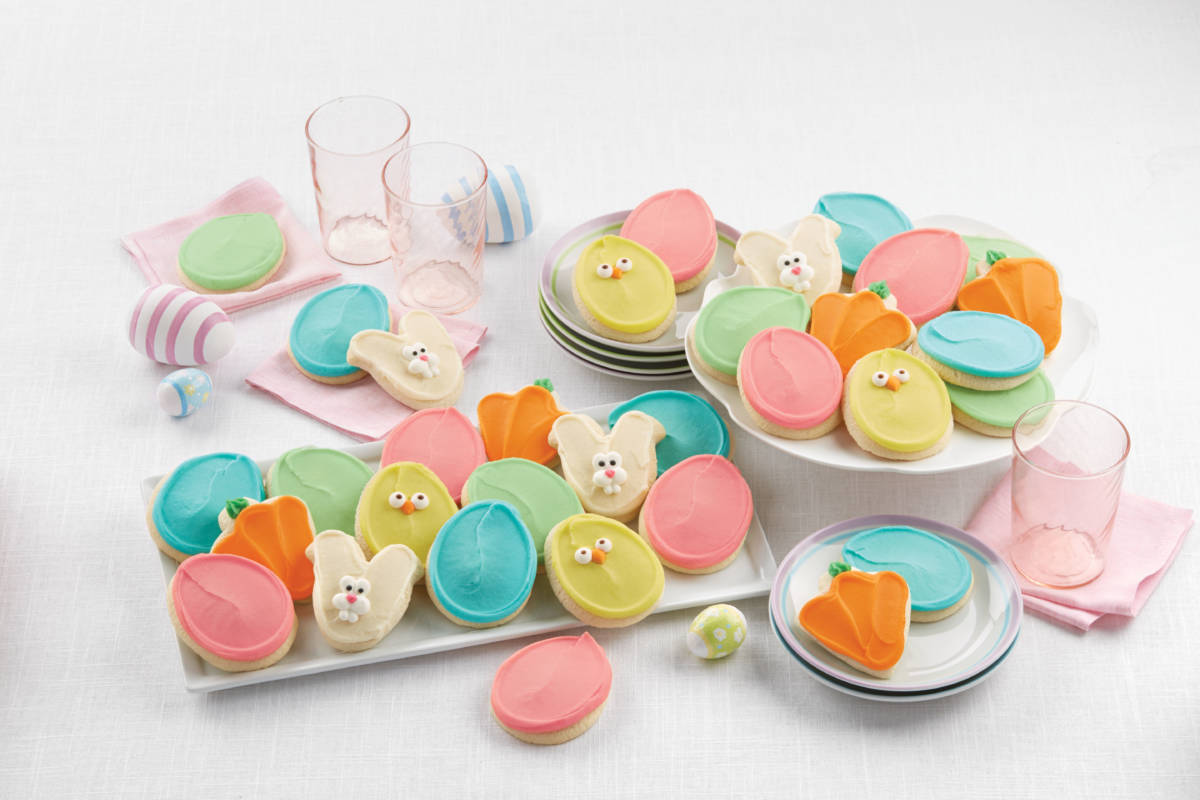 We'll leave the main course up to you, but we do have an idea for a great starter. If you're going to end the meal with a buttercream-frosted egg, why not start with a potato nest. These crispy, delicious little cups can hold everything from sour cream topped with bacon and chives, to cream cheese with smoked salmon and capers. You choose the filling, we'll tell you how to make the nest. (For a sweeter alternative, try using sweet potatoes instead.)
Spring Potato Nests
These crispy little spring potato nest cups are the perfect way to start your spring mornings. Not only are they a spring favorite, but they also make the best addition to your Easter brunch!
Prep time: 10 minutes
Cook time: 25 minutes
Total time: 35 minutes
Servings: 32 cups
Ingredients
3½ cups of frozen shredded hash browns (thawed) or 1½ pounds of russet potatoes (peeled, boiled, cooled and grated)
Salt and pepper to taste
Instructions
Preheat oven to 425° F.
Lightly grease a mini muffin tin or tins (32 to 36 cups).
Gently toss shredded potatoes with salt and pepper.
Place one heaping tablespoon of shredded potatoes into each muffin cup, and gently press into bottom and up sides to bring edges just above the rim of the cup.
Bake for 25 minutes or until nests are golden brown.
Cool in pan(s) for 10 minutes, then carefully remove and place on a paper towel-lined baking sheet.
Fill as desired and enjoy!