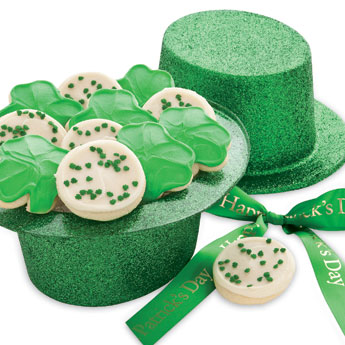 It's that time of year where Cheryl's is baking buttercream frosted shamrock cookies.  And of course that means we want to do a fun give-away!
In 1-2 paragraphs tell us what your plans are for St. Patrick's Day.  We will randomly select three winners to receive our St. Patty's Good Luck Hat with 12 frosted cookies.
What will the Cheryl's team be doing for St Patrick's Day besides baking up the best cookies in the whole wide world you ask?  We will be wearing green and eating mint ice cream sandwiches.  Here's the recipe.  YUM! 
Happy St. Patty's Day!
Winner Status:
Surprise "1st Poster" Winner: #1 Written By Natalie J. Vandenberghe on February 11, 2011 at 5:12 pm
                                                                                              Winner #1: #14 Written By lisa hawkes on February 15, 2011 at 1:16 am
                                                                                              Winner #2: #17 Written By Michelle on February 16, 2011 at 10:06 pm
                                                                                              Winner #3: #13 Written By Lori on February 15, 2011 at 1:14 am