Our series "A Gift for Gifting" walks you through how to show your generosity and thoughtfulness to all the special people in your life. You've picked out all the gifts for under the tree. Now it's time to stuff those stockings. Here are nine stocking stuffer ideas for everyone you know.
Shopping for the big presents is easy. The big screen TV for your football lover, the VR headset for your gamer, the snowboard for your wintertime thrill seeker — those all are no-brainers. It's the little gifts that we stress over.
Before you find yourself resorting to a pair of socks or impulse buys at the supermarket checkout, stop. You can do better.
Here are nine thoughtful stocking stuffer ideas for every type of friend and loved one on your list.
For the elf on your shelf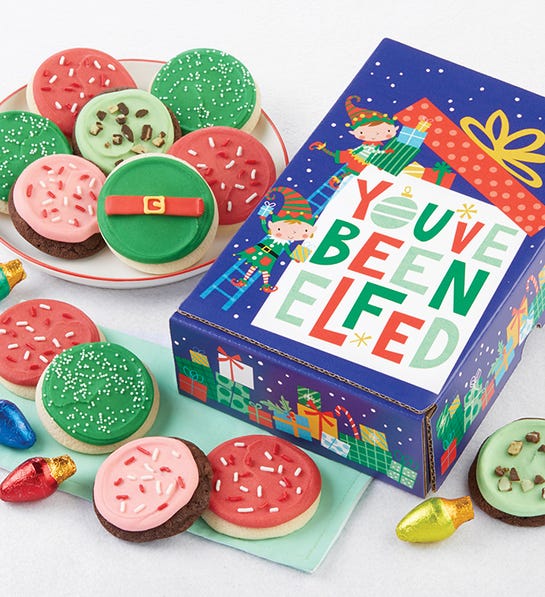 No holiday season can be complete without "elfing" someone you love. Start the fun by sending out this delightful "You've Been Elfed" gift box. It's filled with a yummy assortment of individually wrapped buttercream-frosted holiday cookies and foil-wrapped milk chocolates. Your recipient will be so overjoyed, we bet it will make them want to elf someone of their own.
For the chocolate addict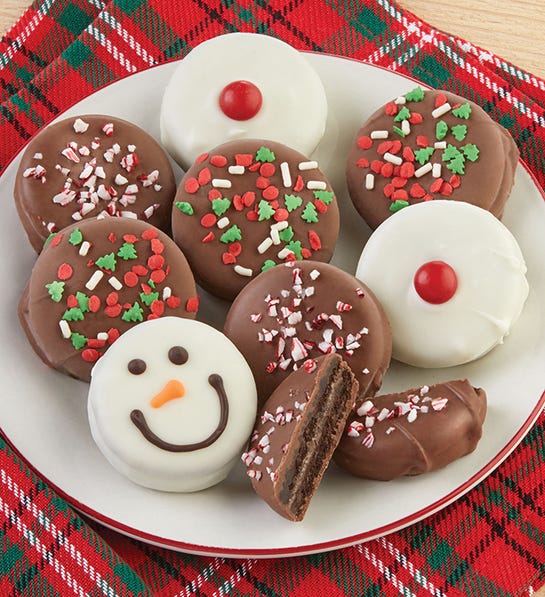 Honestly, this is a stocking stuffer for everyone, because who doesn't love chocolate and Oreos? Your friends and family will enjoy these tasty classic Oreo cookies dipped in white and milk chocolate and topped with either sprinkles or candy cane pieces. While you're at it, go ahead and order a box for yourself.
For the snowman builder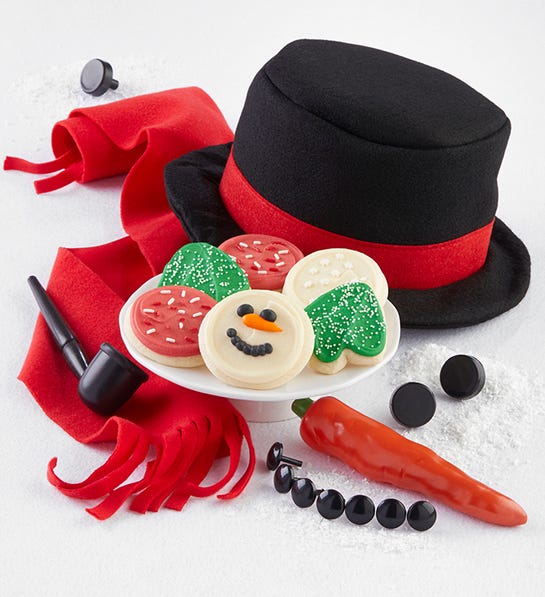 Who doesn't want the best dressed snowman on the block? This DIY Snowman Kit comes with everything a well-dressed snowman needs: a felt top hat, eyes, carrot nose, scarf, and three buttons. And the six individually wrapped buttercream frosted holiday cookies will warm the hearts and bellies of your snowman-making crew.
For the dog or cat lover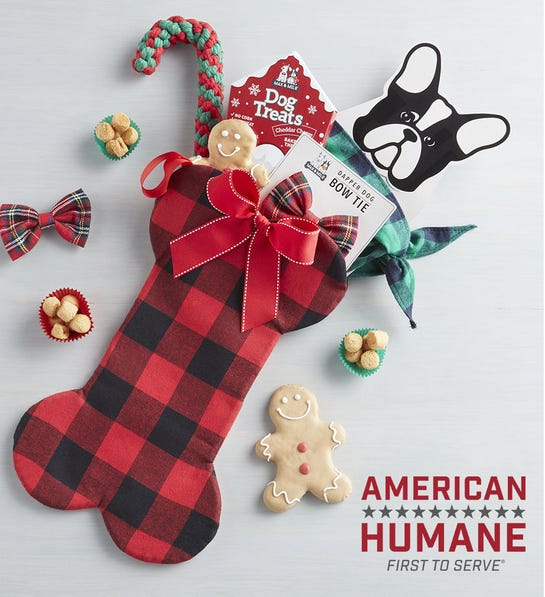 Most of us have at least one dog or cat lover on our list, so why not give a gift that will make both them and their furry friends happy? The Max & Milo Mug for Pups comes with a mug dressed in adorable pup artwork, dog treats, and a dog toy. For the cat owner, the Max & Milo Kitty Mug Gift includes a precious mug covered in artwork featuring playful cats, as well as cat treats and two cat toys. Best of all, until Dec. 31, 5% of all purchases of Max & Milo products will be donated to American Humane to help protect animals. That's enough to make pet lovers everywhere smile.
For the budding artist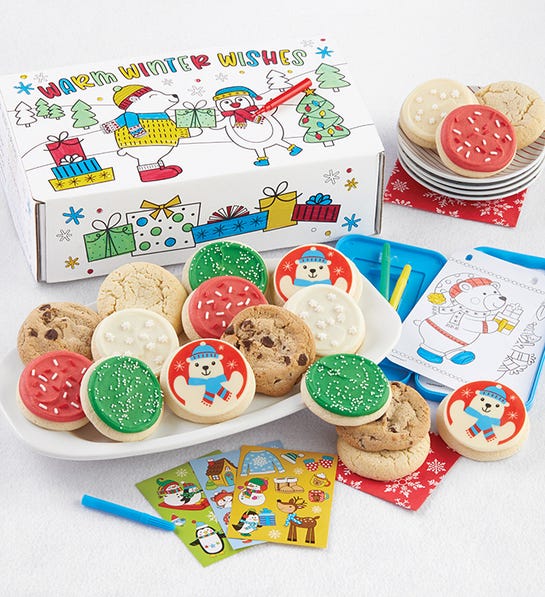 This cookie box and activity kit is perfect for kids and grandkids alike. Not only will they love eating the 18 buttercream cookies, but budding artists everywhere will have a blast coloring the fanciful box. It also comes with additional coloring sheets and stickers for extra fun for the little ones to enjoy.
For the wine drinker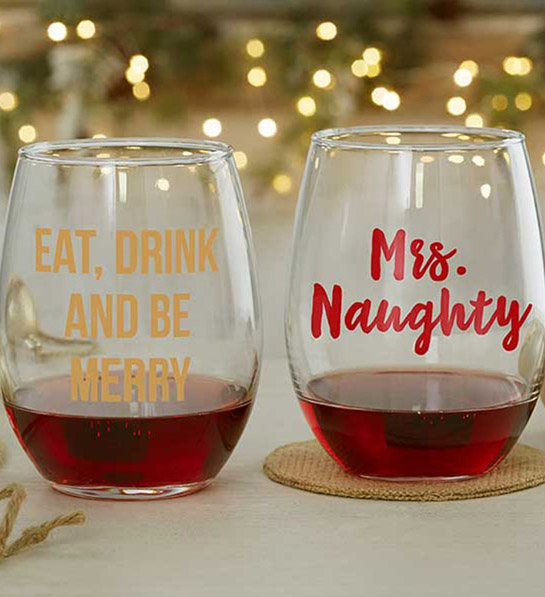 It's the time of the year when wine lovers break out the Beaujolais Nouveau (or another of their favorite wines), and there's no better way for the oenophile on your list to enjoy a libation than in a personalized, classic modern stemless wine glass. Each glass is custom printed with up to three lines of text in your choice of font. With 24 design colors to choose from, it's easy to mix and match a couple or a set of four to warm your wine drinker's heart on cold holiday nights.
For those present in spirit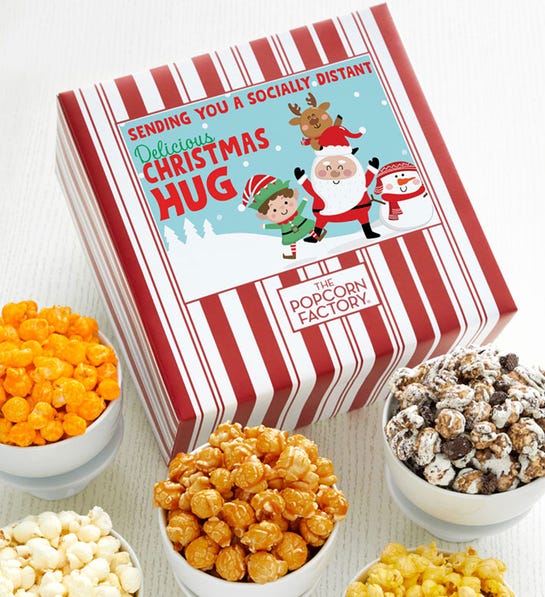 Not all friends and loved ones will join us for the holidays this year, but that doesn't mean they'll be absent from our hearts. Let them know you care by sending a Socially Distant Delicious Christmas Hug aka gourmet popcorn variety pack. The Packed With Pop™ Gift Box features a classic retro design and the greeting of your choice. Each box comes with five individually wrapped bags of our favorite flavors from The Popcorn Factory: butter, cheese, caramel, white cheddar, and cookies & crème.
For the holiday decorator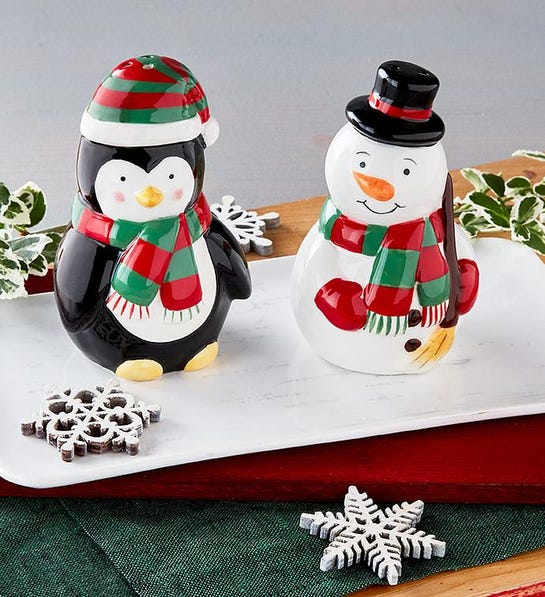 We all know someone who loves to make their home a winter wonderland. What better gift for them than some winter-themed salt and pepper shakers? This adorable penguin and snowman set will bring some cheer to any table throughout the holiday season.
For the grinch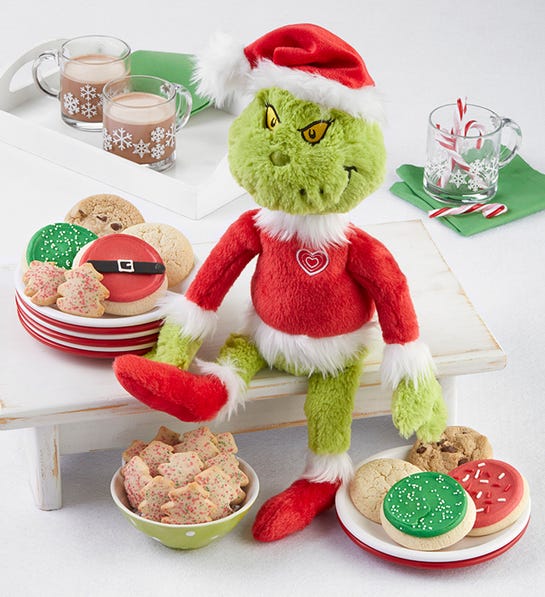 There's one on every list, and they don't make it easy to buy for them. Well, we've got just the thing to make your grinch's heart grow three sizes: a lovable plush toy of the Dr. Seuss character dressed as Santa, along with nearly two dozen Christmas cookies. We challenge anyone who receives this gift to not immediately get into the Christmas spirit.