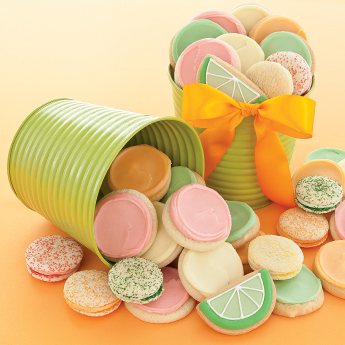 Finally, it's here – good ole' Summertime!!! 
Summer is filled with so many wonderful outdoor gatherings with family and friends – cookouts, picnics, fireworks, family reunions, pool parties! And of course, we all know, these gatherings are made even better by sharing food and desserts with the people we love.
So, in the spirit of Summer, we would like to know what is your favorite Summertime sweet treat and why.
We will be giving away 3 of our festive Summertime Treats Pail filled with our delicious buttercream frosted citrus and fruit cookies.
To enter, let us know, in 1-2 paragraphs, what your favorite Summer sweet treat is and why.
Happy Summer!
And the winners are….
Winner #1: Written By Cj Sargent on June 30, 2011 at 8:46 pm
Winner #2: Written By Amanda Frint on June 30, 2011 at 11:53 pm
Winner #3: Written By Heidi on July 7, 2011 at 2:48 pm