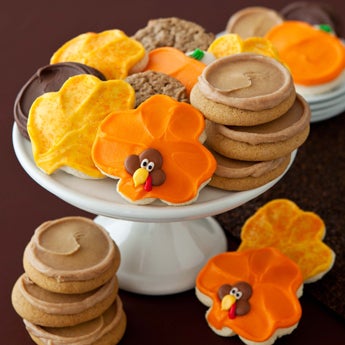 Welcome back Cheryl's fans!
November is the time for crisp air, golden leaves, warm nights inside, and Thanksgiving! It's the holiday that's sandwiched in between Halloween and Christmas and usually gets forgotten about, though I can't imagine why. Sure, you don't get to dress up in costume and get free candy for a day, no one really writes songs about it, and you don't get presents, but there is a lot more to Thanksgiving than we give it credit for.
Thanksgiving is the time to spend with family and friends and give thanks for all the wonderful things in your life and theirs. It's an excuse to get everyone together over a good meal and catch up on what's going on. Thanksgiving allows you to celebrate all that you have, without getting stuck on presents or what you did and didn't receive this year. We should all appreciate Thanksgiving a bit more and treat the holiday as it should be treated, without letting it get lost between old pumpkins and giant display ornaments!
Personally, I love Thanksgiving. I love everything about Thanksgiving right down to the wishbone! I have such a large family with my parents, siblings, grandparents, aunts, uncles, cousins, second cousins, friends of family, all of their kids…you get the picture. We try to get together as much as we can so that we don't lose touch, but holidays like Thanksgiving guarantee that we can all spend at least one day together, and impress each other with a chosen dish we've decided to make and bring to Thanksgiving dinner. One of my uncles and my grandma will usually take turns making the turkey, one of my aunts has the best mashed potatoes and potato salad I've ever tasted, and my mom is usually trying out new recipes and dishes each year so I'll just have to wait and see what it is. This year, I'm sure I'll get some praise when I bring over some Cheryl's Thanksgiving cookies for my whole family to try…
All of this is why we're happy to be doing our Thanksgiveaway Thanksgiving Sweepstakes for all of our fans! We just want to say thanks for sticking with us as fans, customers, and friends. We know that none of what we do would matter without all of your support. So join in the fun and let us show you how thankful we are that you are our fans! Our Thanksgiving Thanksgiveaway Sweepstakes will go on each Thankful Thursday leading up to Thanksgiving, where you could win our new Thanksgiving turkey cookie greeting.
Good friends, good fans, and good cookies: that's a lot to be thankful for!