In our series "A Helping Hand," learn to show others how much you care about them through kind acts and thoughtful gestures. It's such a seemingly small act, but saying "thank you" to someone who deserves it can alter that person's outlook and make the world a better place.
Thank you.
It's two simple words that can be said so casually but can mean so much. It's easy to overlook the impact of a thank-you. But experiencing the warm and wonderful feelings of being recognized and appreciated by someone, and being told you made a difference in that person's life, can leave a profound and lasting impression.
There's a good chance that someone you know could use a heartfelt thank-you from you. Expressing your gratitude is easier than you might think, and it doesn't have to take hours of your time or expensive gifts to do it.


Thank-you's spread happiness
Gaelle Devins, also known as The Happiness [People] Coach, has been cultivating happiness in the corporate world for decades. Today, as a new mom to twins, she coaches new parents on finding their flow while balancing the many responsibilities of parenthood. Devins says sending a thank-you is one of her favorite ways of spreading happiness.
"To say thank you costs nothing, but it gives someone else a positive psychological boost," she says. "We live in fast-moving times, but by practicing the act of thanking someone, you can slow things down and appreciate the time and energy the other person has given to you. It's a nice way to be grateful for what you have been given."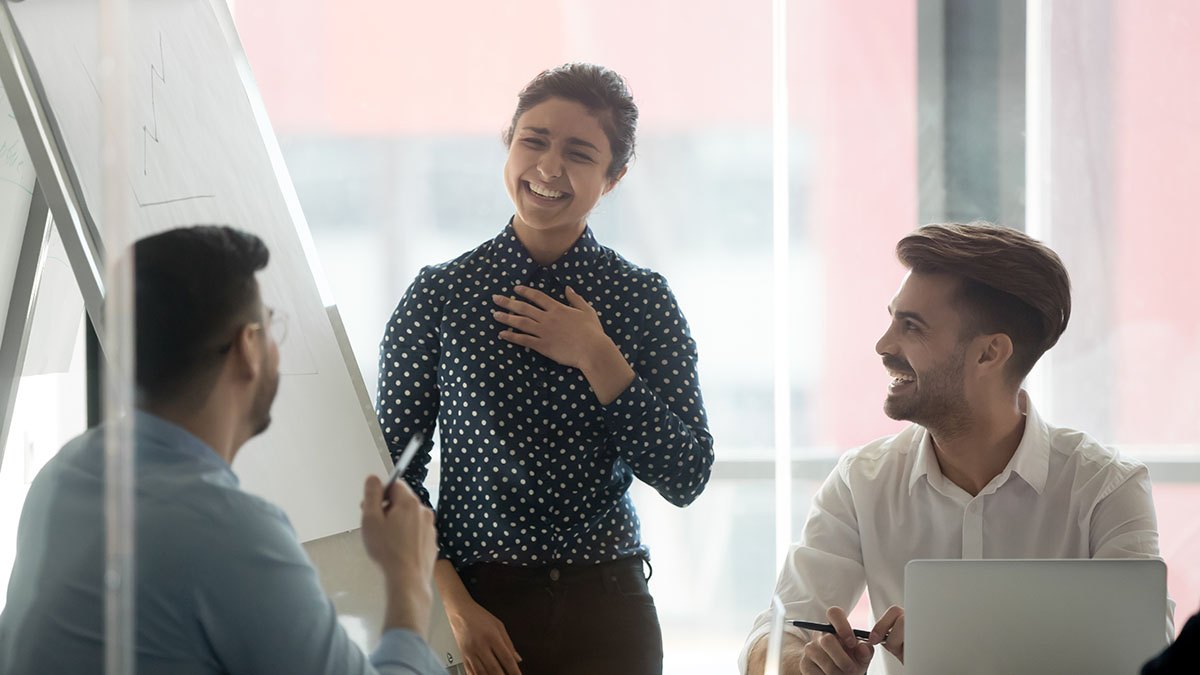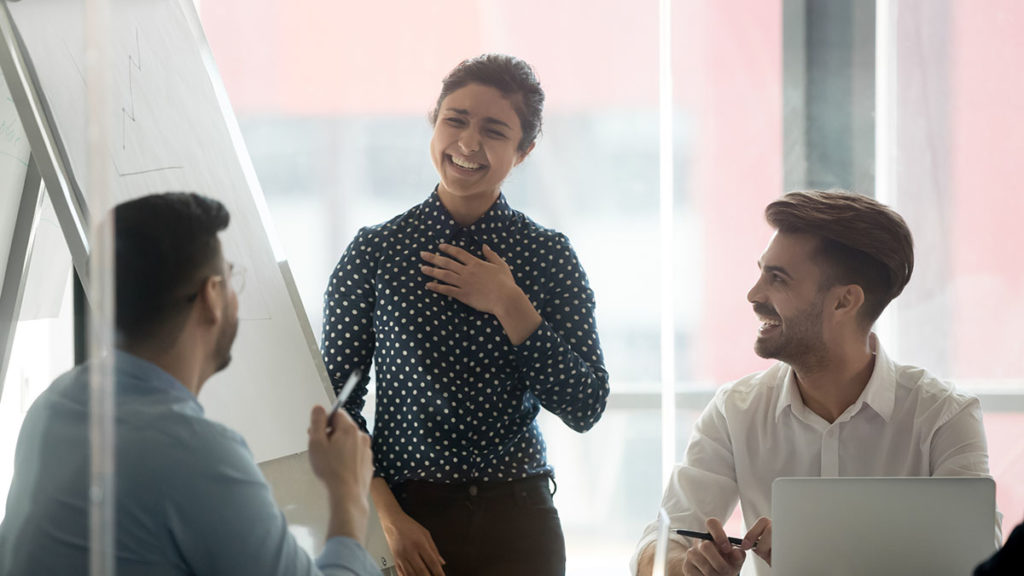 Indeed, the perks of a thank-you extend beyond the recipient. One study from the Positive Psychology Center at the University of Pennsylvania tested out a variety of psychological strategies for improving happiness. Participants experienced one of the biggest spikes in happiness levels after sending a thank-you to someone who they felt was deserving of their gratitude.
Other studies support this theory, with one showing that couples are more content and open when they express gratitude often. Even in the workplace, thank-you's are a hit. Some research even indicates employees would choose to be thanked more often over getting a raise!
Who deserves a thank-you in your life?
Sometimes, thank-you's are easy: Someone does something nice for you, and it's a natural reaction. Then there are other thank-you's that are less obvious. Maybe it's a memory that reminds us of something special someone did for us, or an anniversary of a milestone that makes us realize how important someone has been in our life.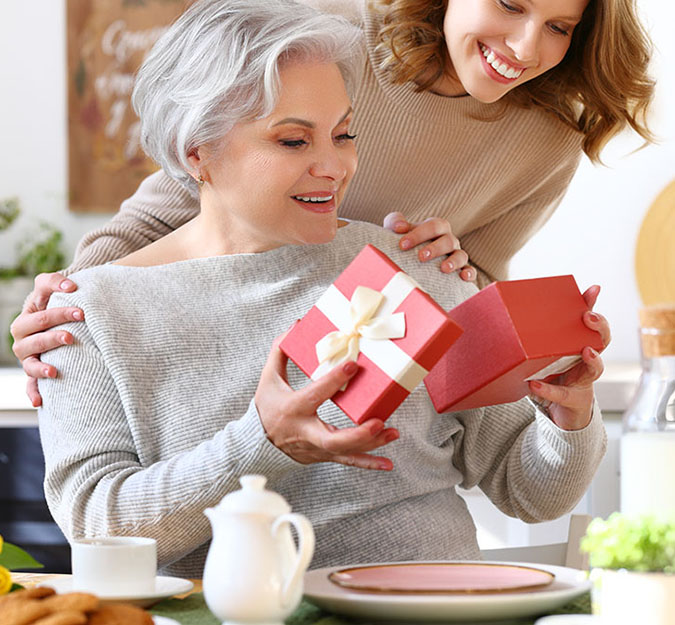 Looking to spread a little happiness yourself? Here are a few good places to start:
The neighbor who is always there when you need them
A loved one who could use a reminder that they're appreciated
The co-worker who made you feel welcome at your new job
A friend who is always ready to spend time with you or listen to what you have to say
The mentor who helped you get your first job or promotion
The coach or teacher who's made a difference for you or your family
Say thank you instead of sorry
Do you overuse the word "sorry"? "Thank you" can be a wonderful antidote to the "sorry" trap, as it puts the focus on the positive understanding of the other person rather than your negative feelings about something you did. "Sorry" might not make anyone feel better, but a thank-you can make everyone feel good.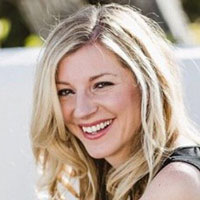 We live in fast-moving times, but by practicing the act of thanking someone, you can slow things down and appreciate the time and energy the other person has given to you.
Gaelle Devins aka The Happiness [People] Coach
"For example, imagine a time when you had a disagreement with your partner, but they had pinpointed something that was actually beneficial for your own understanding of yourself," Devins explains. "After you're through being upset, you're really thankful because they helped you."
She says similar situations can occur at work, say, in a moment when your pride gets in the way and you need to smooth things out. "A thank-you is a positive extension of your heart out to someone else's heart."
How you can put a smile on someone's face
Still need a bit more direction? Here are four easy and thoughtful ways to say thank you to someone who deserves it.
Take a picture and print it out
Texting a selfie is fine, but sharing an actual, physical photo is much more meaningful. It shows you took the extra step to make it special rather than just tapping the send arrow.
Send something small but heartfelt
Sometimes we second-guess sending a thank-you with thoughts like "I don't know if I have time to express my feelings" or "No gift will compare to what they've given me." You don't need to spend or write a lot to make a big impression. Imagine how good it will feel for someone who deserves the recognition to open their mailbox and see a token of your appreciation. Add a brief note about why you're thankful, and you'll have brought so much happiness for just a tiny bit of effort.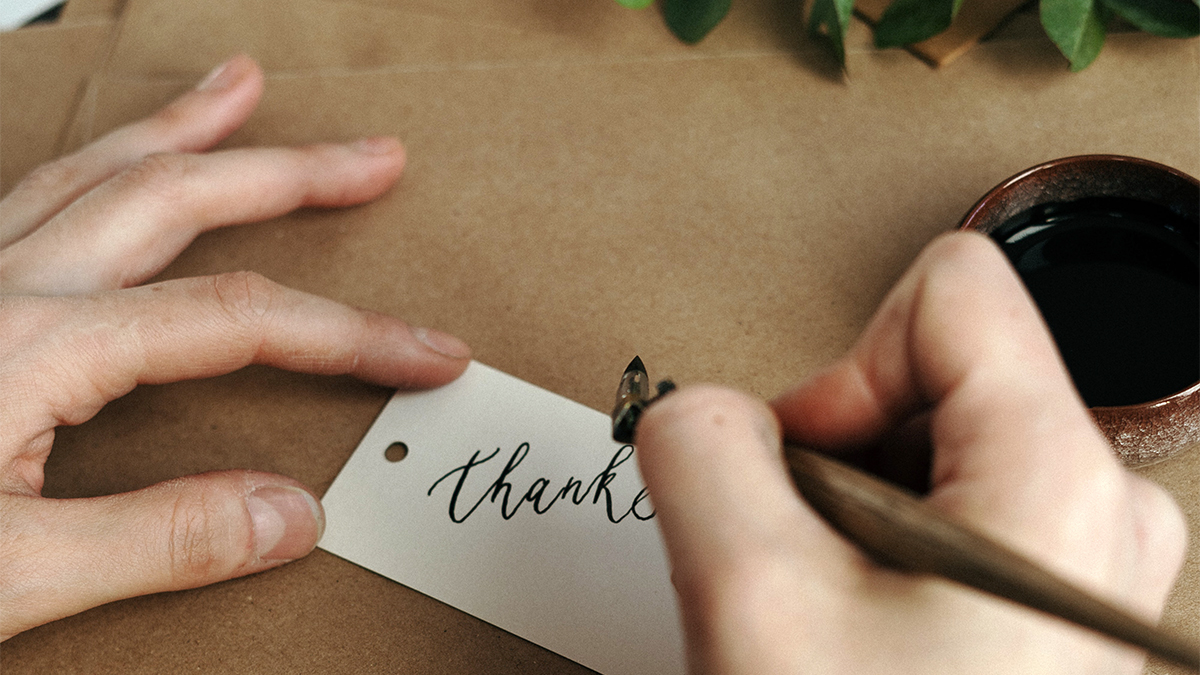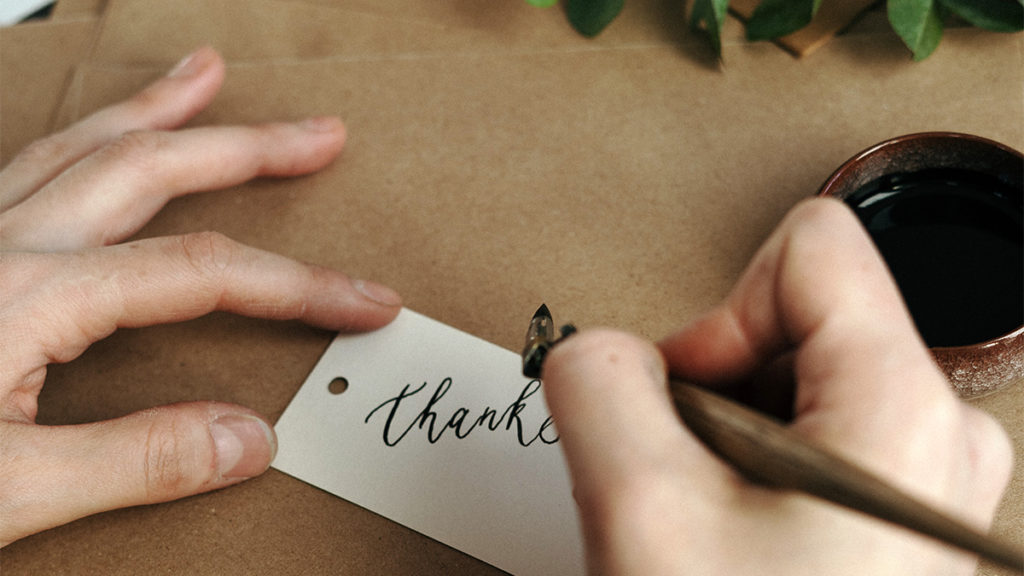 Personalize your thank-you
"Add more meaning to a thank-you by reflecting on who the recipient is. Ask yourself, 'What are they passionate about?' or 'What kinds of things do they like?'" Devins says. "What will create the spark of happiness for them?"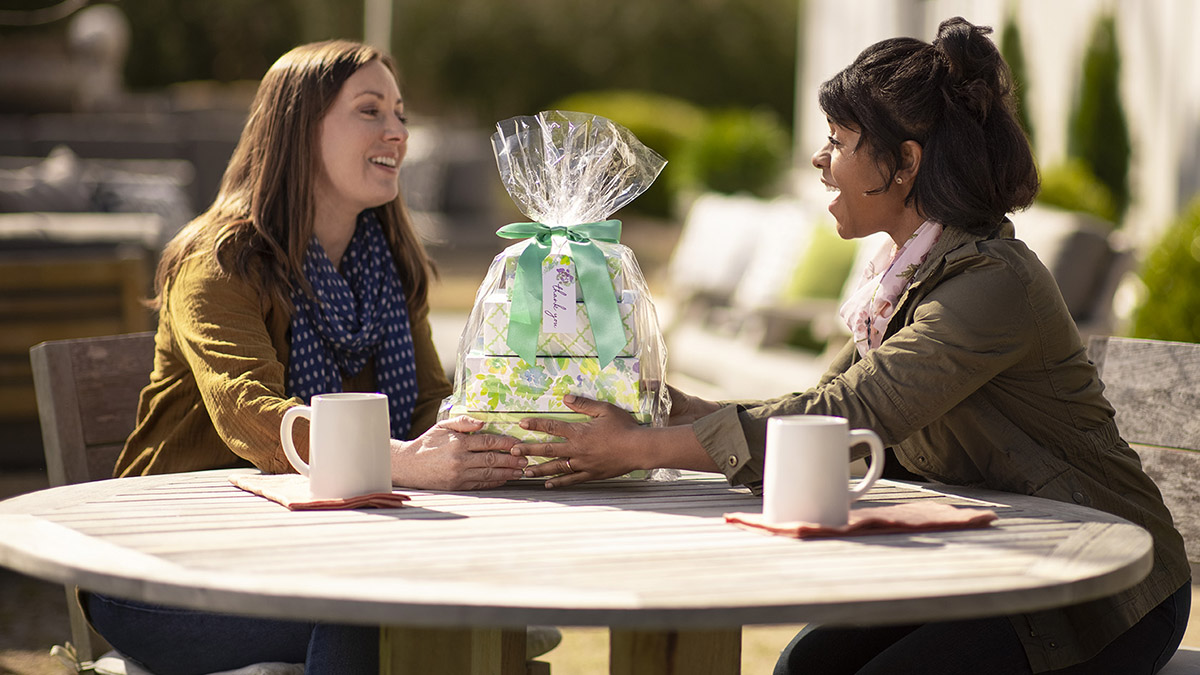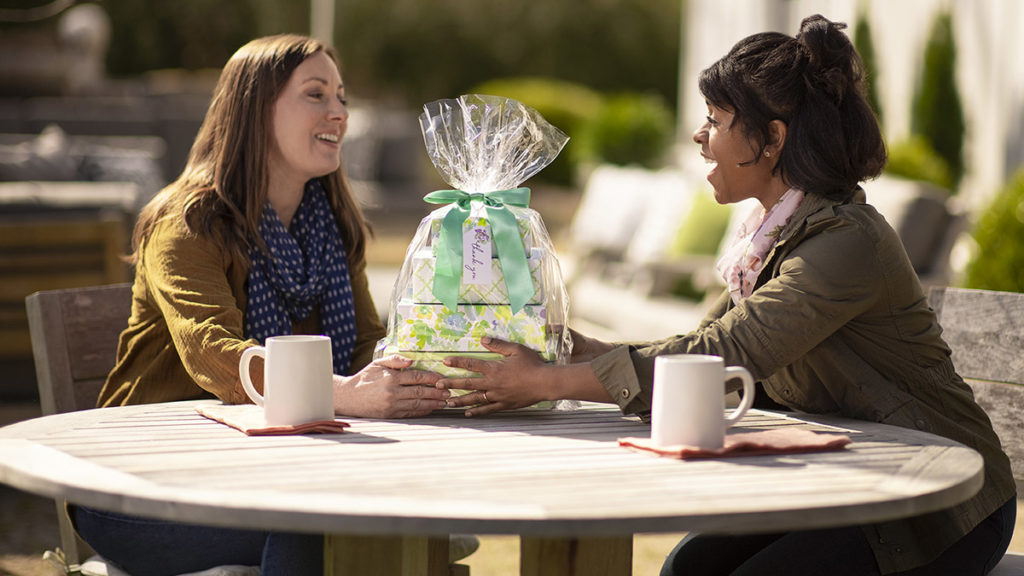 For example, if you know a healthcare professional who deserves thanks, send them a nurse teddy bear with cookies. If the recipient of your gratitude adores a good vino, a wine and cheese basket is an appropriate gift.
"This shows that you put intention into your appreciation," Devins says.
Make an impact
It doesn't take much to wow someone with a thank-you — especially when they're not expecting it. A fruit delivery that spells out "Thank You" in chocolate covered strawberries or a beautifully decked out gift basket shows that you're thinking of them. "To say thank you out of the blue is the most surprising delight to someone," Devins says. "It's a wonderful way to reconnect."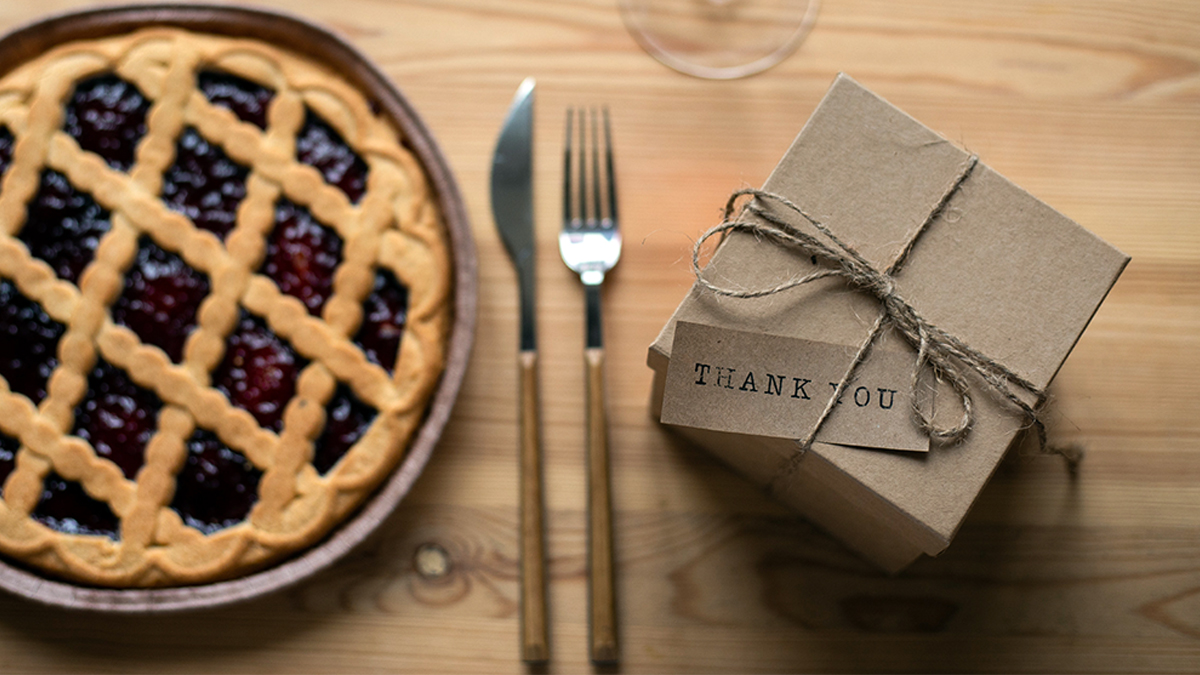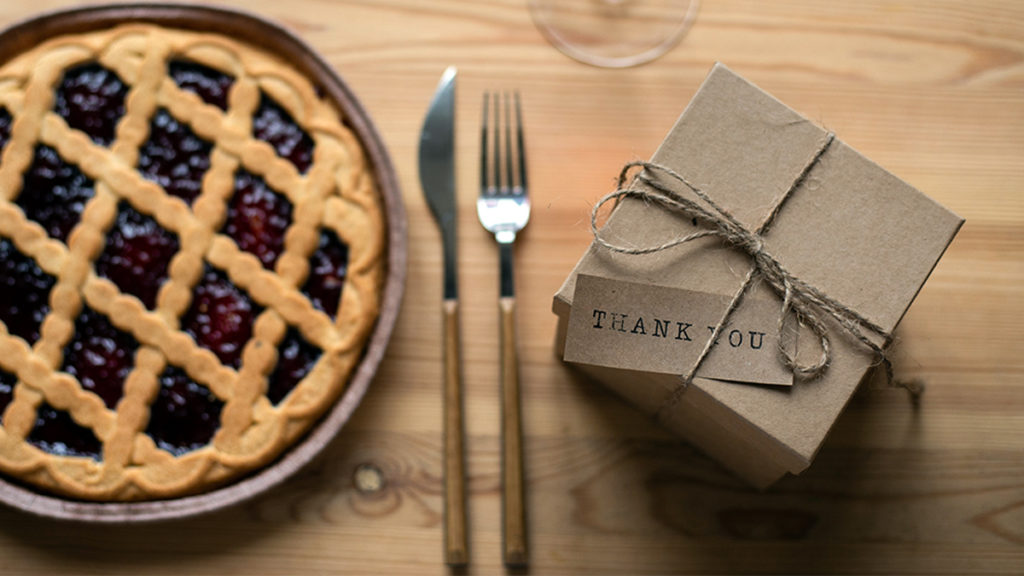 And if you're feeling hesitant because you don't know how your gift will be received, Devins has some reassuring words. "It makes us more fatigued to always think about what people will think than to actually just do it."
She encourages everyone to remember that emotions are contagious. "What if your thank-you inspires someone else to say thank you, and then all these good feelings spread? We can inject positivity into our world, and these little first steps can become a big step toward greater happiness for everyone."