Having company over? In our "Hosting How-tos" series, we'll teach you how to entertain like a pro. Here are our tips for throwing a charming Valentine's Day cookie decorating party.
The day of love is nearly upon us, so give Cupid the sweet welcome he deserves and throw a Valentine's Day cookie decorating party!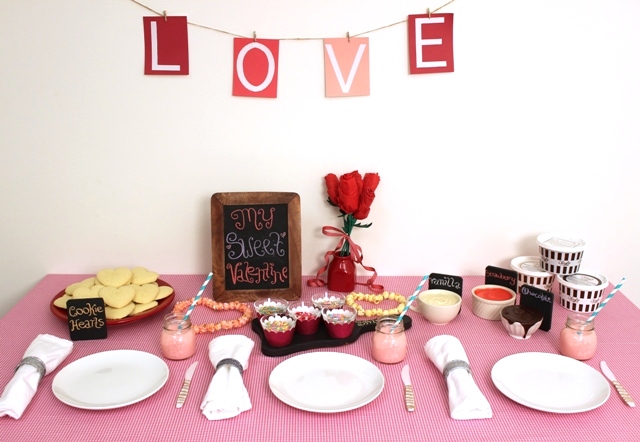 With a Valentine's Day Cutout Cookie Kit, you get everything you need for your big V-Day bash. Plus, it's delivered to your door, so there's no need to trudge to the supermarket to get ingredients.
All you have to do is set the table, gather some friends and family, and get down to business!
Here are our tips for throwing a charming Valentine's Day cookie decorating party with your handy kit.
Place setting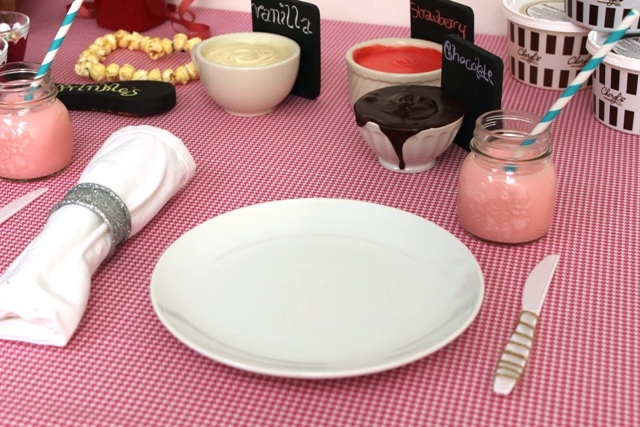 When it comes to decorating cookies, the messier, the better. To keep cleanup time to a minimum, keep your place setting as simple as possible. Plain white plates make the color of your cookies pop, and a no-fuss glitter napkin ring adds some effortless bling. No need for any excess décor!
Instead of giving each guest a fancy spreader for the icing, go with plastic knives instead: They get the job done, and you can chuck 'em in the garbage when the party's over. To pretty them up, just wrap some inexpensive twine around the handles.
For a quick festive touch, pour some strawberry milk into a mason jar. If you don't like the taste of strawberry milk but still want to keep the pink theme going, use regular milk and stir one drop of red food coloring into each glass. Candy-striped straws nicely round out the overall laid-back and whimsical vibe of your sweet soiree.
Cookies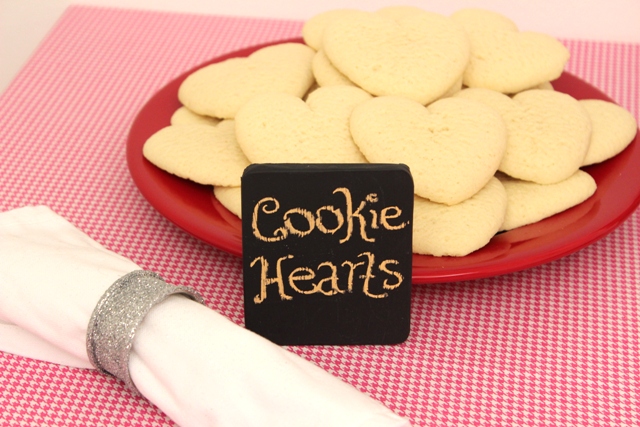 The best thing about this kit is that the oh-so-soft and delicious cookies are already baked, so the hard work has already been done for you. Just remove them from the individual wrappers and arrange them on a large, red plate, and you're ready to go. We used a rustic-chic DIY chalkboard coaster to label the cookies and complement the twine used in the place setting.
Frosting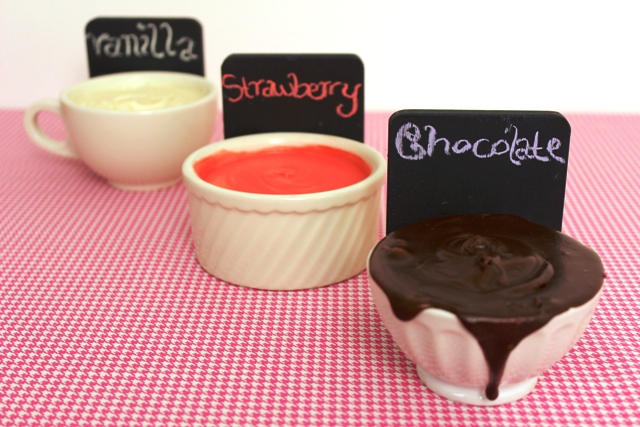 Your kit is equipped with two tubs of smooth, rich, and creamy vanilla frosting — one white and one pink. You can mix in strawberry jam or cocoa power to add a whole new flavor — and color — dimension, and then show them off in mixed-'n'-matched white bowls or cups. Use chalkboard coasters to label each bowl for your guests. It'll give your table an adorably shabby yet put-together look.
Sprinkles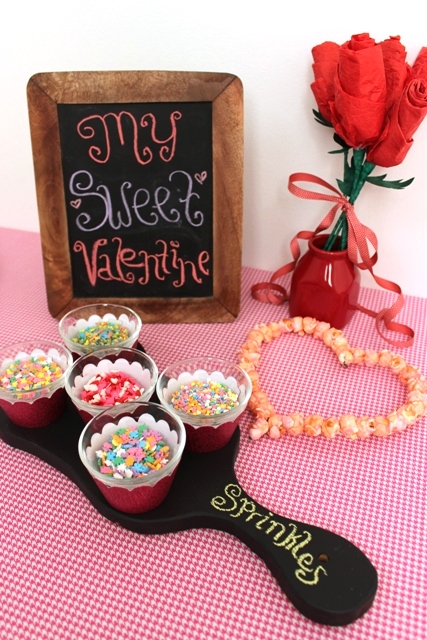 These festive little bits of sugar add a kiss of cuteness to your Valentine's Day cookies. To dress up your sprinkles for the occasion, pour them into individual spice bowls and prop them up on sturdy glitter cupcake wrappers. Keep them organized by grouping them on a DIY chalkboard cheese board and labeling them. To bring even more homespun elegance to your setup, create these handmade tissue paper roses and popcorn hearts with your guests for some extra DIY fun!
Decorating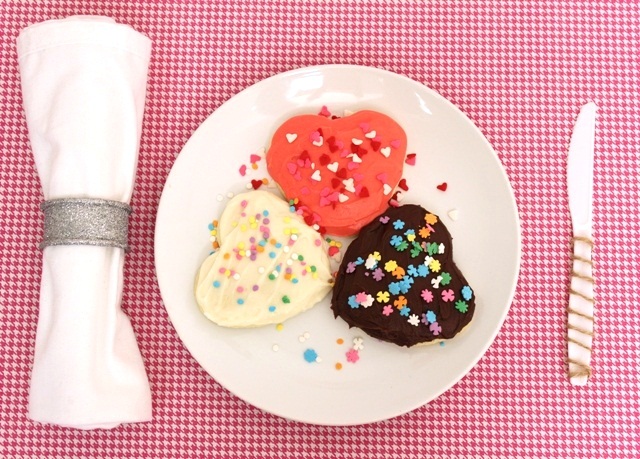 It's the time you've all been waiting for. Grab your cookies and your trimmings, and make your own sweet Valentine's Day creations. There's no limit to what you can do, so be adventurous! You and your guests will have a guests will have a blast showing off your cookie-decorating skills and swapping your heart-shaped treats. Oh, and let's not forget the best part of all: eating what you make!