Our series "A Gift for Gifting" walks you through how to show your generosity and thoughtfulness to all the special people in your life. 
Picking the perfect gift basket to send a family member or friend can be a tough task. The right gift basket for your cookie-crazed friend might not work for your foodie brother or chocoholic mom. Luckily, we know a thing or two about gifting.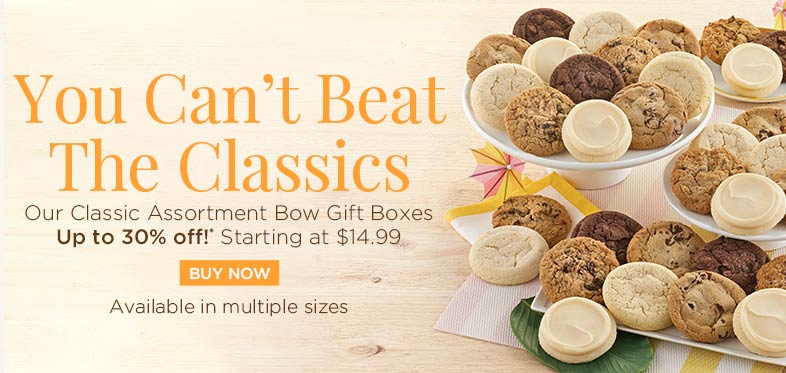 Here's our list of the seven best gift baskets for the different types of people in your life.
Nothing beats the classics! This gift basket offers all the greatest hits from Cheryl's Cookies, with 10 of our most popular flavors, including buttercream frosted cut-outs, snickerdoodles, old-fashioned sugar cookies, and a whole lot more. It's the perfect assortment to let that special someone know how much you appreciate them.
For that foodie friend who also loves wine, there's nothing better than a wine gift basket. This gift from Harry & David comes full of gourmet cheeses and snacks to pair the wine with, too. They'll be able to uncork the bottle of pinot noir, put together a charcuterie board, and invite over a friend for a delicious evening in.
Here's a snack basket for someone who likes a little bit of everything. Three types of cookies (crunchy chocolate chip, chocolate chip, buttercream frosted), three different kinds of snack-size muffins (chocolate, vanilla, red velvet), and two decadent fudge brownies comprise this basket of goodies. The variety of treats in this collection will satisfy any sweet craving they might have.
We could all use a little extra self-care these days, and there's no better way to treat a friend (or yourself!) than an at-home spa experience. This spa basket from 1-800-Baskets includes a salt scrub, exfoliating spa towel, lavender essential oil, and more. They can just light their favorite candle and open a bottle of wine, and they'll have all they need for a relaxing night in.
Do you have a friend who loves chocolate more than anything? This sweets basket is the gift for them. They can serve up chocolate-drizzled caramel corn on a movie night in, or grab the chocolate bark for a snack on the go. With dark chocolate, milk chocolate, and white chocolate treats to choose from, this gift is a chocolate-lover's dream!
Know someone who loves to get up at the crack of dawn and start preparing that first meal of the day? Make their job a whole lot easier with this gift basket from Wolferman's Bakery. It comes with a plentiful assortment of Wolferman's® English muffins and English muffin bread, as well as premium fruit preserves, fine baked goods, and robust coffee. There are enough gourmet treats here to feed a large group of friends or family — or for one person to savor for days.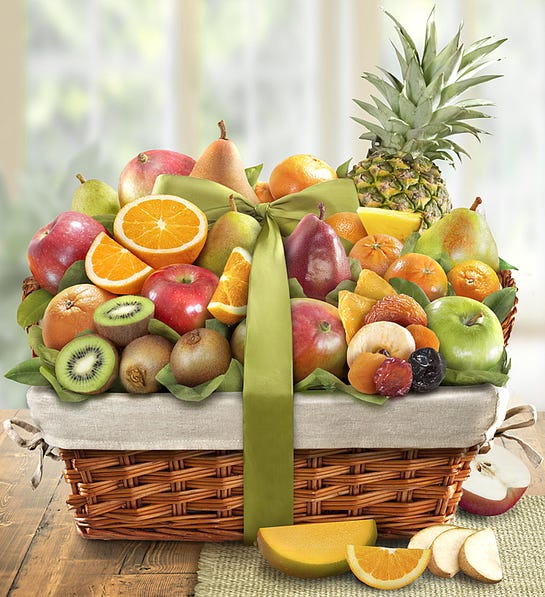 For the person who just can never keep enough fruit in the house, this overstuffed gift basket from 1-800-Flowers will be a treasure trove of delights. The delicious, in-season assortment includes three types of pears — Beurre Bosc, Red Sensation and Imperial Comice — as well as pineapple, mangoes, oranges, apples, and kiwis, and it all comes in a sturdy, hand-woven basket. The fruit arrives fresh from the orchard, ripe, and ready to eat. A tasteful gift that's always appreciated.