You've got this cookie baking thing down pat, but when it comes to decorating? Not so much. Lucky for you, Cheryl's Cookies has partnered with food blogger/photographer extraordinaire Sarah Crawford to offer cookie decorating ideas just in time for the fall and winter holidays.
These days, it's not enough to just make food that tastes good— it has to look good too. We're living in the age of social media, a time when the act of posting photographs of food is almost as crucial as actually eating it. With everyone seeking those all-important likes and reposts, taking the best possible photos of what sits on our plates and counters is of the utmost importance — a fact few people understand better than Sarah Crawford.
Crawford is the creator of Broma Bakery, and owner of Foodtography and soon-to-be-launched Studio B in South Boston. Read on as she shares her best tips and tricks for creating the perfect Instagrammable cookie.
Setting your mise en place
Mise en place (pronounced MEEZ-ahn-plahs) is a common French cooking term that means measuring, cutting, peeling, and prepping all your individual ingredients and utensils, and laying them out on your workspace before you start cooking or baking. Literally, it translates to "everything in its place."
With the Cheryl's Cut-Out Cookie Decorating Kit— which comes complete with chocolate fudge and vanilla buttercream frostings; colored, solid, and chocolate sprinkles; and 24 of Crawford's favorite "pillowy-soft Cheryl's classic sugar cookies" — you already have everything you need to get started. Simply unpack your decorating kit, pop the tops off the frostings, and grab additional decorations from your cupboards. These can include chopped peanuts and pecans, chocolate chips, maple extract, and even dried fruit. Then, place your pastry bags, piping tips, microwave-safe glass bowls, spoons, offset spatulas, kitchen shears, wire cooling rack, and serving platter within arms reach.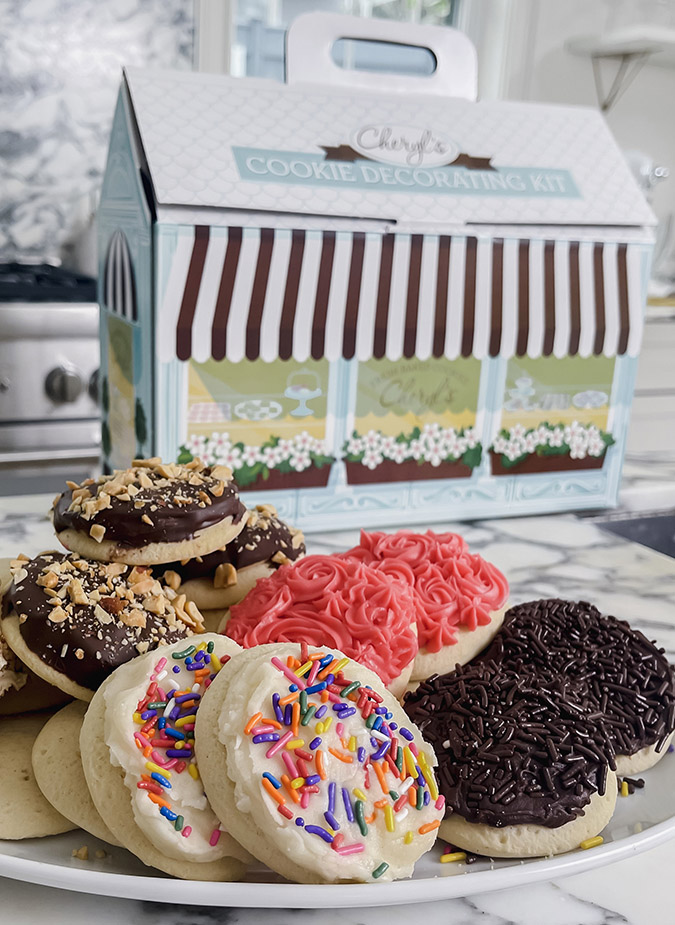 Level 1: Not-so-basic vanilla and chocolate lover's delight
With our mise en place complete, we can start with the chocolate fudge buttercream frosting. As Crawford points out, you don't just slather the frosting onto a cookie; you add the frosting to a clean pastry bag with a wide piping tip to give you a perfectly even dollop of frosting on each cookie. "A Hershey's Kiss-type of dollop," Crawford says.
Then, use a small offset spatula to spread the frosting out. Start in the middle and twist the frosting around the cookie until you achieve a perfectly circular frosted cookie. Top with chocolate sprinkles. Don't worry if the first cookie isn't photo-ready. "So much of learning to bake is just practice, practice, practice," Crawford says, encouragingly.
For a not-so-basic vanilla frosted cookie, start by filling a clean pastry bag equipped with a wide piping tip with about one-quarter of the tub of vanilla buttercream frosting. Using the same technique as with your chocolate-frosted cookies, drop on a dollop and then smooth it out using a clean offset spatula. Top your cookies with the multicolor sprinkles in your cookie decorating kit.
Decorating hack #1 — DIY pastry bag with piping tip
If you don't have a pastry bag, you can use any brand of quart- or gallon-size resealable plastic food storage bags. No piping tips? No worries! Simply reinforce one of the bottom corners of the empty bag with tape, placing small strips on both sides of the corner just above where you want to snip off the corner point. The tape adds the necessary structure for when you start piping the frosting.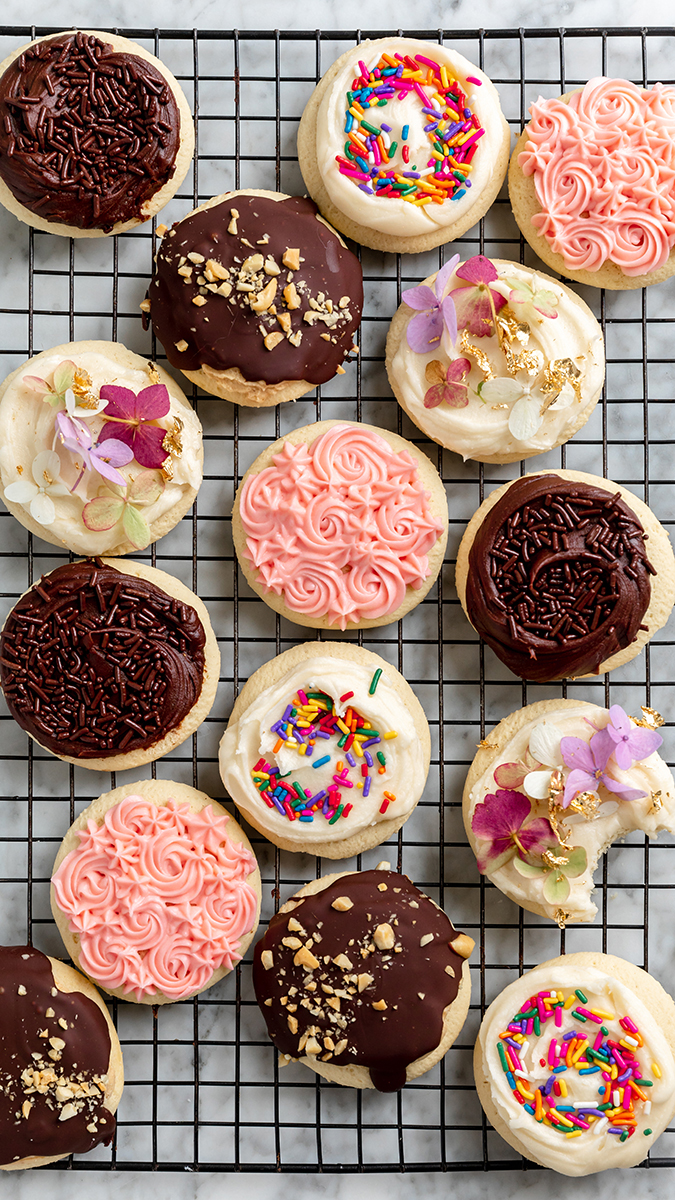 Level 2: Flower bouquet (that you can eat)
For an advanced cookie design, Crawford likes to combine one to two small drops of food coloring with a small amount of vanilla buttercream frosting to create an array of floral-topped cookies. For this technique, you will want to use a pre-fab, flower-shaped piping tip and make some large and some small flower dollops. Crawford uses a coral pink to create perfect rosettes, but you can also try using a few different colored frostings for an amazing technicolor cookie.
Level 3: Peanut butter cup inspiration
With Halloween just around the corner, we're thinking a lot about peanut butter cups. Inspired by this trick-or-treating favorite, Crawford starts by combining one part of room-temperature creamy peanut butter with two parts of vanilla buttercream frosting in a bowl, and then fills a clean pastry bag with the mixture.
For these cookies, you'll use the same piping technique as you did for the Level 1 chocolate-frosted cookies, only this time don't spread the peanut butter frosting all the way to the edge. This way, you create a slightly raised peanut butter base that will dip easier in the melted chocolate.
Once you frost your cookies, it's time to melt the chocolate. Crawford recommends melting semi-sweet or milk chocolate chips with one-quarter teaspoon of coconut oil in a microwavable bowl at 10-second intervals until the chips are just melted into a warm, chocolate dipping sauce.
One by one, dip your peanut butter-frosted cookies into the melted chocolate, swirling the cookie ever so slightly as you lift it out of the bowl. Then, place the dipped cookie on a wire rack and sprinkle it with finely chopped peanuts. Alternatively, you could top the cookies with peanut butter chips instead of chopped nuts.
Decorating hack #2 — Double boiler for melting chocolate
So much of learning to bake is just practice, practice, practice.
Sarah Crawford
Owner, Broma Bakery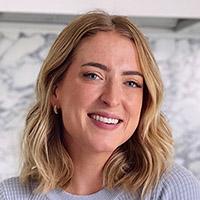 A tried-and-true way to melt chocolate is using a double boiler. Fill a saucepan with enough water so that a heat-safe glass bowl can sit over the top but not touch the water. Bring the water to a rolling boil. Reduce the heat to low and place the glass bowl filled with chocolate chips over the steaming water, stirring quickly as the chocolate melts into just the right consistency.
Level 4: Maple-pecan sandwich cookies
Crawford's final cookie is the showstopper: a maple-pecan sandwich cookie. Yum!
Using the remainder of your vanilla buttercream frosting, add a few drops of maple extract, tasting as you go with a clean spoon until you achieve your ideal maple flavor. Then, fill a clean pastry bag with a wide piping tip and pipe the maple frosting onto a plain sugar cookie in a spiral motion until the frosting is about a half-inch thick. Then, place another plain sugar cookie on top, squishing it down to form a sandwich. Finish by rolling the center in chopped pecans
Decorating hack #3 — Waste not, want not
Instead of throwing away any leftover melted chocolate, drizzle it over the top of one side of your maple-pecan sandwich cookies for a truly elegant presentation.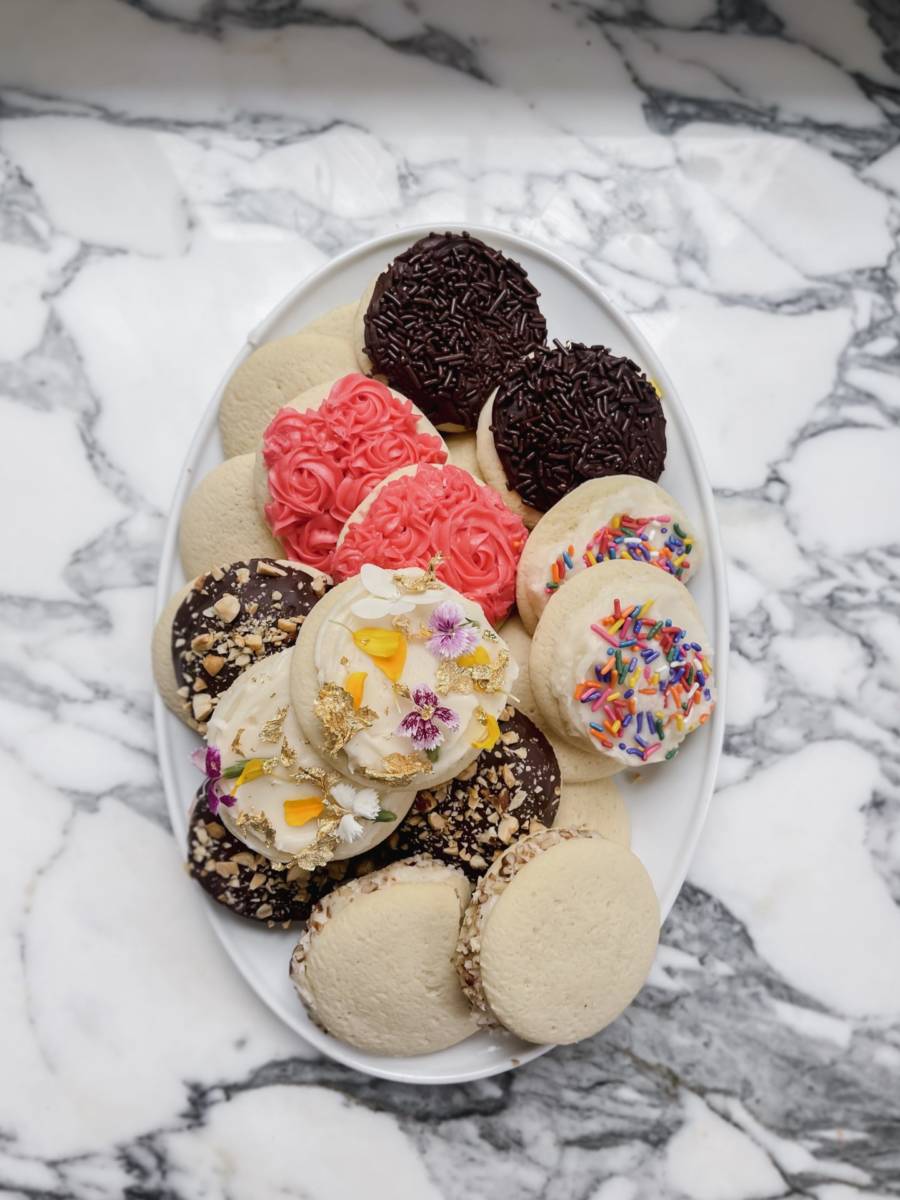 The final step? Sample your work! But before taking that first bite, don't forget to prep a serving platter or large plate with your beautiful cookie creations and place it in bright, natural light to snap a few pics for posting to your blog or social media.