On their own, Cheryl's desserts are a sweet treat and a work of art. Add an element of creative presentation? And you now have a dessert spread that guests will ooh and ahh over before they even take their first bite.
Here are some of our favorite DIY presentation ideas for holiday desserts from Celebrations.com. If you recreate any of these beauties, share your photos with us in the comments or on your favorite social media site using the hashtag #MerryandBright (we're on Facebook, Twitter, Instagram, Pinterest, AND Google+).
A Grandeur Display With Goblets and More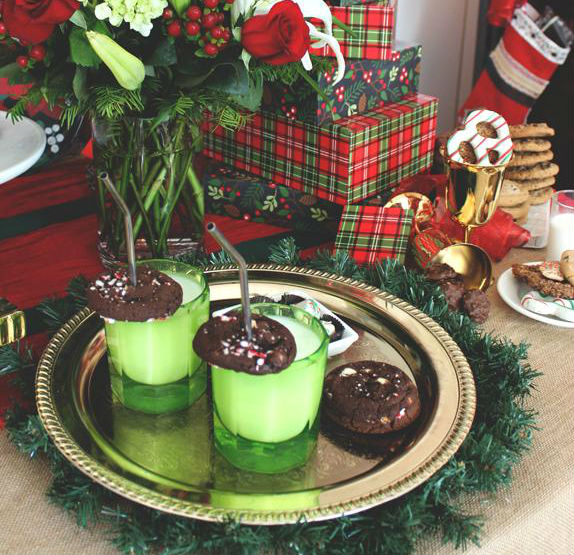 You already have fancy drinkware and serving trays on hand, so why not turn them into creative displays for your next holiday soiree? Serve cookies in goblets, domed cake plates, or pierced through straws and tossed in a glass of milk. You'll love the rest of these creative Christmas cookie display ideas from Celebrations.com.
Creative DIY Decorated Cookie Plates
Whether leaving cookies for Santa or looking for a new way to present your favorite treats, using just colored permanent markers and a ceramic plate, you can create your own decorated cookie plates with a personalized message, your family name, or your favorite mantra.
A DIY Tiered Tray Using Items From Around the Home
Do you have a serving tray, several bowls, and a champagne coupes around the home? That's all you need to create your own DIY tiered serving tray! The layers of this sweet idea are filled with different treats all from a Cheryl's dessert tower.
Have a Frame and Wrapping Paper? You Can Make This DIY Serving Tray
Upcycled ideas are not only ideal for last-minute entertaining, but this DIY serving tray proves that something like an old frame can make for a stunning conversation piece (and guests will love how creative you are!).
The Perfect Dessert Pairing: Snow Cold Snowman Sips
A decadent dessert calls for a refreshing sip to wash it down with. Keep the spread on a festive note by serving drink in milk bottles dressed for the season! Get the how-to for these Snowman Sips here.