Try our creative solutions for enjoying Easter together, even if you're spending it apart.
Send a card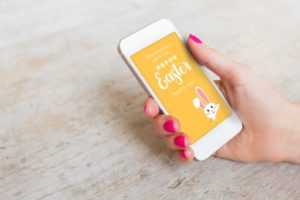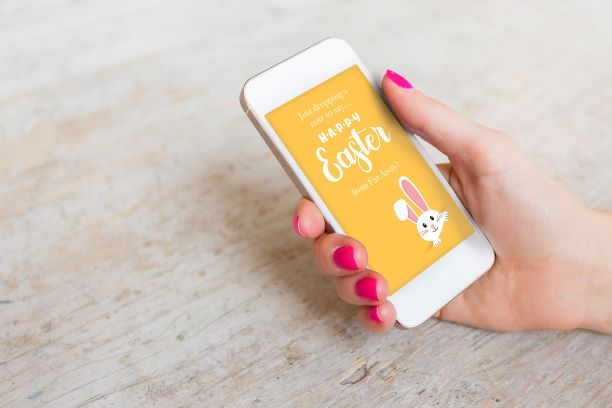 Sunday delivery is guaranteed when you send an e-card, and our 1-800-FLOWERS.com family offers several FREE CARDS from which to choose. Best of all, it's super easy! Click HERE, select your card, and then type in the requested information to send Easter (and Passover) greetings far and wide.
'Take a wild guess' game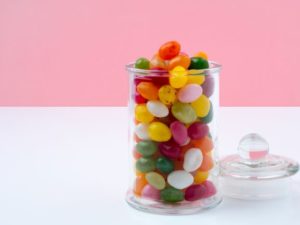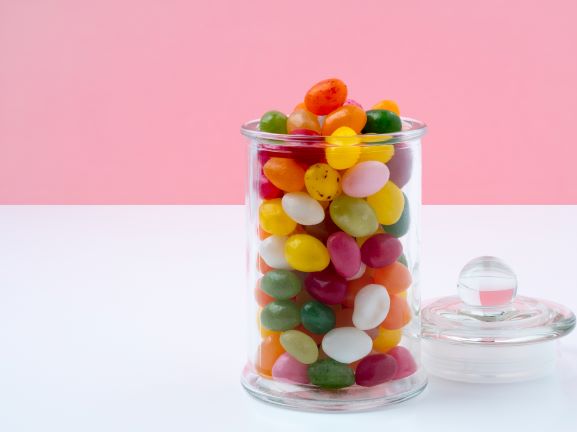 You know this one, but it never fails to delight.
1. Find a jar — the bigger the better — and fill it with whatever you have a lot of (jellybeans, marbles, foil-wrapped chocolate eggs, rubber bands, olives…you get the idea). Be sure to count the items as you put them in the jar. We also suggest writing the number down and taping it to the inside of the lid since it can be easy to forget!
2. E-mail or text everyone a photo and have them submit their guess as to how many items are in the jar.
3. E-mail a gift card to the winner or deliver a prize at a later date when you can be together again.
Host a virtual egg hunt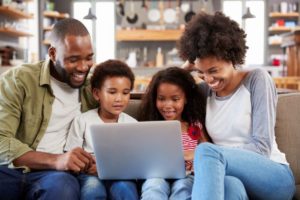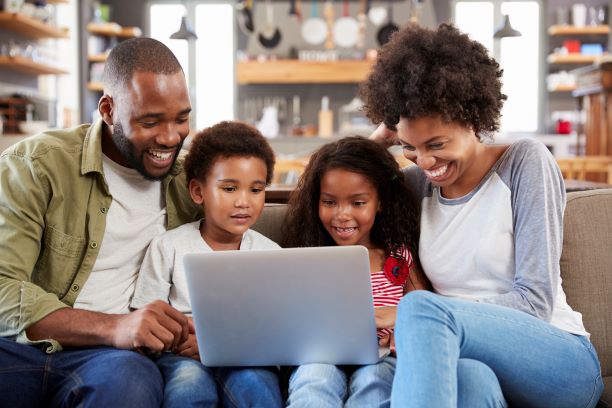 Technology is a wonderful thing. You can use it to host a virtual egg hunt. Determine what time and where (indoors or out), give everyone a call or send an evite, and then get it all set up.
1. If you're using plastic eggs, hide fun prizes or candy inside. If you weren't able to shop for Easter-specific prizes, look around your house and think outside the box: loose change and dollar bills make great rewards, and you can help children tally up their pennies, nickels, dimes, and quarters when all the eggs are found.
2. Hide the eggs around the house or yard, but don't conceal them so well they can't be spotted. You'll be leading the hunt virtually via your phone, so hunters need to be able to see them fairly easily.
3. Gather a bag, basket, or box for each egg hunter and put their name on it.
4. At the appointed time, use your phone to FaceTime the attendees, and let the hunt begin. Be sure to walk slowly panning your surroundings and giving everyone ample time to spot the eggs. Have them identify eggs by color and location ("I see the pink one on the sofa cushion!"), stop, pick up the egg, and place it in the appropriate bag or basket.
5. Once all of the eggs have been found, go through each hunter's bag or basket, opening the eggs and letting them see the prizes inside. Promise to mail the prizes to the hunters or let them know you'll deliver them in person when you're able to be together again.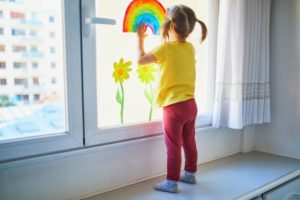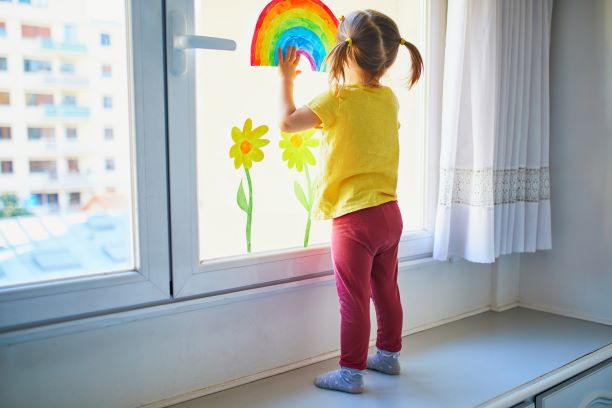 Paint your windows
Not only is this a fun activity for you and your family, but it's a cheery wave to friends and neighbors walking and driving by. If you already have washable tempera paint on hand, grab your brushes and get going. If not, use our recipe for homemade paint using ingredients you most likely have on hand.
In a large bowl or small bucket, stir until smooth:
1 c. all-purpose flour
1 c. water
1 c. liquid dishwashing soap
Transfer the mixture into small, individual cups or dishes, and then add a couple of drops of gel food coloring per cup.
Stir to combine.
If the weather is nice, you can paint on the outside of the window, but if you're painting inside, don't forget to put plastic or sheets on the floor to prevent messes. If you don't have any paintbrushes, fingers will work in a pinch, as will pieces of sponge. When it's time to clean windows off, simply remove paint with a sponge and warm water, and then remove any smears with window cleaner and paper towels.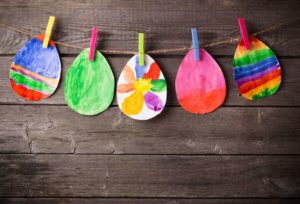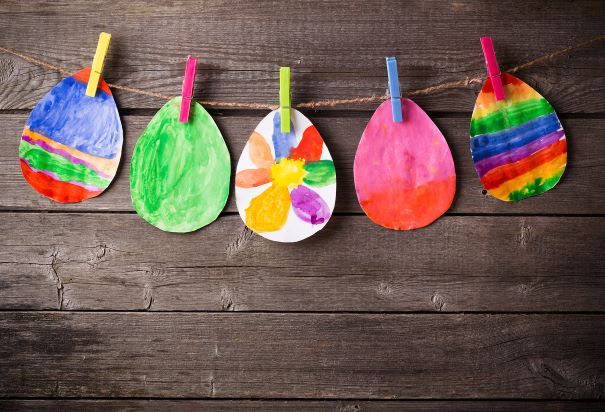 Decorate eggs together
Email everyone our easy egg template, and have everyone decorate it in their own unique way. You can color it, paint it, glue macaroni on it, glitter it, use fabric on it…you're only limited by your own imaginations. Once everyone has finished, you can copy them or upload photos and share with the rest of the group. You might want to print everyone's eggs out and string them together for a decoration or award prizes for the most unusual, most inventive, most beautiful, and most colorful.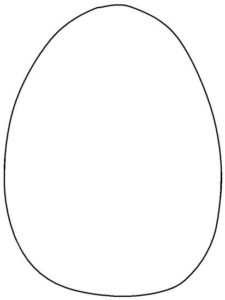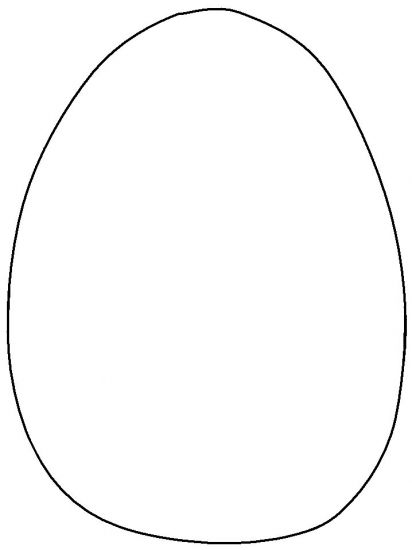 Ready. Set. Color.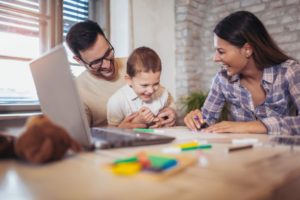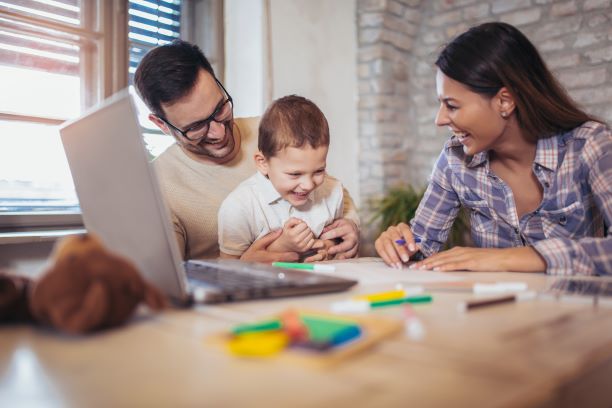 From easy to advanced, our coloring pages offer something for everyone of every age.
Simply click, print, and gather up your colored pencils, crayons, and markers. We love coloring because it can be a chance to enjoy quiet time or an opportunity to get everyone involved. Host a coloring contest, where everyone colors the same picture and prizes are awarded to the most creative; have everyone in the family color their favorite picture and gather them all together in a commemorative collage; or simply enjoy one another's company while doing something other than staring at the TV.