Our series "Get Crafty" gives you the inspiration for creating inventive DIY projects during the holidays and year-round. Adults and kids alike love decorating cookies. Learn some Easter cookie decorating tips and how to make your creations look stunning.
When I was a little girl, Easter was as special as a birthday, and a close second to Christmas. As Catholics, this holiday marked the end of Lent, a 40-day spiritual "fast" of sorts in preparation for Easter. For me, that meant a new dress to wear to church, a special family meal, and, of course, a table laden with all sorts of treats, from chocolates and cakes to cookies and other desserts.
Easter usually also coincides with the beginning of spring, a season of rejuvenation when the natural world — from flowers and trees to birds and bees — comes out of hibernation to shake off winter's cold, gray slumber.
A great way to celebrate this new season is to create pieces of art that are as festive looking as they are irresistible to eat.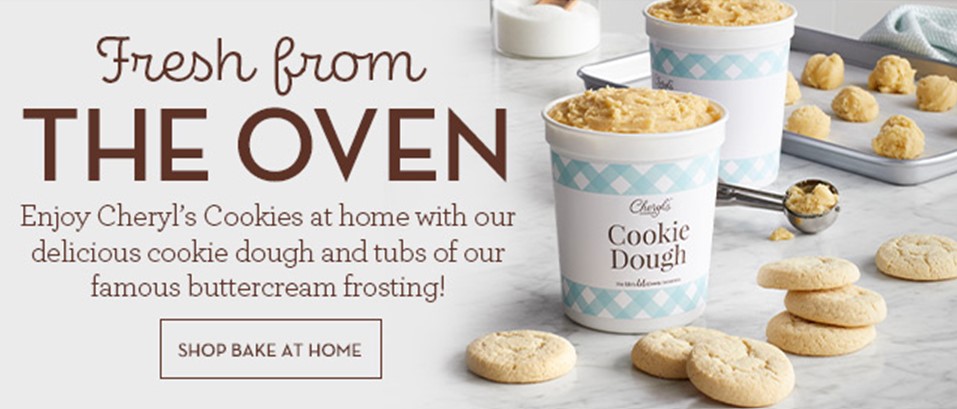 Spring into spring with Easter cookie decorating
I know, not everyone has the time to break out the mixing bowls and get cracking. If, like me, you want to do something scratch-ish yet saves you time, start with Cheryl's Cookies Cut-Out Cookie Dough and Buttercream Frosting Set. You get a delicious, vanilla-flavored, ready-to-roll dough that bakes in 12 to 14 minutes, along with a tub of creamy vanilla buttercream. That's half the battle done for you right there.
I asked my 10-year-old daughter to lend a hand in cutting out the cookies (her favorite was the bunny). Then, once they were completely cooled, we both got to icing. We started by dividing the buttercream into little bowls and mixing a drop or two of food dye into the vanilla buttercream to get a variety of pretty pastel shades. We ended up with mint green, butter yellow, and baby blue. Then, we piped some frosting onto the cookies and the rest we swirled using the back of a teaspoon until we achieved the desired effect.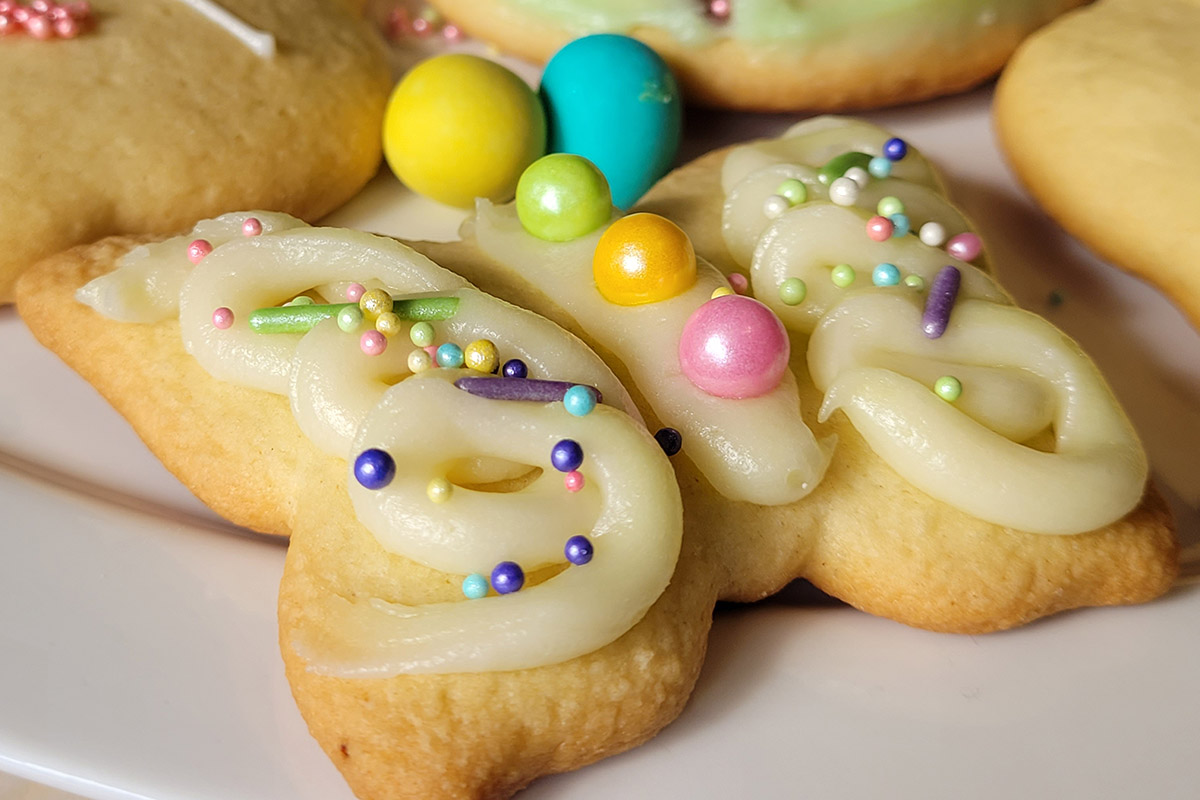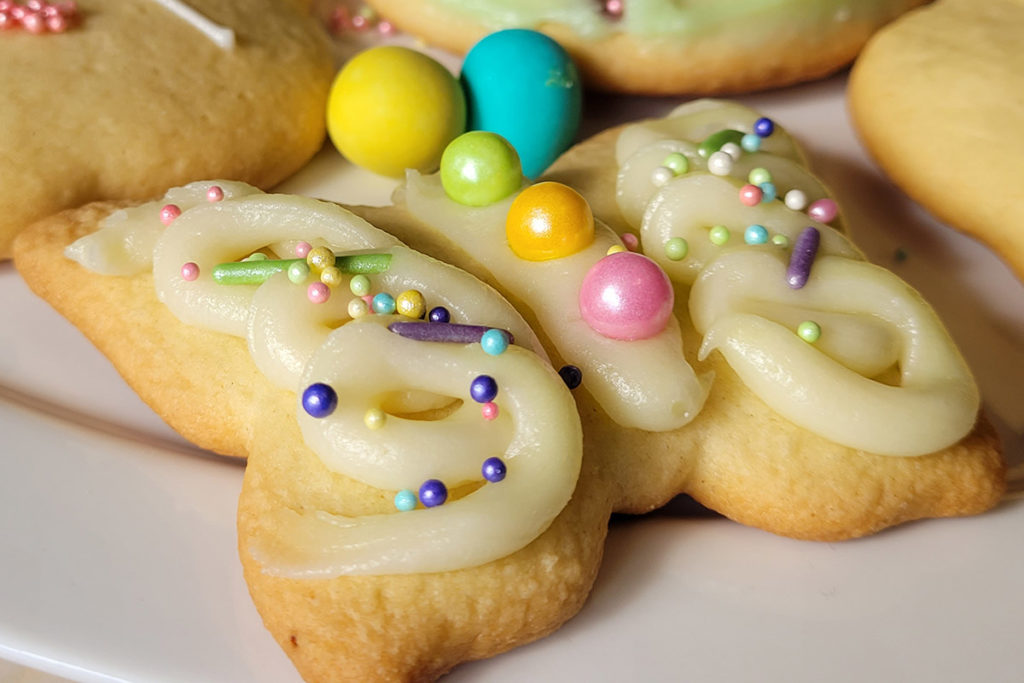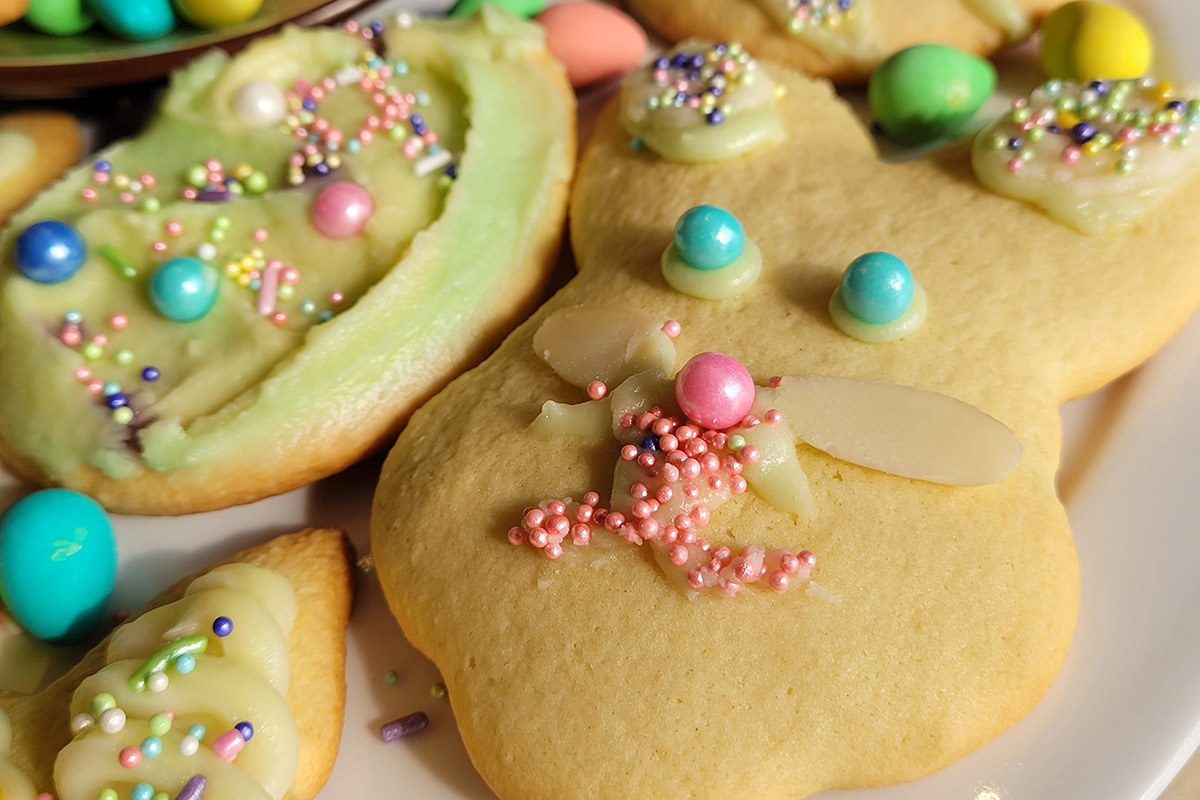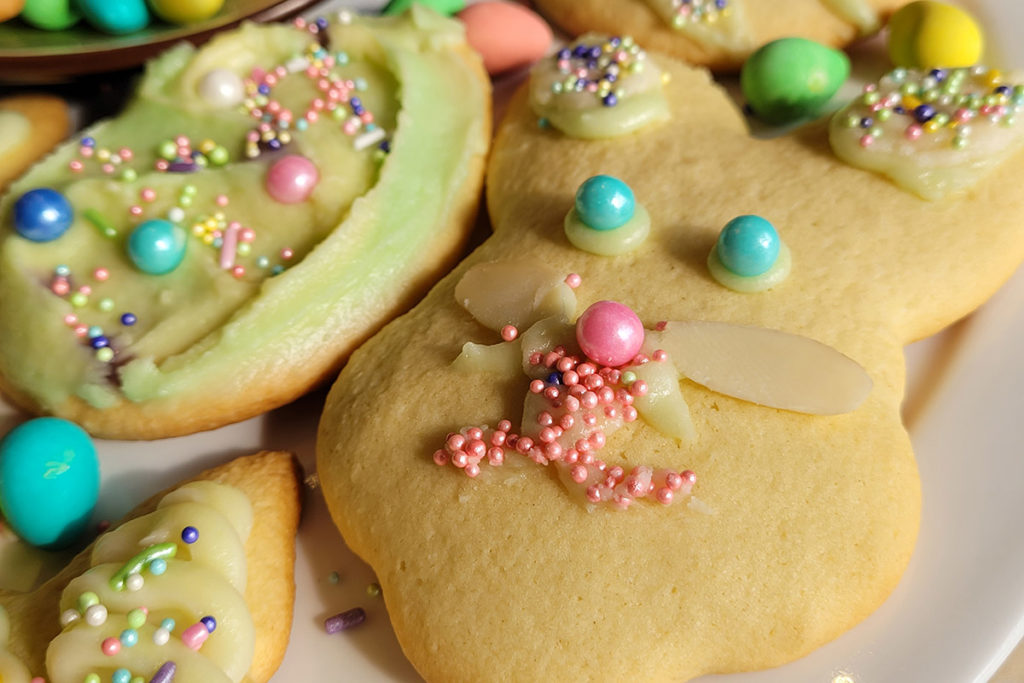 Finally, we decorated the iced cookies with pastel sprinkles, colored sanded sugar, and pearls — all in soft Easter colors. For those who aren't super handy with piping, my 10-year-old spotted some icing gel "pens" that she used to decorate the cooled cookies. (Note: These work better on "naked" cookies, to outline shapes or fill in a buttercream outline, as the icing tends to spread if applied to buttercream.)
Nesting instinct
For something a little different, my daughter and I rolled an ice cream scoop's worth of dough into a ball using our hands and then gently pressed our thumb into the center of the dough to hand shape a little bird's nest. I inserted each "nest" into a greased muffin tin mold and then used my fingers to spread the dough out around the muffin tin wall. Tip: Don't push your dough too thin or it will crack once you remove it from the tray and try to ice it.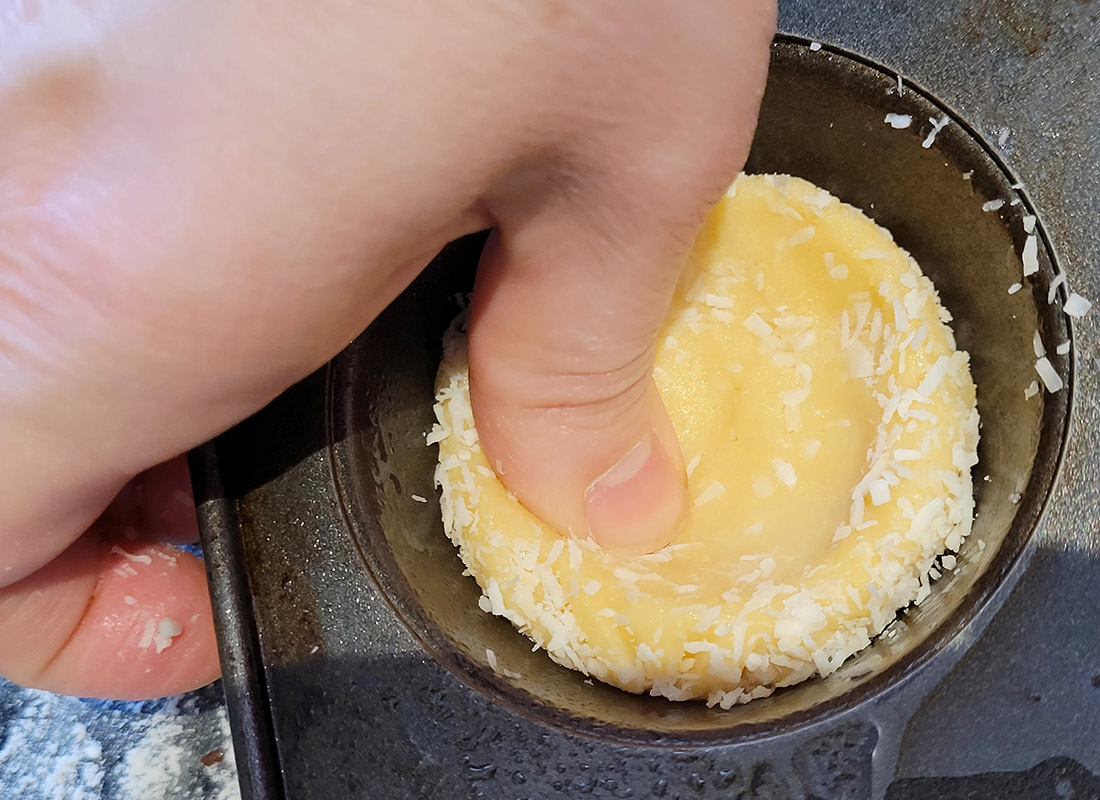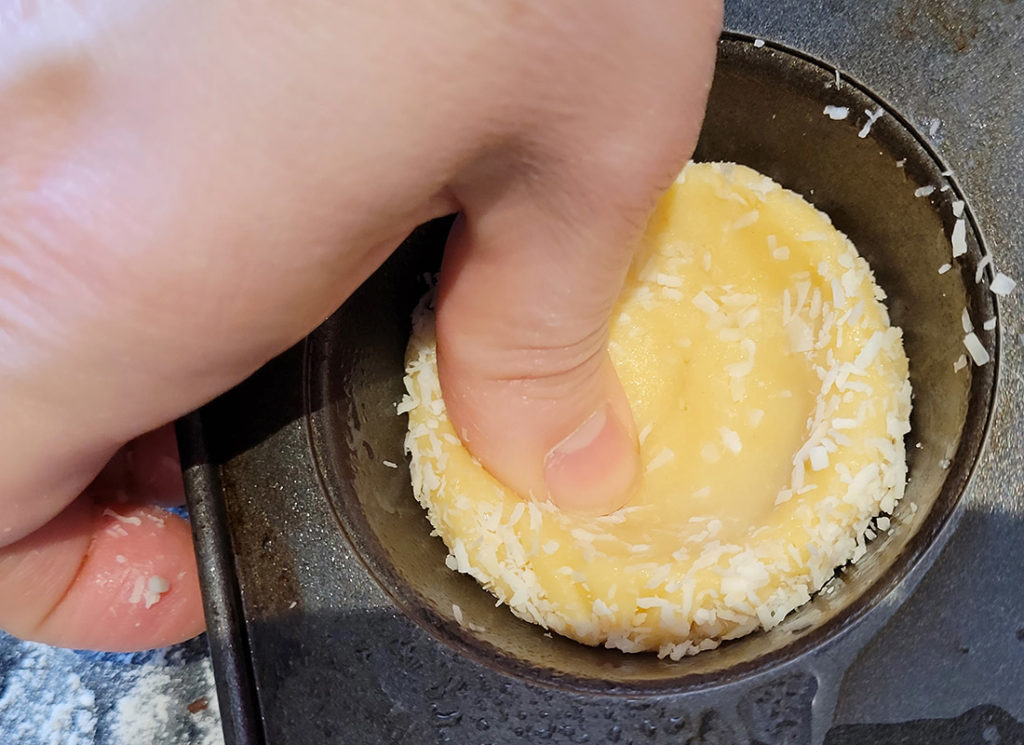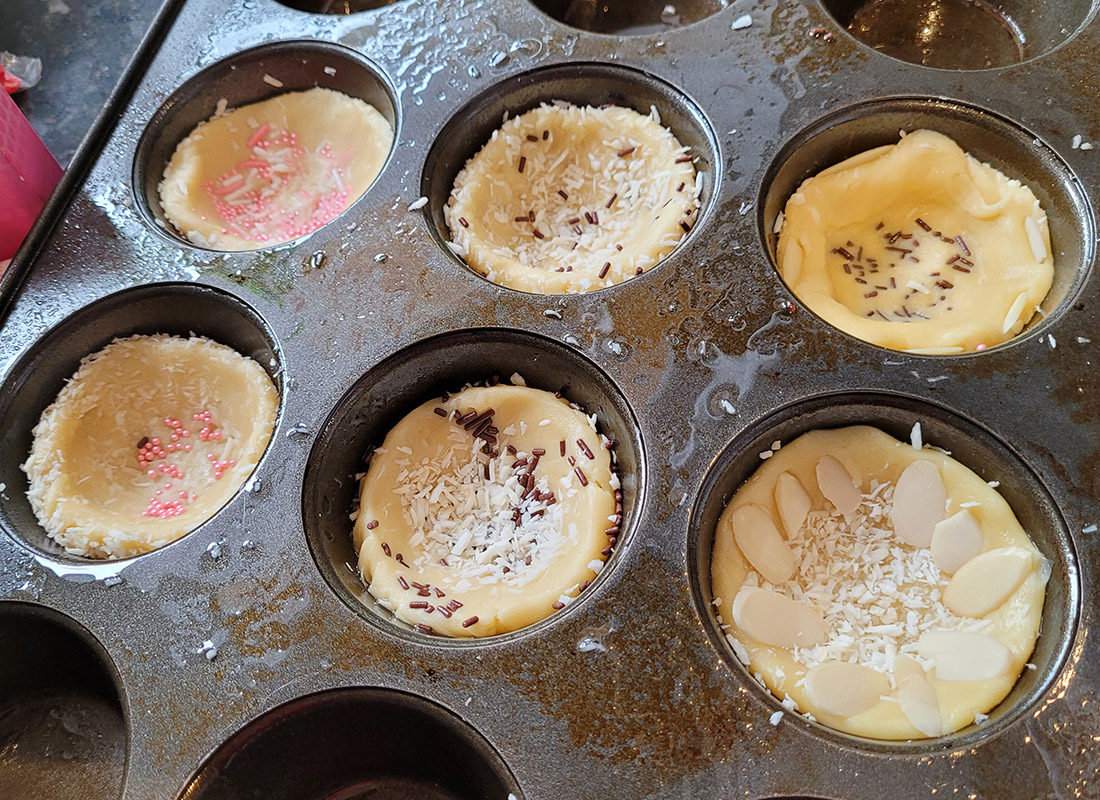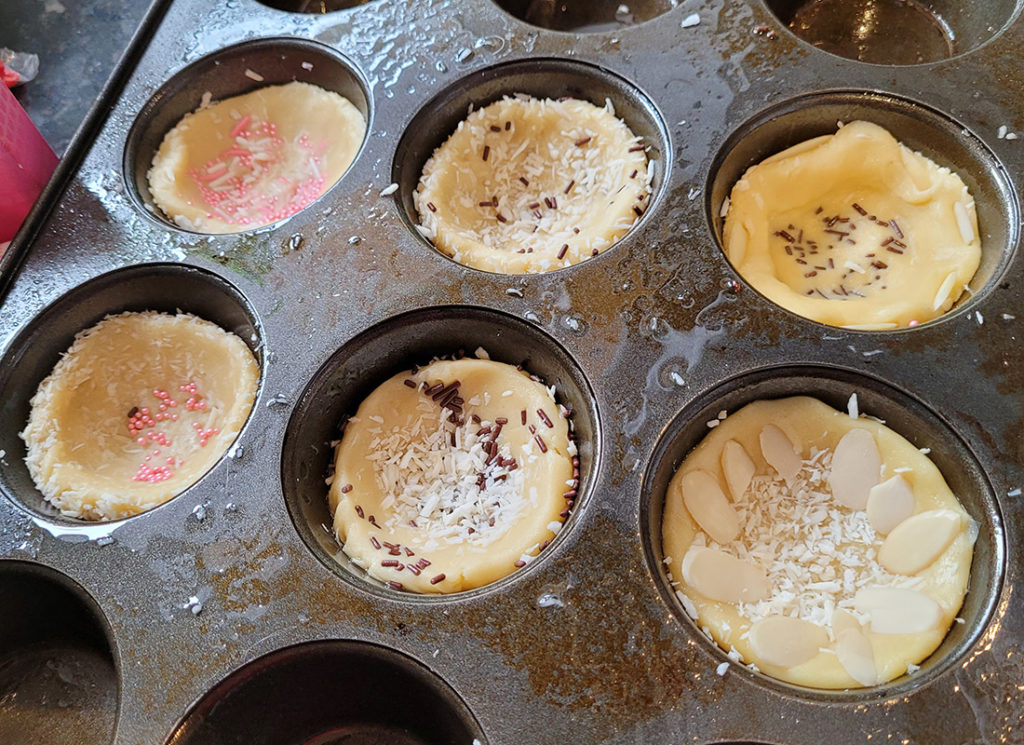 You can decorate the exterior with shredded coconut or chocolate sprinkles for fun. We found the best way to do that was to spread a little bit of buttercream frosting along the rim of the nest and then roll it in flaked coconut.
Hot tip: If your nests bubble up and balloon like ours did during baking, don't despair. I simply took a wide-bottomed shot glass that was a bit smaller than my muffin tin and, while the cookie dough was still hot (once fully baked and out of the oven), pressed the glass firmly into the middle of each nest. This achieved a hollowed-out nest look before completely cooling and frosting. Problem solved!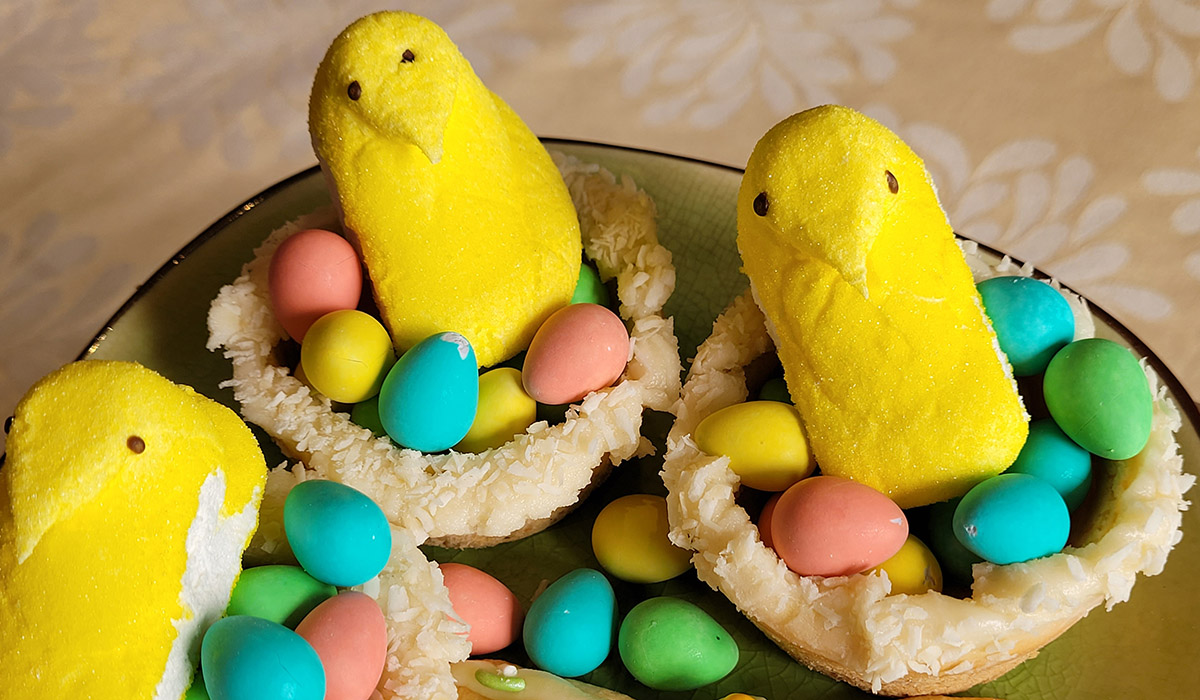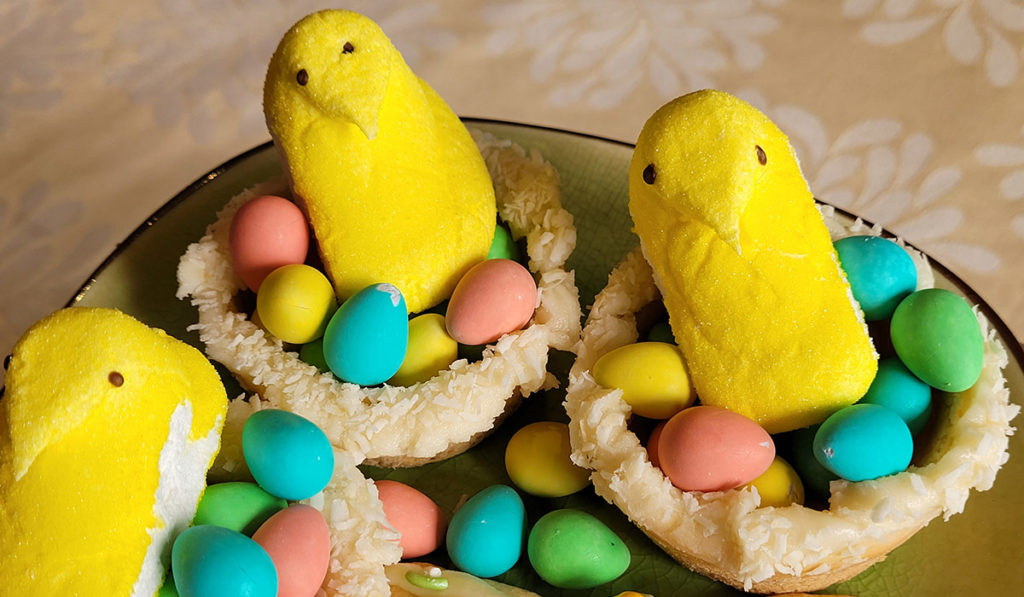 For added fun, we filled our cooled and iced nests with pastel candy-coated chocolate "eggs" and put a little marshmallow bird on top of each. You can fill yours with your favorite jelly beans, candies, or chocolates.
Any way you fill them, they're sure to be a hit around your house this Easter. They'll look so pretty, you'll almost feel bad about eating them…almost.