Our series "Get Crafty" gives you the inspiration for creating inventive DIY projects during the holidays and year-round. Share warm holiday wishes with your loved ones who have meant so much to you throughout the year with these fun holiday activities.
With these fun family activities, you can share more warm holiday wishes with your loved ones who have meant so much to you throughout the year — regardless of whether you're able to be together this season or not.
Light up your holidays tour
Skip the coat and mittens — this holiday tour of lights can be enjoyed from the comfort of your own couch! This fun group activity lets you show off your holiday decorations with loved ones near and far, then "stop by" and visit families you may not have seen in person this year.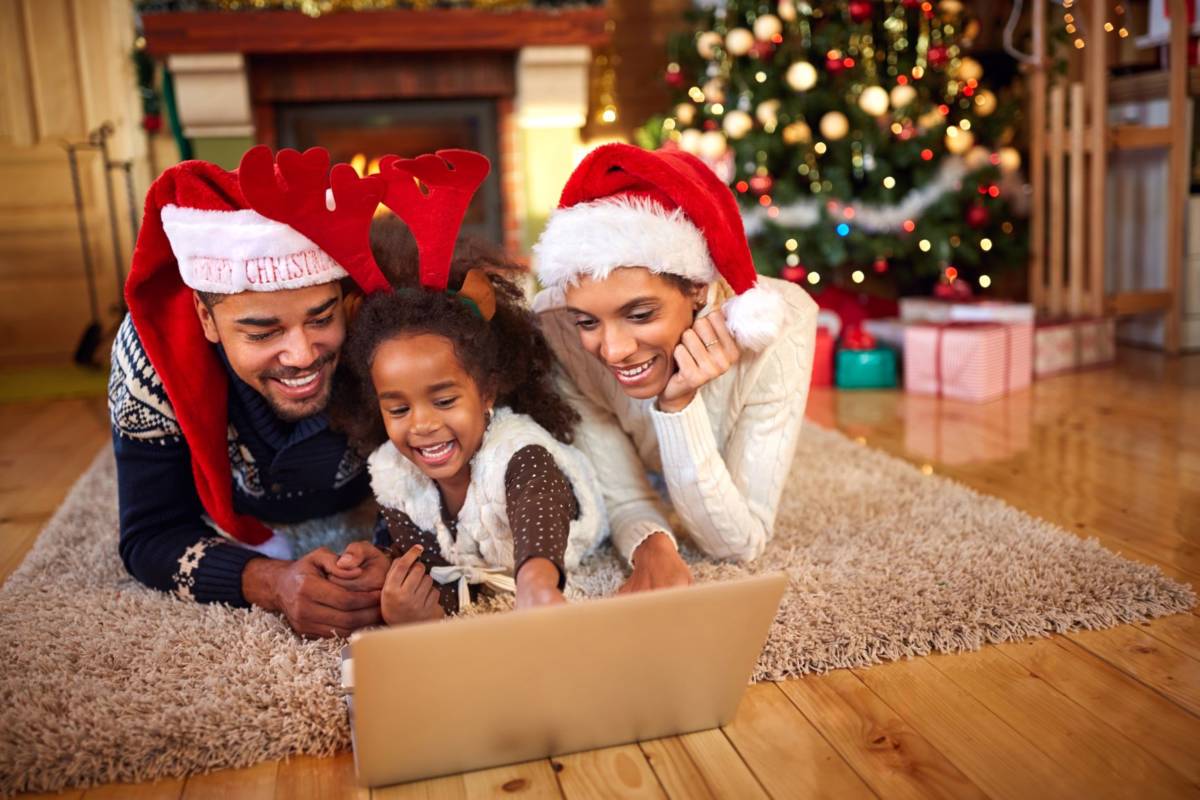 You'll need:
A guest list. Invite your friends and family to join the fun.
A video conferencing app to host your entire group. That way, multiple families can join the virtual tour.
A schedule, with a brief summary of each home on the tour
Drinks, so you can toast the holidays with each family you visit
Directions:
Start by setting a date and inviting your friends and family to join your virtual tour. Create a schedule of homes on the tour, with details about each family, and then share it with your guests before the big day.
On the day of the tour, remind your guests how to virtually connect to your video chat app of choice. Start the tour in your home, showcasing your holiday decorations — both inside and out. Next, have your guests move to the "next stop" of the scheduled tour, until each family has a chance to play virtual tour guide. Keep a holiday drink handy to toast everyone's health this season as you visit each home!
Christmas tree cookies/Sugar cookie stacks
This recipe is perfect for your holiday cookie exchange, as a tasty-looking holiday display in your home, or just a fun activity to enjoy with your family this season. You can skip the baking and go straight to the yum part by substituting the recipe below with Cheryl's sugar cookies.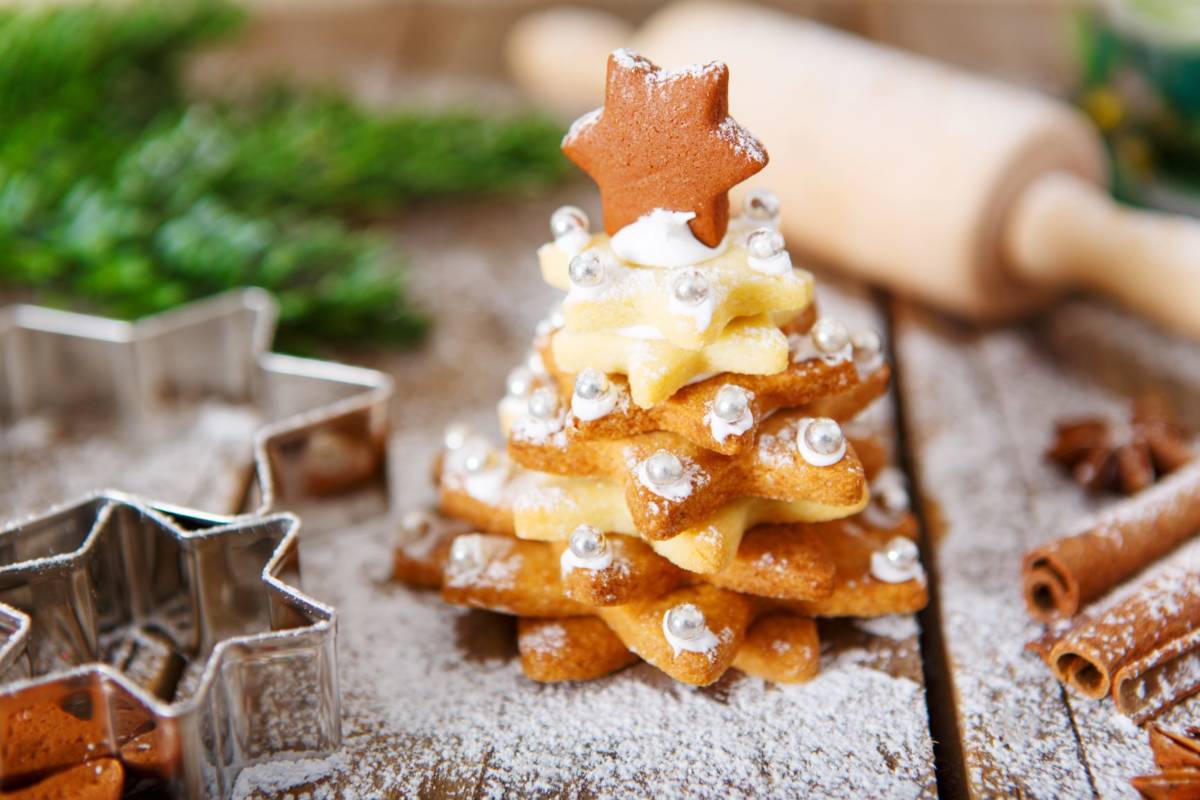 Ingredients for cookies:
3/4 cup unsalted butter, at room temperature
1 cup sugar
1 egg
1 teaspoon vanilla extract
1 teaspoon almond extract
2 1/4 cups all-purpose flour
1 teaspoon baking soda
1/4 teaspoon kosher salt
Ingredients for frosting:
1 cup butter
4 cups powdered sugar
1 teaspoon vanilla extract
3 tablespoons water or milk
Green gel icing color (or multiple icing colors!)
Colorful pearl sprinkles
Star sprinkles
Pastry bags
Frosting tips
Circle-shaped cookie cutters (for Cheryl's sugar cookies)
Directions:
Preheat oven to 350° F and line two cookie sheets with parchment paper. Cream butter and sugar together until light and fluffy. Add the egg, vanilla, and almond extracts. In a separate bowl, whisk together dry ingredients. Add dry ingredients to wet ingredients and mix until smooth (the dough should be thick).
Make three sizes of cookie dough balls: 1 teaspoon, 2 teaspoons, and 3 teaspoons (you should have an even number of each). Place medium and large cookies on a cookie sheet and press down slightly on each. Bake for 7 to 8 minutes or until the center looks mostly cooked.
Place the small-sized dough balls on the other cookie sheet and press down slightly. Bake for 5 to 6 minutes or until the center looks mostly cooked. Let cookies cool for 2 to 3 minutes, and then transfer to a cookie rack to finish cooling.
For the frosting, start by beating butter until smooth. Add half the powdered sugar and mix until smooth. Add vanilla and 2 tablespoons water, and mix until smooth. Add remaining powdered sugar and mix until smooth. Add green gel icing color to frosting and mix until your desired shade of green. Or, divide up the frosting and color with a variety of gel icing colors for even more colorful decorations!
To assemble the cookies, gather one size of each cookie. Fit a piping bag with a medium-sized star piping tip and fill the bag with your frosting color of choice. Pipe a swirl of frosting onto the largest cookie, and then place a medium-sized cookie on top. Pipe a swirl of frosting onto the second cookie, and then top with the small-sized cookie. Pipe a swirl on top of the final cookie and decorate with a star and round ornament sprinkles. Continue building the remaining cookie trees, and then refrigerate until ready to serve.
To substitute with Cheryl's cookies, simply order 4 dozen sugar cookies, and use medium- and small-sized cookie cutters to size cookies down to the correct size before decorating with icing and sprinkles. This will yield 16 finished cookies, and plenty of sugar cookie cutout leftovers to snack on while you decorate!
Gingerbread house competition
If a competitive streak runs in your family, this activity is sure to entertain your loved ones this holiday. It may even become a new annual tradition you'll enjoy for years to come!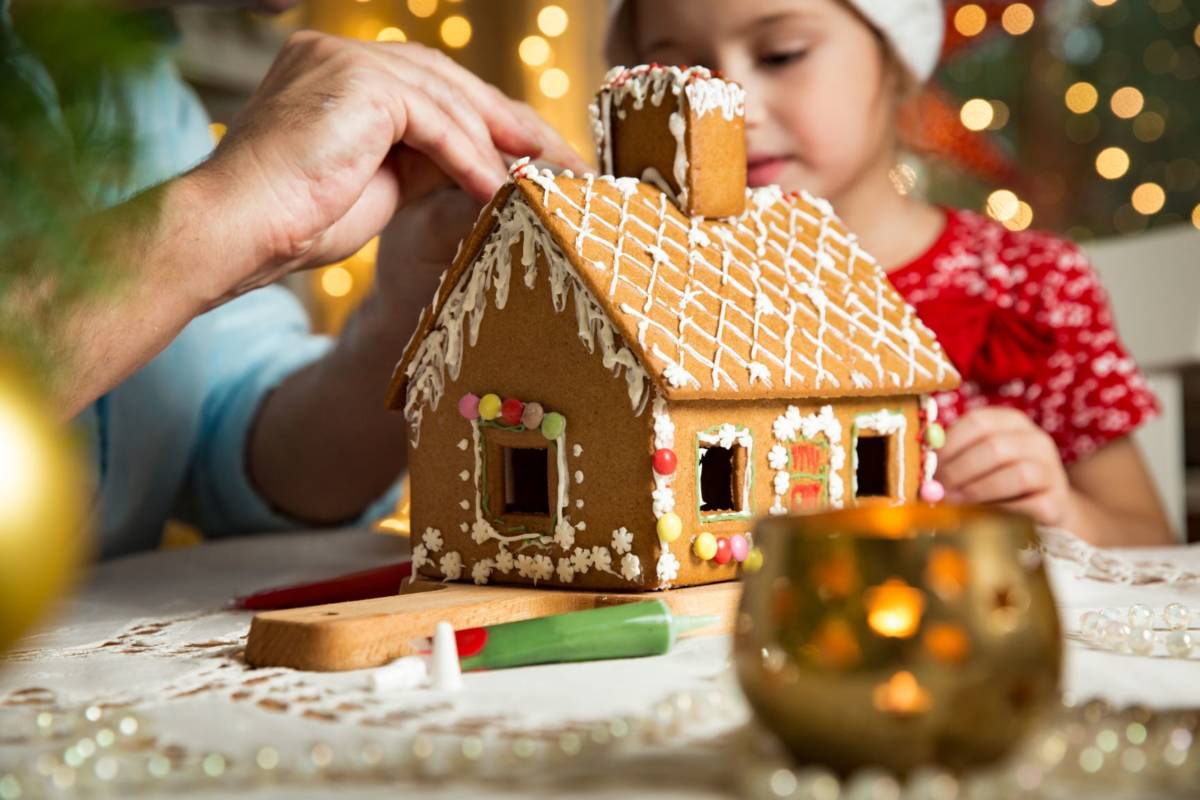 You'll need:
A good gingerbread recipe, or gingerbread house kit
Pastry bags
Frosting tips
Candy canes
Gumdrops
Other yummy decorations…get creative!
Our custom gingerbread house competition flyer
Directions:
Start by downloading our gingerbread house competition flyer template and filling out all the details for your event. Think of creative categories for contestants to enter, plus fun prizes for winners. Next, share the flyers with your friends and family to invite them to join the fun.
On the day of the event, have each contestant share videos or images of their holiday masterpieces, and then have all participants submit their votes for each category. You could even post the photos to your social media and have all your friends weigh in on their favorites.
Announce the winners of each category, and make arrangements to have prizes delivered — items from our holiday collection make perfect prizes for friends and family!