Our series "Raising Them Right" offers up useful tricks and tips for navigating the challenges of parenthood.
With so many glowing jack-o-lanterns and creepy goblins haunting the streets, Halloween is the best time to let a kid's imagination run wild. So why limit your children's Halloween treats to boring store-bought candy?
Sweeten up the holiday with some Halloween cookies instead: Cheryl's has so many fun, festive snacks that are certain to give your little ones a scary good time, no matter where they are.
Here are three ways you can make cookies a part of your kids' Halloween celebration.
Hand out cookies to trick-or-treaters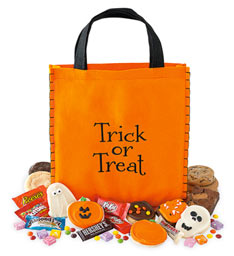 When all those little witches and mummies come knocking at your door for the sweet stuff, treat them to Halloween cookies instead of candy. Your kids will have loads of fun helping you give out Cheryl's wickedly delicious buttercream-frosted ghost cookies and pumpkin cookies. They're individually wrapped, so it's easy to drop them into any trick-or-treater's candy bag or bucket. Get the Halloween Party Pack, and your house will become the trick-or-treating hot spot of the neighborhood!
Reward your helpers with their very own Halloween treats gift gags. These bone-chilling pouches are filled with a buttercream-frosted cutout cookie, pretzel clusters, a mini brownie, a chocolate sandwich cookie, and, of course, a ghoulish ghost cookie. Your kids will gobble them right up!
Gear up your youngsters for their own trick-or-treating masquerade by creating your own Cheryl's trick-or-treat totes. Just choose from three boo-tiful bag designs and fill them up with any combination of Cheryl's cookies and brownies you please. Your kids will have everything they need to spread some fright on Halloween night!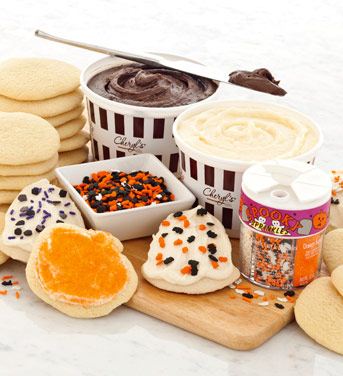 Host a spooky cookie decorating party
Share goose bumps and giggles by gathering the kids around the fireplace for some scary ghost stories and tasty Halloween treats. Throwing a Halloween cookie decorating party for the kiddos and their friends is easy; all you need are a few fun Halloween party planning ideas for children and the right supplies to set the eerie mood.
With Cheryl's Halloween Cutout Cookie Kit, you get all the essential ingredients for decorating your very own ghost cookies and pumpkin cookies. If your kids love Halloween cookies with a kick of spice, try making skeleton cookies with the Halloween Gingerbread Cookie Kit. Every kit comes ready with 24 unfrosted cookies, a one-pound tub each of vanilla and chocolate buttercream frosting, and a container of Halloween sprinkles. You don't even have to turn on your oven; just break open the box and watch the little ones bring their spooky creations to life.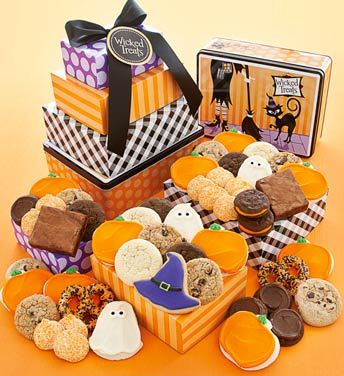 Bring Halloween cookies to the school party
You don't have to go batty baking five different desserts the night before the school Halloween party. Instead, surprise everyone with scrumptious Halloween cookies that your kids' classmates will devour faster than you can say "Frankenstein." Cheryl's Halloween Gift Tin Tower is brimming with fresh buttercream-frosted cookies, butter shortbread cookies, gourmet cookies, chocolate sandwich cookies, fudge brownies, and chocolate-covered pretzels. Plus, the gigantic stack of festive containers will bewitch students and teachers alike! For a smaller class, the Halloween Chocolate Chip Cookie will cast an equally powerful spell on hungry tummies.