As a parent, does the thought of Halloween scare you? Not the ghosts and goblins and haunted houses. We're talking about the frighteningly long list of things you need to get done: pumpkin picking, costume making, candy buying, decorating, party throwing. It's enough to give anyone sleepless nights and terror-filled days.
But good news! You don't need to conjure a magic spell to cast off that feeling of Halloween overwhelm. These eight Halloween hacks will allow you to make the most of this magical season with your little pumpkins.
Make carving time kid friendly
Pumpkin carving can be a challenge for little kids and unsafe for younger hands. (Remember struggling with those tiny saw blades, trying to wrestle a cut from a giant pumpkin?) Make it more fun for them by scoring designs into the pumpkin. Then, equip your kids with a melon baller or ice cream scoop so they can make quick work of creating a design on the front of the gourd.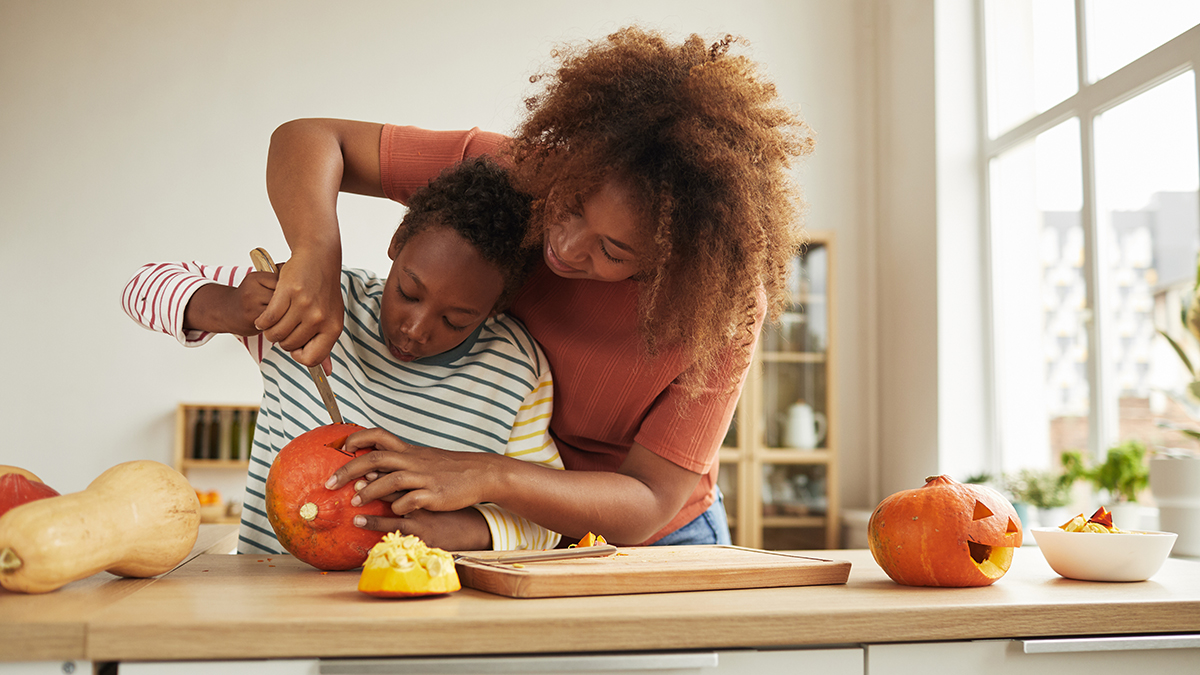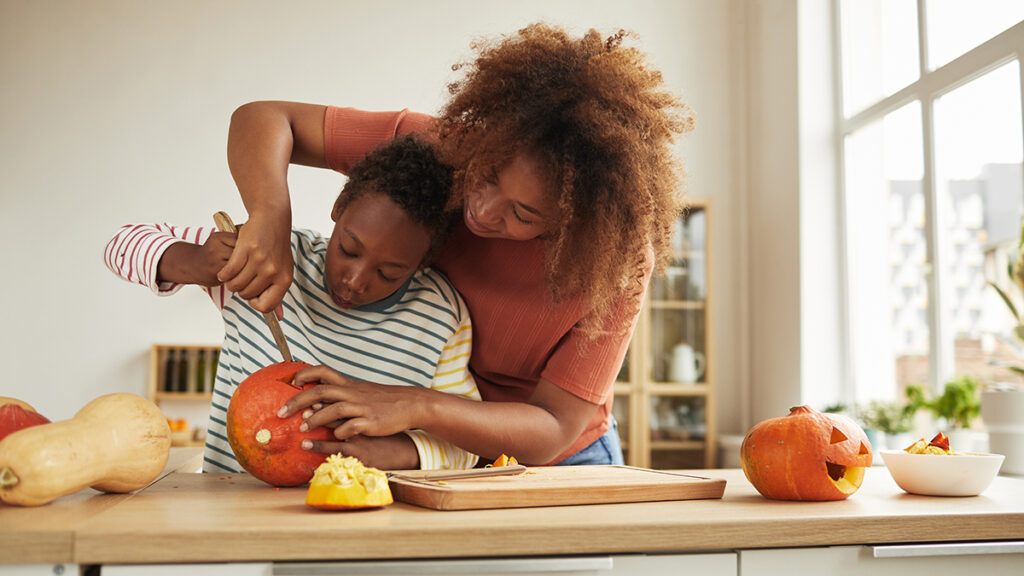 Deck out a haunted room
No time to decorate the entire house in a style that would give the Addams Family shivers? Just focus on a kid's bedroom or playroom, suggests Kathy Piccari, owner of Pineapple on Main, a home and baby shop in the suburbs of Philadelphia. Piccari says it doesn't take a lot of time or budget to create spine-tingling magic for little ones. "Hang some string lights, add some cobwebs — let them help make it into their own haunted getaway." Include black lights or colored LED lights, along with cheesecloth, to give their room a look straight out of Better Homes & Goblins.
Host a 'Fright Night' dinner
One of Piccari's favorite Halloween traditions is hosting a ghoulish dinner for her four kids. She chooses a night just before Halloween (never the actual day, which she says is too chaotic) and lays out a scary spread of creepy delights. "Go to the dollar store and get orange, black, and purple paper plates, napkins, and tablecloths. It's super economical and easy to clean up," she says. "I put some tea lights out and serve 'finger fries,' with 'nails' of ketchup and a 'skeleton' vegetable tray." Another option is to cut jack-o'-lantern faces into orange bell peppers and make your favorite stuffed pepper recipe. Kids will love seeing the filling ooze out of the mouths of these pumpkin-shaped veggies.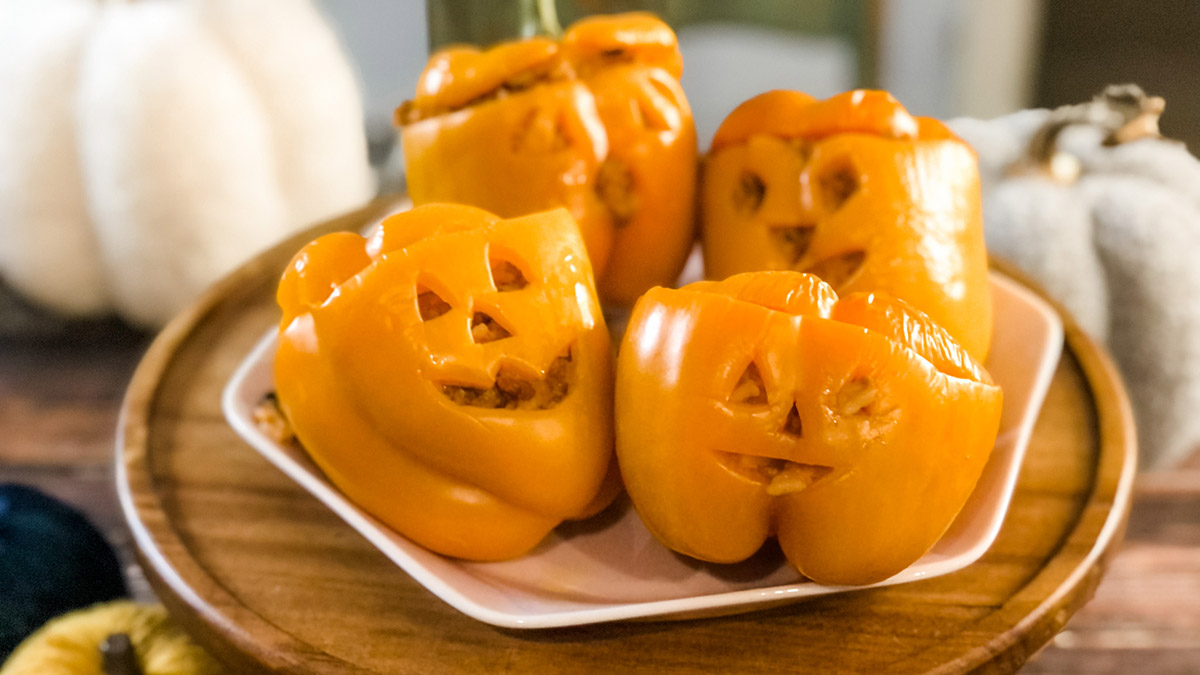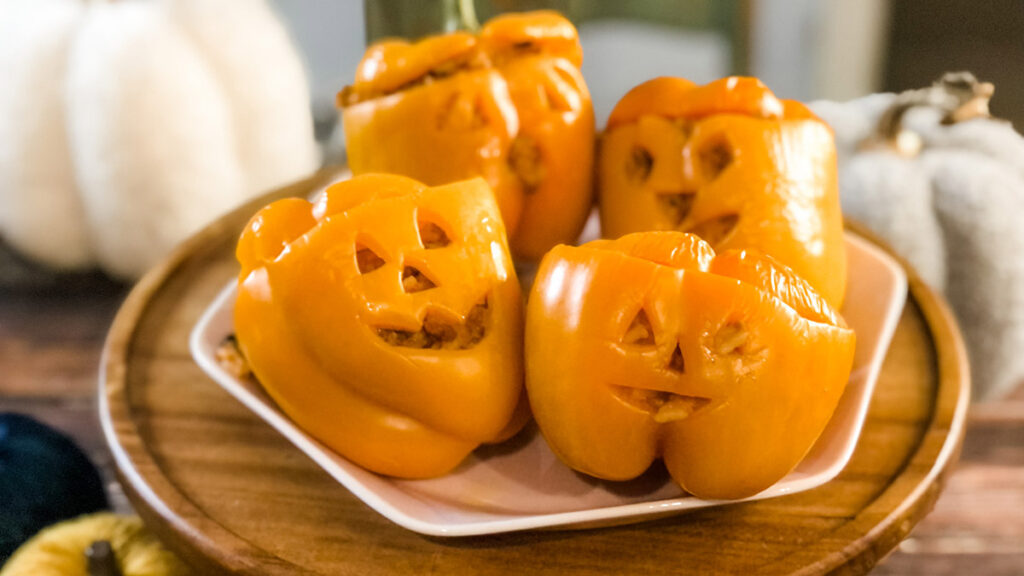 Cook up an eerie-sistable breakfast
Hosting a hauntingly bat-tastic Halloween breakfast is easy. Cook pancakes in the shape of pumpkins (add canned pumpkin, cinnamon, and nutmeg for pumpkin spice latte pancakes!) or grab an inexpensive skull or spiderweb waffle maker to make creepy crawly waffles. (Tip: Throw a couple of gummy worms onto the web-shaped finished waffle to add some "victims" for the spider.)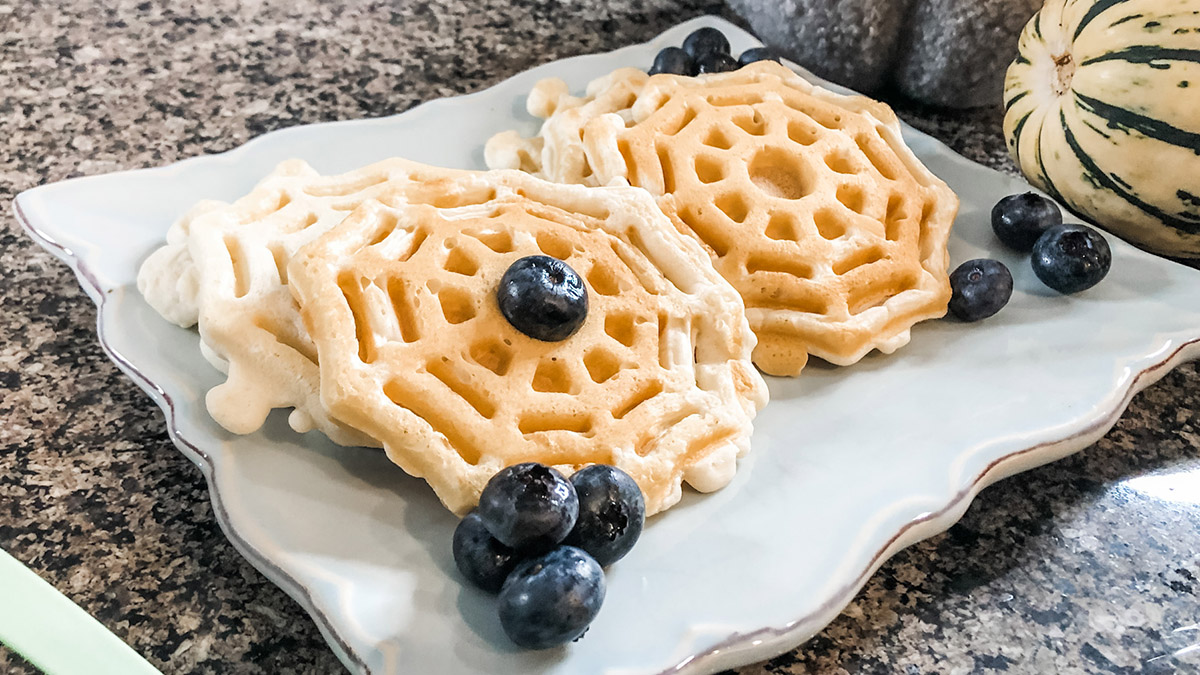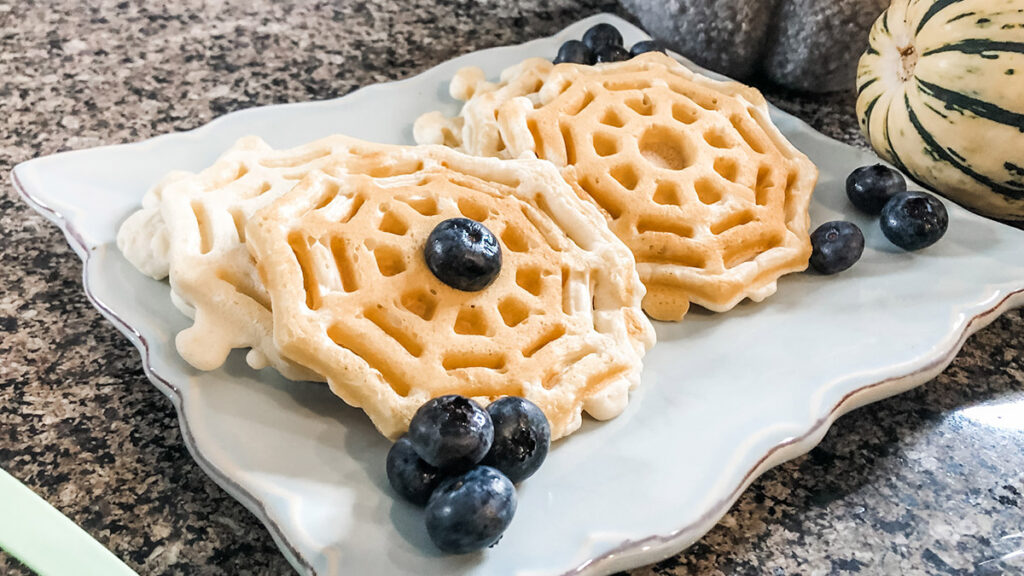 To give mummies and dads enough energy for the pumpkin patch, whip up some Witch's Brew coffee. Just be sure not to invite any cereal killers to the party.
Relax those tired bones with a movie night
Some of the best Halloween memories require little effort or expense. Mom blogger Kianna Reid of The Young Mom Diaries says one of her favorite Halloween traditions is getting cozy with the family for a full night of Halloween classics. Bring in tons of comfy blankets, pillows, and sleeping bags, and don't forget a ghoulish treat, such as gourmet Halloween cake pops that come decorated like vampires, mummies, and spider webs.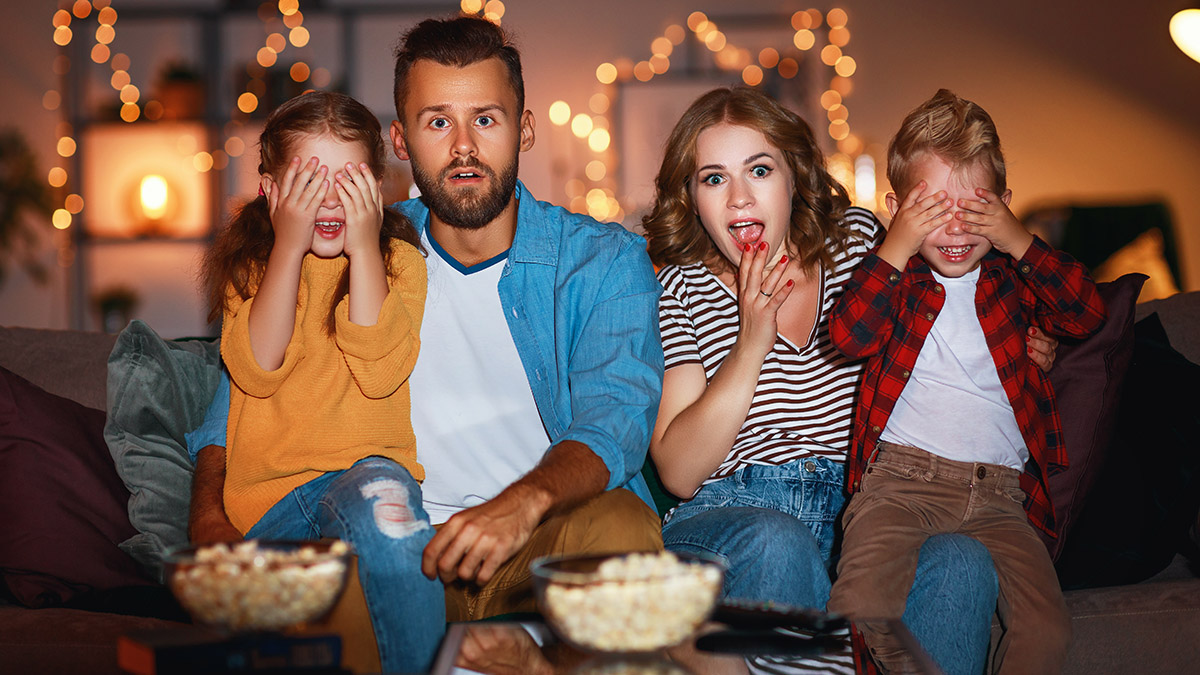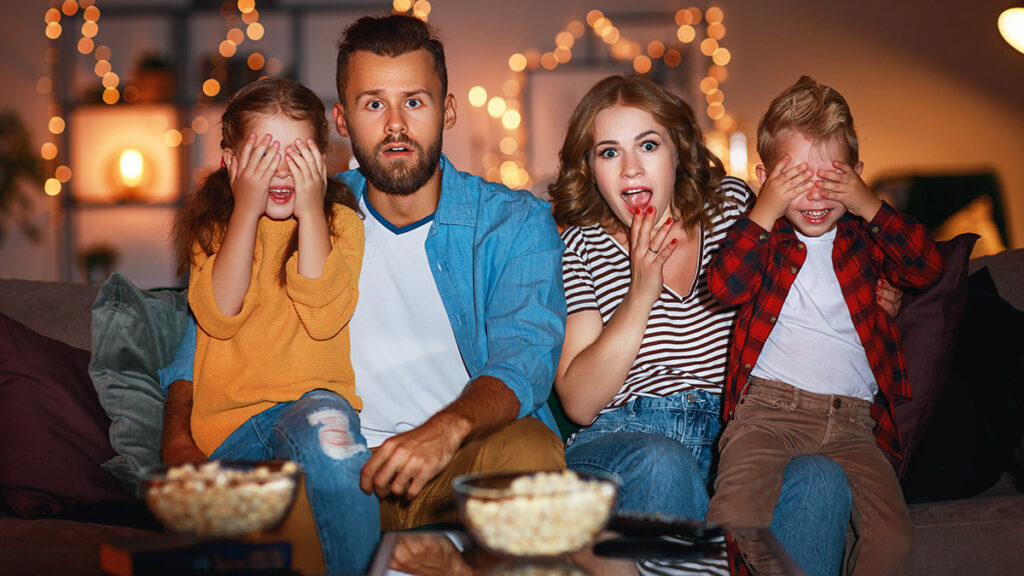 Create a creepy costume backdrop
"A balloon garland makes any season special," Piccari says. "It's so easy to make, and the whole family can get in on it." She suggests purchasing a kit online (they start at around $10) and creating an archway or wall photo backdrop for kids. She says pastel balloons mixed with orange ones is a particularly fun color combination this time of year. Make it a special Halloween dress rehearsal and maximize use of those costumes.
Make baking a breeze
Baking with little ones should not be about making Instagram-worthy treats but rather maintaining a relaxed and festive atmosphere, Reid says. When she bakes with her 2-year-old daughter, Ava, Reid likes to play spooky (but kid-friendly) Halloween music and keep the focus on teaching and learning.
Of course, if you want to make things super simple, get straight to the fun of decorating with a Halloween cookie decorating kit that includes everything you need, from cookies to icing to sugar decorations.
Create a family costume theme
Going with a family theme for costuming can center your attention and make things more fun for everyone. (It also cuts down on little goblin indecisiveness.) Reid suggests hitting up thrift stores for inexpensive costume components. You can also utilize the numerous delivery boxes you inevitably have lying around as the basis for creating unique costume construction.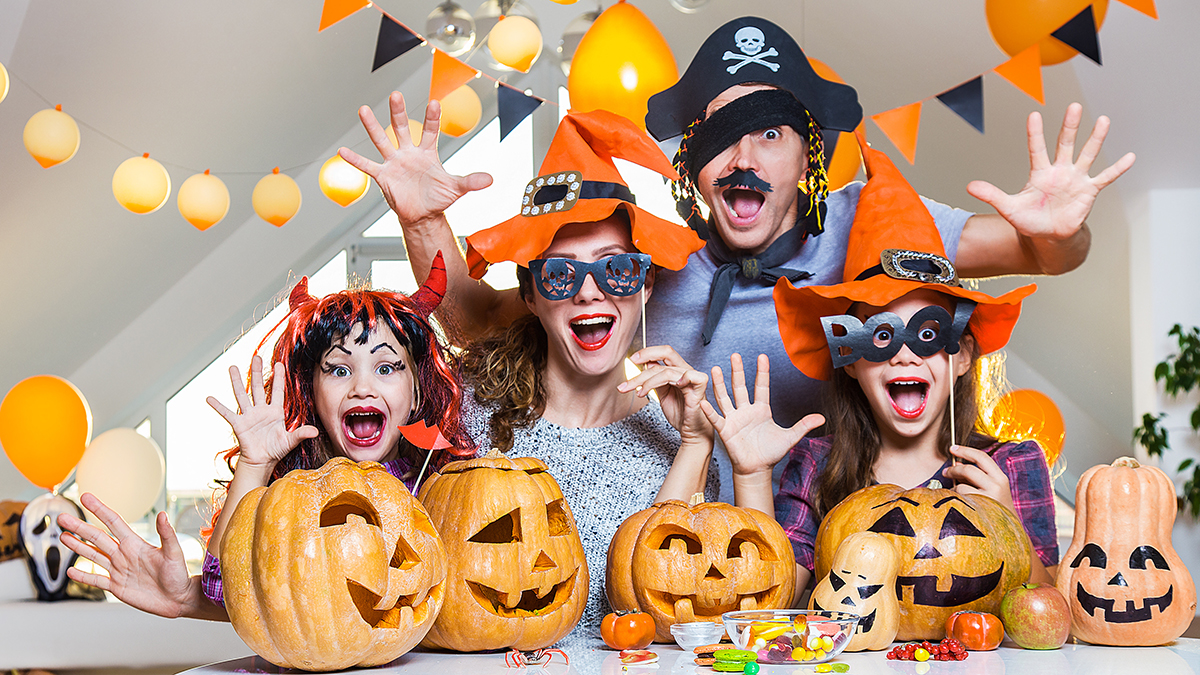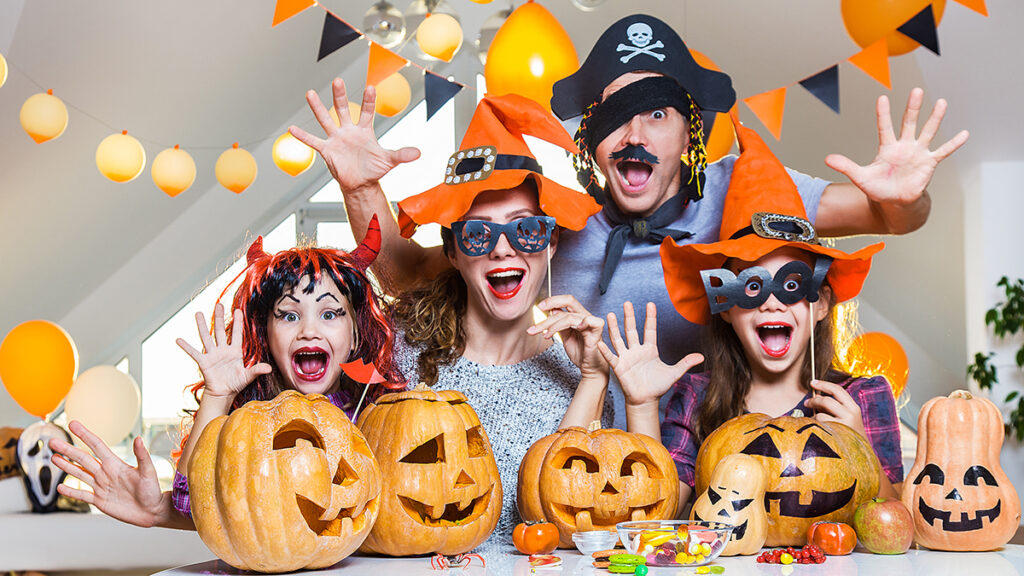 Finally, Reid suggests simplifying the masking issue by incorporating face masks into the costume design. "This way, they'll really want to wear it and you won't have to keep reminding them."
Mummy advice for busy parents
Here are four pieces of sanity-saving advice to help parents feel less frazzled this spooky season.
1. Plan ahead
Before the holiday is in full swing, Reid maps out the month of October on a calendar. Piccari does something similar: With her older kids, she started an online family calendar so everyone can see when an outing is planned.
2. Lighten your load
Reid likes to look at her month's schedule and see what commitments she can put off or get rid of in order to make room for Halloween family time. "It's about making sure you're not putting too much on your plate."
3. Put plans down on 'paper'
You probably have lots of frighteningly fabulous things you want to do, but then, poof, it's Nov. 1. Before the season gets into full swing, Reid writes down all the things she wants to do, from decorating to learning activities and DIY projects. Then, she prioritizes the activities she wants to do most and puts those on her calendar.
4. Pace yourself
Instead of loading up Saturday with pumpkin picking and carving, haunted house decorating, and cookie baking, pick one activity that you can take the time to enjoy. "You don't have to decorate the entire house in one night," Reid adds.
---