The third installment of the "Celebrations Book Club by Cheryl's Cookies" took place Jan. 27 and featured New York Times bestselling author Janet Evanovich. During the event, Evanovich discussed her writing career, her creative process, and her latest book, The Recovery Agent.
Once upon a time, before she began churning out New York Times bestsellers over the course of a career that has spanned more than four decades, Janet Evanovich was a college student majoring in fine arts. After graduating from Douglass College, she became a painter, got married, had two kids, and became a stay-at-home mom.
And that's when her dreams changed.
"I realized that what I liked about painting was that I was always telling myself stories about the things I was painting," Evanovich said during the "Celebrations Book Club by Cheryl's Cookies" virtual event on Jan. 27. "My husband was a grad student, and we were sort of struggling, and I thought, 'I'll write a book, they'll make it into a movie, and I'll be rich and famous.'"
And write she did.
Launching into romance writing
Amazingly enough, Evanovich wouldn't be published for a decade. "I kept trying to learn the craft, sending things out, learning who I should get as an agent, and finding ways I could get better," she said.
She started out writing romance novels, but after nearly five years, she had an epiphany.
"I realized I was in the wrong place," she said. "I wanted my books to have more action — less romance. I liked the sex part, but I didn't like the prolonged relationship romance."
A year later, she launched the Stephanie Plum series, and 28 books later — with a 29th coming in November — it's still going strong.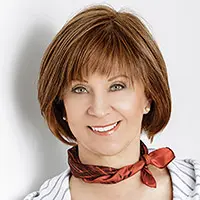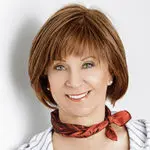 I feel that my calling is to write books that give people a little break from whatever might be a misery in their day.
Janet Evanovich
Bestselling author
Talking about process
When Claudia Copquin, host of the Celebrations Book Club and founder and producer of the Long Island Litfest, asked her about her writing process, Evanovich acknowledged that her approach has evolved.
"I used to spend a lot more time on several edits of a book," she said. "Now, when I start a new book — if it's a Plum — I already know a lot of things about it."
But some things have never changed: She always takes notes in a steno pad, she always establishes how each book will begin and end before she sits down to write it, and she always lays her novels out in three acts, like a screenplay.
"I know what I'm going to try to accomplish with the relationships within the book, how much growth the characters will experience. I know the crime and several plot points that will drive the book," she said. "It's more of a storyboard, and I write more like a screenwriter in that way."
Then, at night, she takes her steno pad to bed with her.
"I take notes on what I did that day and where I want to go tomorrow or maybe two days ahead," she said. "Somehow, when I do that before I go to sleep, the ideas go around in my head while I'm sleeping and I'll wake up with a whole lot of ideas about where I want to go."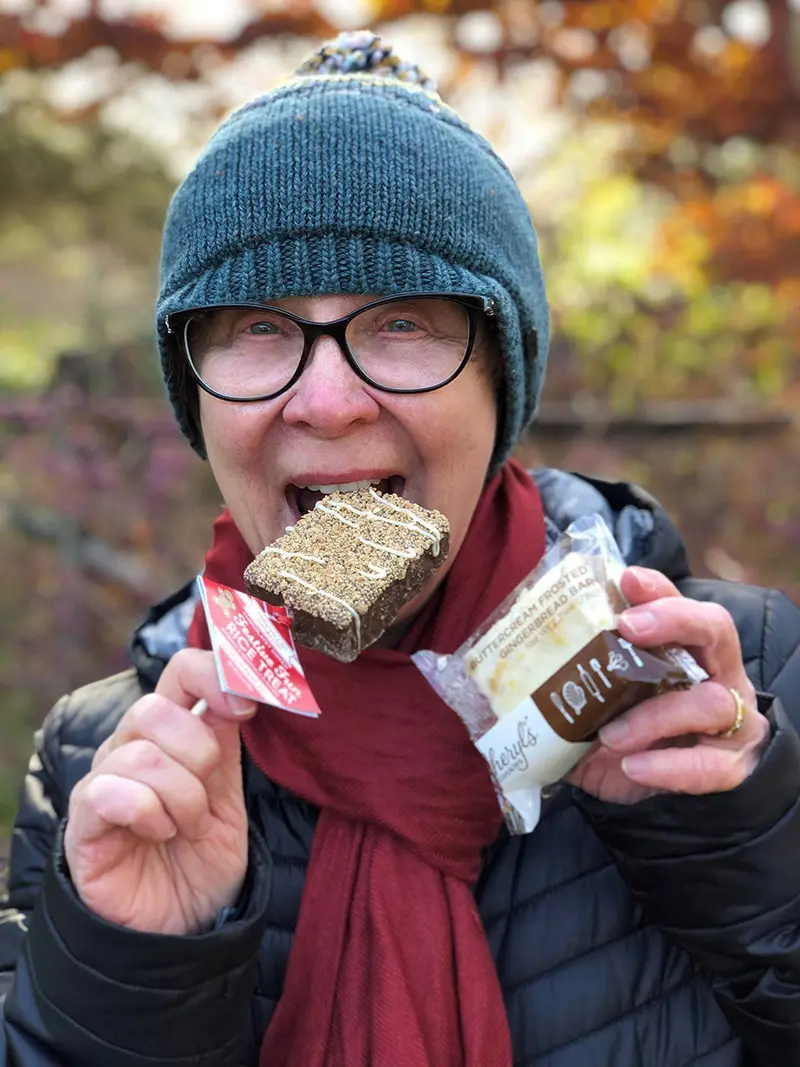 A rigorous daily schedule
Evanovich jokingly told Copquin that she has "no life" and spends eight to nine hours a day writing.
"I'm the world's most boring person, but I love what I do," she said with a laugh, adding that she loves mornings the most. "I'll wake up early, at 5 or 5:30 a.m. and get coffee, let my little dog out to pee, and then I go back up to my office and get into this new world of characters," she said.
After a lunch break, it's back to her desk.
"That's when I have no more ideas," she said, again with a laugh. "But I need to make more pages and keep on schedule. Sometimes I only write for a couple of hours, and if I need to do shopping therapy, I will. I take time out to take a walk with my dog, but I like the continuity — I like to write every day."
Her latest works
Game On, which hit bookstores in November 2021, revolves around Stephanie Plum chasing a cyber criminal.
"One of the things I love about this book is that I brought Diesel into it, and he's one of my favorite characters," she said. "In this book, he's in there the whole time — he's Stephanie's partner — and they're after the same bad guy, though she's not sure if he's working with her or against her."
Evanovich said there's a lot at stake in this book and a lot of fun is had between Stephanie and Diesel. "There's also a nice twist at the end," she added.
When Copquin asked how much she researched the hacking world, Evanovich said she focused her research on the many recent news reports about cybercrime.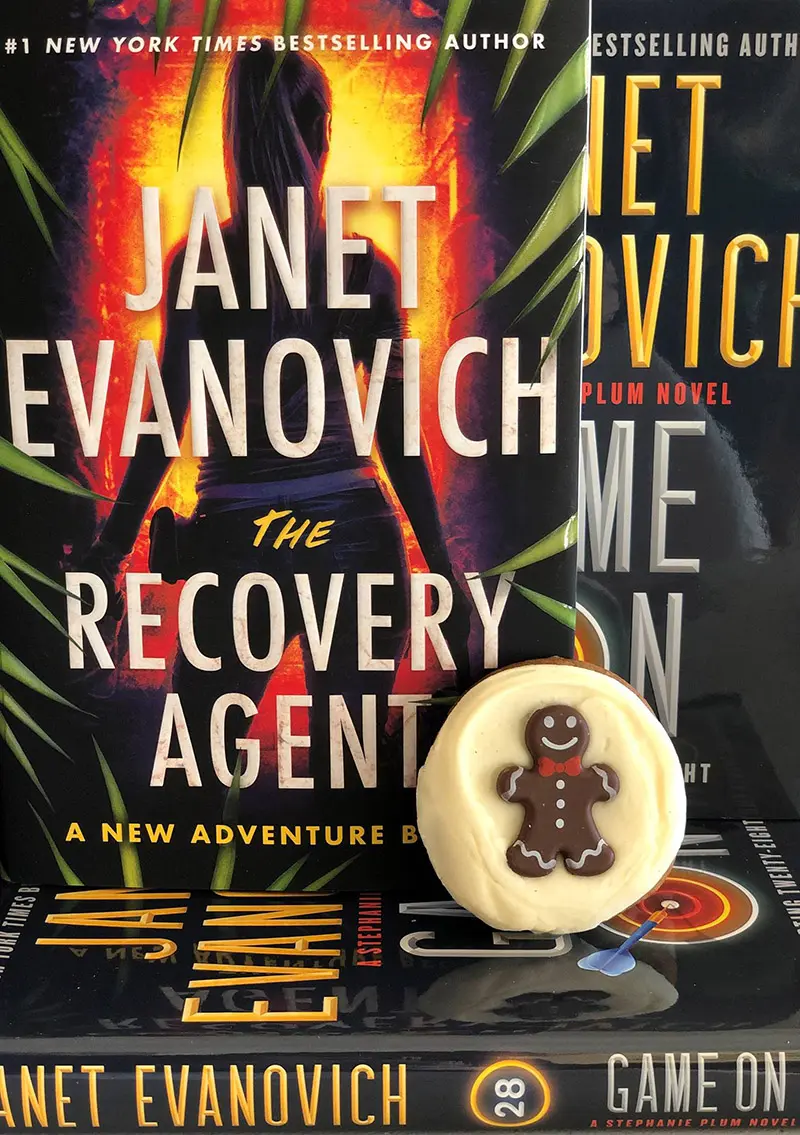 "Usually with the Plum books I don't do a lot of research anymore," she said. "In the beginning, I hung out with cops in Trenton, I walked around with pepper spray, I learned how to shoot a gun, and I knew Trenton because I'm a Jersey girl."
In her next book, The Recovery Agent (publishing this March 22), Evanovich has dreamed up a new heroine, a daredevil named Gabriela Rose.
"She's in many ways the opposite of Stephanie," Evanovich said. "She's a gourmet cook, a fashionista, and she's very good at what she does. It's really an Indiana Jones kind of adventure story and a quest to find treasure. I can't wait for everyone to read it!"
In the end, Evanovich shared the goal she thinks about with every book she writes: "There's a lid for every pot," she said. "There are cathartic reads and serious books, but that's not my job. I'm a happy author. I write books that make me happy. I want to make my readers happy, and I want them to know if they're having a bad day, it's not as bad as Stephanie's and we can all march on.
"I don't have visions of changing the world, but I feel that my calling is to write books that give people a little break from whatever might be a misery in their day."