Call the ghosts and goblins — spooky season is here! But fear not! Planning a kid-friendly Halloween party doesn't have to be such a scary task.
From ghoulish delights to fun-filled freights, these Halloween party tips, tricks, and treats will make you the ghostest with the mostest in no time.
Striking a spooky balance
Throwing a party can come with high expectations, especially if it's related to a holiday. However, don't feel as if you have to go all out all the time. "You can't do every single thing," reminds Allison Carter, celebration expert and owner of Allison Carter Celebrates. Instead, she suggests focusing on a few eerie elements that you really want your guests to notice.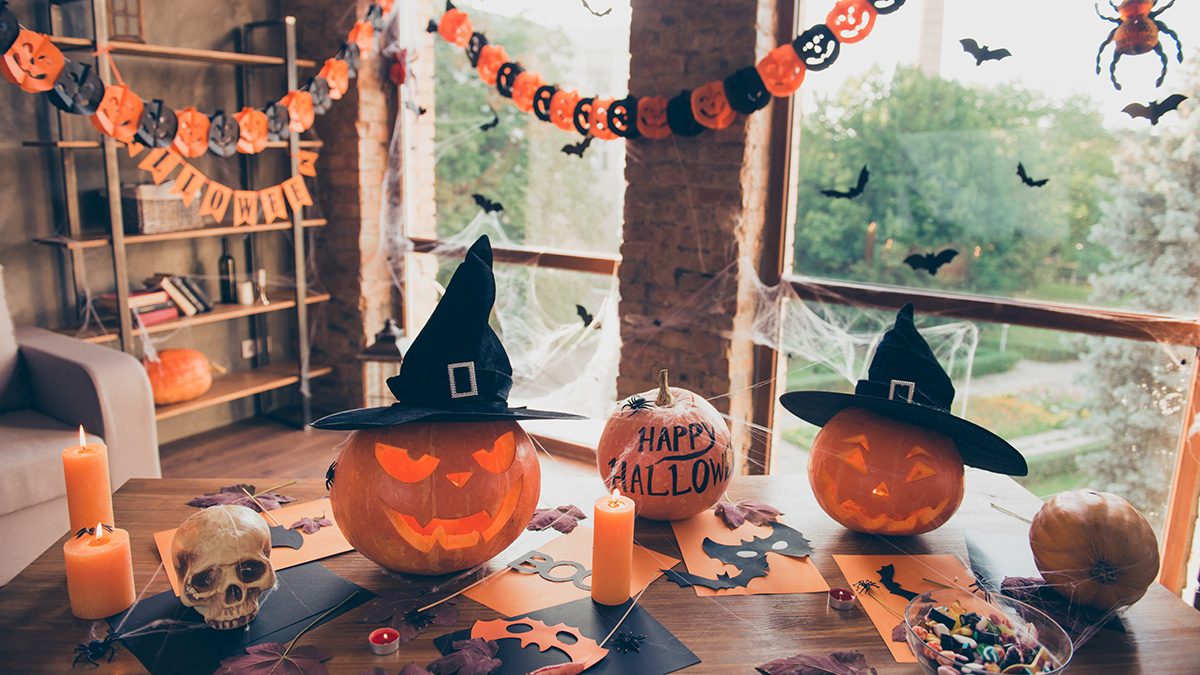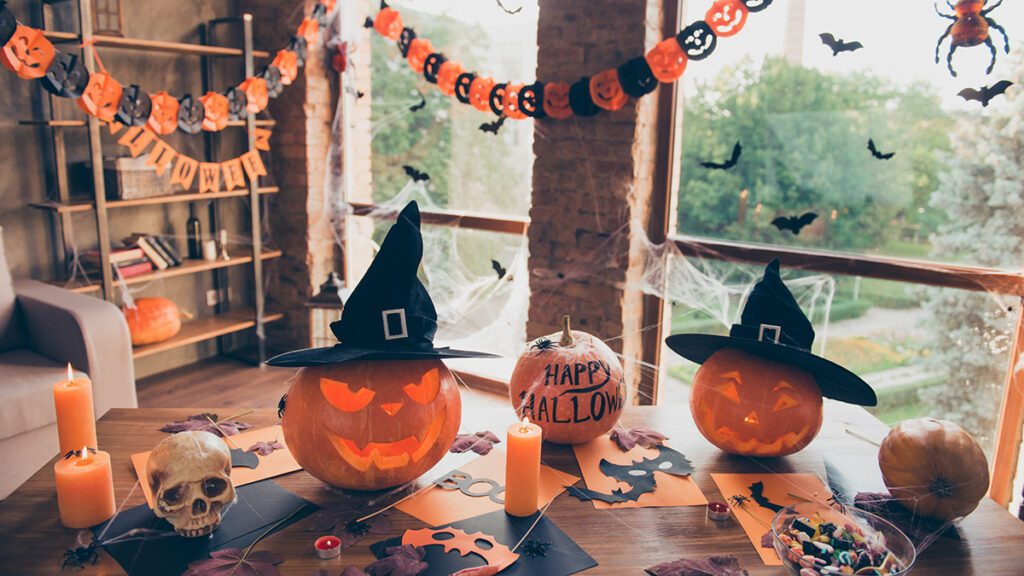 It's also important to be mindful of your audience when looking to balance fright and fun. "Try to keep everything in the middle," advises Bryanna Manetta, the creative eye behind Parties, Decor & More. That means forgetting the bone-chilling scares and sticking to classic and kid-friendly things like ghosts, jack-o'-lanterns, skeletons, and witches.
Don't go batty with dècor
Instead of breaking the bank on decorations, "turn the volume up on what you already have," Carter advises. A few small changes can add spook to your normal seasonal decor. Spider webs? Googly eyes? A little can go a long way with these Halloween standbys.
"You can do literally anything with googly eyes," Carter insists. Drape spider webs across your cabinets or add googly eyes to everyday items for a haunted twist. Then, pick just one or two things you want to add to your collection, such as a ghostly garland.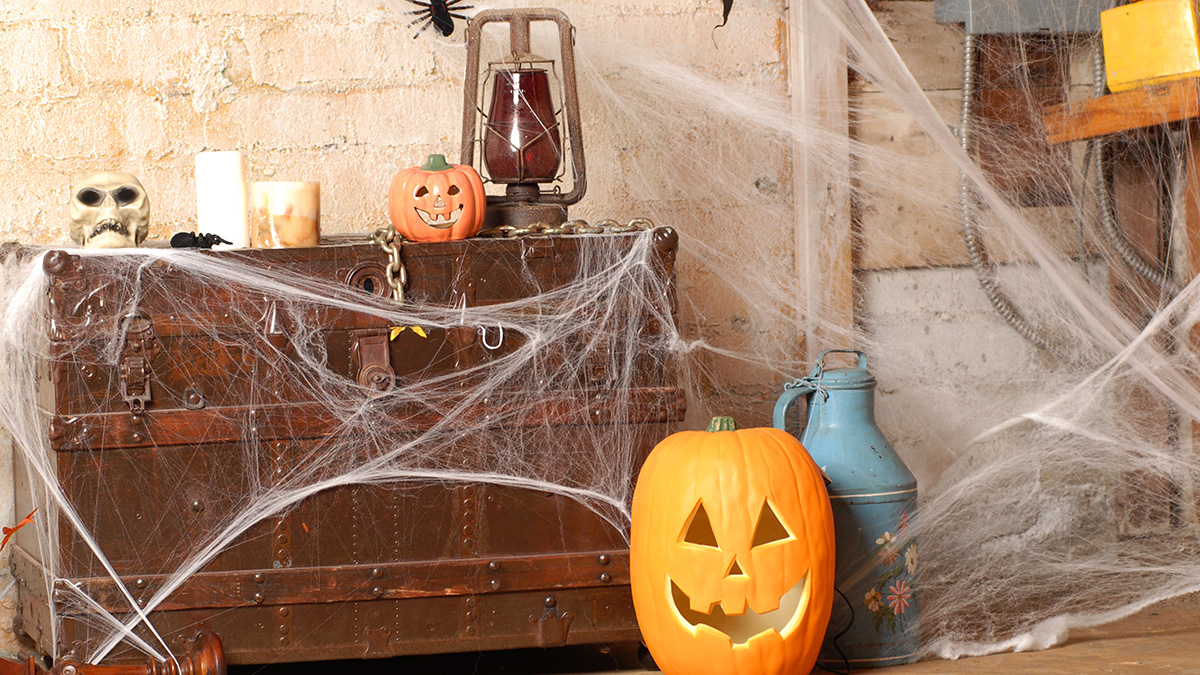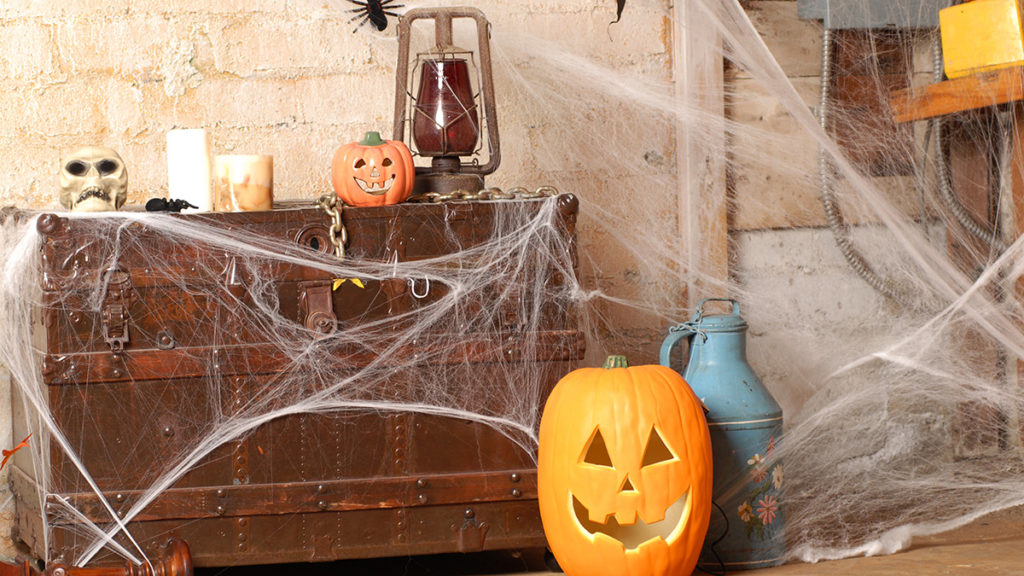 And don't be afraid to think outside of the box. "Purple and lime green are really fun colors to bring into a kid's Halloween party," Manetta adds. These pops of colors can lighten up the usual black and orange.
Lastly, what's a monster bash without the "Monster Mash?" Set the mood with a soundtrack that has the right amount of spook for your age group. From Halloween standards like "Thriller" and the theme from Ghostbusters to eerie sound effects, you can create a perfectly terrifying track list.
Try these skele-fun activities
Be sure you have activities planned that will keep the kids busy. "Adults are looking for a break and for the kids to be entertained," Carter reminds. She suggests picking one calm and relaxed activity and one that requires more energy and movement.
Consider these frightfully fun ideas:
Pumpkin patch balloon pop
Try this spin on piñata fun. Blow up orange balloons and fill each one with candy, and then tie them with a green string. Then, leave the kids to make their way through the "pumpkin patch," popping their way to candy surprises.
Toilet paper mummy race
All you need for this activity is, well, the name should give it away. Let them wrap each other up with a roll and race to the finish line. Or divide the kids up into two teams and see which group wraps its mummy the fastest. Who knew toilet paper could be so much fun?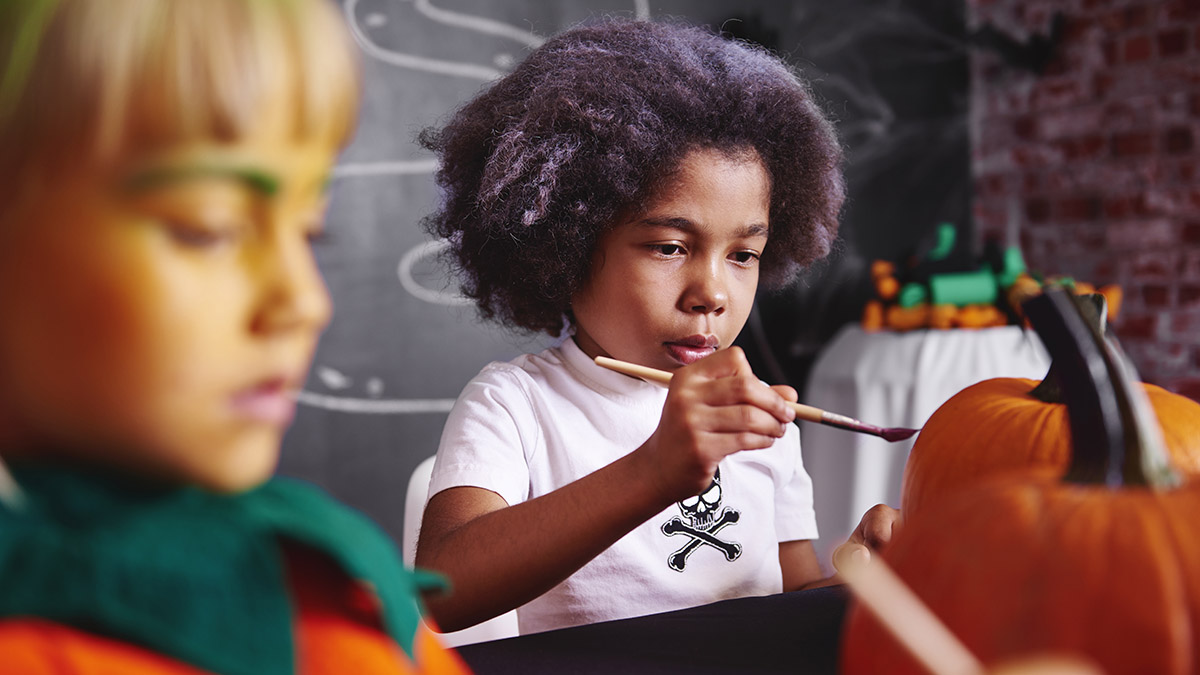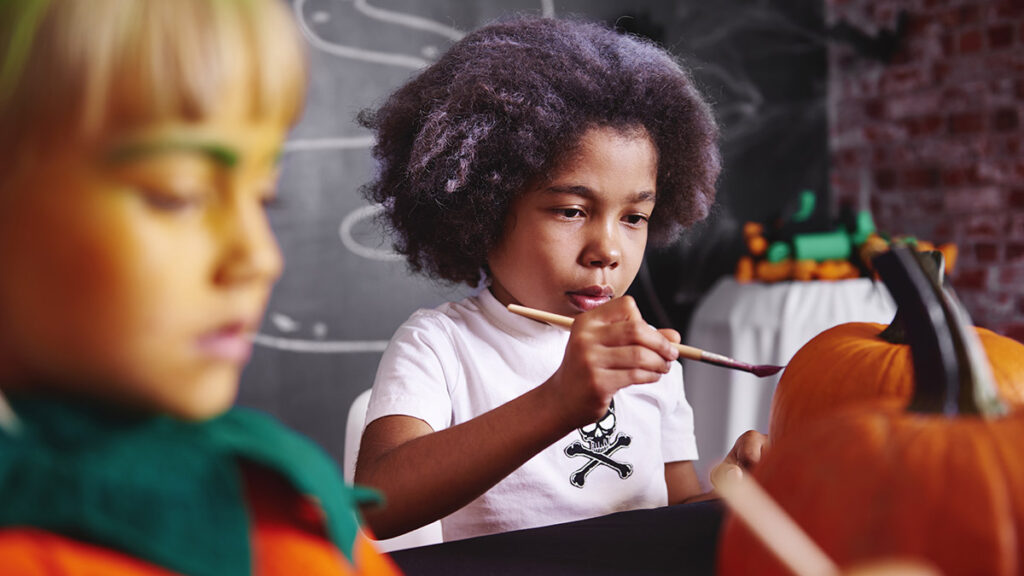 Say 'bone appétit' with these tasty treats
Nothing could be scarier than not keeping your guests well fed. And remember to keep everyone in mind when planning the menu. "The food and the drinks should cater to the adults, too," Manetta says.
Put together a Halloween-inspired dessert board with your favorite sweet seasonal treats. From jelly pumpkins and candy corn to festive cookies and pretzels, you have tons of options to choose from. If you're feeling slightly less motivated, you can get one that comes with everything you need.
This time of year, sweets are everywhere, so you may want to consider including a healthy option or two as well. Strike the balance of spooky and sweet with a fruit display or Halloween-themed chocolate-covered strawberries.
As Carter points out, "Food and snacks can double as an activity a lot of times." Consider setting up a make-your-own trail mix station or candy bar. You can never go wrong with decorating your own cookies, either.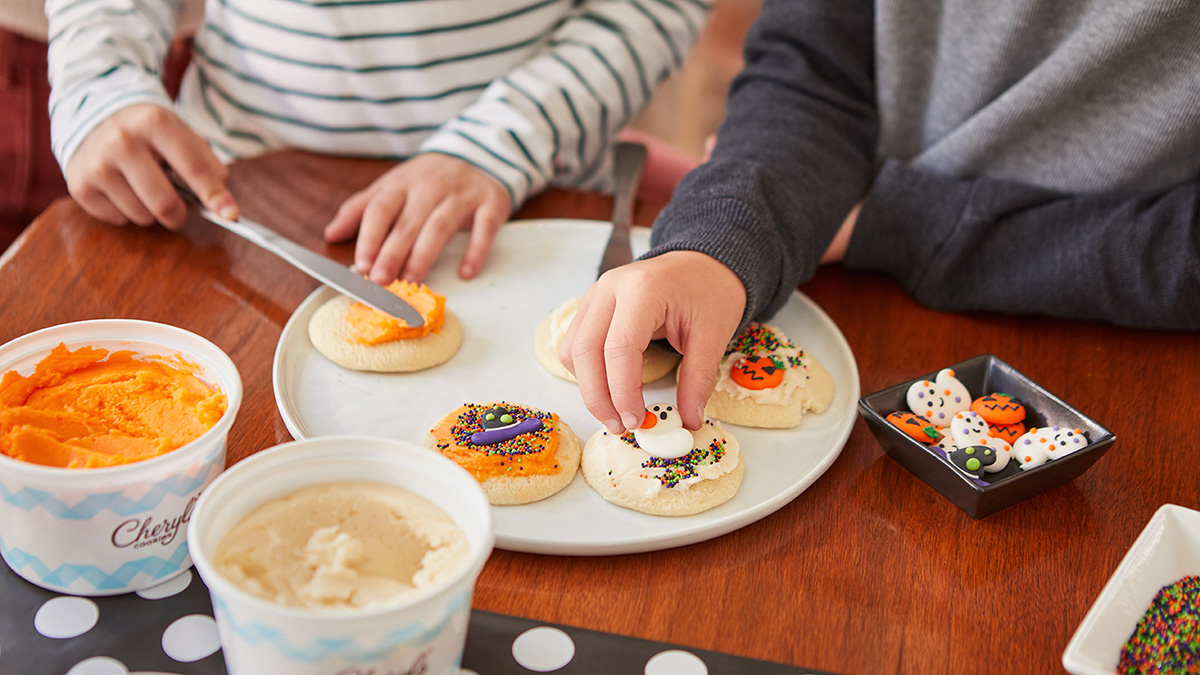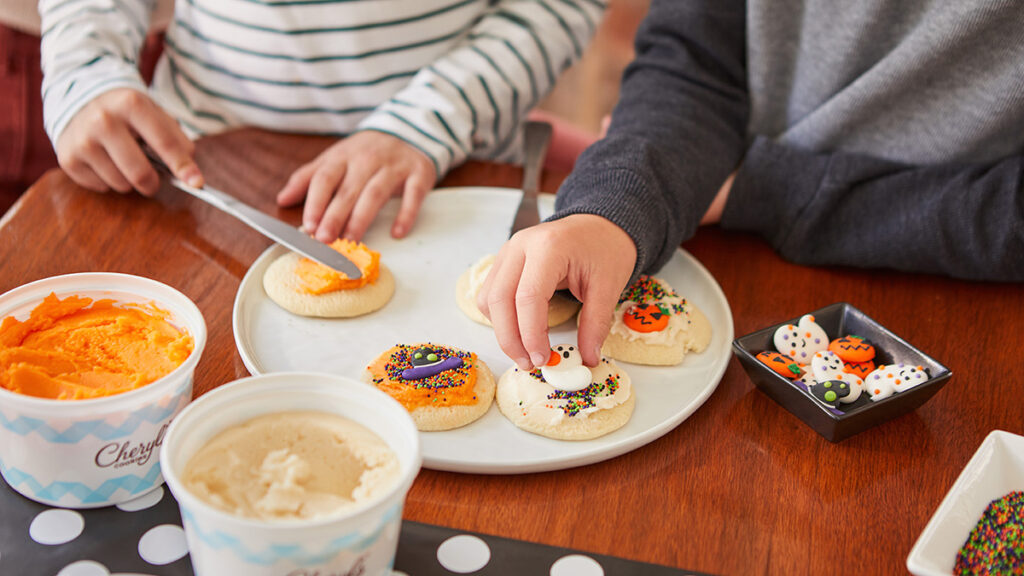 And why stop there? "I always try to add the theme into the food name," Manetta says. You can label your snacks with spooky names. "Just add Halloween adjectives and theme-related words to the food name if you're not feeling creative," she urges.
Three such ideas are:
Deviled eggs = Devilish Eggs
Fruit punch = Witches Brew
Trail mix = Monster Munch
Give a spooktacular sendoff
As the night comes to an end, you don't want to send all the kids home with a sugar high. Consider winding down with a quiet activity.
"Show a kid-friendly Halloween movie to wrap up the night," Carter recommends.
Movies that contain spooky themes without being overly frightful for younger audiences, such as Hotel Transylvania and Coco, are solid choices. Include a fun snack (Monster Bash popcorn, anyone?) and welcome festive pajamas for added fun.
Above all, Carter says, think about who your guests are and the kinds of things they like to do, eat, and watch. She says, "It's about the people that are coming and the experience that [you're] giving them."
---