All the mouthwatering recipes in our series "The Main Ingredient" have one thing in common: They all contain cookies.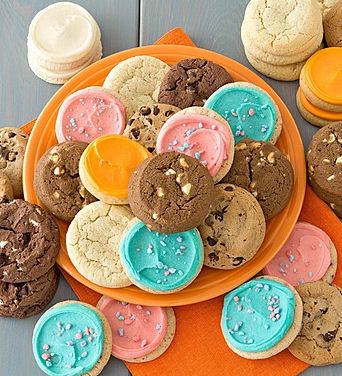 Today, July 9, is National Sugar Cookie Day, a day when we honor everyone's favorite sugar-coated treat. To help you celebrate the sweetness, we came up with a few fun, simple, and absolutely scrumptious ways to enjoy the tastiest sugar cookies of them all: Cheryl's cutout cookies!
Make them pretty with frosting and sprinkles
For all you traditionalists out there, whip up a quick and simple sugar cookie snack that allows you to both savor the flavor and express your creativity. All you have to do is get your hands on some rich and delicious buttercream frosting in your favorite flavors, spread it generously over a fresh batch of cookies, and top it all off with colorful sprinkles. With just these three ingredients, the cookie-decorating possibilities are endless, so let your imagination run wild!
Stack 'em high as cookie sandwiches
Can't get enough cookie? For even more sugary sweetness in every bite, take your sugar cookies to new heights by stacking them with layers of buttercream frosting in between. Just lay a cookie flat on your plate, spread some icing on the cookie, and lay another cookie right on top. And you don't have to stop at just two cookies: Keep moving up until your cookie sandwich has reached the towering height you desire. You can make things even more interesting by alternating the frosting flavors between each cookie layer.
Stuff them with ice cream
A sunny holiday calls for a refreshing sweet treat, so why not pair up your sugar cookies with another summertime favorite: ice cream. Making your own DIY ice cream sandwiches is beyond easy, and they're a huge hit at any outdoor party. Follow the same steps you took to make the buttercream cookie sandwiches but replace the frosting layer with a scoop of ice cream. Whether you fill it with classic vanilla or outrageous Rocky Road ice cream, this cool summer treat will make your taste buds scream for more.
Dunk 'em in chocolate
Everything tastes better covered in rich, velvety chocolate, and that goes for sugar cookies too. Instead of dipping the usual strawberries in your fondue pot, jazz things up and use Cheryl's cookies instead. Or, if you're looking for a really out-of-the-box way to dunk your cookies, check out our blog post on how to make easy icing fondue. Add even more fun to your fondue dessert with delicious toppings like shredded coconut, candy-coated chocolates, crushed peanuts, and more. In just a few minutes, you'll have a dessert worth celebrating this National Sugar Cookie Day.