Having company over? In our "Hosting How-tos" series, we'll teach you how to entertain like a pro. These Thanksgiving gratitude activities will allow you and your family to give thanks for everything you're grateful for this year.
Amid all the food and the football and the fall festivities, when it comes down to it, we celebrate Thanksgiving for one essential reason: to express gratitude. Gratitude for what we have, and who we're able to share it with.
There's no better day on the calendar to outwardly express what we are grateful for and to share those sentiments with those closest to us. While you're all sitting around digesting that massive meal you just ate, here are three fun and constructive ways you and your family can show your gratitude for one another this Thanksgiving.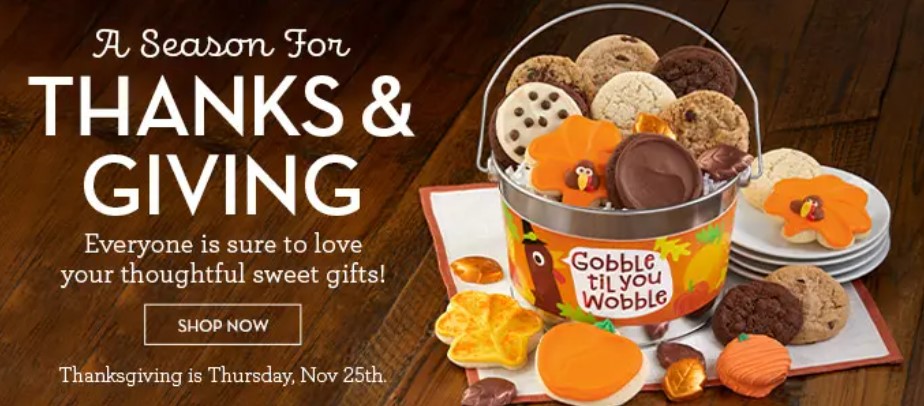 Gratitude guessing game
If you and your guests are fans of Telephone or Pictionary (and don't mind getting a little silly), then this game is sure to bring out some laughs.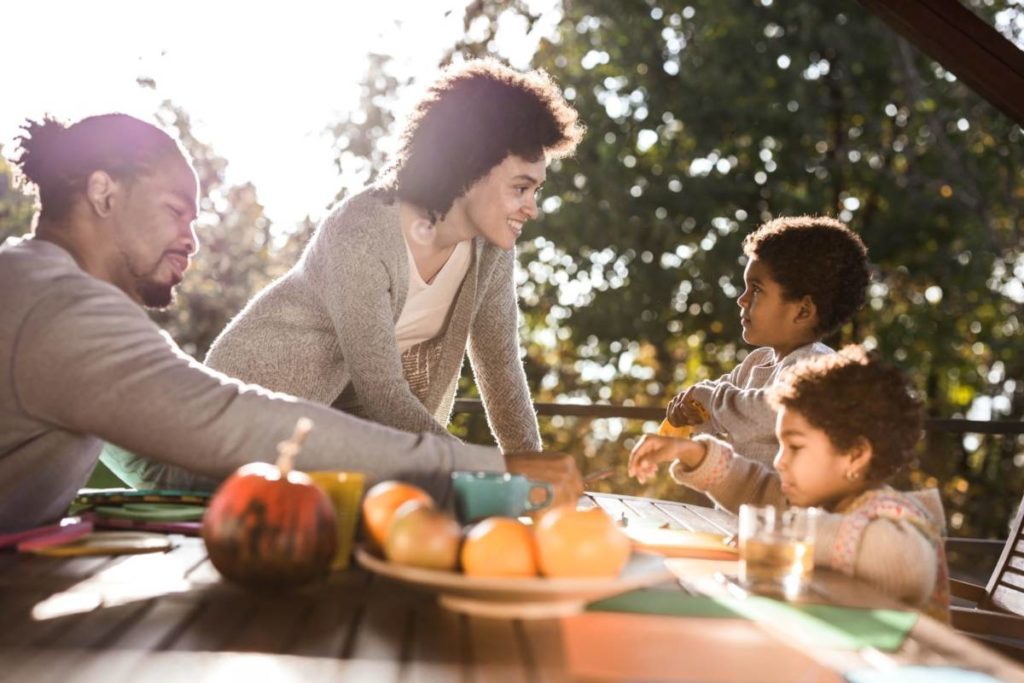 You'll need:
A notebook (or individual blank sheets of paper)
Pens or markers
Directions:
Person 1 writes something she is grateful for.
Person 2 draws a picture of what Person 1 wrote.
Person 3 writes what he thinks Person 2 drew, without looking at what Person 1 wrote.
Person 4 draws what Person 3 wrote.
This pattern repeats until everyone has had a chance to either write or draw in the notebook. Person 1 starts on the first page, and the next person adds their drawing on the following page, and so on. Each person should look only at the previous page. At the end, you can see how close (or far off!) everyone was from the original word.
You can play this game before the meal is served or just after you've finished dessert, passing a single notebook around the table. Or, if you want a more involved game, give each participant a notebook or paper to start their own chain. And, with a little creativity and no peeking, you can play this game virtually via video chat with your family or friends.
Gratitude journal ('365 Days of Gratitude')
Sharing the different ways you are thankful each day is a worthwhile family activity. Extend your gratitude list beyond just Thanksgiving by making a personalized gratitude journal for each member of your family.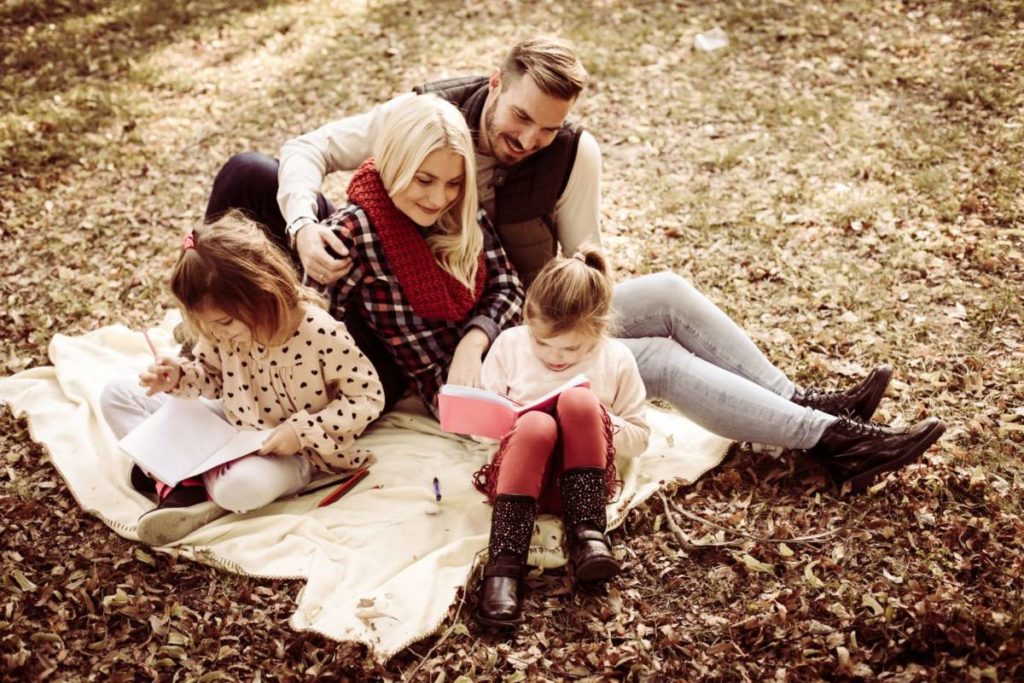 You'll need:
Construction paper
Pens or markers
Crafting supplies (glitter, stickers, etc.) to personalize the journal
Hole punch
Yarn or twine
Directions:
Start by folding the construction paper in half lengthwise or widthwise — it's your choice. Build your journal by layering pages together, and then punch holes along the crease. Bind your journal with colorful yarn or twine.
Make a plan with your family to regularly track your "gratitudes" by day, week, or month. Set aside time to update your journal on a regular basis together as a family.
At Thanksgiving, take turns reading aloud the favorite reasons to be thankful, sharing these moments of gratitude and warm memories from the past year.
I'm grateful for T.H.A.N.K.S.G.I.V.I.N.G.
This fun group activity is a lot like Scattergories but with a Thanksgiving twist.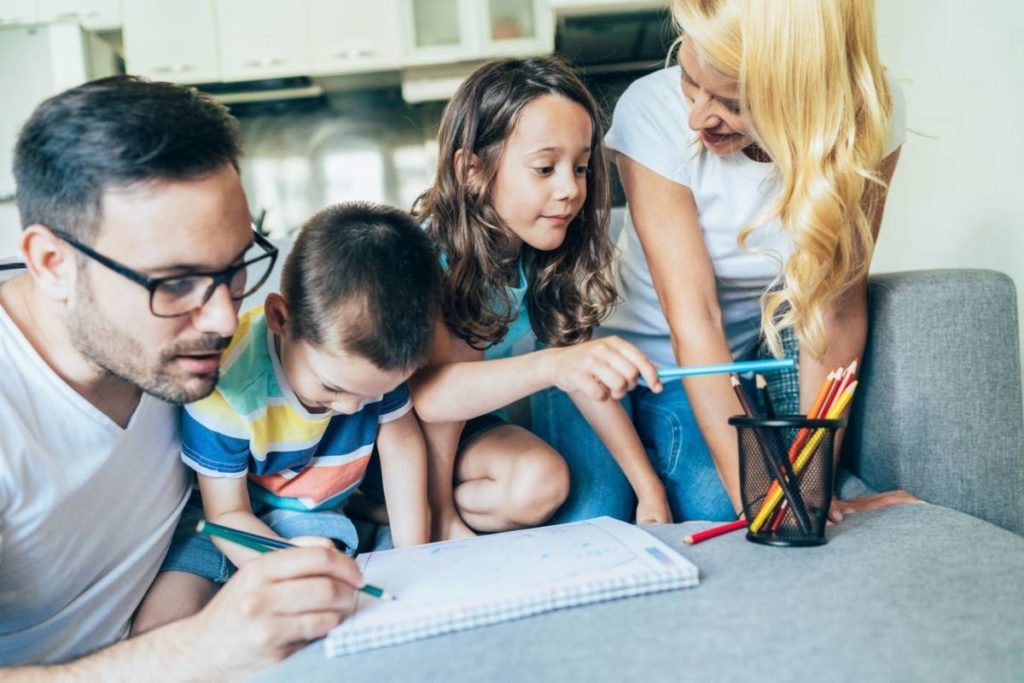 You'll need:
Our printable activity sheet or several pieces of paper with the word "Thanksgiving" written vertically along the left margin
Pens
Markers or crayons
A timer
Prizes for the winner(s)
Directions:
Download and print copies of our activity sheet. Then, hand out a sheet to each guest and have each one put their name at the top of the page.
Set a timer for three minutes (less time for more of a challenge) and have participants write down something for which they are grateful. Each item must begin with the corresponding letter of the word "Thanksgiving" on the left side of the page. (For example: "T – Teaching me to tie my shoes.")
Once the time is up, participants share what they wrote for each letter on their sheet. Participants get one point for writing down something that no one else wrote. Participants do not get a point for answers that appear on someone else's sheet, even if it's for the same letter in another place on the page ("G," "I," and "N" repeat in "Thanksgiving").
At the end, count up the points and award a prize — or large slice of pie — to the winner. Don't forget to keep the sheets as keepsakes from your fun day of thanks!
Pumpkin chocolate chip trifle
Who needs pie when you can have all your favorite fall flavors in one delicious dessert? With pumpkin, chocolate, and rich caramel, this recipe is sure to become a regular at your Thanksgiving table.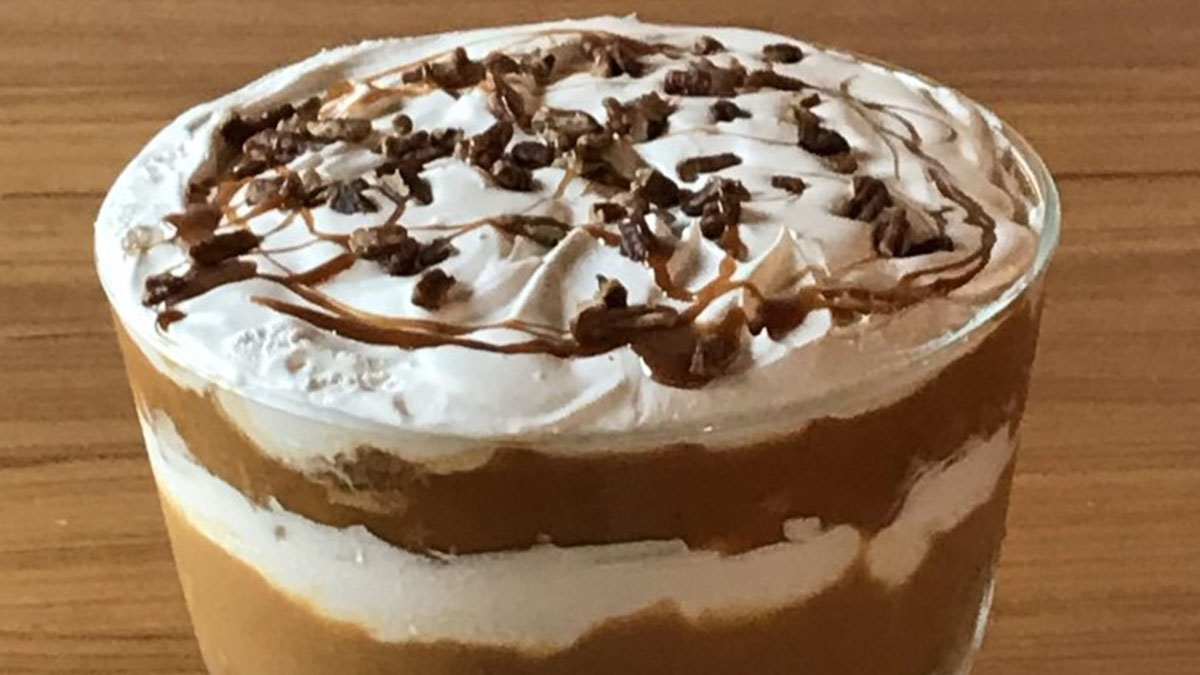 Pumpkin chocolate chip trifle
Ingredients
1

3-ounce

package of cook-and-serve vanilla pudding mix

¼

cup

packed brown sugar

1 ⅔

cups

canned pumpkin pie mix

1

8-ounce

carton whipped topping

8

12-ounce

glasses (or 3-quart trifle bowl)

caramel topping
Instructions
Prepare the vanilla pudding mix according to the package instructions. Transfer to a bowl and stir in the brown sugar and pumpkin pie mix. Cover and refrigerate for 30 minutes.

Break the pumpkin chocolate chip cookies into 3/4-inch pieces. Layer the bottom of the glasses or trifle bowl with ingredients in the following order: cookies, pudding mixture, whipped topping. Repeat layers.

Cover and refrigerate for at least 4 hours (this dessert can be refrigerated overnight). Top with caramel topping before serving.

Note: You can substitute Cheryl's Pecan Pie Bars for the pumpkin chocolate chip cookies for an even more decadent Thanksgiving dessert!