When the weather starts to get nicer, I begin to gravitate away from heavier, richer desserts to ones that are bright and airy. And these berries and cream cupcakes fit that description to a T.
These cupcakes are ideal for spring or summer, and they're the perfect treat to make for Easter or Mother's Day brunch desserts. The light flavor of berries and cream makes it a great match for the warmer temperatures we're all looking forward to in the coming months.
---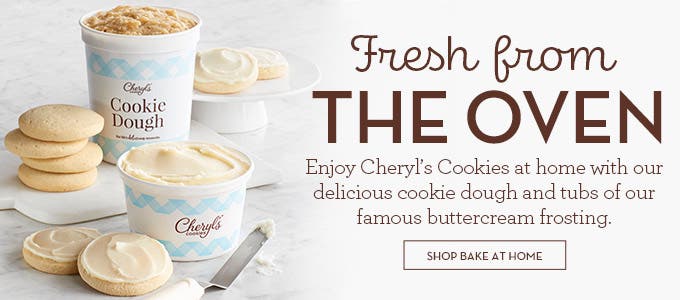 ---
This dessert starts with a soft vanilla cupcake that is partly hollowed out and filled with whipped cream cheese, and then topped with a strawberry frosting made from Cheryl's Cookies vanilla buttercream. The final decorative touch are fresh strawberries and blueberries on top.
While the batter for this recipe is meant to be turned into cupcakes, you can also use it to make an 8-by-8 snack cake (although you don't get the added yumminess of the cream cheese filling with the latter preparation). Whichever way you decide to go, I promise you'll be coming back to these again and again, year after year. They're just that good!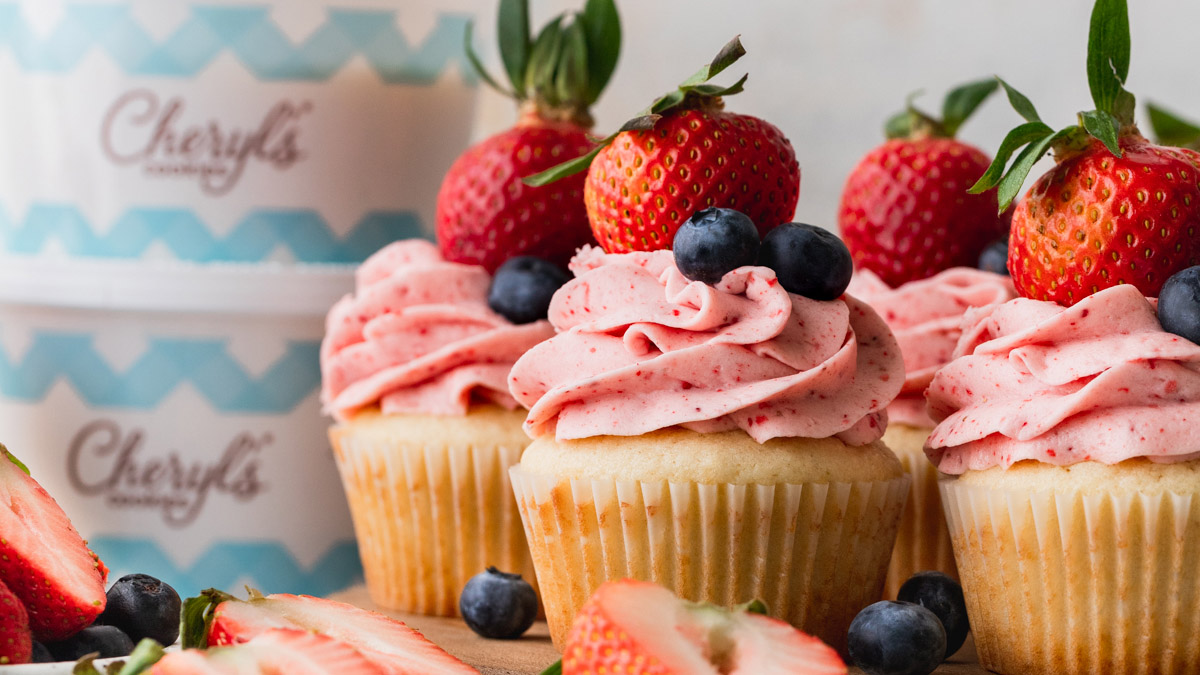 Berries and Cream Cupcakes
Ingredients
Cupcake ingredients
1¾

cup

all-purpose flour

1

teaspoon

baking powder

½

teaspoon

baking soda

½

teaspoon

salt

¾

cup

unsalted butter, room temperature

¾

cup

white granulated sugar

¼

cup

sour cream, room temperature

1

teaspoon

pure vanilla extract

2

large eggs, room temperature

½

cup

buttermilk, room temperature
Whipped cream cheese filling ingredients
2

ounces

cream cheese, room temperature

¾

cup

powdered sugar, sifted

½

teaspoon

pure vanilla extract

¼

cup

heavy cream
Strawberry frosting ingredients
1

ounce bag

freeze-dried strawberries

1

tablespoon

heavy cream

Strawberries and blueberries for decoration
Instructions
Vanilla cupcake instructions
Preheat the oven to 350° F. Line a muffin pan with 12 muffin liners. Set aside.

In a mixing bowl, sift the flour. Add the baking powder, baking soda, and salt. Set aside.

Using a stand mixer or hand mixer and a separate large mixing bowl, beat the butter and sugar on high speed for 3 minutes. Scrape the bowl. Add sour cream and vanilla. Mix on low until combined.

Add the eggs one at a time. Mix on low until combined. Switch to high speed and beat for 2 minutes.

Add one-third of the dry ingredients and half the buttermilk, and mix on low until starting to combine. Add another third of the dry ingredients and the rest of buttermilk. Then, add the rest of the dry ingredients. Mix until just combined.

Use a 1-ounce cookie scoop to scoop the batter into the muffin pan. Fill each one two-thirds of the way full.

Bake for 16 to 18 minutes. Bake until a toothpick inserted comes out clean.

Let sit in the hot pan for 10 minutes before transferring to a cooling rack. Cool completely.
Whipped cream cheese instructions
Start this while the cupcakes are in the oven. Place a medium-size mixing bowl and a whisk attachment in the freezer for 10 minutes.

In a separate small bowl, beat the cream cheese on high for 1 minute. Add sifted powdered sugar. Mix on low until combined and smooth. Mix in the vanilla.

Pull the cold bowl out of the freezer and pour in heavy cream. Beat on high until stiff peaks form.

Pour whipped cream on top of cream cheese mixture. Use a rubber spatula to gently fold the cream cheese into the whipped cream. This takes several minutes, so be patient and gentle.

Place the bowl in the fridge to chill until ready to fill the cupcakes.
Strawberry frosting instructions
Place two tubs of vanilla buttercream frosting in a large bowl. Using a food processor, grind the freeze-dried strawberries, pulsing 3 to 4 times until it is a fine crumb. Add the ground-up strawberries to the bowl of frosting.

Mix the freeze-dried strawberries and frosting on high until combined. Scrape the bowl, as it will be thick. Add the heavy cream and mix on high until creamy.

Use a cupcake corer or large knife to cut a hole in the middle of the cupcakes and two-thirds of the way down. If using a knife, the hole should be ¾ inch in diameter. Toss the filling and tops (or save them to snack on!).

Place whipped cream cheese into a piping bag and cut off the end. Pipe the filling into the cupcakes until full.

Decorate the cupcakes with the strawberry frosting. Top with extra strawberries and blueberries for decoration.

Let the cupcakes sit on the counter for 30 minutes before serving.
Notes
This recipe can be made as an 8-by-8 snack cake. Bake the cake for the same amount of time and then top with the strawberry frosting.
Store the cupcakes in an airtight container in the refrigerator for up to 5 days.