Our series "A Gift for Gifting" walks you through how to show your generosity and thoughtfulness to all the special people in your life. Here are the top nine reasons why giving cookies is the best solution for the hard-to-buy recipient this holiday season.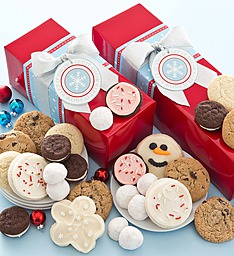 Your shopping is almost done, and you've never been happier. Unfortunately, you have two people left on your list and can't think of a single thing to buy them. Buying gifts for these people can sometimes be the most challenging task during the holidays. The recipient is either too picky, wants something out of your price range, he/she couldn't think of anything to ask for, or already has everything. I am faced with this dilemma year after year: What do I buy?
Fortunately, after working at Cheryl's Cookies, I have been exposed to the solution to all of my shopping woes…cookies! I am not a baker by any means, so being able to purchase a product that I know will taste homemade is an added bonus.
The Gift of Cookies
Here are the top nine reasons why giving cookies is the best solution for the hard-to-buy recipient.
Packaging options:

A variety of fun seasonal patterns and designs, from elegant to whimsical

Customize the gift: Create your own gift with the recipient's favorite cookies
Affordable gifts: Even those on a tight budget can find great gifts, such as the $5 cookie card
Order now, ship later: Bypass a stop at the post office or shipping store
One-stop shopping: Shop from home without having to brave the cold, wintry air
No lines: Escape the long wait in lines that wrap around aisle after aisle
Great for any age: No matter if the recipient is five or 95, everyone loves cookies.
Best guarantee: Cheryl's ensures that the quality, freshness, and presentation are the best in the business
Free APO/FPO military shipping: Even loved ones overseas can enjoy holiday cookies, with Cheryl's free shipping to military bases
Browse Cheryl's holiday collection to find the perfect gift for everyone on your shopping list. Order now, ship later. Happy shopping!