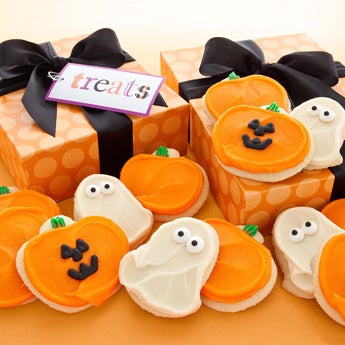 Halloween was always my favorite time of year growing up. It meant pumpkin picking, hay rides, halloween parties and best of all trick or treating!
I remember the fun would start in early October with the big decision of what to dress up as and the anticipation of walking door to door seemed like it lasted forever! In addition to the exciting Halloween events, I remember the thrill of receiving a Cheryl's butter cream frosted pumpkin cutout as a surprise from my mom. We would sit together at the kitchen table and eat the cookies with a glass of milk. I would always savor every bite saving the green stem as the last lick of butter cream.
Now with two kids of my own there is still that same level of excitement for the Halloween celebrations! My daughter loves picking out her Halloween costumes and counts down on a calendar to the big night to ring the doorbell and yell trick or treat! However, the best part of it all now, as a mom, is sharing with her the same butter cream pumpkin cutout cookie with a glass of milk that my mom shared with me. That same delicious hand-frosted pumpkin cookie brings a smile to her face as it did to mine twenty five years ago!
Happy Halloween!
-Nora E.
Cheryl's Cookies