"Nurturing Relationships" shares advice on how to stay connected with loved ones and spend quality time with those closest to you. 
They stay up chatting, gossiping, and laughing with us until the wee hours of the night. On our birthdays, they sing the loudest, eat the most cake, and tell the most embarrassing stories. Some may call them crazy, but you call them your BFF.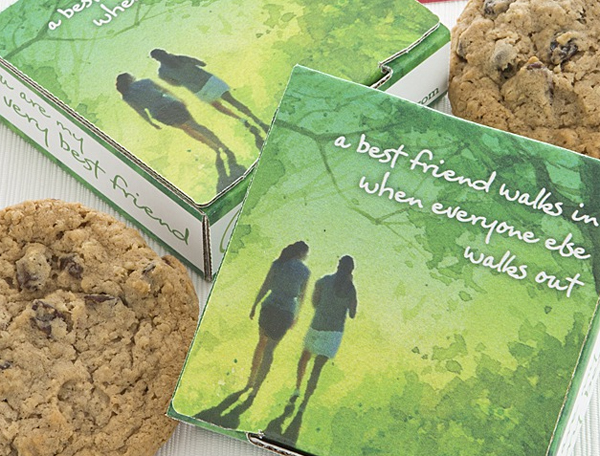 National Best Friends Day is June 8, so round up your bestie and celebrate with these eight sweet ideas.
Make up a secret handshake
You've been friends for how long and don't have a secret handshake?! Incorporate high fives, dance moves, and even your favorite sayings, and work together to come up with a one-of-a-kind handshake the two of you can cherish forever.
Create sweet cookie messages
Roll up those sleeves and spend the afternoon decorating Cheryl's famous cookies with our cookie decorating kit, which includes 24 unfrosted cut-out cookies, 2 pounds of frosting, and festive sprinkles for a deliciously fun best friend activity!
Make a sharing-sized ice cream sundae
Summertime and the living's easy…so celebrate your BFF with a mouth-watering sundae to share. Load it up with a mix of both of your favorite toppings, top with two cherries, and dig in!
Make a music video
Set up that web cam, blast your favorite mutual song, and bust out those dance moves! With a little bit of video editing, the two of you can have a showcase ready music video to show off (or never speak of again).
Make a friendship timeline – physical or digital
Highlight the most memorable and important milestones of your friendship on a timeline. Point out dates and photos, such as the first day we met, our first time at a concert, the first time we raided each other's refrigerators, etc. Create this on poster paper for a timeline you can use to decorate, or create a virtual one on a free presentation site and share the link with friends.
Marathon of best friend flicks
Spend the day with your BFF, snacks, and your favorite Hollywood besties. From Pretty in Pink to Sherlock Holmes to Thelma and Louise, there's no shortage of quirky duos to spend the day with.
Best friend interview
You may think you know everything there is to know about your BFF, but there is always a story or two you may not have heard. Jot down 10-15 questions, ranging from something as simple as "What is your favorite food?" to something as complicated as "Where do you see yourself in 15 years?" Hold on to these answers, as you never know when they may come in handy.
Spend the day giving back
Let others reap the benefits of your amazing friendship by grabbing your BFF and volunteering at local organizations to help give back. It's guaranteed to make the two of you grow even closer together!