All the mouthwatering recipes in our series "The Main Ingredient" have one thing in common: They all contain cookies. This recipe for red velvet cake comes from Stephanie Rutherford of Stephanie's Sweet Treats. With Cheryl's Cookies buttercream frosting and a little food coloring, you can take an ordinary red velvet cake and make it special for Valentine's Day.
Few desserts are more closely associated with Valentine's Day — the one day of the year dedicated to expressing our love for others — than red velvet cake. That probably has to do with the vibrant red color of the cake, but it could also be because making this cake is a true labor of love.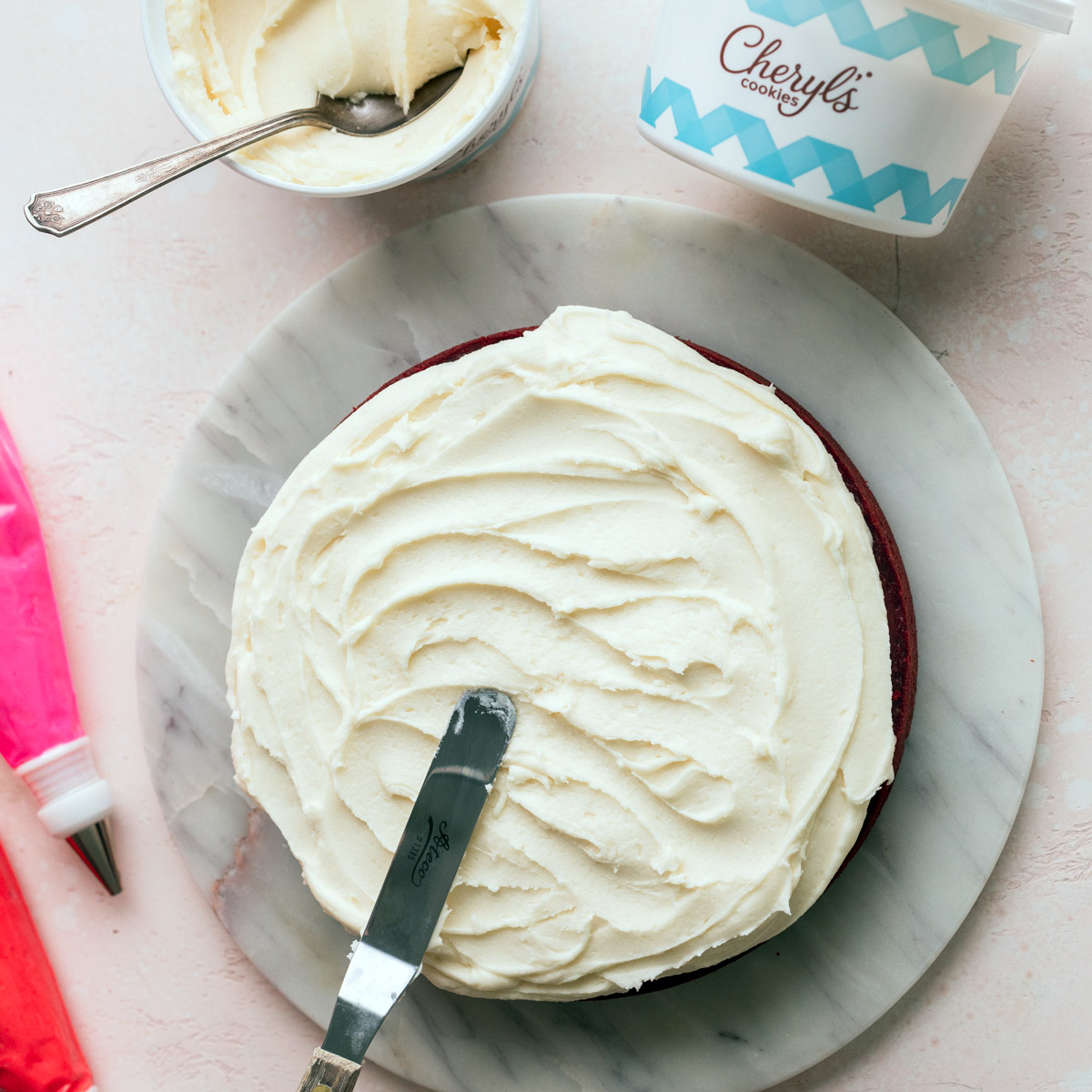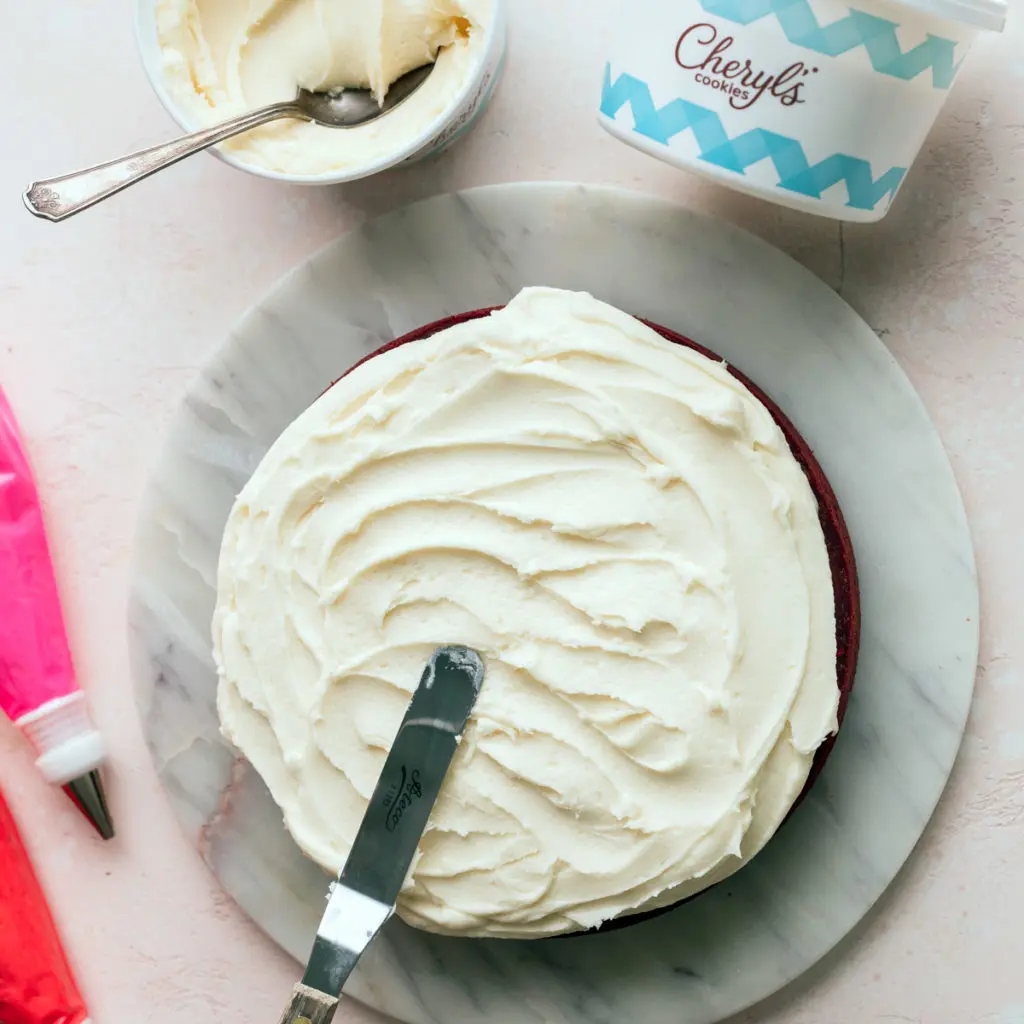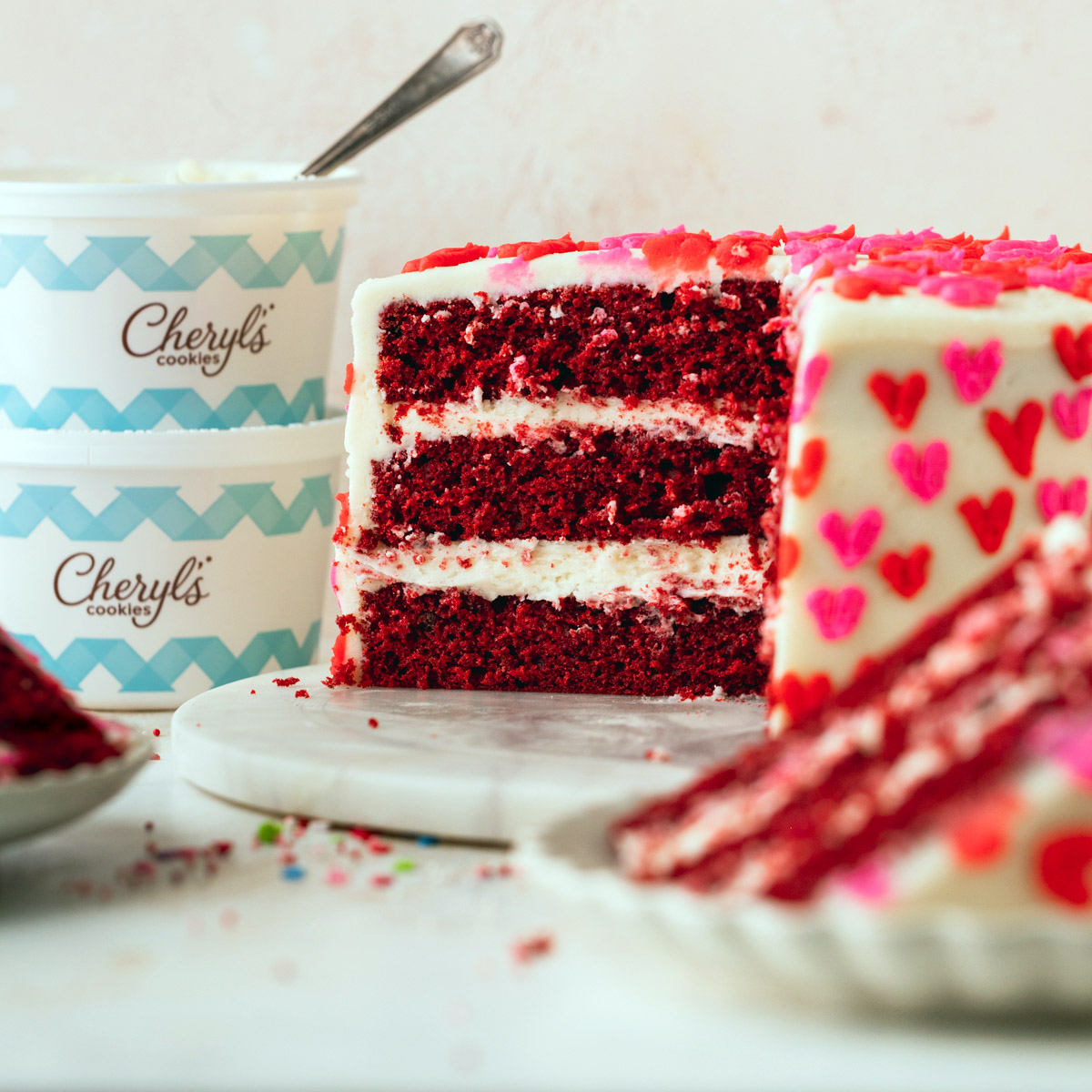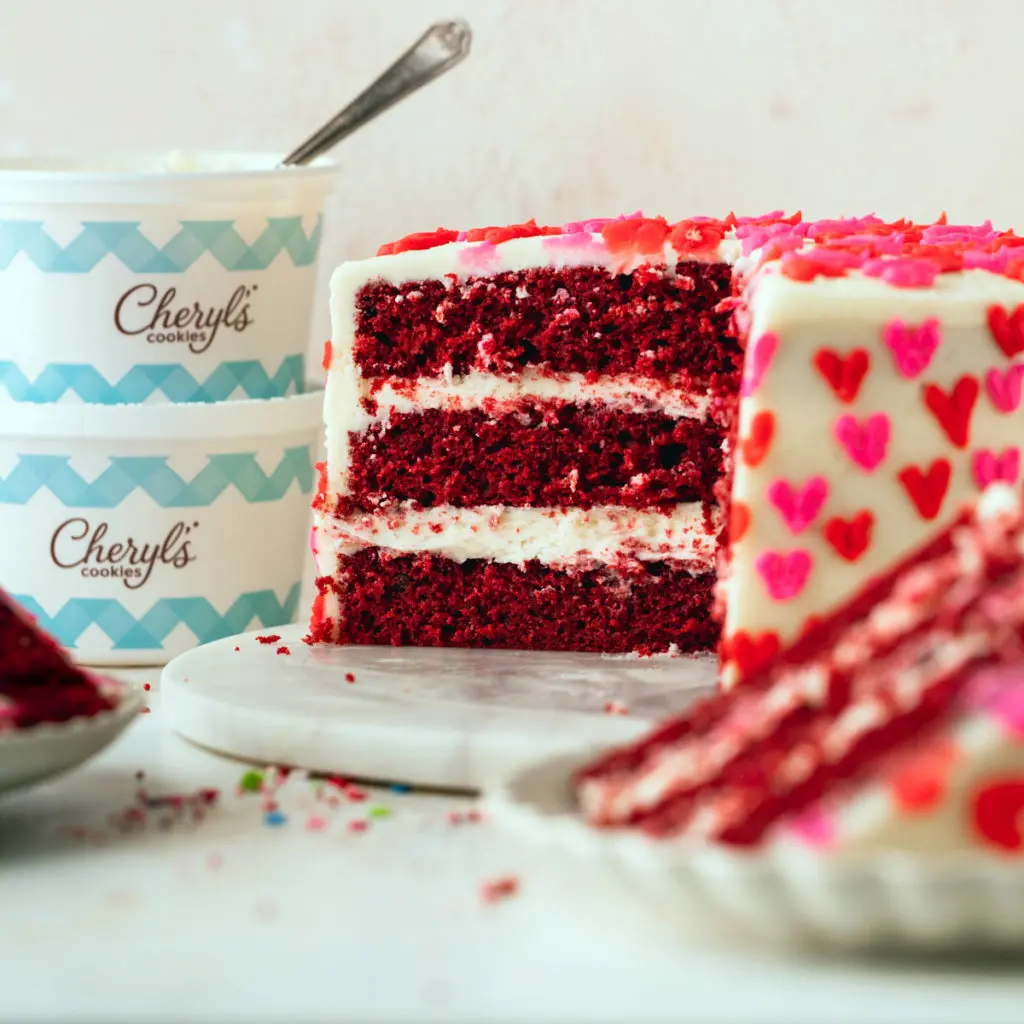 This red velvet cake is the perfect dessert for Valentine's Day, and it's not all that hard to make. The version I made consists of three 8-inch cake layers, but you can also construct it with four 6-inch layers or two 9-inch layers. It is filled and frosted with Cheryl's Cookies vanilla buttercream and decorated with small red and pink hearts. The overall look and taste really capture the sentiment of this wonderful holiday.
This incredibly moist and vibrant cake is a must-make for your loved ones this Valentine's Day!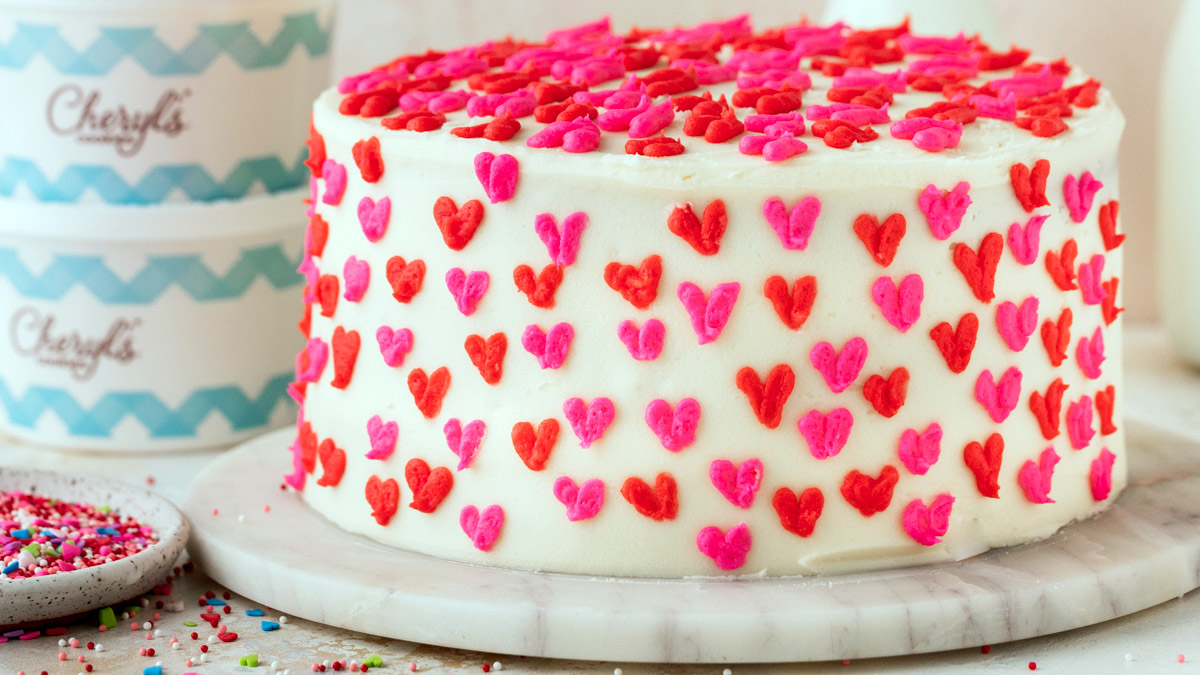 Red Velvet Cake
Ingredients
Cake Ingredients
3

cups

all-purpose flour

¼

cup

unsweetened cocoa powder

1 ¾

cups

white granulated sugar

1

teaspoon

baking soda

½

teaspoon

baking powder

1

teaspoon

salt

1

cup

oil

(canola or vegetable)

1 ¼

cups

buttermilk, room temperature

¾

teaspoon

white vinegar

3

large eggs, room temperature

2

teaspoons

pure vanilla extract

⅛

cup

sour cream, room temperature

1 ½

teaspoons

super red food coloring
Frosting Ingredients
pink and red food coloring
Instructions
Cake Instructions
Spray three 8-inch cake pans with baking spray. Line the bottoms of each with 8-inch circles of parchment paper. Spray again.

In a large mixing bowl, sift the flour and cocoa powder. Mix in the sugar, baking soda, baking powder, and salt. Set aside.

In a separate mixing bowl, mix the oil, buttermilk, vinegar, eggs, vanilla, and sour cream. Then, mix in the food coloring until bright red.

Pour the wet ingredients into the dry ingredients. Whisk until just combined. The batter should be smooth.

Divide the batter between the three cake pans.

Bake for 20 to 24 minutes. Bake until a toothpick inserted comes out clean.

Let the cakes cool for 10 minutes in the hot pans. Transfer to a cooling rack.
Assembly Instructions
Place cakes in freezer for 20 minutes. A cold cake is much easier to frost.

Add all 6 tubs of frosting to the mixing bowl of a standing mixer, and beat the frosting for 1 minute until it is light and fluffy.

Place a half cup of frosting each into two small bowls (1 cup in total). Mix the pink food coloring in one bowl and the red food coloring in the other, until the frosting is the desired shade.

Using a board (any kind will do: cutting board, charcuterie board, etc.), place a dollop of frosting on it. This will act as an adhesive to keep the cake in place and prevent it from sliding around.

Place the first cake layer on the board and spread 1 ½ cups of frosting over it. Make sure the frosting is even. Then, place the second cake layer on top and frost it just as you did the first. Finally, place the third layer on top.

Apply a light layer of frosting to the entire cake and freeze for 15 minutes. This locks the crumbs in place and prevents them from getting into the final layer of frosting.

Remove cake from freezer and add the final layer of frosting.

Decorate the cake with small hearts using the pink and red frosting. To form a heart, pipe two slightly diagonal lines in the shape of the letter V. The lines will be separated slightly at the top but come together quickly at the bottom.
Notes
Store the cake in an airtight container in the fridge. It can be stored for up to five days.
The cake is best enjoyed at room temperature. Let it come to room temperature for 1 hour before eating.