There's something about a fresh bouquet of flowers that just puts a smile on people's faces. Now, what if that fresh bouquet of flowers was actually a delicious batch of sugar cookies filled with a strawberry cheesecake filling? Then, my friend, you've got smiles for days! (And you don't have to worry about anything wilting.)
This Strawberry Cheesecake Cookie Cups bouquet is bursting with bright fruit flavor, making it perfect for spring. The best part about these little desserts? They're super easy to make and require only five ingredients: Cheryl's cut-out cookie dough, cream cheese, freeze-dried strawberries, powdered sugar, and heavy cream.
Put it all together, and it makes a fun project for all ages!
Avoid a sticky situation
To make sure you don't lose any of the delicate petals, use a nonstick muffin tin and mini cupcake liners. The nonstick muffin tin will help ensure your petals don't get stuck after baking, and using cupcake liners will make removing the cookie cups from the cavities a breeze.
As for the strawberry cheesecake filling, the key is to use room temperature cream cheese to make sure your filling is smooth and creamy.
No cookie cutter? No problem!
I used a 3.5-inch flower cookie cutter to make these flower cookie cups, but you can make regular-shaped cookie cups. To do that, take about two tablespoons of dough and shape it into a ball. Place the balls into a well-greased mini muffin tin, and use your thumb or the back of a teaspoon to press a well into each cookie. The cookies will puff up a bit while baking, so make sure to re-press the well after they come out of the oven while still warm.
Mix it up
Freeze-dried fruits, when ground into a powder, are a great way to add flavor to the cheesecake filling. Try using different freeze-dried fruits to make a beautiful bouquet of flowers. Blueberries, raspberries, and mango are all great choices. Depending on the fruit, a little powder can go a long way, so start with a few tablespoons and add more to your mixture as needed.
For a little extra flair, I like to sift extra fruit powder over the filled cookie cups. While not necessary, this adds a little pop of color and a bit more vibrancy to the flowers. Some other fun options for decorating the cookies are chopped fresh strawberries or your favorite sprinkles.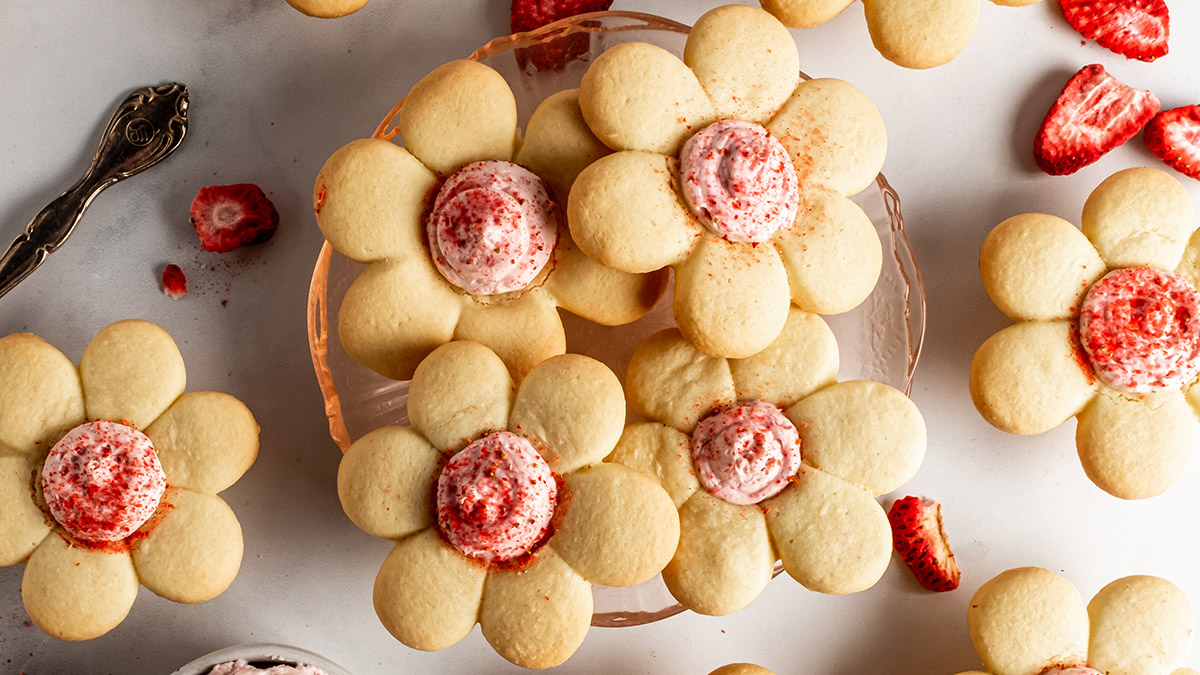 Strawberry Cheesecake Cookie Cups
Ingredients
2

pounds

Cheryl's Cut-Out Cookie Dough

8

ounces

cream cheese

(room temperature)

½

ounce

freeze-dried strawberries

(enough to make about 4 tablespoons of powder)

1

cup

heavy cream, cold

⅓

cup

powdered sugar
Instructions
Preheat oven to 325° F. Line a nonstick mini muffin tin with mini cupcake liners.

Roll out the dough to ¼-inch thickness and use a flower cookie cutter (approximately 3.5 inches in diameter) to cut out shapes.

Place the flowers in the mini cupcake liners, pressing down in the center. Make sure to leave enough space between the flowers so the petals do not touch.

Bake for 12 minutes or until lightly brown around the edges. The cookies will puff up while baking; re-press the centers while still warm.

Allow to cool for 10 minutes. Then, gently remove the cookies and transfer them to a wire rack to cool completely.

While the cookies are cooling, make the filling. Use a food processor* to grind the freeze-dried strawberries into a very fine powder.

Using an electric mixer, beat together the cream cheese and freeze-dried strawberry powder until smooth.

In a separate bowl, whip the heavy cream and powdered sugar with an electric mixer until stiff peaks form.

Gently fold the cream cheese mixture into the whipped cream until combined.

Transfer the strawberry cheesecake filling to a piping bag fitted with a medium-sized round tip. Pipe the filling into the cooled cookie cups.

Optional: Sift extra freeze-dried strawberry powder over the tops of the cookie cups.
Notes
*A spice grinder or mortar and pestle will also work well to grind the freeze-dried fruit. Alternatively, you can buy powdered freeze-dried fruit.
---