Having company over? In our "Hosting How-tos" series, we'll teach you how to entertain like a pro. Here are six simple ways to take your Big Game viewing experience to the next level.
With the Big Game right around the corner, it's time to start planning those watch parties and football fiestas! While there's no one way to do a party for the last game of the season, here are a few simple ways to add an extra something that'll really take your event to the next level.
Turn your table into a football field
No matter what you serve, your spread will instantly add a kick to the atmosphere when you turn your tabletop into a field of food. All you need is green fabric or felt (large enough to cover the tabletop), white tape, and white vinyl numbers. Arrange as appropriate, and you have instant football genius.
Serve treats in coolers
Serving your foods and treats in plates and bowls is fine, but if you really want to score a touchdown with your party, arrange appropriate foods in coolers around the room. Use Styrofoam blocks to make sure the food lays nicely at the top of the cooler.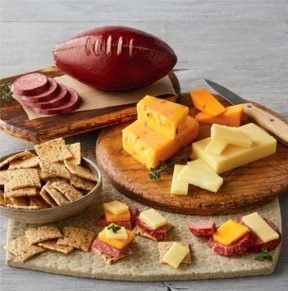 Serve football-shaped foods
All you need is a football cookie cutter to turn your favorite gameday foods into festive treats! Turn sandwiches into football sliders. Cut raw dough into football shapes and bake into mini pizzas…the possibilities are endless! Or you can just order a football-shaped sausage from Harry & David as part of its Hometeam Snack Box.
Use festive food labels
Pair these with creative names like "Touchdown Tacos" or "Gameday Guacamole" for some added food fun.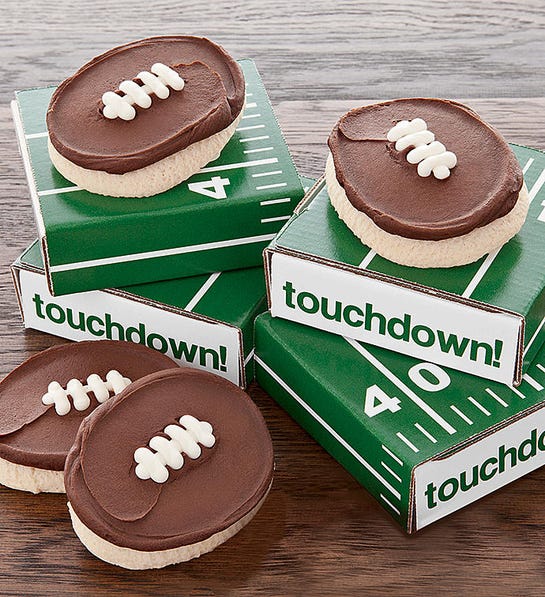 Create layers in your food spread
Use cake stands and decorated boxes to create layers in your spread. This will not only add to your aesthetic, but make it easier for guests to dig in to the delicious snacks you've prepared.
Send guests home with a kickin' party favor
Whatever the results of the game may be, end the party on a sweet note by sending them home with a party favor they'll love! Cheryl's football cookies are irresistible, festive, and come individually packaged for a seamless treat for them to grab on their way out.