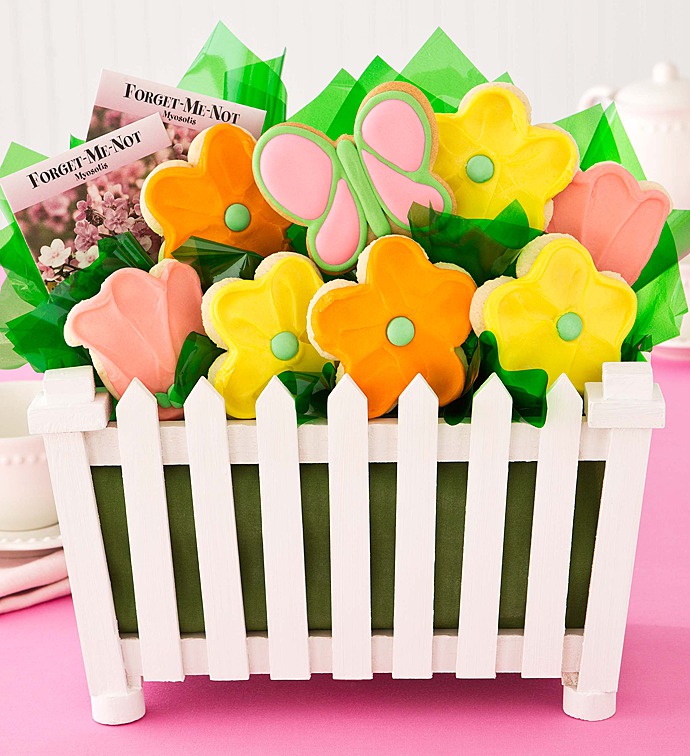 Some Moms plan trips to the park, while others plan a day full of crafting fun. Some will even take the spontaneous route and point to a spot on the local map and plan a day around the winning location. No matter how Mom chooses to plan and spend the days, she fills with life's lessons and love. This year, send Mom a unique gift that suits her one-of-a-kind personality; here are some creative Mother's Day gift ideas to satisfy your special Mom!
For the Gardening Mom
Mom spends countless hours tending to her garden and indulging in the bounty it brings her. Bring the beauty of the garden indoors with a confection-filled gift inspired by her garden! Our Cookie Flower Garden is filled with Cheryl's famous Buttercream cookies and even comes with forget-me-not seed packets to add some beauty to Mom's yard.
For the Beach-Loving Mom
If bathing suit season is Mom's favorite time of year, send her a beachy-keen gift inspired by sandy shores like our "Life's a Beach" cookie tin.
For The Classic Mom
The Mom who loves tradition and classic celebrations will be expecting flowers. Pair your fresh flower bouquet with an even sweeter floral gift like classically beautiful tulips – in cookie form!
For The Elegant Mom
Mom is all about sophistication and elegance, so surprise her with a ceramic teapot to enjoy her afternoon tea! This classy gift comes with 9 buttercream frosted cookies so you can enjoy these together after Mother's Day brunch!
For The Wise Mom
Mom is number one on speed dial not just because you love her, but also because she offers the best advice out of everyone you know. She always has the answer and loves spreading her knowledge with the world. Send Mom the a sweet gift inspired the wisest animal we know – sure to be a hoot!
For the Fashion-Forward Mom
Is Mom's mailbox overflowing with beauty catalogs and shopping offers? If she spends her lunch hours at the mall or shopping online, satisfy her taste for fashion with a chic cookie arrangement with a trendy twist!
Long Distance Mom
Even if Mom is on the other side of the world, you can still surprise her with treats at her doorstep! Make it a monthly gesture by surprising her with a subscription to the Cheryl's Frosted Cookie Club – sure put a monthly smile on Mom's face.
On-the-Go Mom
She's early to work every day, head of the PTA and still manages to be a full-time Mom! Send this super Mom a snack assortment worthy of a super-hero to show appreciation and love.
The Philanthropic Mom
Mom spends weekends volunteering and always makes sure to clip her box tops, so send this humanitarian Mom a gift that gives back. Our Make-A-Wish gifts give back about 20% of proceeds with each purchase from the collection!