Our series "Get Crafty" gives you the inspiration for creating inventive DIY projects during the holidays and year-round. This Thanksgiving Tree of Gratitude from Julie Mulligan is the perfect way to get everyone in your family to share what they're thankful for this year.
One of my family's favorite things to do at Thanksgiving is going around the table and having everyone say what they are thankful for. With our ever-growing family, it has gotten harder to execute this tradition with each passing year. At the same time, acknowledging those things from the past year for which we are most grateful for is important.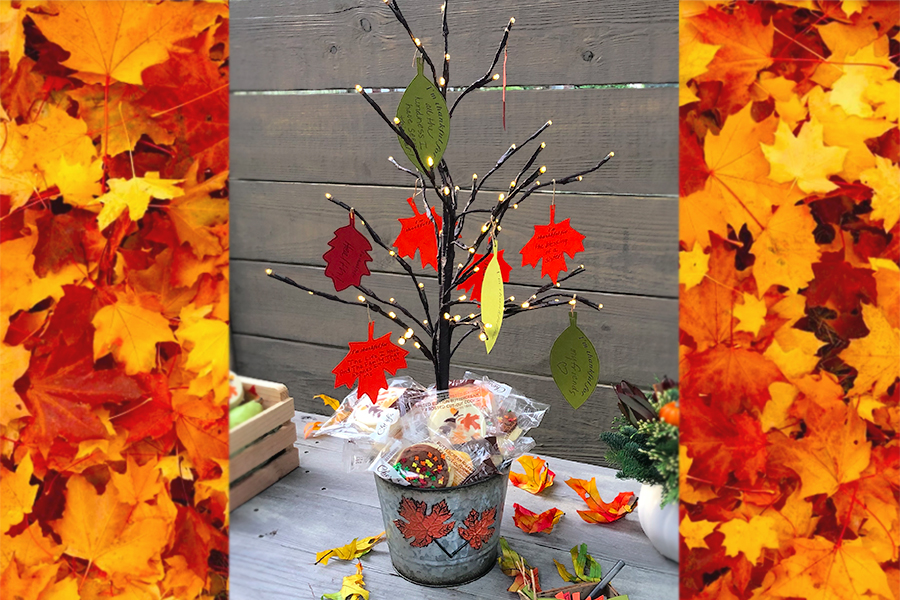 What I've started to do is create our own family tree of gratitude. Each person writes what he or she is thankful for on a paper leaf and hangs it on the "tree." This can be done throughout the day and encourages everyone to reflect on all they have to be thankful for.
Here is a simple guide to creating your own Thanksgiving Tree.
Making a Thanksgiving Tree of Gratitude
I recommend using materials you already have on hand. For example, I have a few of these pre-lit branch trees. I use them to decorate every year starting in the fall and then work them into my holiday displays.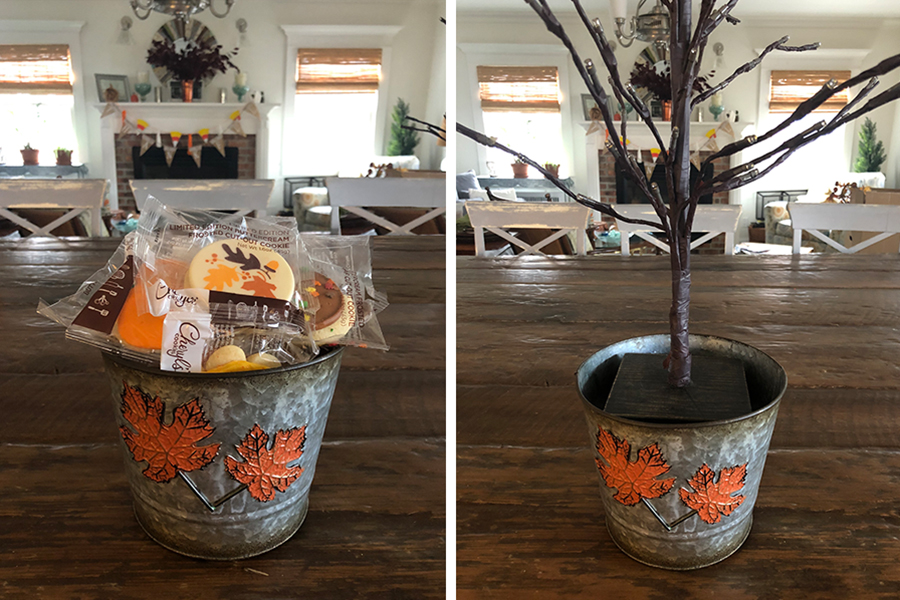 It's the perfect tabletop size and happened to fit snugly into this great leaf-embossed metal planter that comes filled with autumn leaf-themed cookies from Cheryl's Cookies. It's a no-brainer!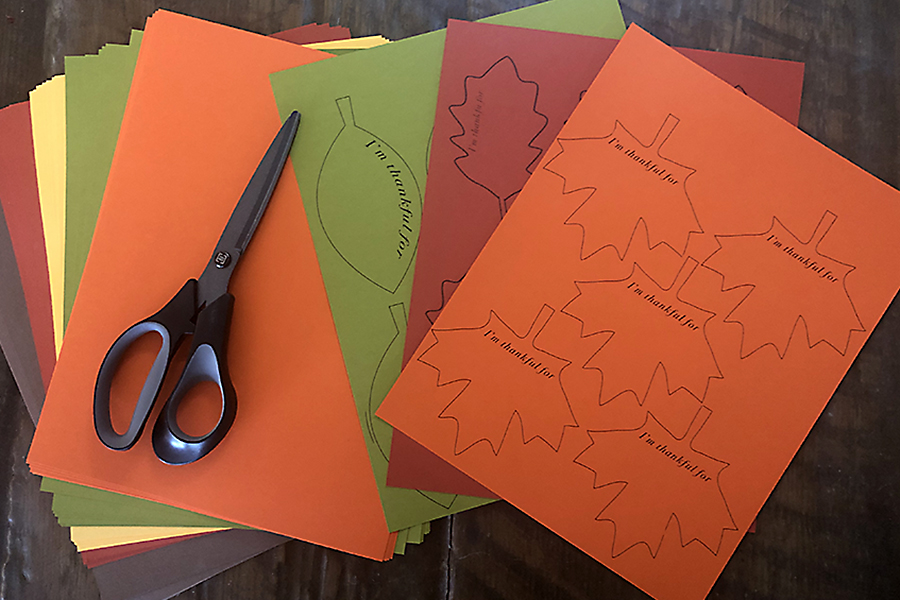 You'll need a few sheets of card stock paper. Many crafts stores carry prepacked autumn assortments. I created templates of three different-shaped leaves, each between 2 and 3 inches in size. I added "I'm thankful for" to each leaf to make it as easy as possible for your guests. Click here for the free downloads.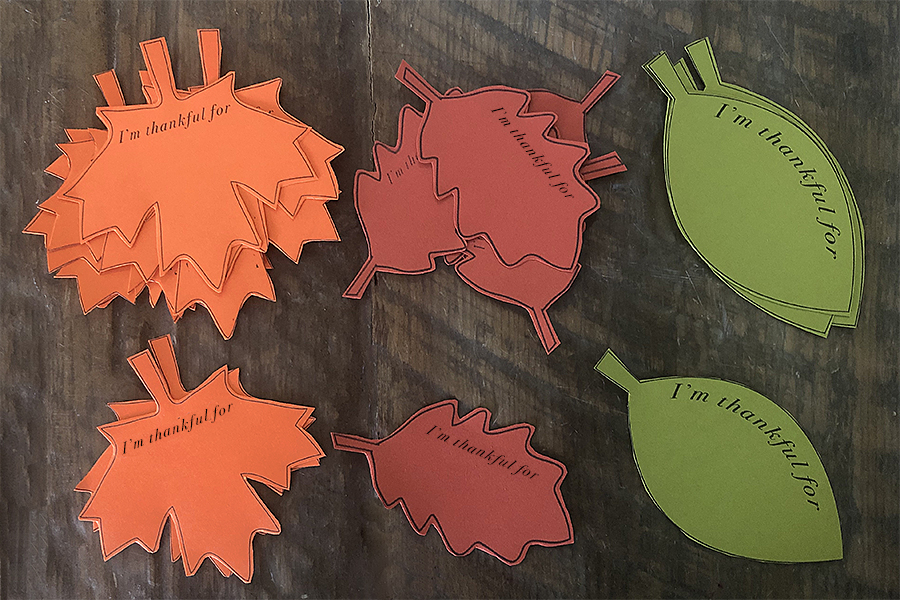 Print each template sheet on different-colored paper and cut out the individual leaves.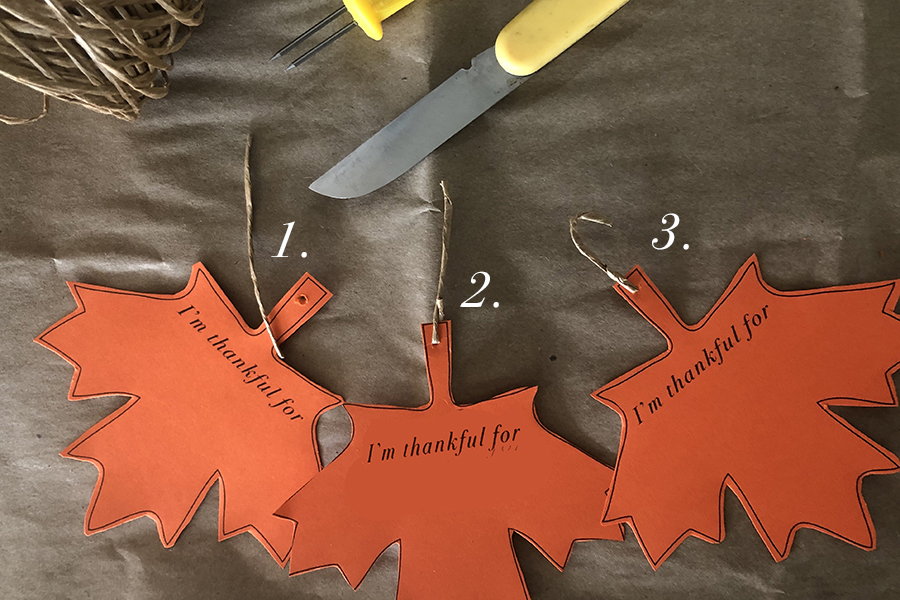 I used wired raffia ribbon to create easy flexible hooks for attaching the leaves to the tree branches.
Create a hole in each leaf stem and thread the wire (or ribbon, cording, or embroidery thread) through the hole.
Fold over at the base by the leaf to secure.
Fold over the other end to create the hook.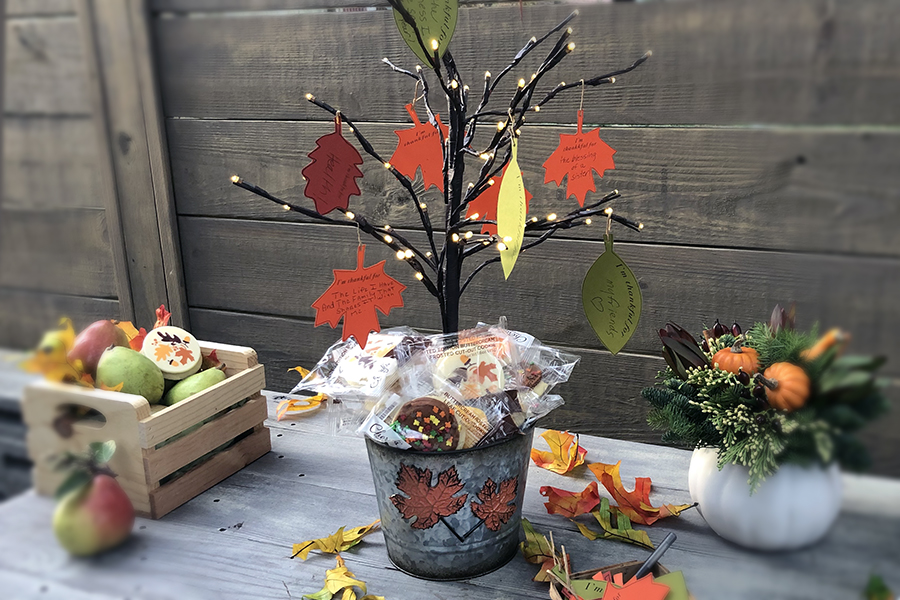 Fill the container with the individually wrapped Cheryl's Cookies. Now, you have a perfect centerpiece for a dessert table!
Next, fill a basket with all the prepared paper leaves, and have your guests write or draw the things they are thankful for and hang them on the tree.
This tree also makes a pretty centerpiece on your main table. It's taller than a normal centerpiece, but because the branches are bare, it doesn't block the view around the table.
How to decorate with leaves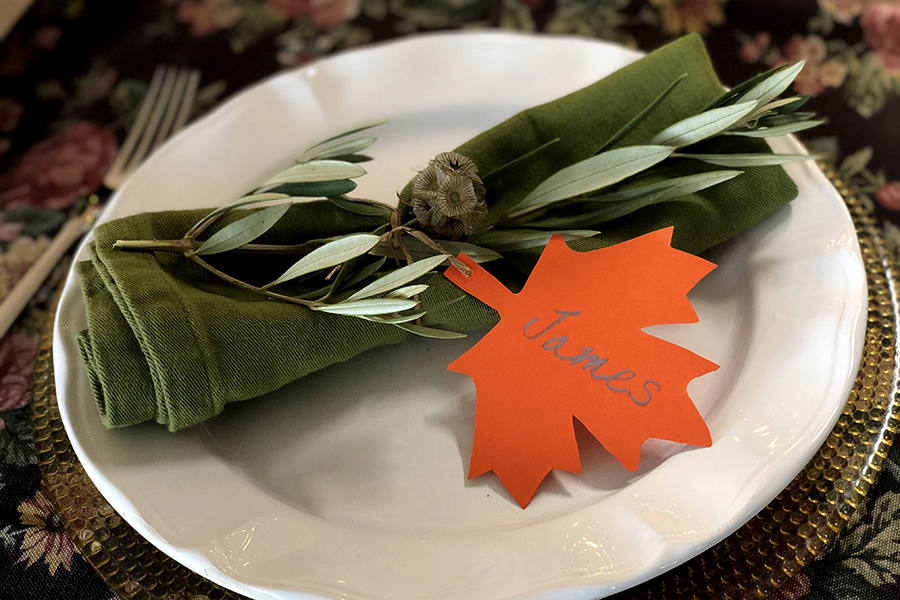 Your leaves can pull double duty as name cards, too. As your guests sit down to the table, they can turn over their place card, write what they are thankful for, and hang it on the tree.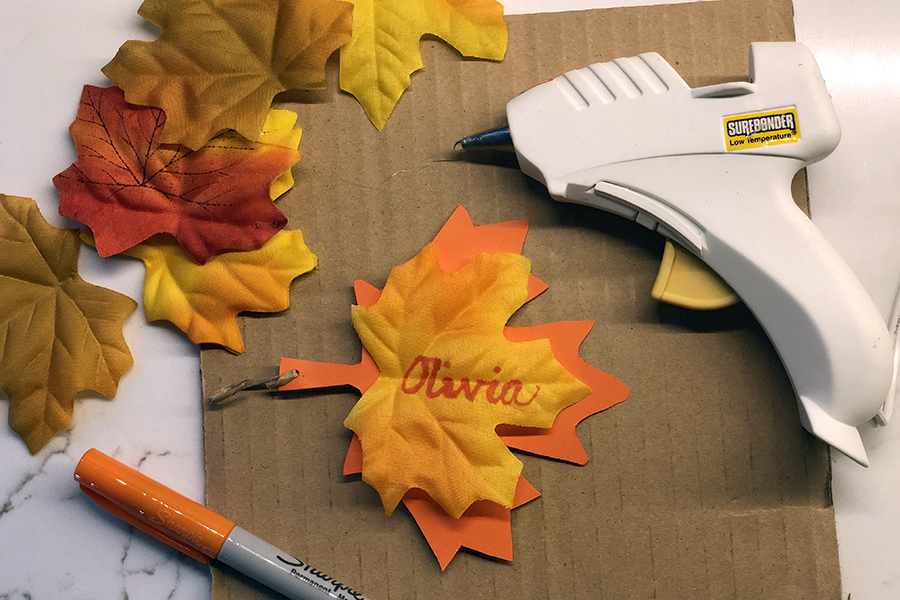 I've kept everything as simple as possible, but feel free to zhuzh it up a bit, if you are so inclined. I had these small fabric leaves in my "fall decor box," wrote a name on it, and attached it to the paper leaf with just one spot of glue. I like the dimension it adds by not being glued down flat.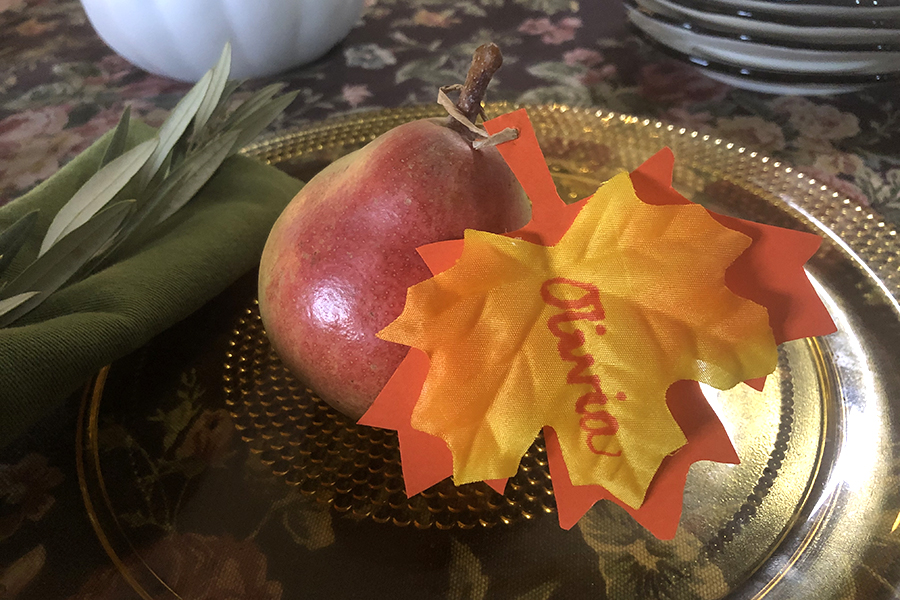 I'm a big fan of incorporating seasonal fruits and vegetables into my tablescapes. It makes everything come together in an unexpected way.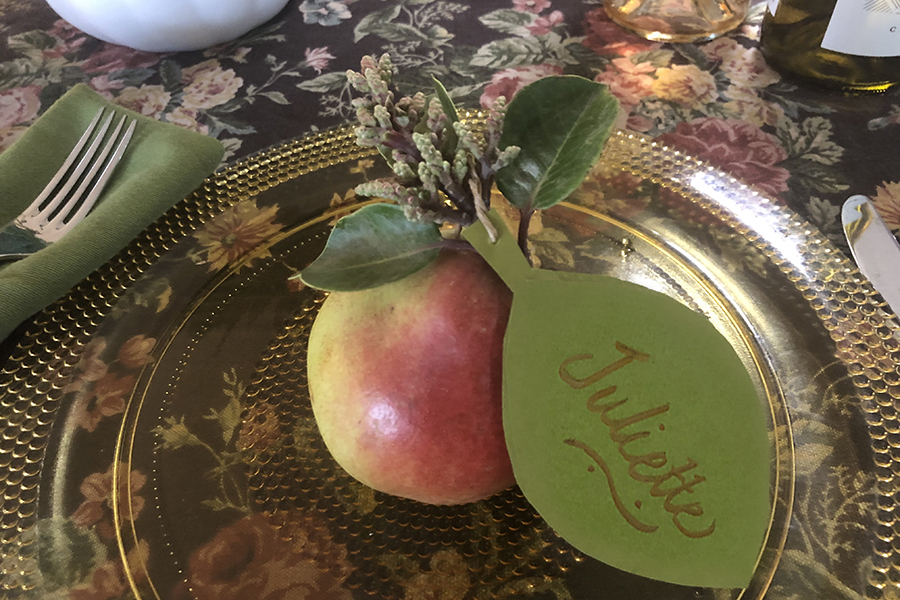 This can be as simple as sitting a pretty pear on each plate to hold the place card. And the fact that uou can eat them too is a win-win!