Our series "A Gift for Giving" walks you through how to show your generosity and thoughtfulness to all the special people in your life.
Looking for a special gift for an outstanding grad? You don't have to settle for a boring present that'll end up buried somewhere in your alum's closet. Give her something unique and delicious that she'll devour in seconds and remember forever: cookies!
Here are three yummy alternatives to traditional graduation gifts for the star student in your life!
Traditional graduation gift: A bouquet
Alternative graduation gift: Congrats cookie flowers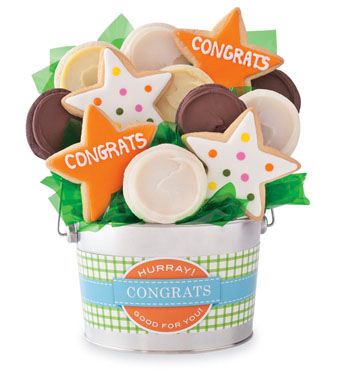 What's the first thing you hand to your grad after she marches down the aisle? Flowers, right? Well, imagine her surprise when you greet her with a bouquet of cookies instead. In this fun twist on a typical graduation gift, Cheryl's world-famous buttercream frosted cutout cookies and crunchy hand-decorated shortbread cookies are artfully arranged in a silver pail to look like beautiful blooms. It's the irresistibly sweet way to say "Congrats!" for a job well done.
Traditional graduation gift: A greeting card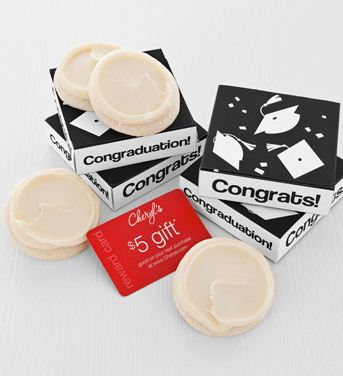 If you can't make it to the graduation ceremony but still want to send your best wishes for a successful future, skip the conventional card and send your favorite grad a cookie card. A mouthwatering buttercream-frosted cutout cookie comes in an adorable gift box, which you can customize with your own personal message. Plus, it comes with a $5 Cheryl's rewards card. A deliciously heartwarming message on her special day, and a rewarding future to look forward to…what more could a grad want?
Traditional graduation gift:
Alma mater T-shirt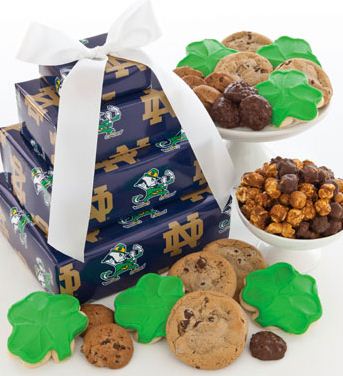 A college graduate can only have so many T-shirts with her alma mater's logo on it. Give her another fun way to show her school spirit with these awesome college gift towers and cookie tins. Whether she graduated from Ohio State University or the University of Notre Dame, these exclusively frosted and packaged cookies will make her proud to flaunt her school colors. A tasty reminder that no matter where the road to her future leads, she'll always be a part of her college's family.