Our series "A Gift for Gifting" walks you through how to show your generosity and thoughtfulness to all the special people in your life. From the movie buff to the outdoorsy DIYer, here are nine Christmas food gifts that will bring Christmas cheer to every type of person on your list.
You're making that list and checking it twice. But as you look it over, you realize that everyone on it has different passions and interests. There is one thing, though, that unites them all: their love of food.
Whether you need to shop for a handy do-it-yourselfer, avid movie watcher, or someone who just refuses to leave the couch on Sundays in the fall, we have the perfect palatable present for what every type of person on your list is craving. You're sure to come off looking sweet as candy this holiday season.

Here are nine Christmas food gifts based on your lucky recipient's hobbies and interests, plus some side "dishes" that pair perfectly.
1. For the outdoorsy DIYer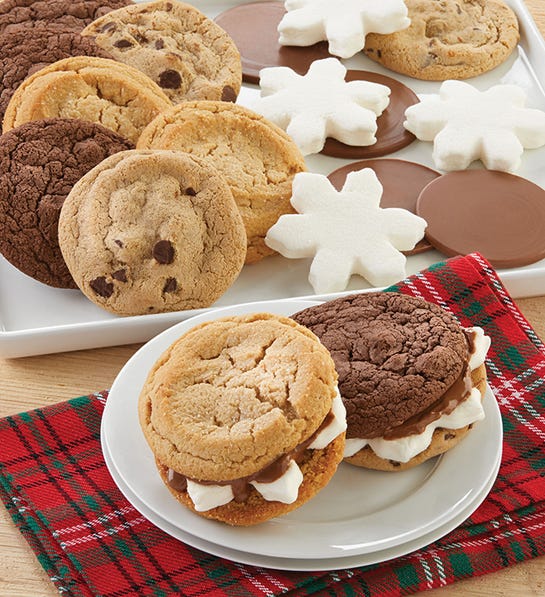 Family gatherings are made all the more special with a hang by the backyard fire pit (or even the balcony hibachi) with this DIY S'mores Kit. You get to roast snowflake-shaped marshmallows to gooey perfection, melt one of the kit's chocolate disks, and then sandwich it all between classic chocolate chip, chocolate obsession, or peanut butter cookies. Cozy up in a Classic Cable Knit Personalized Throw Blanket to keep Jack Frost from nipping at your nose. And because Dad got the fire started, you might want to gift him this Best Dad Ever personalized thermos to keep his coffee (or another warming wintry beverage) hot. The family never had it so good!
2. For the chocoholic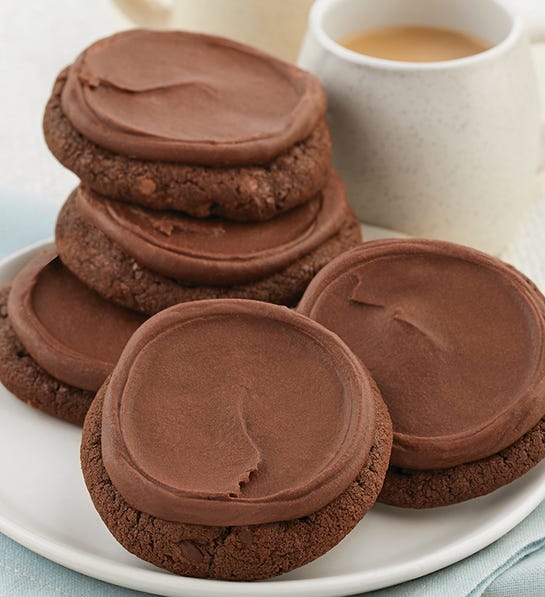 Have aunts or uncles who can't get enough of "the food of the gods"? Everyone has a chocolate lover in the family. If this sounds like your clan, you can't go wrong with the aptly named Triple Chocolate Cookie flavor box. These chocolate chocolate chip delights are topped with chocolate chips and fudge buttercream frosting (hence the "triple" in the name). If your lucky giftee has an affinity for James Beard award-winning pastry chefs, then get them a box of bonbons from Jacques Torres. The collection features 25 hand-crafted beauties, including special limited edition flavors created just for the holidays. Expect an extra nice thank you.
3. For the movie buff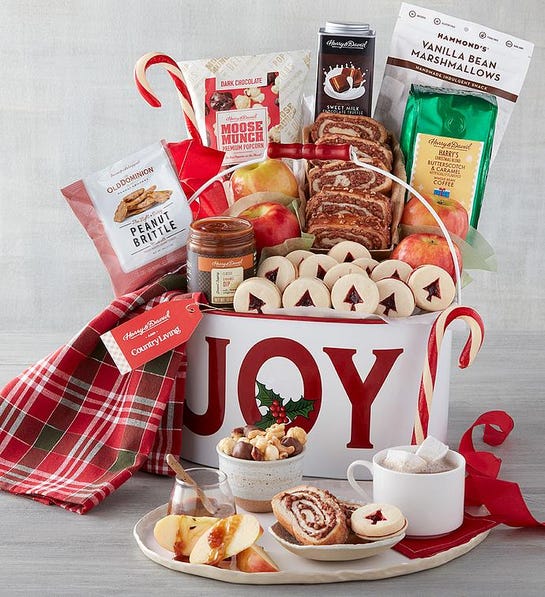 Popcorn? Check! Hot cocoa mix? Check! Peanut brittle? Double check! Everything a restless teen or college student yearning for a movie marathon could ask for is included in the Comfort and Joy Tin. What better way to spend the holiday together than bonding over your favorite Christmas classics or the latest action-adventure thriller? Get a few personalized snack bowls, too, to divide up the goodies. If your movie buff is a popcorn connoisseur, this Tins with Pop® Movie Night tin, featuring three kinds of popcorn magic (butter, caramel, and cheese), is big-screen worthy.
4. For the sports fanatic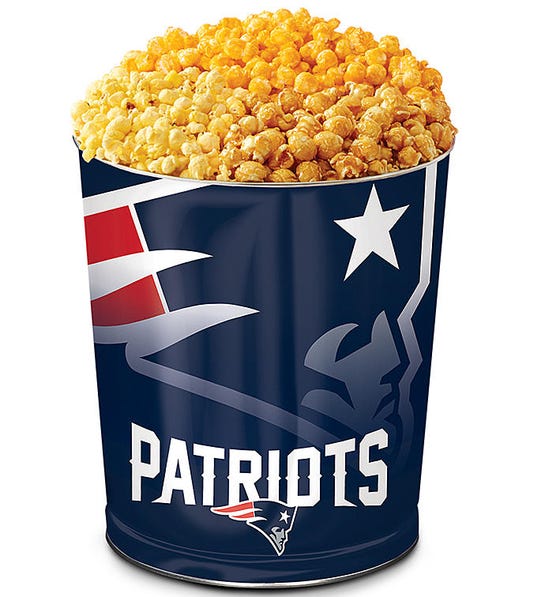 Whether your sports fanatic is an armchair athlete or a hard-hitting quarterback, nothing says "Touchdown!" like this 3-Flavor Popcorn Tin. It's available in nearly every NFL team and contains three flavors of popcorn — butter, cheese, and caramel — making it just right for game-day snacking. If you need something a little more substantial for your food spread, add this Football Sausage and Cheese pack. Score extra points by serving it on a football-shaped cutting board.
5. For the plushie pushover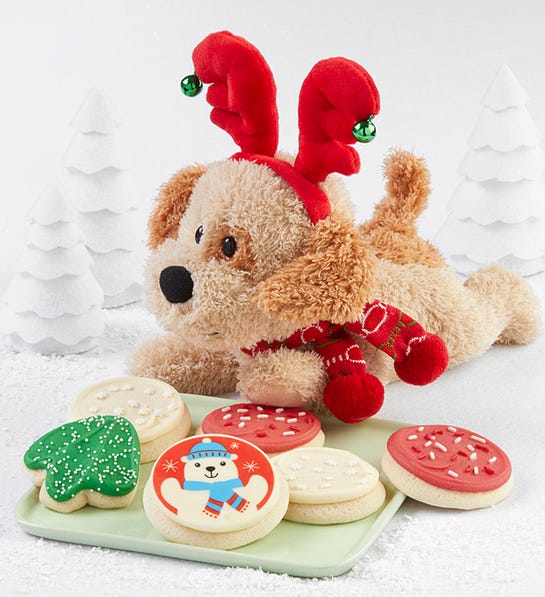 For the youngster on your list, this Musical Dancing Puppy Plush, complete with holiday-themed buttercream frosted cut-out cookies, will melt their heart and please their palate. And for the young at heart, these his and hers Santa Claus hats will put them in a festive mood. Finally, add a bit of extra warmth to their celebration with this Holiday Mug, Cocoa and Cookie gift set.
6. For the variety seeker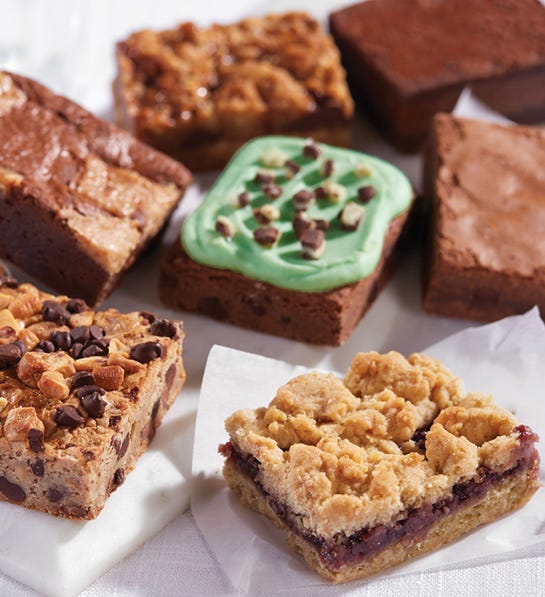 Some people like what they like, and they rarely deviate from that. Others, well, they need a little more variety in their lives. If you have one of the latter in the family, then look no further than the Gourmet Brownie of the Month Club subscription. From red velvet bars to oatmeal scotchies, blondies to caramel fudge bars, they'll be buried in brownie goodness all year round.
7. For the aspiring artist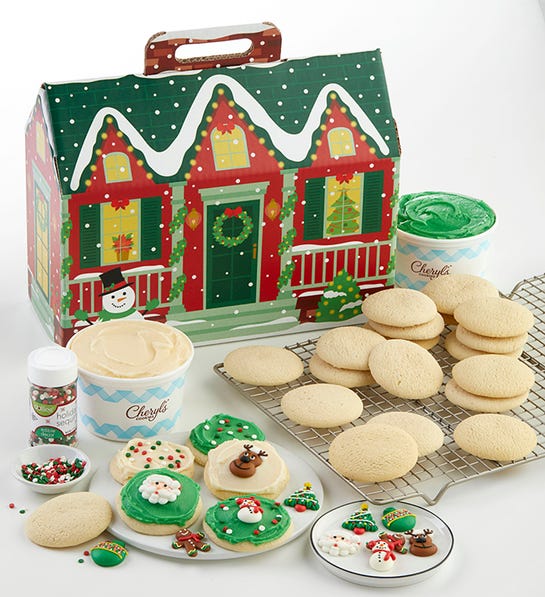 Gather all the artists in the family, throw on some Christmas carols, and bring your creativity to the table because it's time to make merry with this Holiday Cut-out Decorating Kit. It comes with two tubs of vanilla buttercream frosting — one of which is a festive green hue! — decorative sprinkles, and 24 cut-out cookies, all in a holiday-themed cardboard house box. Add a spatula and apron to make it extra special.
8. For the brunch bro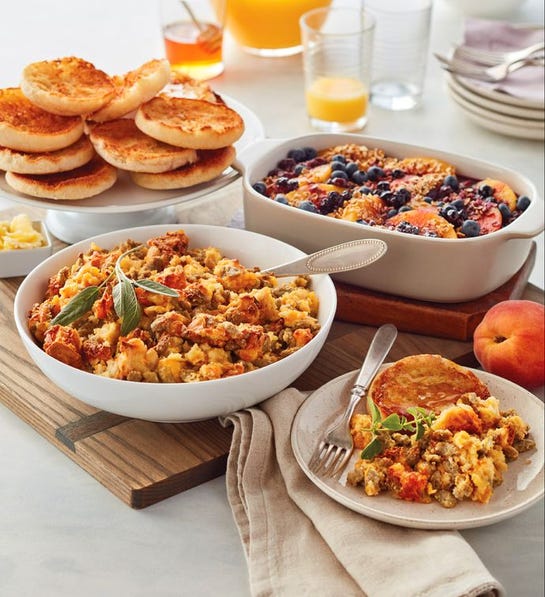 Know someone who adores a leisurely weekend brunch more than, well, the weekend itself? Then this Sweet & Savory Brunch, featuring San Francisco-style sourdough traditional English muffins, a blueberry peach crisp, and a hearty Italian sausage and cheese casserole, fits the bill. All they have to do is make the coffee, whip up a mimosa, and invite you over!
9. For the board gamer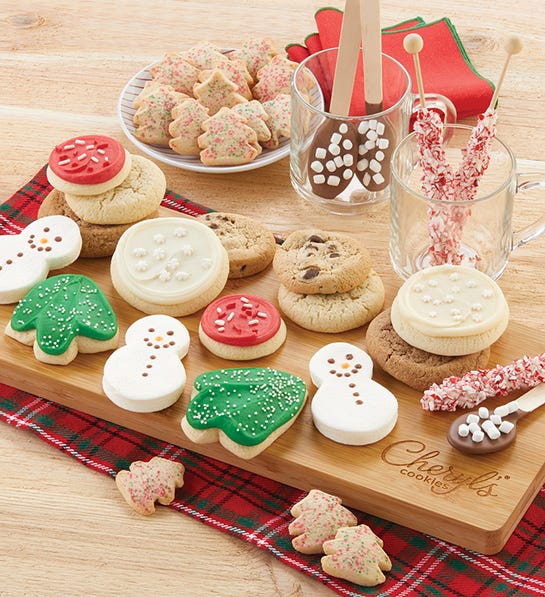 If you have a card shark or board game whiz kid in the family, then settle down with their favorite game, some worthy opponents, and the Hot Cocoa Charcuterie Board. It comes with six kinds of frosted cookies and all the fixins you need to give your hot chocolate that special holiday touch, including chocolate spoons, peppermint stirrers, and marshmallow toppers. There's enough fuel in here for hours of fun.