From decorations to food to entertainment, "The Party Life" shows you how to be at your best when you're gathering to celebrate special occasions. We've got your game plan for making a jaw-dropping dessert table for the Big Game that's super fun and easy to build and decorate.
The final Sunday of the football season is one of the biggest party days of the year, and it's easy to see why. You've got the entertainment value of the Big Game, of course, but just as big an attraction is the food. While most parties will have the pizza, wings, and guacamole covered, you can make your shindig unforgettable with a game-changing dessert table that will score major points with your guests.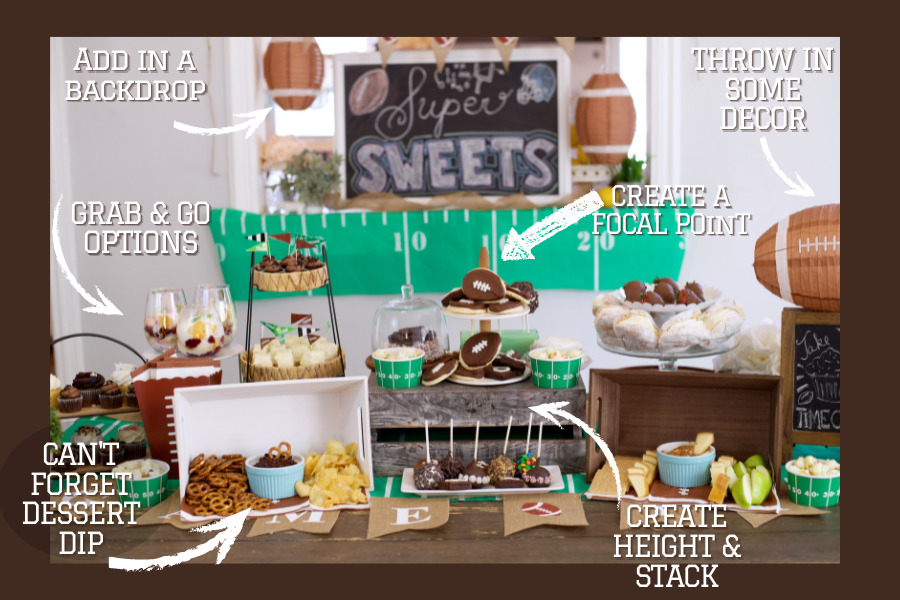 The best part is that with these basic instructions you can get creative and make a variety of displays that will perfectly fit your space. So, let's kick this party off and have fun making a winner of a dessert table for the Big Game.
Begin with a variety of desserts
Start planning your dessert table by thinking of all the different types of flavors and dessert options your guests might want. Consider desserts inspired by classic football food while also providing more traditional desserts options that can be customized to show off their game-day looks.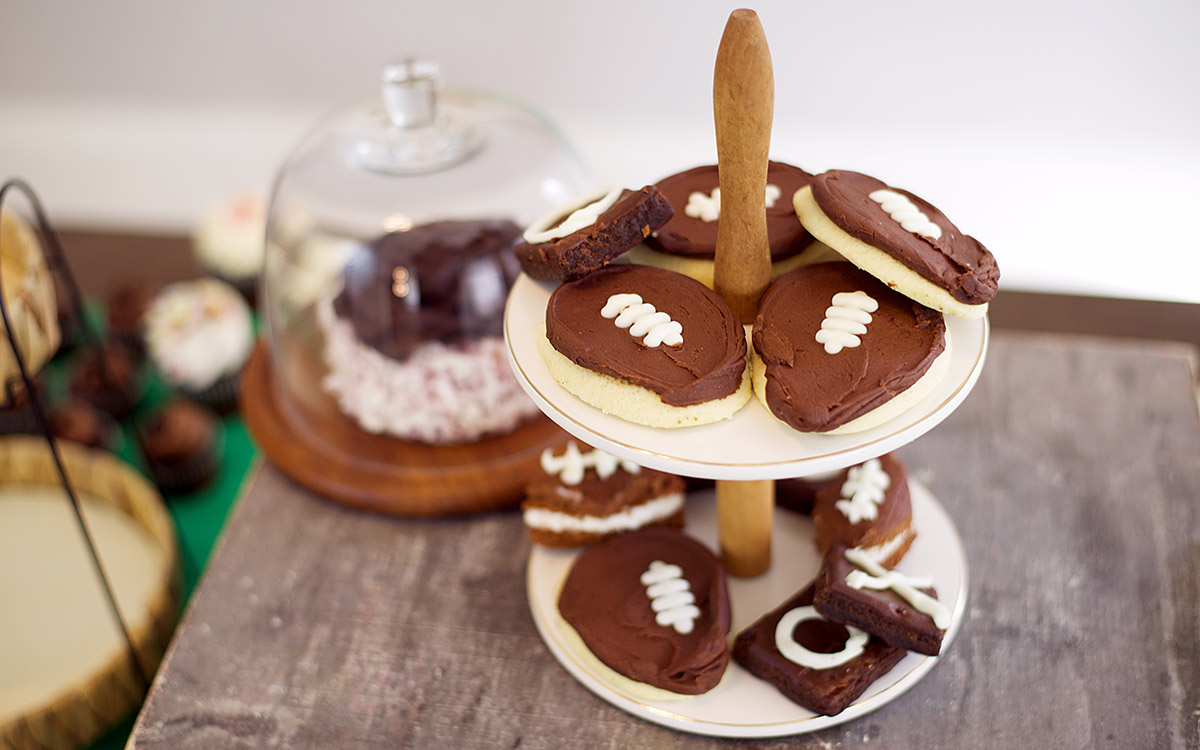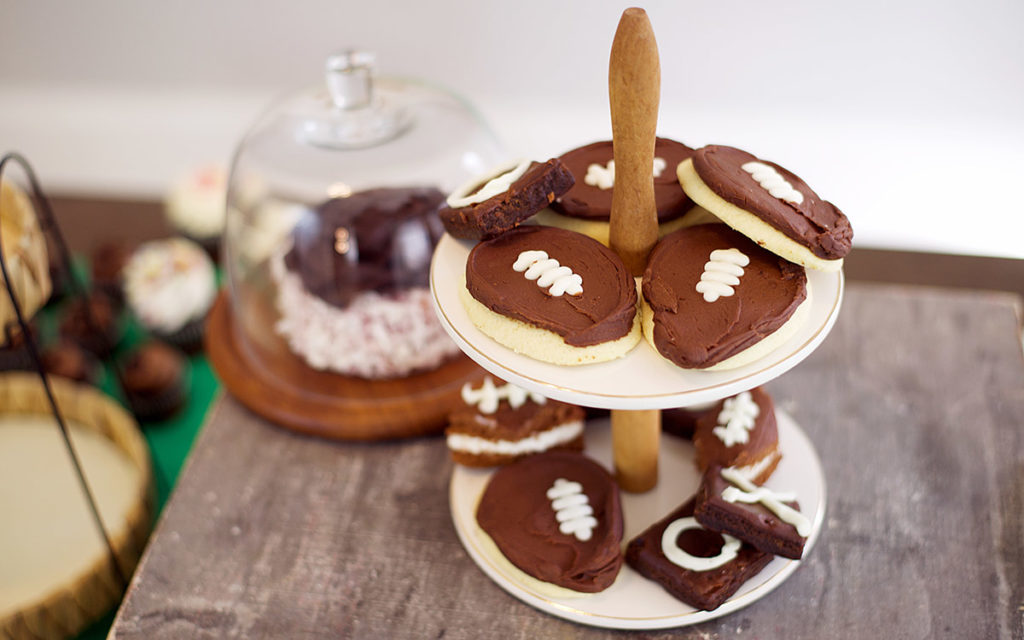 I made the centerpiece of my display football-shaped cookies. They are the perfect way to set the stage for a scrumptious spread. But be warned: You might have to hold back on eating these all up while setting the table.
Here's a breakdown of some of the other items on my dessert menu.
Classic gameday chips and dips (with a twist)
What Big Game party would be complete without chips and dip? For a fun dessert interpretation of the gameday mainstay, you can go with a chocolate dessert hummus and sweet-flavored cream cheese. Pair the hummus with chips and pretzels for that perfect salty/sweet combination. I scooped up some cinnamon cream cheese and served it with apple slices, pound cake squares, and graham crackers.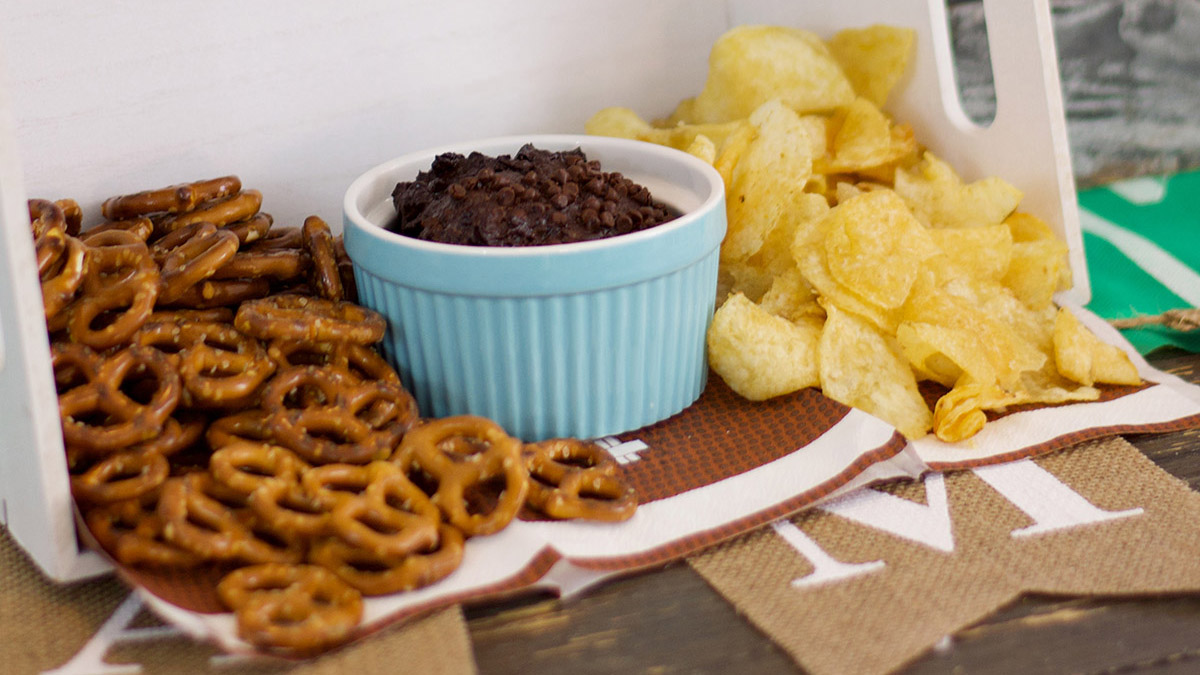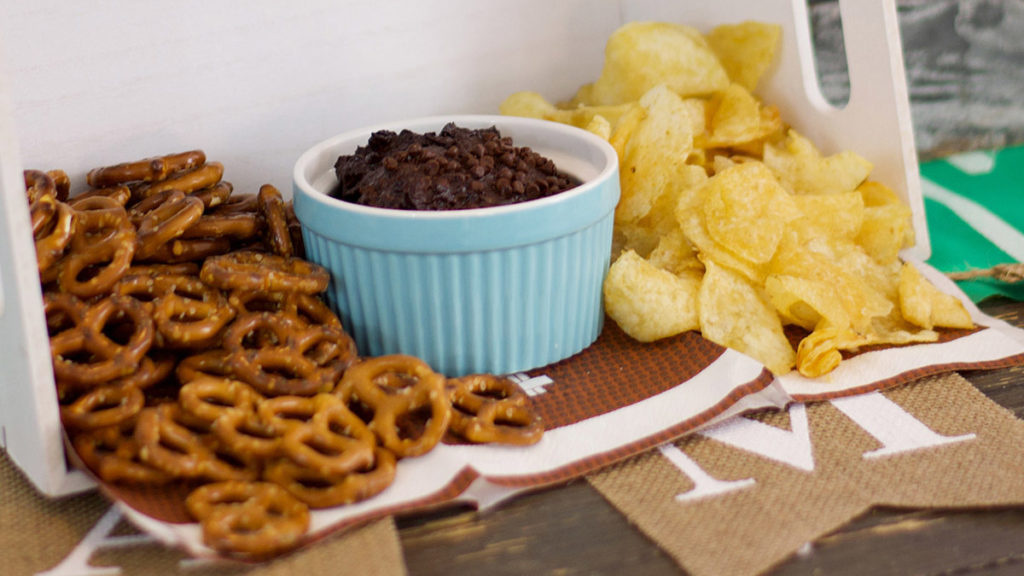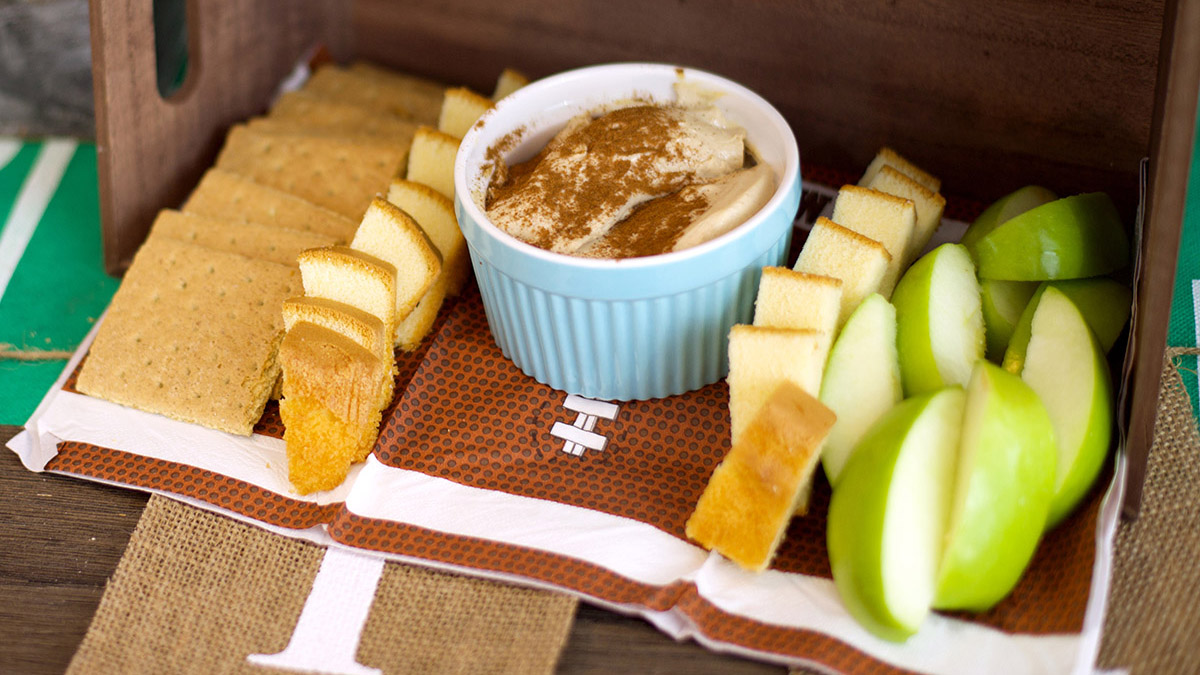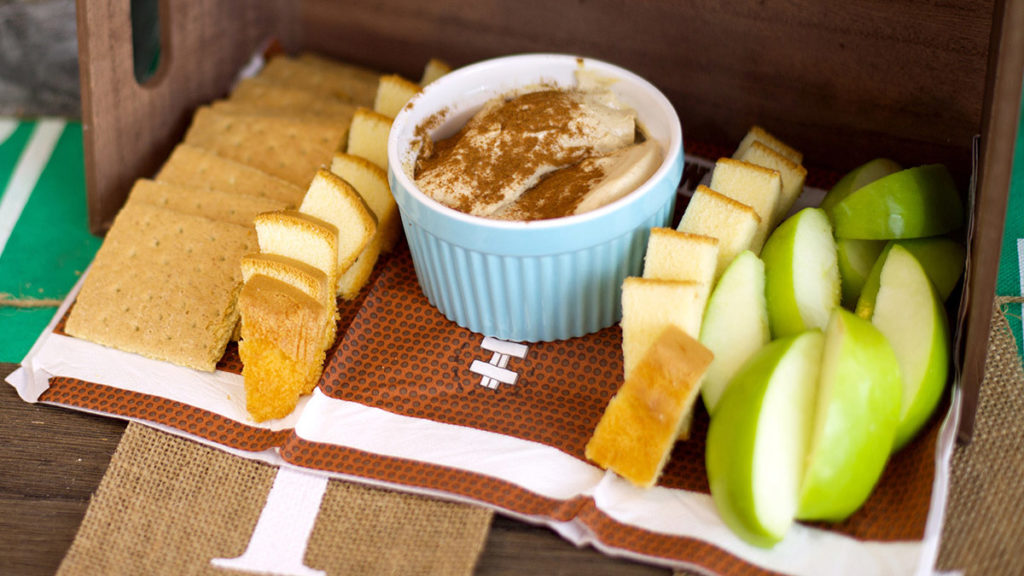 To enhance the presentation, stick one of your dipping items into the top of each dip. Finish off the cream cheese with a dusting of cinnamon or cocoa powder to give it a polished look.
Dessert-flavored popcorn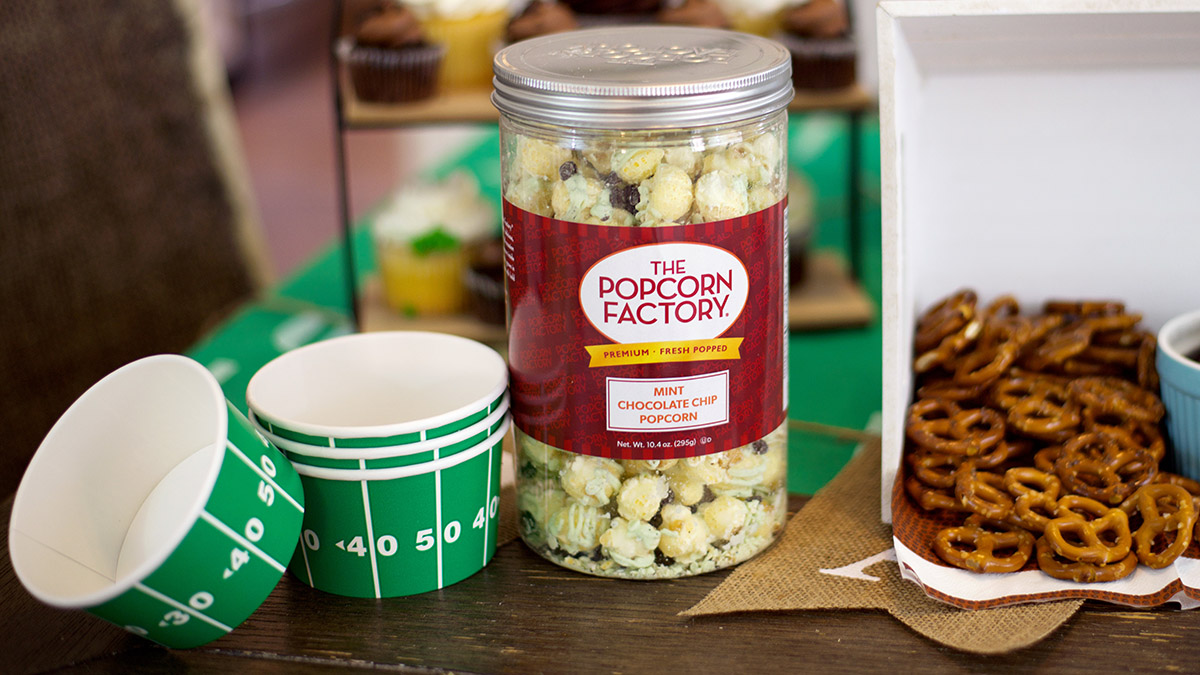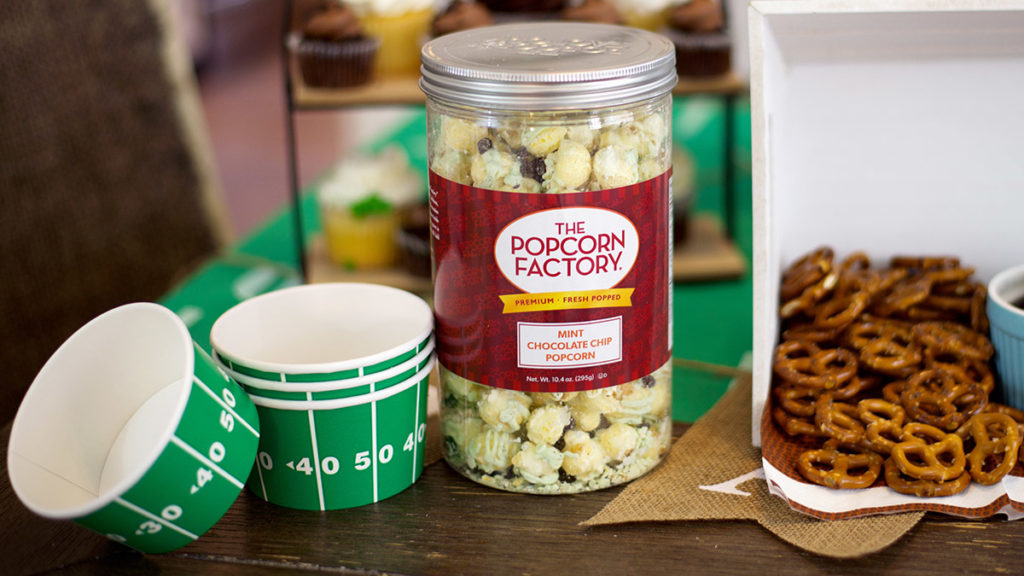 Popcorn is a football favorite and an easy option for adding visual interest to any dessert table. This mint chocolate chip popcorn scores a flavor touchdown with chocolate and mint lovers, and also adds a touch of green to the display. I found small football field-themed paper dessert cups that I filled with the popcorn to make individual serving sizes.
Mini fruit trifles
Trifles give a gorgeous, elevated look to any dessert display. I made a blackberry trifle, but instead of one big one, I did individual-sized ones in stemless wine glasses. The smaller the glasses, the better, as you want the layers to fill up the glass.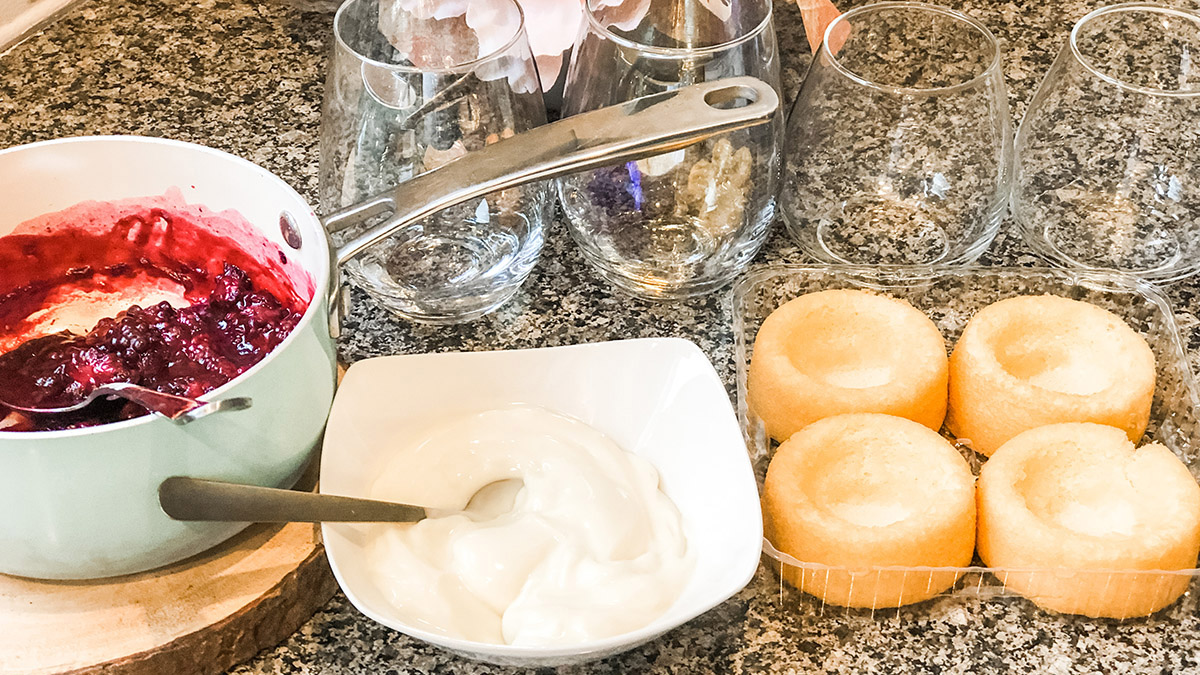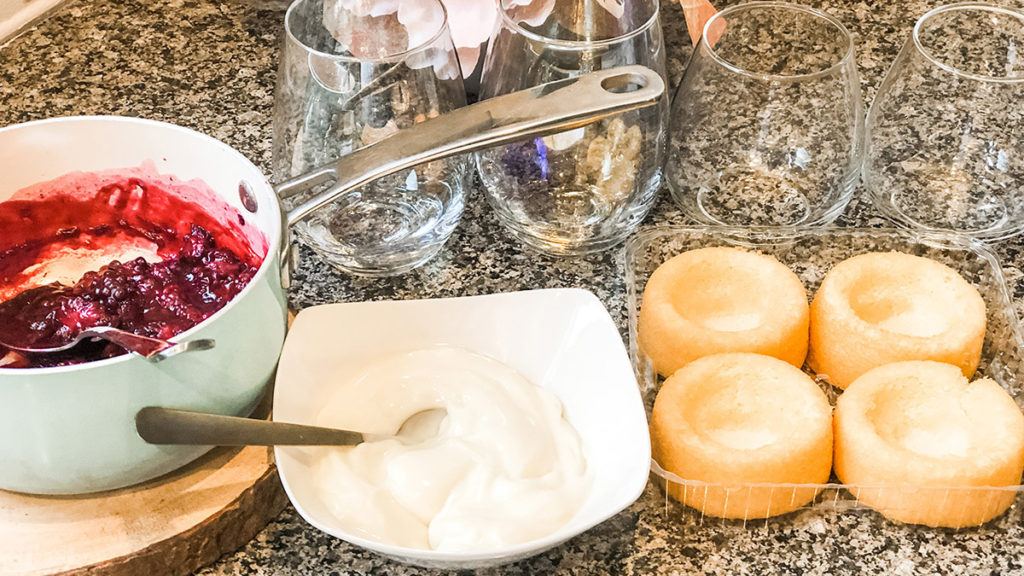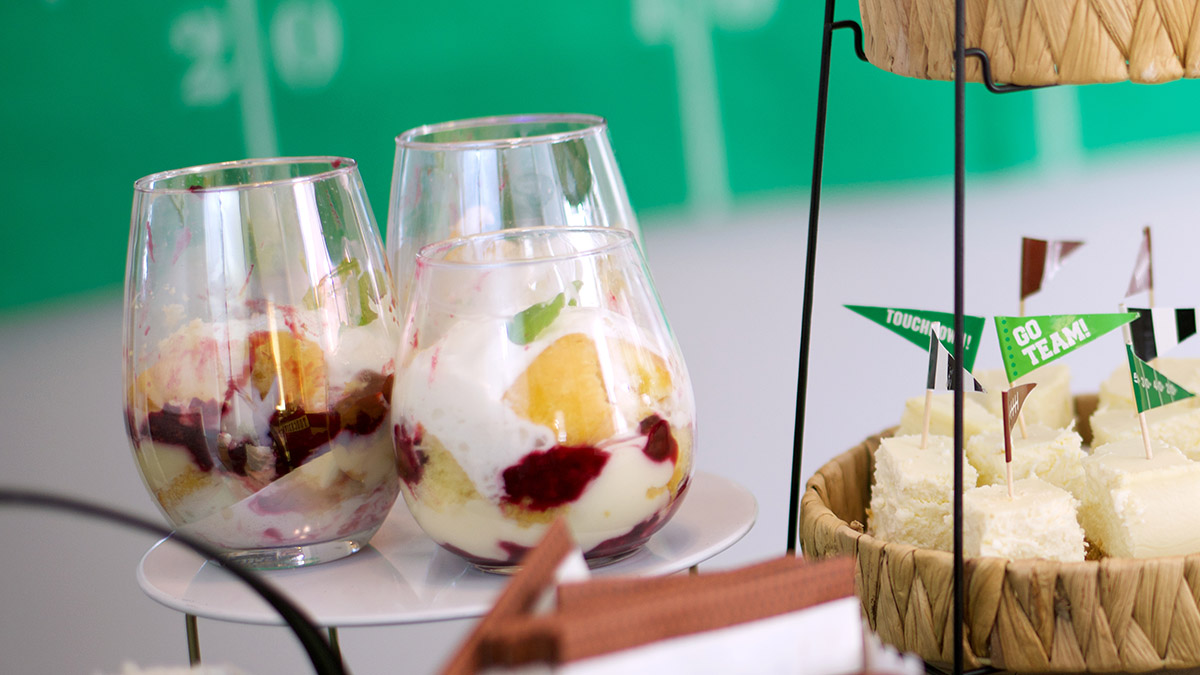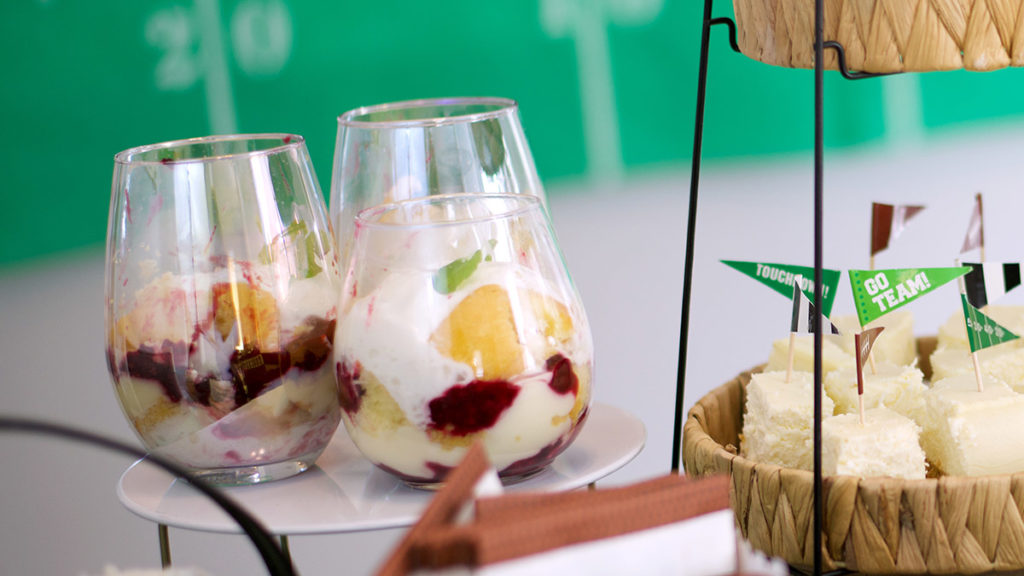 This is the fastest fancy dessert you'll ever make, and it's super yummy. I used store-bought vanilla pudding and whipped cream (to save time) and made a blackberry reduction simply by quartering the berries and cooking them with a few teaspoons of water and one-third cup of granulated sugar in a small saucepan for about 10 minutes on low heat. To thicken your reduction, just add a teaspoon or two of flour if needed. Break up the sponge cake by hand and start filling your glasses with each layer. Top with a fresh mint leaf or two.
Easy-to-grab, between-plays sweets
Make your dessert display user friendly with pre-cut and individual servings. This allows your guests to sample a little bit of everything without missing any of the on-field action.
Here are some desserts that are perfect for individual portions.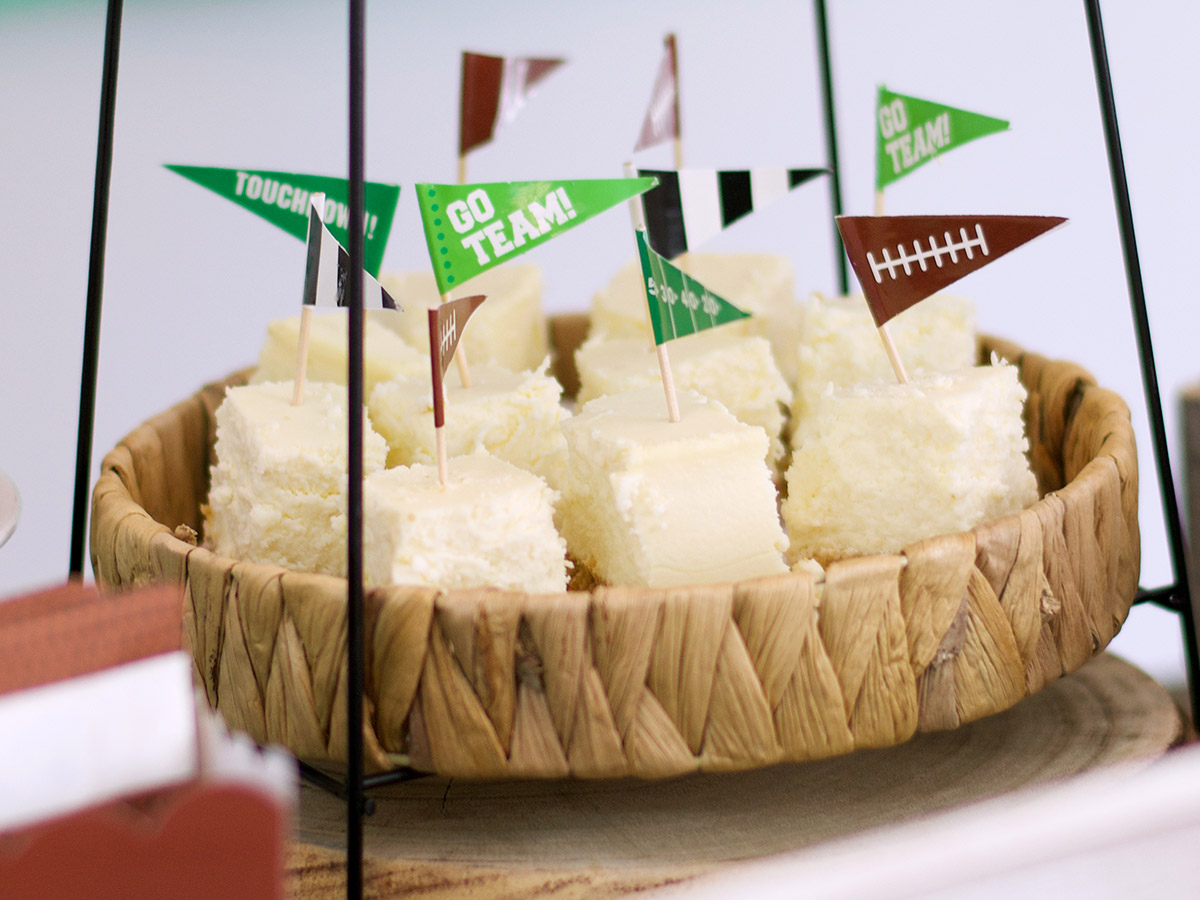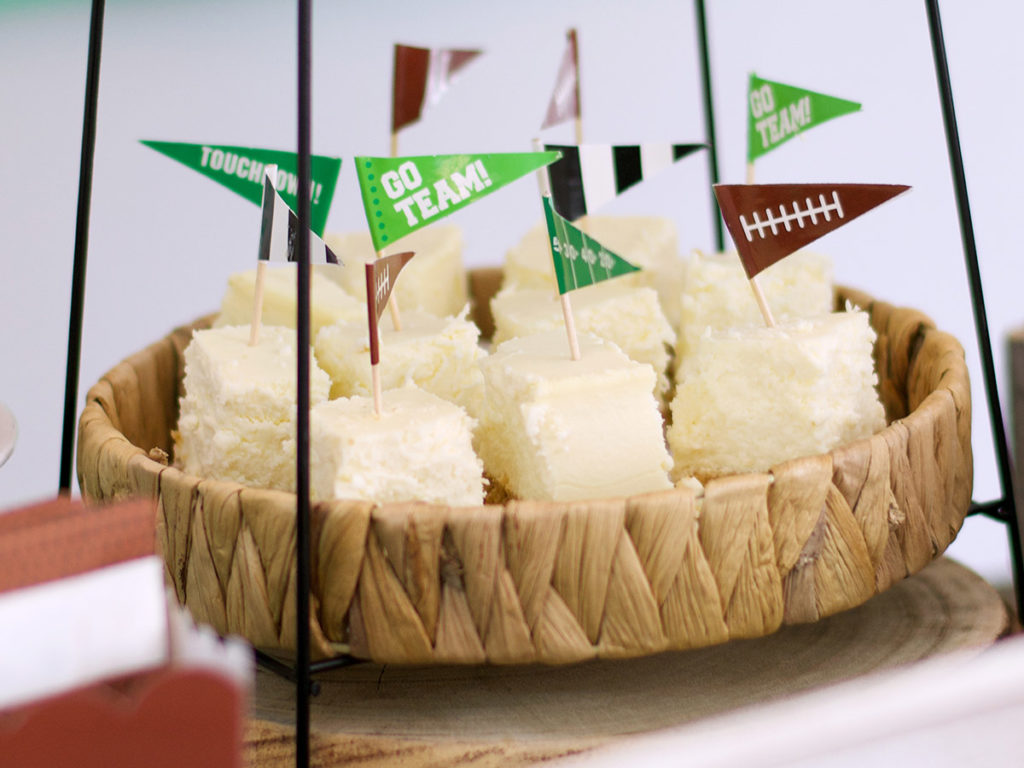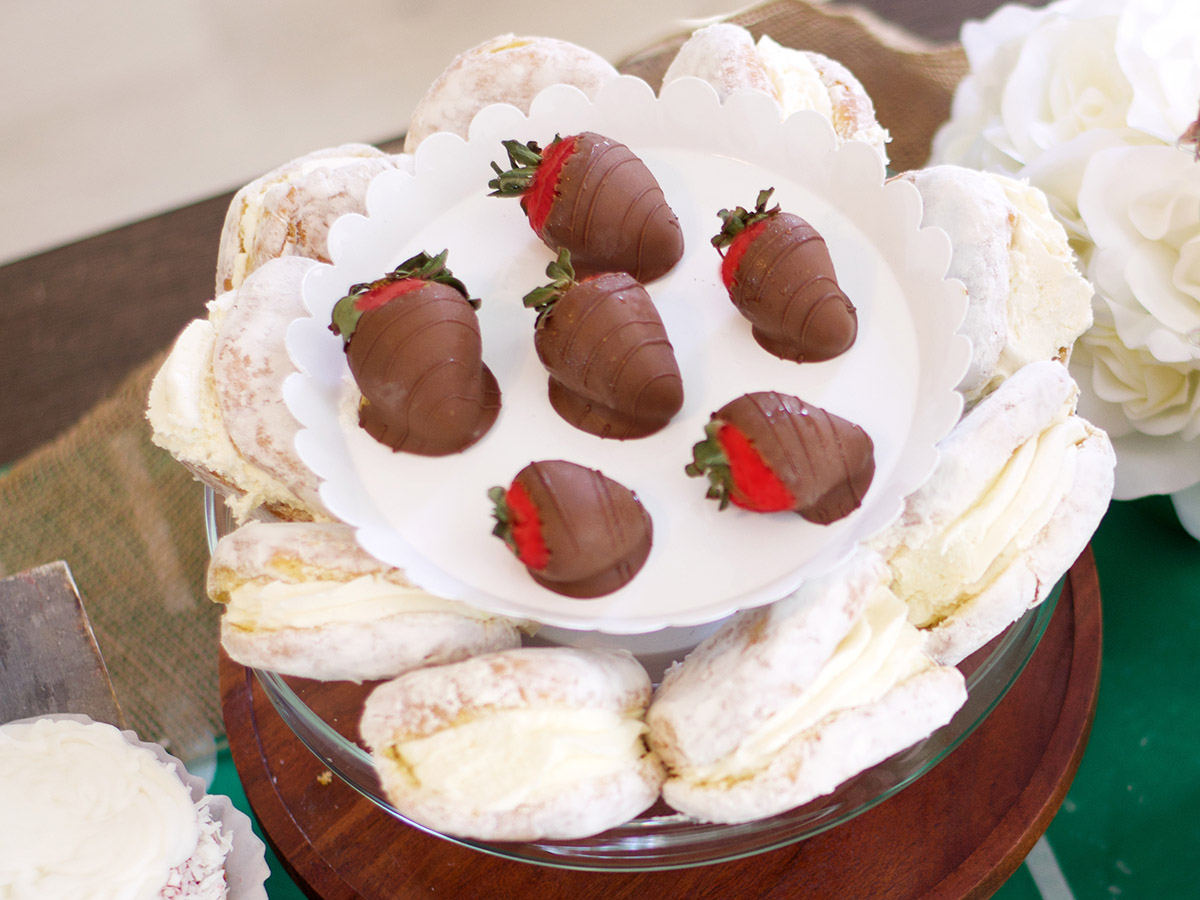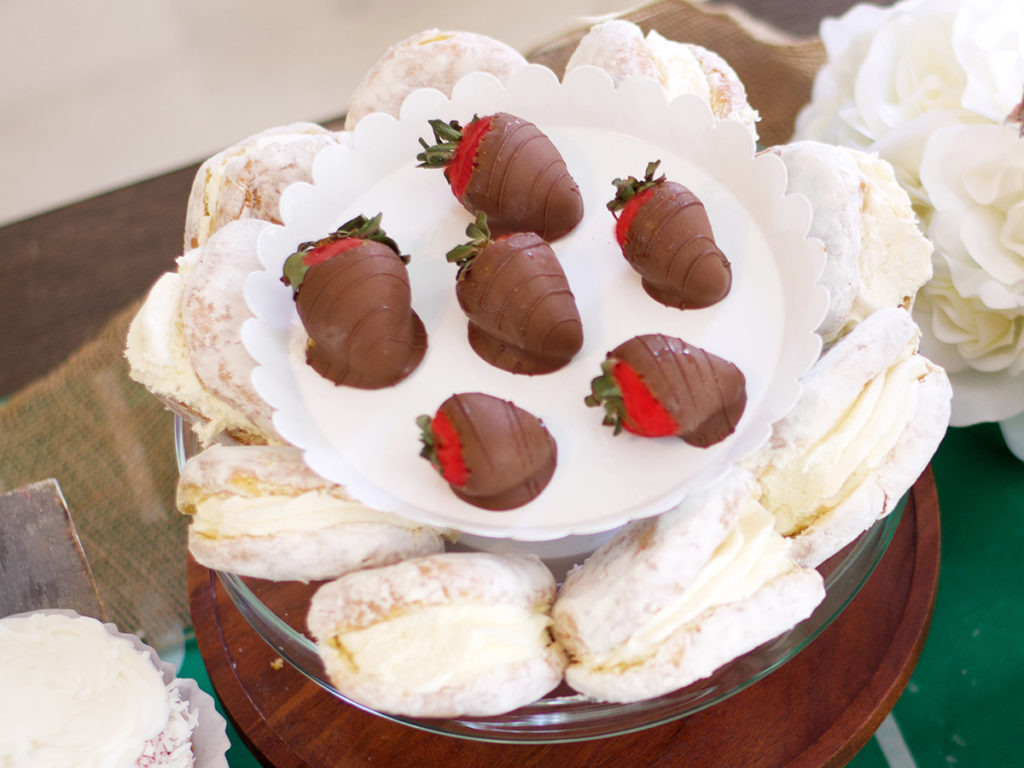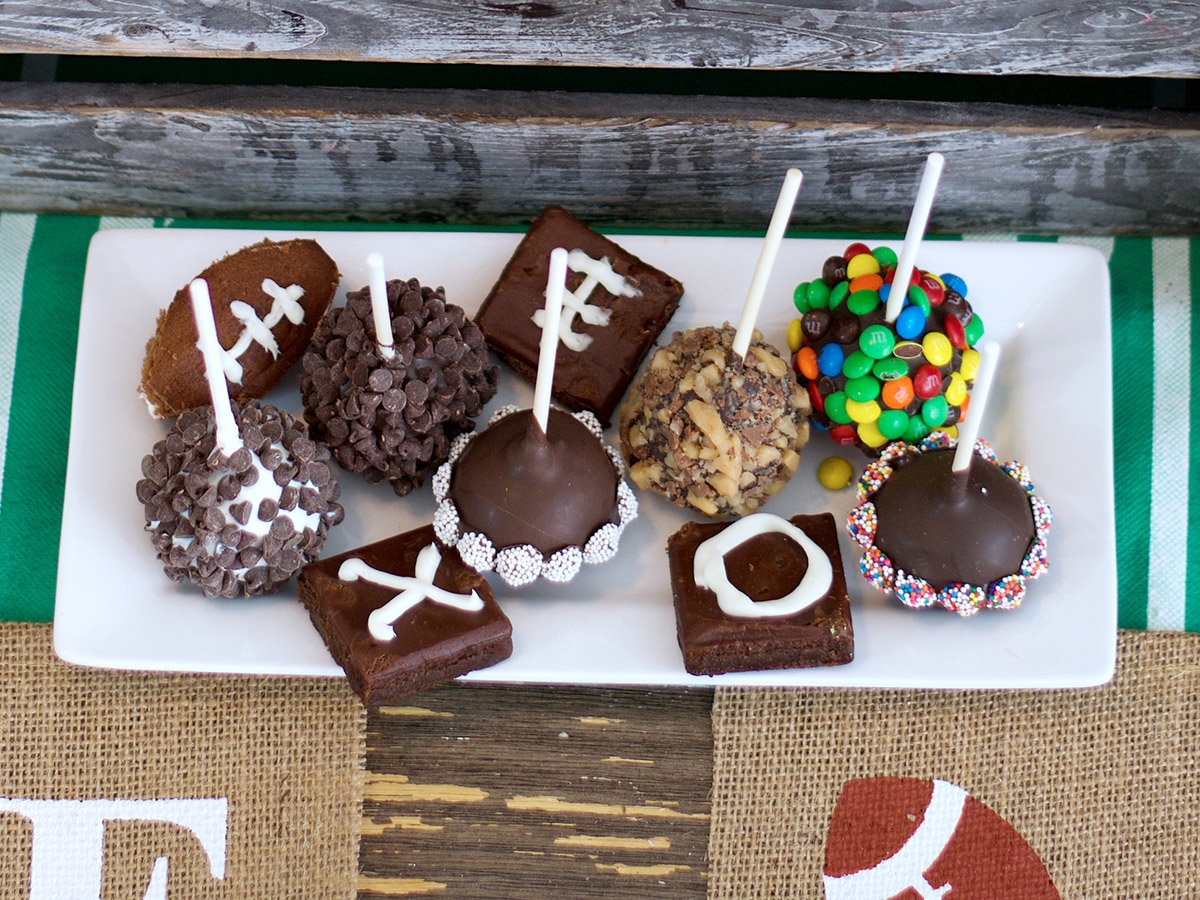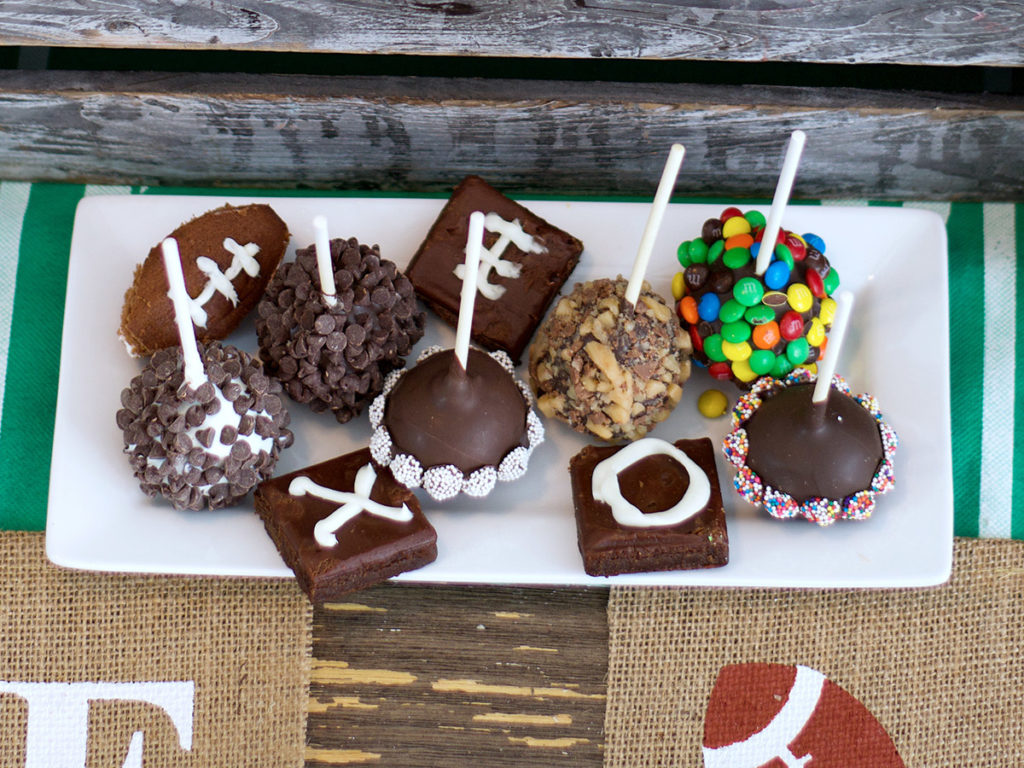 Cheesecake
A dessert spread is not a dessert spread without creamy, graham-crusted cheesecake. Not wanting to make guests have to cut their own slices, I cubed a New York-style cheesecake and added tiny football-themed flags to add more splashes of gridiron flavor.
Chocolate-covered strawberries
The ultimate in decadence, spoil your guests with a dozen milk chocolate strawberries. They even come in a super-cute, sports-themed sampler. Or, if you're feeling ambitious, decorate your own with some white icing.
Cake pops
Another great grab-and-go option, truffle cake pops give that instant "pro-catered" look to any dessert table. I chose candy-covered cake pops because they come in a variety of flavors, such as toffee, chocolate nonpareils, and mini chocolate chips.
Set the scene with foundation decorations
Now it's time to choose your décor. Start by selecting a color scheme for your tablescape. I decided to focus on green, brown, and white because those screamed "football" to me. This allowed me to center my attention on specific items as I shopped for decorations and sourced items from around my house.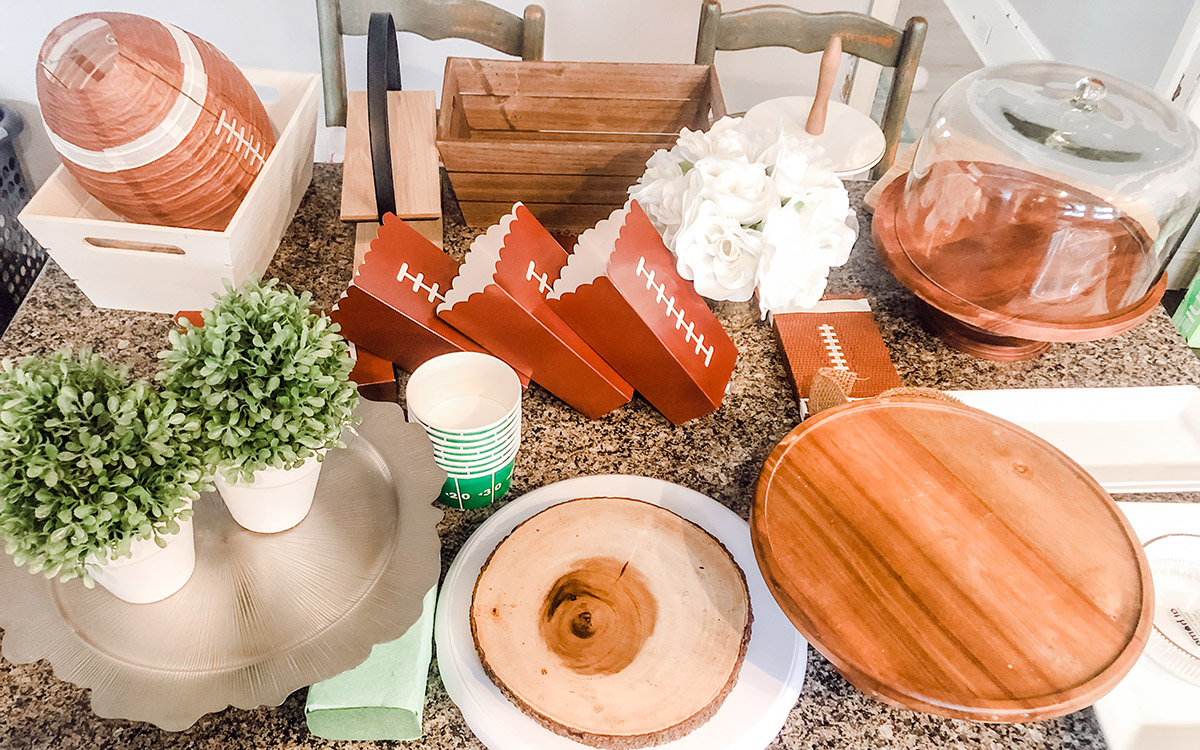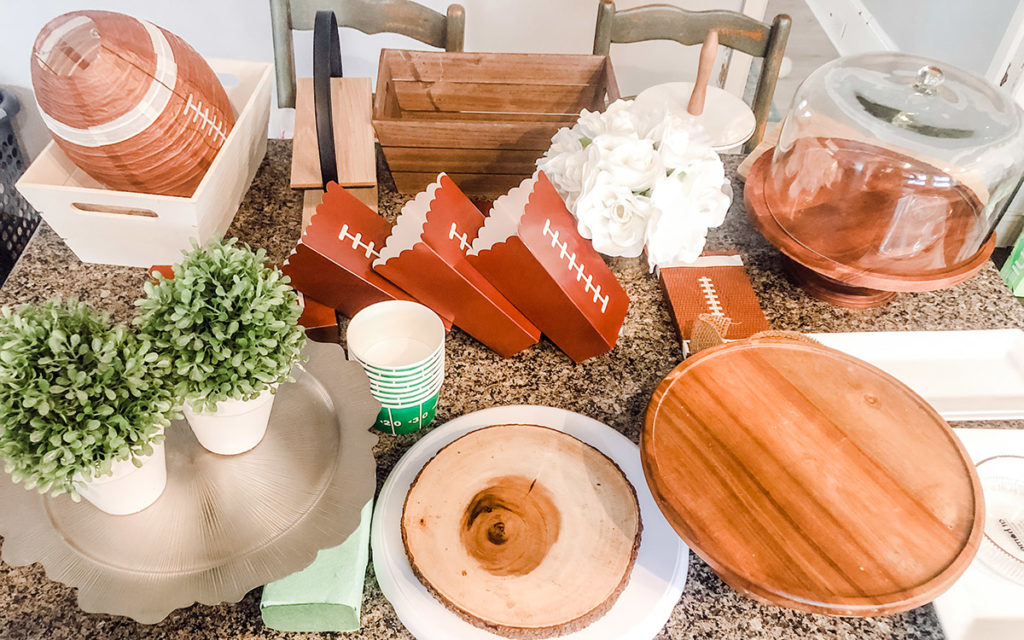 I found a great "football field" table runner. It mimicked a football field and wasn't so busy as to make it distracting. I also found a burlap banner set online, and used one banner for the backdrop and the other to finish off the table top. I recruited the lettering skills of my fiancé to chalk up a big, framed chalkboard. An item like this is a good investment for parties because you can customize it for every occasion, creating a budget-friendly way to set the tone of your display.
Lay it all out
You've assembled all your materials. Now it's time to set everything up.
Gather all your serving pieces in one place. It's helpful to have all your plates, boxes, cake pedestals, and bowls in one spot so that you can decide which one to use for each dessert.
Begin at the center of the table with your most spectacular pieces. For me, those were the football cookies, berries, and cake pops. The center should have at least two different heights. I used a crate and placed a double-tiered cupcake pedestal on top, creating a multi-level display that gives lots of visual interest.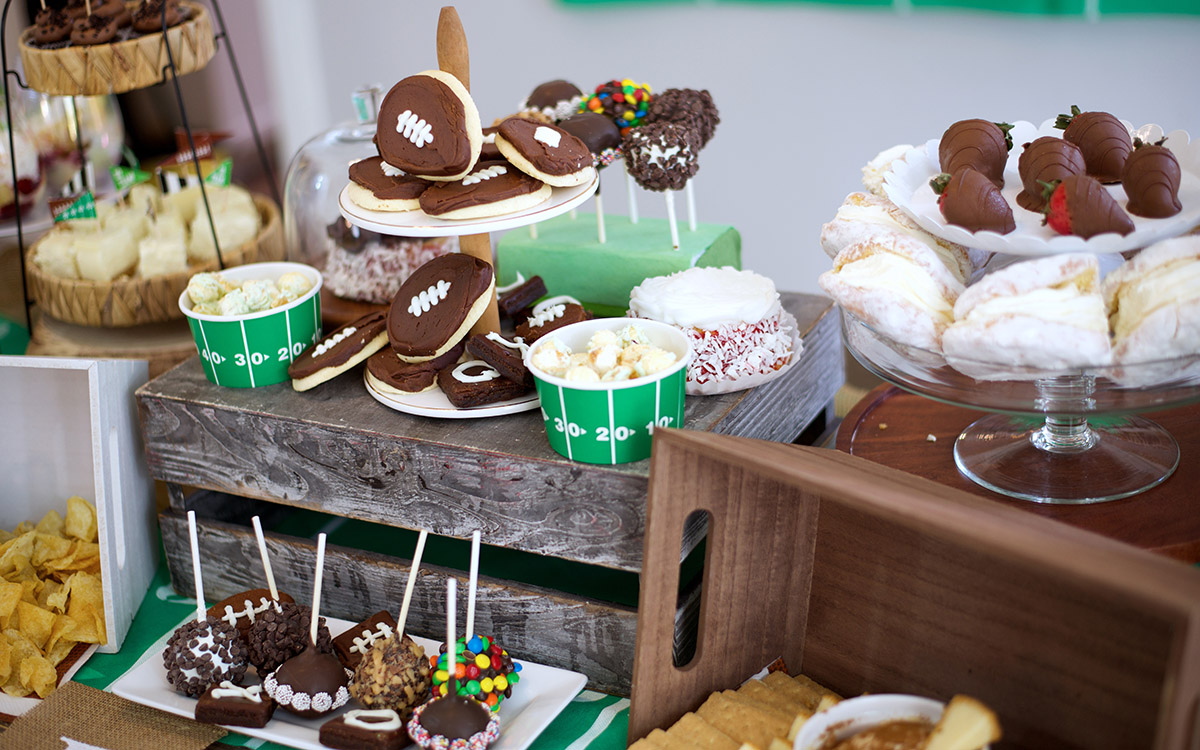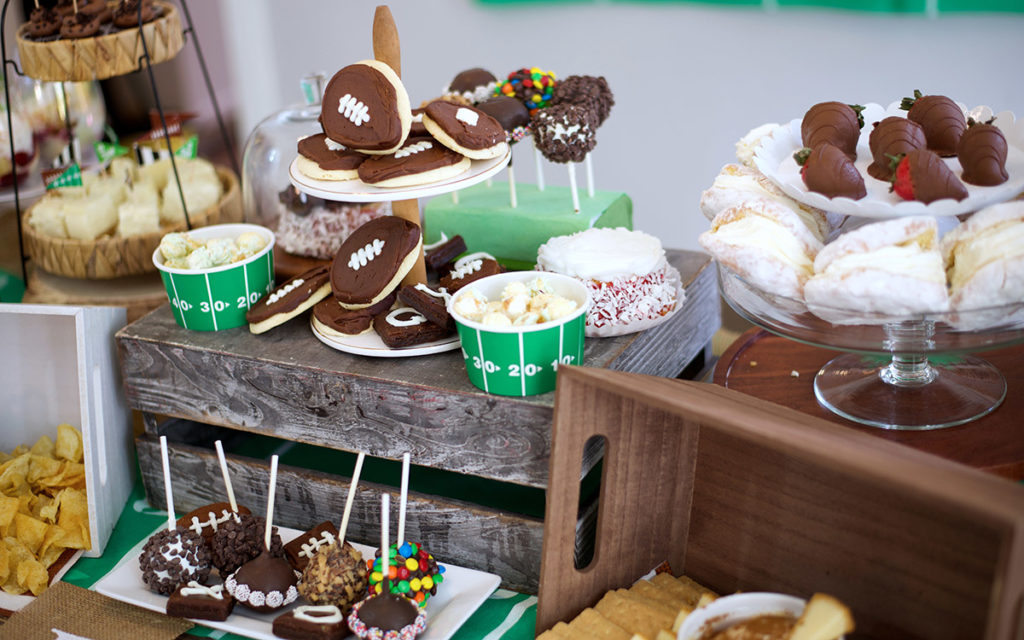 Add more smaller desserts around the center to fill up the space. Typically, less is more in design, but with dessert tables, more is always more. (Hint: Grab some "filler" desserts, such as cookies and full-sized and mini cupcakes, to fill in any gaps.)
Stagger height differences. Your table will look more dynamic with varying heights throughout. Don't be afraid to go from low to high and low again.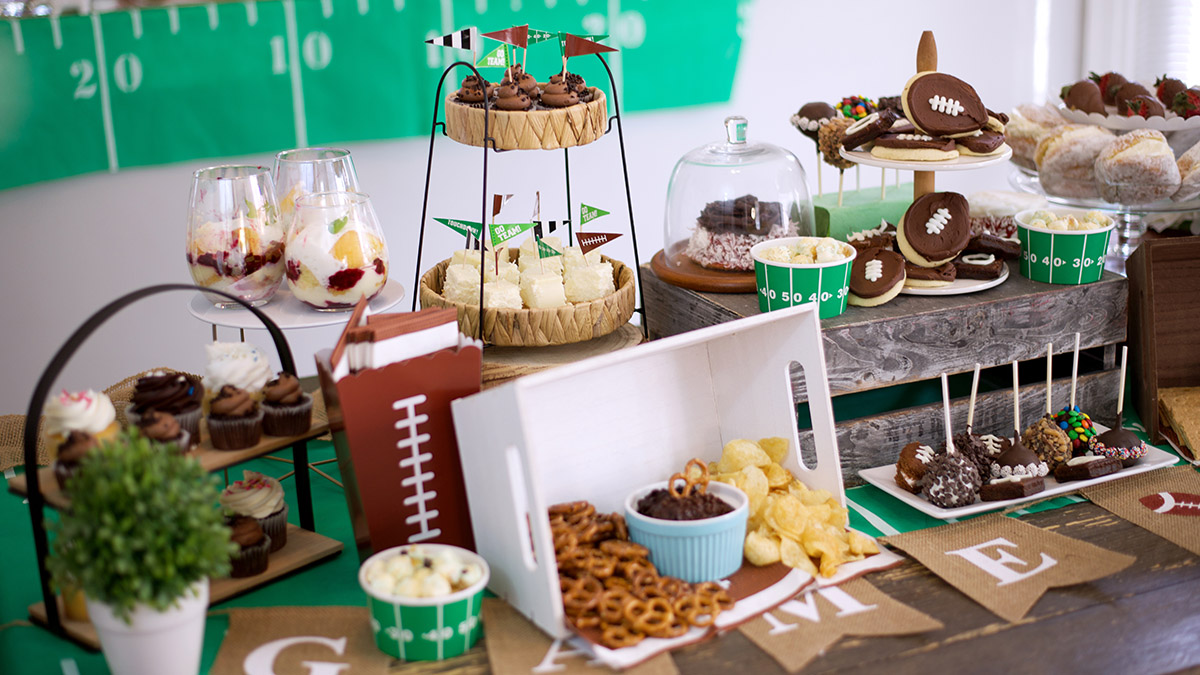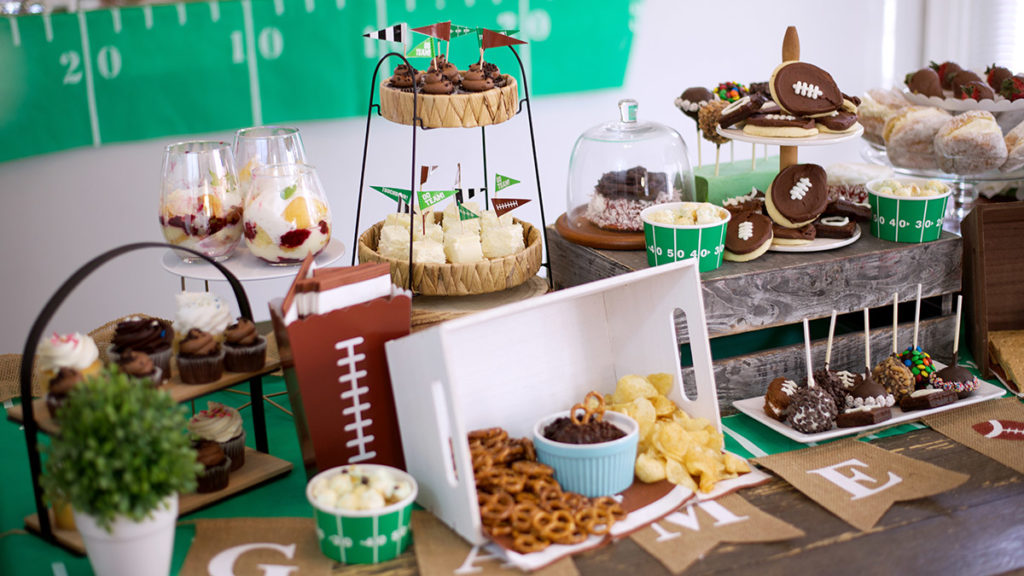 Have all your plates, napkins, and utensils in one place, usually at one end of the table. This lets your guests know there's a flow to the dessert table and where to start.
Add in discrete decorative touches. I grabbed small topiaries from my home office that fit my white and green theme, a gold vase of white roses, and a small chalkboard.