All the mouthwatering recipes in our series "The Main Ingredient" have one thing in common: They all contain cookies. This cookie cake recipe, which comes to us from Kaili Reveles of Kabes Bakes, is a fun and colorful dessert that's perfect for birthdays or any special occasion.
Cake? Good. Cookies? Even better. Cookie cake?! I can't even.
This cookie cake recipe is an easy birthday cake to make for people young, old, and every age in between. It's fun, colorful, soft, and sure to bring a smile to anyone's face.
You can make it with homemade batter, but for this one I used Cheryl's cut-out cookie dough, and let me tell you — it took the cake to a whole new level.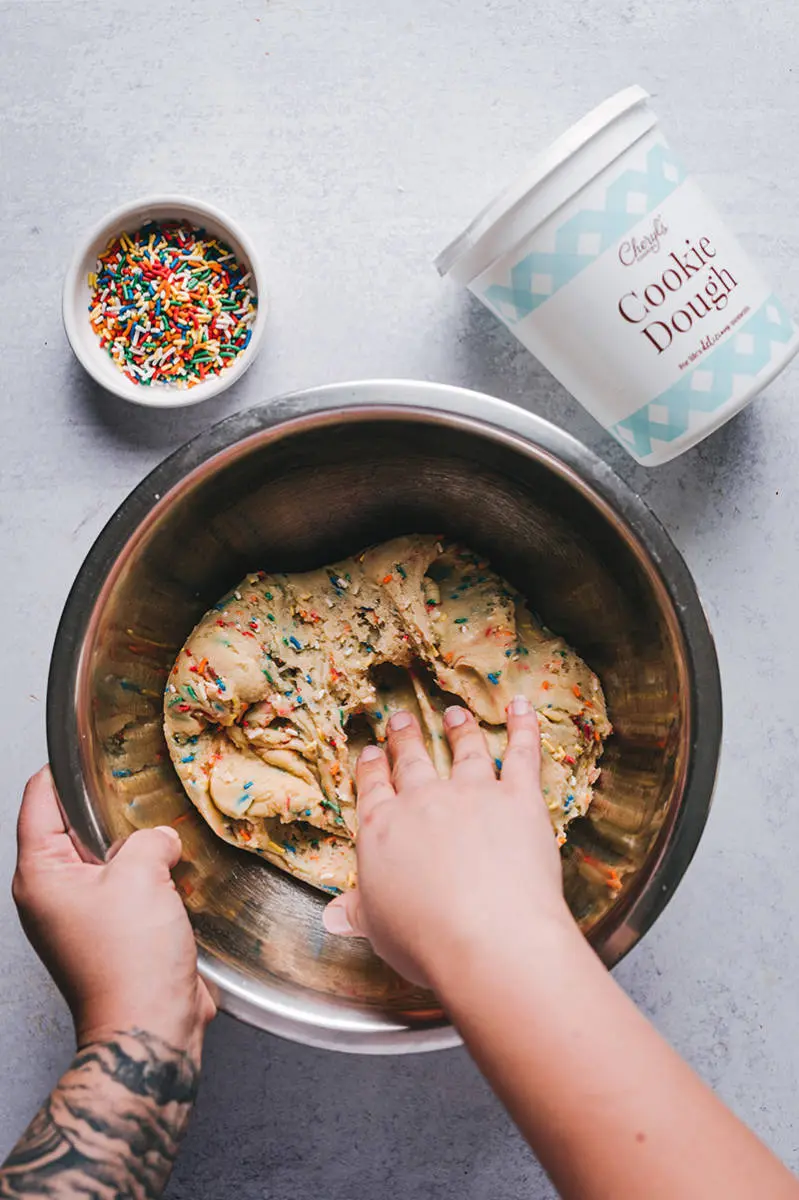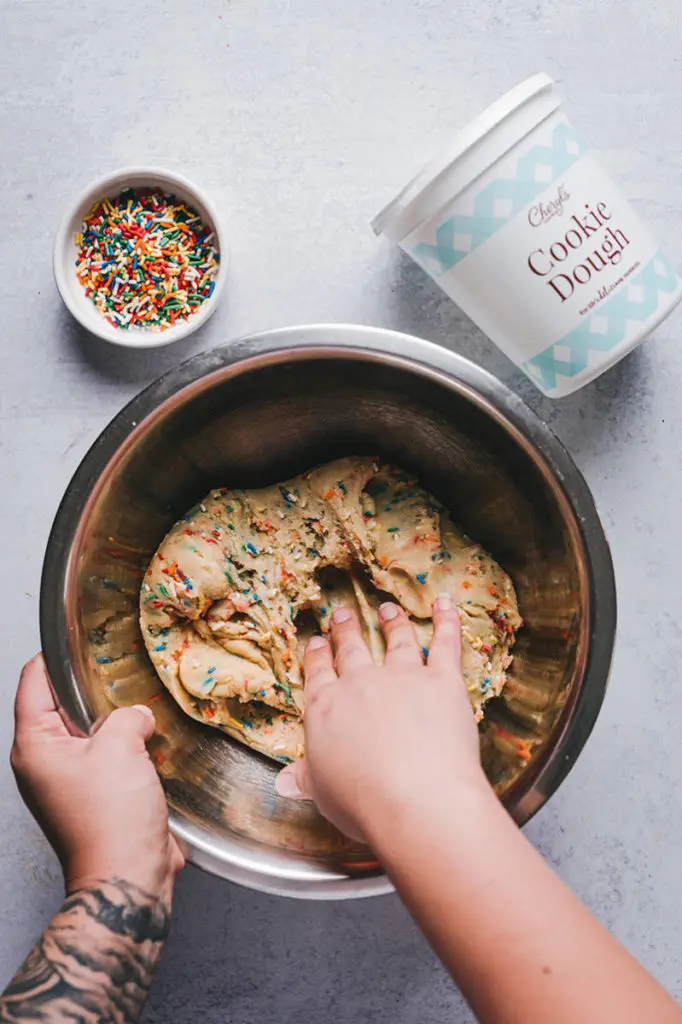 But it's not just for birthdays! Customize the colors to make it suitable for any number of occasions:
Substitute red, white, and blue sprinkles and serve it at a Fourth of July cookout.
Use a red-and-pink color scheme to make it for your sweetheart at Valentine's Day.
Mix in orange and black sprinkles and decorate it like a jack-o'-lantern for Halloween.
What I'm saying is, there's no wrong time to make a cookie cake. After all, sprinkles make life more fun…and so do cookie cakes!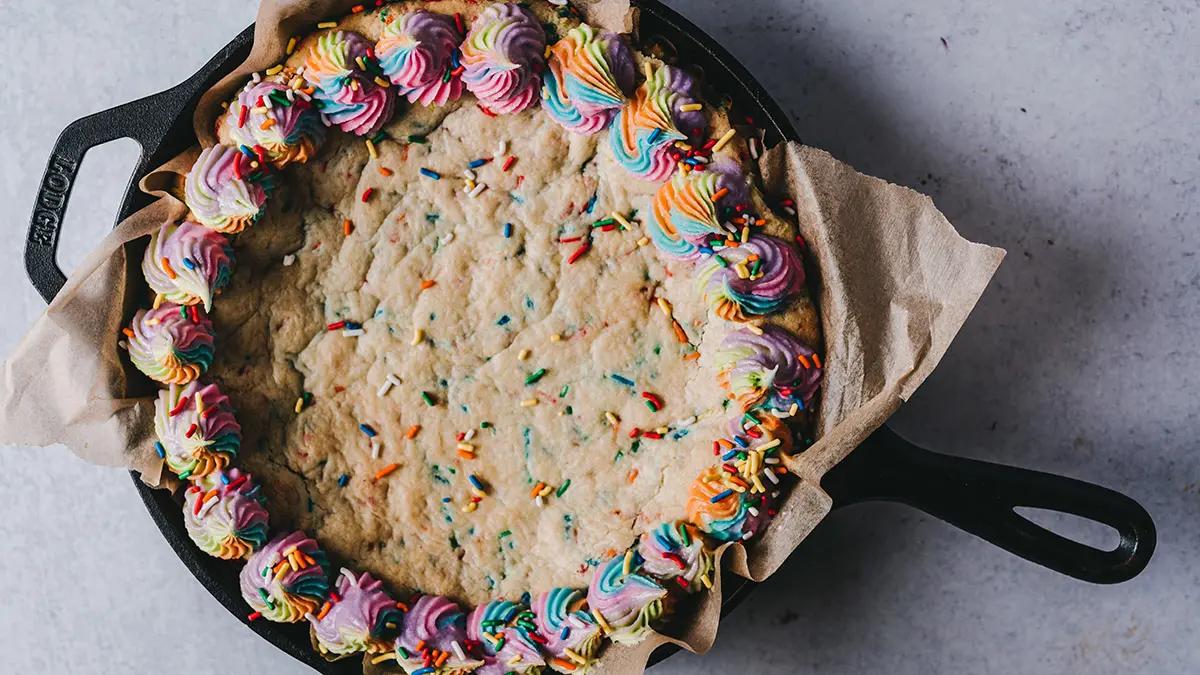 Cookie Cake
Ingredients
Icing ingredients
½

cup

sprinkles

3-5

bottles

different-colored food coloring

(optional but fun!)
Instructions
Cake instructions
In a large bowl, add thawed cookie dough and work the dough with your hands a little to soften it up.

Pour sprinkles onto the dough and work them in with your hands until evenly distributed.

Line a cast iron skillet or 9-inch round cake pan with parchment paper.

Put dough in the skillet or pan and work the dough until it's evenly spread out.

Bake for 28 to 30 minutes or until the edges are golden brown.

Cool cake for at least 1 hour.
Icing instructions
While the cake is cooling, prep the icing. If you are making colorful icing, get three to five small bowls and evenly distribute the icing in the bowls. Add 4 to 5 drops of food coloring to each bowl and mix.

Take a piece of plastic wrap (at least 8 to 10 inches long) and put your icings next to each other in parallel lines. Each line of icing should be about 6 inches in length and come to about a half inch from the end of the wrap.

Roll the plastic wrap up so all the colors are next to each other lengthwise, leaving one end open to allow for the icing to come out during piping. Twist the opposite end to keep the icing from coming out the other side.

Fit your piping bag with your piping tip. Then, put your icing wrap into the bag open end first.

Once your cake is completely cooled, pipe your icing along the outside of the cake.

Top with sprinkles, if desired.